Drift Mania Championship 2 for Windows Phone 8: First game featuring the Unity game engine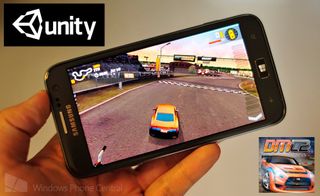 One of the big advantages for developers on Windows Phone 8 is the ability to use new gaming engines to drive the graphics. Unity is such an example, and it's used by many gaming houses for development. The problem previously was that developers would have to rewrite their games specifically for Windows Phone with degradation in performance and appearance. Between the time and the final product, most developers walked away.
We've been anticipating the first Unity-driven game for Windows Phone 8 for some time and that day is evidently upon us. Microsoft's Joe Belfiore tweeted today that Drift Mania Championship 2 is the first game on Windows Phone to feature the Unity engine. The game runs for $1.99 with no trial and weighs in at 200MB.
The game itself is your typical racer game, complete with car customizations and head to head battles, but it also features the whole 'drifting' sub-genre where through controlled skids, you drift through turns. Doing so will get you points and doing it with flare even more so.
Peep our hands on video after the break...
From the app description:
"With over 10 million players worldwide, the #1 Drift game on the App Store is finally back! Drift Mania Championship 2 delivers the ultimate drift experience with its highly addictive gameplay and next generation graphics.
Start a drift career or compete in a drift battle tournament or play against a friend using the new online multiplayer mode. Upgrade and fully customize your ride with performance upgrades and visual mods. Complete over 60 achievements in career mode. Challenge drivers from all over the world using the global leaderboards. "
HIGH DEFINITION GRAPHICS - Drift Mania Championship 2 includes next generation 3D graphics specially optimized for your hardware to provide you with the best drifting experience.
UPGRADE YOUR RIDE - Upgrade your ride by installing aftermarket performance products from licensed brands including Royal Purple, K&N, Magnaflow, Centerforce, Whiteline and Mishimoto.
CUSTOMIZE YOUR CAR - Fully customize your vehicle appearance with body kits, custom wheels, windows tints and spoilers. Make it your one of a kind drift beast!
TUNER FRIENDLY - Adjust different aspects of your car including the suspension, steering sensitivity, gear ratio and weight distribution to suit your own driving style.
BECOME A DMC CHAMPION - Complete the career mode which includes over 13 drift circuits, 60 achievements and 48 performance upgrades to unlock. Gain cash to upgrade your favorite ride with visual and performance mods.
DRIFT BATTLE - Start a drift tournament, compete in tandem against an opponent while making your way to the finals!
ONLINE & LOCAL MULTIPLAYER MODE - Challenge your friends to a drift battle!
We've only played with it for a few minutes, so our judgment is quite preliminary—it's not a bad racing game and it is evidently quite popular on iOS, so of this is your style then it is worth checking out (we'll have a few review coming soon).
Like we said, there is no trial for Drift Mania Championship 2 but you if you have a Windows Phone 8 device and don't mind parting with $1.99, you can find it here in the Store.
Want to learn more about Unity? Read our exclusive interview with their CEO on why they're working with Microsoft for Windows Phone 8.
Daniel Rubino is the Executive Editor of Windows Central, head reviewer, podcast co-host, and analyst. He has been covering Microsoft here since 2007, back when this site was called WMExperts (and later Windows Phone Central). His interests include Windows, Microsoft Surface, laptops, next-gen computing, and arguing with people on the internet.
Yes?? Yes, this game is so awesome that my phones about to melt!! Lol!! I think they might have to start putting fans on smartphones one day soon. Lol!! L920 getting so hot, so fast,, but I guess it's going to be OK. Right? I have to admit that it makes me kinda nervous.

Perhaps he saying yes, not for the game, but the beginning of the unity engine? If so, yes!

Oh yeah I know..lol! This is great news.. Hopefully more Unity based games are to follow..

I drift alot in Asphalt 7 Heat...

I think this game sacrifices everything ( like looks apperantly) to create a much realistic drifting experience , what we have with Asphalt 7 is "MEH" drifting.


Decent game got it on my surface rt haven't played with touch controls just Xbox controller

HI, how can you use xbox controler? Can i do the same with my windows phone? Thank you

I dont think any hardware controllers are supported atm for windows phone, maybe if we're lucky . . .

Windows RT has the xbox controller drivers built-in. Just plug the controller into the USB port and if the game supports it, it will just work.

That looks pretty lame visually. Waiting for a review.

So Unity engine is here... when are we going to see TempleRun???

Is Temple Run based on Unity???

Yes it uses Unity. And it will be coming to WP8 eventually.

I rather have the Gun Stringer game on Windows 8 over Temple Run.

Same, or that new Sonic Dash for iOS. I want THAT as an Xbox title.

Nice, and only 200 Mb!
Asphalt 7 seems a bit bloated to me, 1 gig of storage and Ram required!
Hopefully this will allow better and popular games to come to WP early.

Asphalt 7 is a big detailed game. This looks pants.

Seeing how asphalt 7 is completely dominating my gaming time, doubt if I will be getting this anytime soon. Still, more choice is good.

No trial? Thats a shame :/

Gaming is fine, but Wiindows Phone8 needs to have a way to search and find appointment on the Calendar, on the phone, without using a computer, using Outlook, which is recommended for WindowsPhone to use, as a Calendar. If you can't find an appointment, on Windows Phone, without going to your computer, then the Calendar on the Windows Phone is pretty worthless. To me, this is a big flaw, which Microsoft needs to correct, immediately.

Excellent point, but related to the topic how? Unity coming should attract big , well known names, which will allow sales to increase, which will mean all developers have a bigger market. Huge news here.

How would Apple actially advertise it? Ah yeah: there's an app for that. ;) And yes, indeed there is. Calendar Search by Liquid Daffodil. On topic: besides the very high resolution and good looking environment details, the cars seem to look pretty rubbish to me. No trial = no purchase. Are there even different camera angles and control methods? I prefer Asphalt 7 over this so far.

Um. A racing video game made you think of this why....? Do you have an appointment to race coming up?

His mind drifted off topic.

I see what you did there...

http://bit.ly/phonesearchwp
It's free and it works. Stop complaining and just participate in the feature request forums and such. There are priorities and these things take time. Microsoft is doing a good job on Windows Phone making sure it's features work well for consumers. This takes time to do.

Also, dogs are sometimes brown.

What?! Where did you hear that?

Real Racing 3 is pretty but the "pay real money for almost literally anything" aspect makes me want to vomit. Especially as someone hit REALLLLY hard by the economy. I'd gladly pay $15 flat for RR3 if it had the same mechanics as RR2. I despise Freemium

Ahh. So its like real football/soccer. Even though i understand that its needed, i find some freemium apps cost more especially in the case RF2013, id rather pay in full than having to pay more just to progress.

Yup, I totally agree. Soooo as of right now I only want RR2 lol.

+1 Come On! http://www.xbox360achievements.org/game/real-racing-2/achievements/

.....whoa. You just made my week

Daniel's skill is so baaaad. :)

If only they provide us demo version of the game..

Finally!!! A game where I get to drive Nissan Silvia...i hope?

Just bought the game. There are pictures of S14a but nowhere to be found in the game. Just cheep no real name rip-offs of American cars. Buuuu, its a drift game, why not have the no1 drift car?

After playing for an hour or so, I must say its a very fun game with that "-just one more lap" feeling. Also the FPS is the best I seen in a game and just like Mr Daniel points out, some good music. So yeah, this is a quality game in many ways.
How ever there is some ...in lack of words, weird menu structure that don't give that flowing feeling. Like after a race I have to press "X" to close and move on while I really just want to move on to next race. And why is there no "restart race" selection. If you start off a race really horrible you have to finish that race or quit the race, restart the whole track selection thing.
Last but not least, there are pictures of real drift cars in the game and all you want to do is drive em, but you can't because there is no real cars in the game. Drifting is a niche sport and there are several hero cars that needs to be in a drifting game.

Stuff of this quality should really be an Xbox title. I'll buy it to show support to the dev (too many aren't sticking around), but it's still annoying that there's no trial.

Looks ok. I would love to try it first but i guess thats not an option..

I'm looking to find out how the Unity engine performs, was kinda shocked how laggy Spiderman was. Bought it and it plays just as good as Asphalt 7, no lags and load times are fast.

No try, no buy. The Windows Store has ruined me. Sorry!

Bought it just to buy it myself. Should be fun hopefully haha

The game is decent nowhere near as good as asphalt reminds me if a water downed midnight club just drifting though

No trial? $1.99 isn't a big deal but trying something before I buy it is a must.

Been looking for a decent racing / car game so I figured I'd give it a shot. Installs and loads fine, but upon starting any race it crashes every time. Fair enough paying a quid or two and then deciding you don't like an app or game, but not for something that won't even run. Any 620 owners given it a shot and had success, or any way of getting refunds on these things?

Lumia 620. 1.5GB free space.

Find Microsoft support chat, and let them know you want a refund, but it will be in the form of your original payment, credit card etc, or if you use Bing points or something it will be refunded as Xbox points.

Or contact the developer, give them some feedback

So i just bought it but its not that great, graphics are very fluid but its nothing compared to Asphalt 7, framerate might be a bit better but im not even sure. Controls are also not that good, the way it was iin Asphalt was also better, Virtual Wheel or tilting phone is not what i like.

So the controls are tilt only? Meh.

Most new games use unity. This is good news!

This is fantastic news. Now the engines like Unity are available to devs we should hopefully see a lot more graphically impressive games.

I know the economy ain't the best and a lot of peopel are tight, but sheesh $1.99 for an app and we all whinge and complain there's no trial.i bought the game not tso much to play but purely to support the devs so they keep pushing out new games and support to WP8. and the game is actually pretty fun. although at the moment i think asphalt 7 is slightly better :)

Sweet game! Not a big racing fan but for a mobile phone I'm impressed

My problem right now is this is the 3rd maybe 4th title in the last what 2 weeks reported on here that is great quality but yet are not xbox live enabled microsoft really has to change that... as due to my achievo whoreness I will probable not end up playing this or specral souls

This game Crashes in nokia 620, bad luke, just lost 1,99 €

I had exactly the same issue with my 620.
As MicrosoftJunkie suggested to me, try find the Windows Phone chat support and tell them the issue. I had some success with that last night and eventually got a refund..though it did take a while.
(I know it's only a small amount of money, but I refuse to pay out money for a service/item I'm unable to use through no fault of my own)

thanks, will try to have a refund also

Hey Daniel, maybe you should get yourself a GoPro Hero cam for game reviews. How cool would that be?
Windows Central Newsletter
Get the best of Windows Central in in your inbox, every day!
Thank you for signing up to Windows Central. You will receive a verification email shortly.
There was a problem. Please refresh the page and try again.