Dropbox for Windows 10 adds video casting, notification comments and more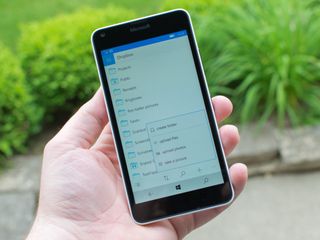 Cloud storage app Dropbox has secured another update on Windows 10 and Windows 10 Mobile, bringing a slew of new features. On deck with this update is the ability to easily cast your videos to another screen, improvements to comment notifications and much more.
Here's the rundown of everything that's new in the UWP Dropbox app for Windows 10:
Cast your videos to another screen - Stream your videos stored in Dropbox using your laptop, tablet or phone to another screen with just one button. The app supports DLNA, Miracast, Xbox, etc…
Advanced comments notifications - In order to improve your productivity, you can now directly answer to comments from the Action Center or toast without launching the application.
Save/Export multiple files at the same time - Save your time and export/save many files at the same time. The download is now asynchronous, no more "downloading" screen, you can continue to use your Dropbox even during download.
New UX for file actions - Right click on a file/folder will now display a flyout menu instead of multi-selection, you will be able to quickly share/manage your files.
Better full screen mode - No more system tray on windows 10 mobile, your videos/pictures will use 100% of your screen.
Image 1 of 3
Overall, a pretty solid update, to be sure. This also follows another big update from earlier in the month that added an in-app camera and much more. If you'd like to check out the UWP Dropbox app for Windows 10 PC and Mobile, you can grab it at the Windows Store link below.
Download Dropbox for Windows 10 Mobile and PC (opens in new tab)