Dying Light 2 is still coming in 2021, according to developers
Techland reassures everyone long-awaited sequel is still in development.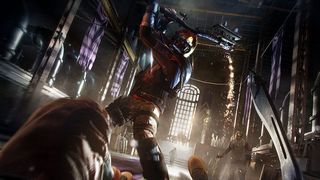 (Image credit: Techland S.A.)
What you need to know
Dying Light 2 is the sequel to 2015's Dying Light, and was originally revealed in 2018.
Since then, updates on the game have been scarce, but Techland assured gamers in a new trailer that the game is still in development.
Techland released new footage of the game, along with a 2021 date.
Techland just dropped a new video updating everyone on the progress of Dying Light 2, a long-awaited sequel to the 2015 free-running zombie survival game. The sequel has been in development for some time with no new footage, but today we finally got a new look at the game, along with a tentative release date — though admittedly, not a very specific one.
Techland teased an update earlier this week, saying it had a "few words to share" about the development. In the update footage, members of the staff said they're putting their all into the game, said they will give further updates "very, very soon" and ask fans to "stay with us just a bit longer." They said Dying Light 2 is a "huge and complex project," which would be in line with the footage of the game we've seen so far.
The new trailer doesn't offer much information — the first minute is just members of the development staff reading YouTube comments crying out for the game's release. We then see a few seconds of footage from the game, which seems to promise the same parkour action from the first game. You get a glimpse of the environments, as well as some of the enemies you'll be facing in the new setting. The team also plans to reveal more at a Discord Q&A later. If you want to join Discord, check out the list of the best wireless headsets for home and office.
However, there is one piece of information fans can take away from this new footage: A 2021 release date. It's not any more specific than the year, but at least fans can take heart in the fact that Techland seems to be promising the game will be out some time this year. A few days before this, in the same tweet thread where it teased the update, Techland admitted it'd announced the game while it was still too early in the development process. It was originally revealed in at E3 2018.
Get the Windows Central Newsletter
All the latest news, reviews, and guides for Windows and Xbox diehards.
Rachel Kaser is a Windows Central gaming contributor, who's been writing since 2013 and gaming since the age of five. She's covered everything from gaming news, reviews, and analysis -- if it exists in gaming, she knows about it. She also contributes to Future's other sites, iMore and Android Central. If you want to hear her opinions on games, pop culture, tech, and everything in between, follow her on Twitter @rachelkaser.