E3 2011: New Xbox Live games revealed for Windows Phone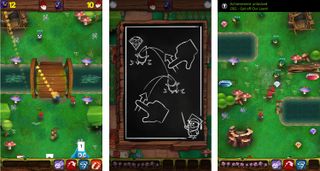 Microsoft's E3 keynote presentation may have left Windows Phone cold in the dust, but that doesn't mean the company has completely neglected their mobile platform at the event. They're showing off several new Xbox Live games and a few that were previously announced but haven't been mentioned in a while.
Head past the jump for screens and details on all 7 upcoming titles.
Beards and Beaks: In this action-strategy title, murders of cute but evil crows are invading peaceful Gnome Town to rob it of its riches. It's up to the player to command an army of gnomes by flicking them all over the screen. Collecting mushrooms allows the player to unleash special powers. Beards and Beaks looks like a potentially addictive game with its simple controls and charmingly unique art style. It's also apparently the first Windows Phone game to be developed and produced by Microsoft Game Studios. Guess Crackdown: Project Sunburst doesn't count.
Hasta la Muerte: A Windows Phone exclusive from French developer Pohlm Studio, Hasta la Muerte places gamers in control of one of death's emissaries. The emissary must free the souls of the dead in order to prevent them from becoming cursed lost souls. He won't go it alone as friendly souls called Soulpets offers assistance. Hasta la Muerte features over 30 levels, boss battles, and a stark European art style that's unlike anything else on the platform.
Let's Golf 2: Gameloft's excellent iPhone golf game comes to Windows Phone. It boasts 3D graphics, 8 golfers with unique super moves, and a whopping 108 holes spread across 6 courses. A lengthy career mode and various challenges will keep gamers plenty busy. It's good to see Gameloft finally bringing a higher-caliber title to Microsoft's mobile platform.
Splinter Cell Conviction: Another Gameloft title, Conviction was announced prior to the Windows Phone launch and then disappeared off the radar. This title provides a surprisingly faithful rendition of the Splinter Cell series, with great 3D graphics and stealth game play. The Mark and Kill allows players to select multiple targets and perform instant kills on them. This is definitely a game to look forward to, but don't be surprised if it costs $6.99 at launch.
Tentacles: A Windows Phone exclusive top-down platformer from Press Play. Tentacles contains over 40 levels, boss fights, and a wry sense of humor. For more details, read our Press Play interview.
Top Gun: Paramount's iPhone hit makes its Windows Phone debut. A flight game based on the classic arcade game Afterburner, Top Gun uses the accelerometer for steering. On-screen danger zones depict oncoming fire; players are rewarded for staying in the zones until the last possible second. The story takes place after the original movie and the game includes lots of Top Gun touches, including the movie theme and "Danger Zone." Even if you don't care about the movie, Top Gun still looks like a fun and easy to play flight game.
Z0MB1ES (on teh phone): Ska Studios' 2009 top-down shooter I MAED A GAM3 W1TH Z0MBIES 1N IT!!!1 is one of the top-selling Xbox 360 indie games of all time. The Windows Phone version game now includes three distinct modes: I MAED A GAM3 W1TH Z0MBIES 1N IT!!!1, the all-new Time Viking, and ENDL3SS Z0MB1ES. A new feature called Mega Games Creator 2000 that maps faces from the phone's photo library to enemies and the original Z0MB1ES theme song (so popular it showed up in Rock Band) round out the package.
Paul Acevedo is the Games Editor at Windows Central. A lifelong gamer, he has written about videogames for over 15 years and reviewed over 350 games for our site. Follow him on Twitter @PaulRAcevedo. Don't hate. Appreciate!
Release these games. sheesh. I see 3 that I want!

I probably sound like a broken record but.The price of Xbox Live titles is atrocious, especially for ports.

Nah, somebody needs to say it.

The prices are fine, I'm pretty sure you spend more the 2.99 - 6.99 on a pizza or lunch/dinner. Seriously its a one time fee and less than the price of a meal or movie ticket. Don't buy junk food or eat out for 1 day in a week and you'll have extra money for an Xbox Live title.

Well, Splinter Cell is $5 on iPhone. The $2 WP7 tax probably isn't going anyway any time soon.

I keep trying to say that. Compare MSRPs, not .99 sales.

It's not really a WP7 tax, it's more of a Xbox Live tax for non-Xbox Live games are comparable to iPhone games.

A whole lot of awesome here. Was beginning to think no WP7 news was going to come out of E3.Oh yeah, and at 0:41...multiplayer!

When Iphone games of this quality first came out they were price pretty much the same,the only difference was at that time there were no other platforms running games of this quality to compare the pricing of similar games. Besides, we all know that eventually the games get a price drop if you are willing to wait.Bottom line is...If it's too high then wait till the price drops otherwise 7 bucks is a small price to pay for what we all know is going to be a faaaar better gaming experience on your Windows Phone 7 device! I for one have been waiting for this day to finaly get a true First Person Shooter on this platform, on my HD7 not to mention one of my all time favorite games"Splinter Cell" In my opinion microsoft is still making all the right moves!! So lets stop belly aching we no whats coming "Nothing But The Best", Price Smice aaaah! who cares!!!

Where are the newer Gameloft games?

Splinter Cell is over a year old on the Iphone, talk about taking a back seat.

Beards and Beaks looks great! The others are not too exciting for me. Really surprised there hasn't been any Rareware games for WP7, seems like that would be a resource Microsoft would want to take advantage of.

Nobody knows what rare is up to these days.

They are doing the Kinect Sports games which I love, but I do wish they would set some resources aside for Mobile games too!
Windows Central Newsletter
Thank you for signing up to Windows Central. You will receive a verification email shortly.
There was a problem. Please refresh the page and try again.