EA Sports UFC gives away Bruce Lee for the Holidays on your Xbox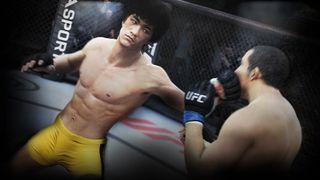 Bruce Lee is now a free download in EA Sports UFC. EA says it's the season for giving, so they're giving away Bruce Lee from December 22, 2014 to January 5, 2015. You can initiate the download from your Xbox One Smartglass app on Windows Phone, your browser, or directly from your Xbox One.
Want to see Bruce Lee in action? Watch the special trailer from EA Sports below:
Previously, there were two ways to unlock Bruce Lee as a playable fighter for free. You had to finish the campaign in hard difficulty or pre-order the game before it was released earlier in June. If you had no patience for the campaign, Bruce Lee was also available for regular purchase.
The Bruce Lee Bundle normally costs $5.99 for all 4 weight classes. You can also buy each character individually for $1.99 per weight-class:
Bantamweight
Featherweight
Lightweight
Welterweight
In case you missed it, EA Sports UFC is also now part of the Vault in EA Access. This means members who pay $4.99 a month can download this game without paying the full price of the game. It's now included with their subscription. Other games in the EA Access Vault include:
Plants vs. Zombies: Garden Warfare
FIFA 14
Battlefield 4
Need for Speed Rivals
Peggle 2
Madden NFL 25
Other perks for EA Access include 10% discount on EA digital purchases on Xbox One. EA Access members also get to try upcoming EA games before the release date for a limited time.
It'd be interesting to see Bruce Lee fight with current UFC players. Which fighter do you think would be a great match for him? We think a fight with the current UFC Welterweight champion, Robbie Lawler, would be interesting. Let us know your pick in the comments!
Source: EA Sports
He was given a pill for a headache, equigesic (aspirin and meprobromate sp?). The shit made his brain swell.... and he died. Correct medicine, bad reaction. Death ruled as "misadventure"

This is a misuse of a person's name. He has been a real person and died. You cannot give him away. An incredibly half thought title that shows very little respect for the person that once was Bruce Lee. Use "Bruce Lee game" or something...

Poor guy, being used to make money as a piece of DLC.

I think the premise is the creative art of immortalizing a famed and fanned fighter in a fighting game, while, yes albeit, capitalizing on the posthumous performances and life like design that is offered by today's technology, which by the way costs money, though probably not a lot except for licensing, to actually make the character appear and fight/flow in order for players to enjoy... In o other words, why the heck such a great fighter in a fighting game should be free? Heck yes he should be in there and cost a buck or two, after all I don't recall him making movies for free ( I could be wrong though...)

Well said, that would be a true homage to Bruce lee.

Awesome tip. Done through smart glass.

Same... I'm not even in the same country as my Xbox One... :)

Very cool finally a fighting game where you are actually Bruce Lee no offence Lu Kang

Don't forget Law from Tekken

Lol I will play tonight with Bruce Lee.hahaha

There is absolutely no way Bruce Lee would it fight in Welterweight 170lbs. The maximum weight he had was 165lbs, at that time He was introduced to weights by James Lee (No relation) and Allen Joe (a bodybuilder) but Bruce was slowing down his speed so ultimately He was better at 135lbs (although 125lbs were his minimum weight and unhealthy one) so yeah 135lbs was his peak:)

Well on the game he had no chin. You have to definitely duck, dodge, and strike fast with him or easy knock out

You said on the game, so yeah in a fantasy world anything is accepted

He'd still wipe the floor with them. He was way too fast and strong. The guy could lift you off the ground with a kick.

Bruce Lee going to be lightning fast.

Can you do the download on your phone now and then buy your Xbone in 8 weeks and then still get him????? Buying a Xbox one soon..... Can't wait!!

Online you can on Xbox website

Make sure it will be the same login name as your Xbox live

Next EA game Bruce Lee sumo Edition... UFC and master Lee nice joke for promoting this business in the cages.

He would pick Robbie apart. Robbie couldn't handle Diaz' hand speed..
Windows Central Newsletter
Thank you for signing up to Windows Central. You will receive a verification email shortly.
There was a problem. Please refresh the page and try again.