Art, gaming, and hardware: A few days with the Surface Book 2
The original Surface Book was a gorgeous, engineering marvel that fell short in my eyes in one particular way. So how does the Surface Book 2 fare?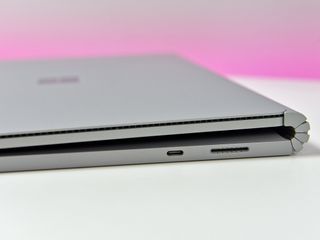 Last year I wrote about how I moved from a Surface Book to a Razer Blade 14, despite being, for the most part, completely happy with the Surface Book. The reasons for switching were numerous, but ultimately boil down to power. The original Surface Book was a dual-core device, with a relatively weak d-GPU. The Blade, by comparison, rocks a GTX 1060, and quad-core processing, vastly increasing versatility and productivity without sacrificing much in terms of size and bulk. The Razer Blade 14 (2017) remains an incredible laptop, and is certainly among the best (if not the best) you can buy for PC gaming on the go.
However, after Microsoft revealed the spec sheet of the latest Surface Book late last year, I simply couldn't resist the urge to take out a small loan and return to team Surface (damn, this thing is expensive). I'll outline some of the reasons for doing so in a future article, but for now, here are some of my own quick impressions from a few days with the Surface Book 2. Be sure to check out our full, official review from Executive Editor Daniel Rubino.
What I love
There's something about the allure of the Surface Book that is almost mesmerizing. That odd, yet satisfying fulcrum hinge that gently purrs as you tilt the display. That industry-leading trackpad, which makes cursor control feel as natural and intuitive as reaching out into the display – which by the way is also possible, owing to 10-point multi-touch.
Surface devices are always something special, carefully machined alloys densely packed with powerful hardware, and unique mechanical features that make this device feel truly futuristic. The inviting "click" that occurs when you detach the display complements the "click" you hear snapping a Surface Pro keyboard into place. There's almost a theatre about it all, which isn't something I can say about any other PC I've used. It might seem like an odd thing to praise, but as someone who works, and has worked, across multiple creative industries, having a device that can inspire the senses is somehow energizing.
MrMobile agrees, there's something special about the Surface Book.
Microsoft has spoken previously about how industrial design should fade into the background and let the OS and its content sing, but I've always found that Surface devices do anything but. This is a device that will get you noticed in a meeting or conference, a device friends and family will ask about. Its 4K-capable display is simply stunning, and I much prefer the 3:2 taller aspect ratio for content creation vs. 16:9 solutions, which sacrifice vertical screen real estate.
The keyboard is a joy to type on, with bright backlit keys for long evening sessions. Windows Hello is as rapid as ever, signing you in with a near-instantaneous face scan as you sit down at your desk.
As a basic laptop, the Surface Book 2 is hard to beat — at least when you disregard price. As a basic workhorse, there are far cheaper options out there if you have no plans to detach the tablet portion, game on the go, or do some digital art work. But that's the whole point of the Surface Book 2; it's supposed to be a bit of a jack of all trades. And there is where you find the compromises.
There are compromises (and issues)
While nowhere near as bad as the launch issues that plagued the original Surface Book, it seems that the Surface Book 2 has a few teething problems of its own. I've already experienced a BSOD or two when trying to push it a little too hard (tasks my Razer Blade would have had no problem with), and sometimes the detach functionality won't work until after I reset the computer.
The Surface Book 2 also suffers from a battery drain issue when performing more intensive tasks, such as gaming or utilizing Windows Mixed Reality (which, by the way, Microsoft will sell you an overpriced adapter (opens in new tab) for). Even when plugged in, the battery can drain in certain situations, but thankfully it should never completely deplete it. Battery life is generally incredible, of course, when you're not pushing the Book to its limits.
This thing is damn powerful, as you might expect, given its internals. But it's not as powerful as the Razer Blade 14, utilizing a different class of CPU intended to slot into the display. This results in lower performance when multi-tasking, and general OS smoothness. The Book 2 will also go to lengths to throttle and manage the CPU to manage heat dissipation and battery drain. This might be annoying for some, but it results in an incredibly quiet and cool device. The Blade by comparison would sound off like a jet engine when running games or WMR, the Book 2 just doesn't.
I haven't pushed the Book 2 to its limits for games specifically, but it crushes World of Warcraft, running at 4K on the horizontal axis well over 100 FPS, and quite quietly too. I was running WoW at 1080p 40 FPS on my Razer Blade to limit the noise from the fans. World of Warcraft is an old game at this point, though, and certainly not the most intensive. I expect the Blade will outperform the Book 2 at the higher-end, and I'll be doing some more real world tests as I spend more time with it.
Another trade off of squeezing the Book 2's CPU into the display is, of course, is a detachable screen, which can be set flat for use with digital ink. This represents one of the main reasons why I decided to switch back to Surface, but so far, the experience has been a bit of a mixed bag.
For some reason the Surface Pen latency feels a lot higher than it does on my Surface Pro 3 even, and I'm not entirely sure why. Pen strokes trail far behind my cursor, which isn't a huge problem for me, inking at a learner/amateur level, but I can see why a pro might be annoyed about this, considering how expensive the Book is. I'll be digging around for fixes, and will detail my findings in a future piece.
Additionally, tablet mode is still quite rough on Windows 10. Opening it for the first time blanked out all of my live tiles, making the full screen Start Menu quite useless.
Beyond setting the tablet portion flat for inking, I can't see me ever detaching the 15-inch tablet to use it like a giant iPad. As a "Clipboard," as Microsoft used to call it, the Surface Book 2 screen was unwieldy and heavy at 13-inches, let alone 15-inches. And the "tablet mode" experience is still a far cry from even that of Windows 8.
So far so good
So far, I'm more than happy with my purchase, and I'm happy to be back on the Surface train. I found myself missing touch and inking far more than I expected to, and the CPU and GPU upgrades in this iteration made the transition from the Razer Blade 14 seamless and easy.
I'm still tinkering with digital art, gaming, and Windows Mixed Reality, but the Surface Book 2 nails the basic laptop experience like no other – and you'd bloody hope so at this price point.
See at Microsoft Store (opens in new tab)
Jez Corden is the Managing Editor for Windows Central, focusing primarily on all things Xbox and gaming. Jez is known for breaking exclusive news and analysis as relates to the Microsoft ecosystem while being powered by caffeine. Follow on Twitter @JezCorden and listen to his Xbox Two podcast, all about, you guessed it, Xbox!
Good. Looking forward to the next article Jez. BTW, why the box in the last photo has no "2". Is it just like that?

Yeah, I was like "wtf, did they send me the wrong model?!" but it just doesn't have a 2 haha. I guess for them it's just the Surface Book (2018) model. Thanks for the kind comments.

Shocked to hear about your pen latency issues and wonder if others who have this device also experience it? I don't get own the SB2. I've not heard of any other reports of latency.

A few people on reddit were talking about it, I'm gonna do some more testing and speak to others who are using the Book in depth to see if I can do something to improve things.

A tip about pen latency. While on battery when running on the recommend battery power setting input latency is a problem not only with the pen but the trackpad and keyboard as well. The latency disappears at maximum performance and interestingly battery saver mode as well. I'm guessing it's a firmware bug.

Ah nice, thanks for this, will test it.

Interesting to read this, as I've gone from a Surface Pro to a Razer Blade Stealth - all the glitches on the SP just got too much. Too stressful. The Blade is just so fast - and reliable! - so much more enjoyable to use, for me :)

Fair enough! What glitches were you experiencing on the Pro?

Jez, you may want to hit the gym. You are the only reviewer of Surface Book 15 inch I've read (and there have been a lot because I am rea;ly interested in this machine) who has described the "clipboard" as heavy. Others have said it was too big to use as a tablet or unweildy to use, but heavy?

uh yeah maybe heavy is the wrong word, unwieldy might be better. sorry about that. it's really not heavy in tablet mode, but it's like... why would you want to use a tablet this big? etc. hitting the gym might be a good idea too.

Jez, I'd be interested in hearing how you're using Mixed Reality, particular with SB2.

Will do, I got the USB-C HDMI adapter recently so I'll do something more in-depth soon.

Dang You! Just when I felt this is too expensive to get, even if I sell my original SB (512GB, i7) for $1200 or so, now you have me wanting to give it a shot again. I still love my original SB but the added GPU power is tempting.

With the quad-core CPU and GTX 1060 this is the Surface Book perfected IMO. But it's super expensive.
Windows Central Newsletter
Thank you for signing up to Windows Central. You will receive a verification email shortly.
There was a problem. Please refresh the page and try again.