An early look at the 'My People' feature coming in Windows 10 Redstone 3
Microsoft is working on a new feature called My People for Redstone 3, and here's an early look!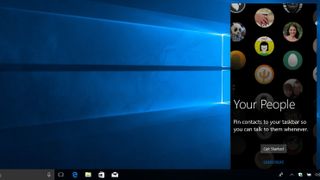 Now that Windows 10 Redstone 3 development is in full swing, we're starting to see the first glimpses of new features showing up in the latest compiled builds. Today, we're able to give you an early look at an upcoming feature called My People, hidden inside the latest Insider Preview build of Windows 10.
My People was actually unveiled by Microsoft last year, with the intention of it showing up alongside the Creators Update. Unfortunately, due to time constraints Microsoft decided to cut the feature and wait for Redstone 3 before implementing it. So now, with the latest Redstone 3 build, we can see My People is finally working.
So what's it do? Right now, not much. It's a feature still in development, which explains why the user interface and other elements are still pretty rough. For what's currently working though, it functions surprisingly well. The setup experience is pretty straightforward, with a "Get Started" button that takes you to a screen that connects you to your installed social apps such as Mail, People and Skype.
Connecting the People app will give you quick access to all the contacts stored in your address book, and will also allow you to pin them to the taskbar. The pinned contact icon acts similarly to how a normal app icon on the taskbar does, with a right-click menu giving you the option to unpin the contact if you wish. Clicking the contact icon will open up a window with quick links to whatever social apps that contact is apart of.
In our case, "James" is linked up to both Mail and the People app. Clicking the People tile will list our contacts details, including his phone number, email address and more. Clicking the Mail app will show us conversations between us and James, with the added ability of being able to compose an email directly from the My People UI.
So far, the My People experience is pretty basic, but as Redstone 3 progesses I'm sure we'll start to see other features implemented such as being able to drag and drop a file onto a pinned contact to share it, UI improvements, and more. The feature will also be much more useful when/if other services integrate with it, such as GroupMe, WhatsApp and so on.
We expect Microsoft will enable My People officially for Insiders in the next few weeks, so for now, enjoy this early preview.
Windows Central Newsletter
Get the best of Windows Central in your inbox, every day!
Zac Bowden is a Senior Editor at Windows Central. Bringing you exclusive coverage into the world of Windows on PCs, tablets, phones, and more. Also an avid collector of rare Microsoft prototype devices! Keep in touch on Twitter: @zacbowden.
I do love getting an early look at features. Of course, this will look and function much better in the final product. We're giving you an early, behind the scenes look here :)

Its cool but somewhat limited i feel. Will it be restricted to uwp? Theres a popular app imo which we use here which isnt from store. Will it work there?

I'd say that's an incentive for developers to get on board with UWP really.

Would really like to see Skype for Business integrate with this when it releases.

It had to allow a little customization. Pinned groups should be there from the start. Quick list for the contacts. I still find it hard to believe that microsoft ditched messenger (the old one), and pulled the plug on so many great user created additions all those years ago. So much functionality lost for noting but a Skype promo. it wad all there. Even flashing the lights on your keyboard if you got a message,, little things like that that made windows great have become lost as microsoft clamps down on user friendliness and blocks all customization.

I don't understand how it looked way much better when they unveiled it at first time (it looked like a final product) than now when its released. Are they starting from scratch again?

What you saw where designs and mockups, not the actual product. At least I think it was..

They probably only showed mockups and precomputed animations, since they're now actually implementing it it's normal for it to look worse.
It was the same with Edge: the mockups were awesome and the first builds were much more unpolished, but as the development continued, the app started to look more and more similar to the early mockups. So I wouldn't worry about this just yet :)

Yeah, this is just typical of early stages and it is understandable. Over time, it will get closer to the mockups first shown. Still, being part of Insider Program, we still have at least to point out and remind them so they will get notified how much we care about the UI. Given the history, they are not so great at following their own mockups and concepts even on supposed to be final/public release. Not always but things like People app are basically been neglected even now that it looks like it wasn't being developed by a big software company, it's more like an amateur demo that just started to develop apps for the first time. For now nothing much to worry yet. Just wait for at least 2 months since official introduction on Insider builds then that's where would be a concern.

Wasn't this revealed in WP7? As the people hub.

The demo they showed was just a mockup animation on how they work. Which is why this feature got delayed because the code seems far from being ready, likely only started working not long before the presentation. Just a tip, if the demo looks too good to be true, then likely the demo was just an animation or at least its just a limited working code specifically designed to be presented for demonstration purposes. The MyPeople demo was way too polish for me to take it seriously. I have to see MS again release well polished UX or feature/app, they have done it even sometimes these days, but not consistently.

Does every fast ring insider have access to this already? Because I'm not seeing it yet... It must be very well hidden! :D

Windows 10, from a feature standpoint, would be a killer mobile OS.. It's got an address book, messaging app, phone app, app store, and all the features we've been asking Windows Phone to have for years... Why would we be sad WM is going away when we have full W10?.. I honestly want full W10 on my mobile device, and everything it entails, just adapted for a 6" screen. Imagine the power. Imagine what business could do with literally pocketable PCs. Image what enthusiast could conceive with this. That would instantly be the most feature rich, and powerful, mobile OS on the planet.. Remember back during Build 2015 when Joe B. said that Windows Mobile will be the most powerful mobile OS available, then smiled, and put his head down, as if he was hiding something? I think this is what he was talking about.

We can features available to PC like the Dolby access app that is in the Windows store right now. Just think of the possibilities.

I fail to see the greatness of My People. Pinning a contact on the legacy Task Bar, while I can pin a Live Tile on Start already. I would rather prefer to see a Work Space approach.

Usefull to talk to your wife/family without keeping opening apps to do so. Right now you need to know in advance if you have to open mail, whatsapp, skype, and so on. In the future you only have to click on the person's face and start typing...

Andy_thomas55: Eat a dick.

WhatsApp? If they ever come up with a UWA, that is...

There's a WhatsApp desktop app that you can install. Whilst it's not UWP, it does integrate well with W10

I think he is not talking about desktop here. Windows Phone 8.1 apps load very slow on W10M. He may be concerned about that.

That's just WhatsApp Web as a desktop program. UWP is deep.

Can be used through Harvester app, and it connects with your phone. It's awesome.

That doesn't support WhatsApp, does it?

hello. thanks for this heads up! i remember seeing line in a picture of the mypeople feature so glad thats in there (i use line heavily). :)

So it is like the SNS integration pioneered in WP8.

I really like it. I wish Microsoft would do more with GroupMe as it really is great and would make a great iMessage competitor if they let you send SMS through it on Windows Mobile.

Skype already can send SMS from PC on Windows 10 Mobile

Skype is a vastly inferior experience to both GroupMe and even the stock Messaging app for SMS.

But I don't like Skype. it does not even support first and last name correctly... and it's very slowly improving... I really wonder why they moved this feature from messaging app to skype :( Also it's always looking for connection, so it wastes my internet volume while I just want to send SMS. I just opened it on my mobile. It has SO MANY design issues, i'm not even looking for functional issues. The settings page is full of settings, while UWP design guide lines, tell you to put just a handful of settings in one page.

I don't like it too but it is like all in one app: SMS, Skype itself, address book
I hope Microsoft will improve settings and overall responsibility and speed

While I agree GroupMe is a great app, I think Microsoft should, instead of adding SMS to GroupMe, integrate GroupMe into SMS app.

I like the idea, but that makes it difficult to update GroupMe separately from the OS, which is the whole reason they broke out Skype as a separate app. I think if they integrate it into the Messaging app it'll quickly lose feature parity with the Android and iOS versions.

I'd bet money that facebook isn't even going to integrate with this. They can't make a proper UWP share interface and Messenger still looks like a lazy iOS / Web app port

Sadly it's that will be the case really. Current Facebook apps are still really bad, yes even Instagram. They are just bad ports using Osmeta that it seems to bring more problems that feature benefits, heck we still have features missing and even we will, it lags behind. The Share integration is a bad joke, which seems to suggest that Osmeta integration to Windows is just an after thought just an after though. Though I would say Microsoft is slightly part of this problem. The apparent lack of focus on consumer mobile market contributes on why Facebook don't care about their apps on Windows. Yes, they can cater their apps on larger audience on PC, but most people still like it or not are just perfectly fine using a web browser. These apps are mostly beneficial on smartphones, not so much on tablet either since Windows tablets that are mostly popular are convertibles/2-in-1 hybrids, which is large tablets, not 7-8 inch ones. Also, it feels like Microsoft doesn't even care about it anyways since there is seem no known news that they are closely collaborating with Facebook for these apps. They seem to just let Facebook do whatever they want. Because their apps are just badly optimized with so many issues that this should've not get past from quality check.

Facebook integrates with contacts on Windows Phone, so seems like Microsoft should be able to at least do the same for their main OS. If I open any contact on Windows Phone (running Windows 10), I can swipe sideway so to see everything that person has posted on Facebook and other connected social apps. Are you thinking of something different?

How about they bring back the Me Tile for Windows 10/Mobile with the My People addition. If they are going to tie social into Windows like this, it only makes sense to bring the feature back so we can easily post to all social networks again or directly post to a pinned contact's page(FB, Twitter, Instagram, etc.). While FB is trying to keep users inside their app (stupid in-app browser), I prefer the social networking simplicity that used to be a selling point of Windows Phone. I wonder how many social networks are willing to integrate.

It seems a bit like what I have on my phone already. The People app puts phone number, email, Skype, Viber, Telegram and VK (Russian Facebook type thing) all on a contacts page. It also has "What's New" which let's me see what a contact has been posting on VK and info from their VK profile, like phone number, birthday, website and email if they put this info on their VK page. Very nice indeed.

Microsoft doesn't control how we can post to sites like Facebook or Twitter... Which is also why that old hub died. Third parties wanted the control.

Yeah, they should bring back the Me feature on People app. Not just because of social integration and profile but also I can easily send my contact details from Me contact card, it's a self-reference. Even Android does this for a long time already, likely inspired from Windows Phone to begin with. Though there is no guarantee that Facebook, for example, will take advantage of the API to integrate their apps (thanks to Osmeta which is really good /s), at least it's an opportunity for other developers to integrate their messaging and social service to Windows. Twitter seem are more willing to take advantage of Windows features, only if Microsoft were also care to open the API and actually promote it. This MyPeople feature should be also (hopefully) on Windows 10 Mobile as a form of Chat-Head-like interaction. Basically swiping from the right edge of the screen reveals the contact-head floating UI similar to MyPeople on PC on the Taskbar. Then tapping the contact then flies on the top, showing the floating MyPeople UI window exactly like on PC, only difference is it performs like Facebook Messenger Chat Head feature.

If they don't connect it with Facebook, Messenger, Twitter, Whatsapp, Telegram, Instagram, Linkedin, Google+ and every other social app IT WILL BE A FAILURE.

it's an OS feature, not a service...

"Windows As A Service" ring a bell 🔔?

lmao....this is a feature of windows service. This feature itself is not service.

lol
Let's agree that it's a servicing feature of a service? 😆

That's up to those companies to decide. I think google will be the only saboteur like always.

Google always tries everything to mess with Microsoft... Luckily, we have dedicated third party developers ;)

That's upto UWP App availability for those services, Msft could integrate it with the desktop programs as well, let's wait...

Como dicen todos, si esto no se conecta con el resto de mensajerías como la de FB o WA no tiene mucho sentido...

Just for having Mail it will be very useful to me

Does this mean we'll finally see the re-integration of Facebook in the people app???

My prediction for RS3 will be the "social connectivity" and "aesthetic" update. Microsoft has a problem with being a "social" service. My iPhone knows how to handle Facebook and Instagram better than my Pro 4, and while the hard work is showing with patches and slow feature rollouts, it's safe to say that this will work out some way. Creators Update definitely filled in a few gaps, but honestly there's much more to add.
The People Pins sounds like a great way for Windows to have an intergrated system for users to stay connected. FB, Insta, Linked-In, etc. Skype will probably have a bigger rollout this time around also with Skype-Bot's landing in real business's. I loved the Dominos demo with Skype bot APi last year, and would love to have that built in with my desktop.
Last, Project Neon is a great way to show that MS can make it's aesthetic design less boxy, and bulky. I love me some Windows features, but I also love me an OS that looks modern and minimalist. This would be great to rollout as (hopefully) WP make a return showcasing capabilities, and aesthetics. If you guys like the OS then by all means to each their own! Personally, I'm not a huge fan but I'm glad to see MS is working on this.
RS3 couldn't come sooner!

I think its more that the services have a problem with Microsoft. They do anything to make windows look like a poor performer. al

"My iPhone knows how to handle Facebook and Instagram better than my Pro 4" Care to expound? I'm not a big user of either, and any special ties, integrations, shortcuts and whatnot are usually lost to me anyway, so I'm curious to know what wonders the iPhone offers to ease our daily user-pains...?

When it comes to my content on iPhone; browsing experience, aesthetic design, and overall content sharing is streamlined into iOS's experience. It's very easy to get what you want shared with integrated share features within those apps.
Facebook has gotten better... kind of. Instagram feels like an immediate port from the iOS version, with little to no Windows design.
As far as the daily user pains? I'd have to say reliability and pre-share foresight. When I share with Facebook app on Windows, it's a bit sluggish, and will often not even begin to load the link when the app is open. I can rely on my phone to do it better, and I find it hard to believe that a desktop version is "hard" to design for when it's superior with power and even memory. It's all copy and paste.

So...if I understand correctly, this "My People" thing is basically Microsoft picking the "Outlook People" feature they have on the browser version of Outlook, mixing it with a revamped version of the old Windows Phone 7 and 8 "People" app, and baking it into Windows 10. Is that it? And how is it different from the current "People" app?

Does the current people app look anything like this or allow anything of what they describe, like emailing directly from the interface?

Ah Giddora... Man your weird, I look forward to troll you on the big story's like ms not supporting most on the phones for creative but your never on the big stories only these small non important ones....afraid to comment with the big boys???

That's what you are in that case... A troll. Plenty of people have absolutely no problems at all and then there's the very small vocal minority that has problems and have to try to harass others into thinking the problems are common.

Sorry fanboys are hard to resist. It's OK I'll be gone soon just waiting to see if you go android or iPhone when nuttela drops windows phone. I'm betting iPhone..can't wait please let us know.

I think you are a little shortsighted... Windows is running on all form factors, so there cant be a "dropping windows on phones". You didn't know this?

He's as dumb as he's blind. He will obviously go for the iPhone. Android would require a functional brain which he lacks.

Comment with the big boys? What guys that even mean?

One of these days you'll write a comment with your head instead of your a*se. Today was still not that day, apparently.

You make a perfect example of what I often talk about.

People app as in its current stage is basically just a generic contact app, though it has some SNS integration but pretty weak and neglected. Still, People hub isn't really where you actually do the communication, but more like managing them and having a unified UX to have all the contact information and social media aggregator. It was the original Messaging app/hub that acts a super-app that integrates different messaging services. MyPeople aims to focus on quick, always available and unified UX to communicate to favorite contacts (a feature that has been removed from People app) from different services/apps. It lies between People Hub and Messaging Hub. This new feature is also closer to Facebook Messenger feature called Chat Heads which is focused on always-available, quick way to chat from any user activity. This is what I hope for them to also achieve on W10M (if they still care), since MyPeople can really behave like Chat Heads on W10M by swiping from the right-edge of the screen to see the contacts. This is a solution to make them always-available like on PC where Taskbar exist.

When I work on my computer I mostly work with files rather than people. I'd much prefer if they updated the ancient file file manager. File tagging would be amazing.

I think from a project point of view this feature has great potential. If they tie in services like Teams and SFB then I will happily use it in the office and tie in FB and Twitter I will use it at home.

What do you mean, "you people"?

Hey! What do you mean, "you people"?

Another useless feature that i will never use.

Right now I'm also struggling to understand who might benefit from this feature. First of all it's probably only UWP apps that can be integrated into it and we all know how that app selection is now. It'll be years before the big guys are all in thus making this "a sleeper" feature at best. The second thing is that most peoples communication happens already through maybe only one app anyway. Amongst my family and friends that's Telegram and I can already share quickly anything from anywhere into it and the app is always just a few taps away. Telegram nowdays does also phone calls on Android and IOS. I think this stuff applies to corporate side as well .

As a student with tons of group projects to do, this benefits me a lot since one of out communication mediums is email.

Depends but this can be super useful if hopefully, other messaging apps will integrate to this. Having able to communicate to somebody without having to fully open-app app is a time-saver and makes things more efficiently when multi-tasking. If this feature ever comes to mobile, then this will be truly essential since its the only way you can easily multi-task while communicating without leaving the app completely. Quick Reply is great, but it's a temporary use case that only designed to allow you to reply as you get the notification. Split-screen multitasking is also not optimal on most cases since it requires you to sacrifice the screen estate for chat window.

I wonder how MS plans to integrate MyPeople into W10Mobile, if they ever intend to do so.

Swipe right from the main screen. I'm suprised Microsoft never lifted this from Meego. Such a wasted spot in the UI, and could have been used for all sorts of information.

Great point. Swiping right to left opens the app list. If they found a way to integrate Cortana and MyPeople with a right swipe. Man that will make W10 phones live up to its name as a productive platform

Cool 😎 asking for this in feedback app 😋

Re: lavo96 & Handle Mngji,
Great idea! A great useful and differentiating feature! I'll ask for this in the feedback app too.

I was also thinking about this since they announced it. This would be our answer having like Chat Heads on Facebook Messenger for Android, except way more flexible and generally more useful since you can have multiple messaging services in one UX, unlike Chat Heads were its only a Facebook Messenger feature. Seriously though, do Microsoft even saw this opportunity and other Insiders as well? At the moment I'm still working for a GIF mockup of this feature to be submitted as a feature suggestion on Feedback Hub. I'm still quite busy that I don't have much free time. In any case I'm done, just lookup on Feedback Hub with title related to "Chat Heads", "MyPeople", "Swiping from right"...

sorry because its not relative, when i ask cortana open a wedsite,cortana open it on internet explorer, not edge. how can i fix it? i run on creator update.before update its normal. thank you!

How about trying this in a forum. The place where people would, should, and will help with this sort of thing. The comments section of an article will render very little help, especially since this article is no where near the same postal code as your issue.

I guess they will call it the Social Update this time. "Put people first". Good old WP7 time!

It's RS3 and Microsoft is still not ready to take on mobile seriously, all TH1&2, rs1&2 have ben about desktop. Microsoft cut the crap and and just build an android base phone. Besides u re already sell the S8 edition.

You need to step back and think. You know absolutely nothing about rs3

We know it will do zilch for mobile, so there's that...

No, we know absolutely nothing. Nothing, zip, zero.

Nothing, zip, zero for mobile it is a correct summary of what will be done for mobile. Let's face it, they gave up...

If you prefer to make things up, that's on you. Just don't spread your fantasies.

The only fantasies here are the ones that hope for mobile focus. Aint happening...

Since you know nothing, it doesn't really matter what you say you k ow. :)

How do I access this? I'm running build 16170 and haven't got the People icon like that

The article says it's 'hidden' and hasn't been enabled yet

Fair comment, but Windows Central are always posting registry hacks, perhaps they'd be kind enough to show us how to enable this!

Is this the start of reintroducing windows phone esq hubs and rooms

Re: collins2k1,
I hope so.

Nice idea, but I don't think it'll be any use. I don't know a single person who uses Skype. I am using Mail currently but there has been times when it's not syncing or I've found it too basic. So I gone back to outlook.com or used another client. If it doesn't support social networks like FB & Twitter like the people hub did W8.1, not really sure how useful this feature would be.

Skype is the biggest chat network and company chat software out there, so i guess this has potential.

Can you cite that? Is Skype bigger than Facebook Messenger or WhatsApp?

A quick google search finds Skype "only" has 70 million users. Whatsapp has over a billion. Your claim is no where near correct!

That number is no where correct... Try again.

http://www.statisticbrain.com/skype-statistics/ https://www.statista.com/statistics/260819/number-of-monthly-active-what... 1.2 billion monthly Whatsapp users vs 124 million Skype. It isn't even close.

Yeah, that is far from accurate. Holy crap that is off the matk. Skype had that back in 2010.

Find the data to support Skype having over a billion users. It may have had more in 2010, but it hasn't grown. Competition has been tough since then. You can't backup your claims as usual.

I will give you a hint. There are official numbers on active users.

Don't see them. Best I can get is 300 million monthly. No where near 1.2 billion.

Yeah, too bad you can't backup your rediculous comments. Skype has more users than Facebook or Whatsapp! Do you really believe that?!

You missed the small company addition I also mentioned, where Facebook and Whatsapp has a very slim presence and where Skype has about 25-35% of the market. It is a more professional tool.

Ohh, changing your story now. 30% of enterprise isn't impressive and doesn't bring mainstream success. It just keeps moving Microsoft closer to being another IBM.

No, I am not. You just don't read well before attacking. And yes, having 30% of the professional market is rather impressive. The rest of your statements are just the usual lull.

"Skype is the biggest chat network and company chat software" - your words not mine and they are just not true. Skype most definitely isn't even close to the largest chat network. They might be the biggest business chat software, but you can't prove that either.

Well, they are true if you combine those two markets. Sorry.

Take a few minutes. I'm sure it'll become clear.

No, a crazy statement like that requires explanation. You think 30% of business is a billion users? That makes no sense. Skype at best has a few hundred million monthly users and that includes business users. It doesn't even begin to compare with WhatsApp. Skype might be the biggest business chat program, but that is not all you said. Skype is no where near the biggest chat program overall. It probably isn't even in the top 3.

Well, keep at it. One day.

One day you will be able to backup your delusional claims?

Nah, one day you might understand, delete your user and come back normal. :)

While I have no reason to doubt that statement, I can only speak to my experience, which is that nobody I know uses Skype. If they use any video communication it's invariabley my iPhone friends using Face Time. I currently have Skype set up on my phone as my default SMS client, but it is absolutely HORRIBLE at that job. In fact, lately, it will not read or respond to voice control. The built in Messaging app is infinitely better--and consistent.

You don't doubt that Skype is the largest Chat program?!

But he also does not agree. I also would not deny this, but I want a source for this statement. Otherwise it's just something someone wrote on the internet ;) I could not find any source, where Skype is relevant to chats...

I'm looking forward to the RS3 Mobile build, I want to see Continuum in its full glory

Yeah, good luck with that...

Why the downvote? I totally agree. Continuum is still half baked and seriously needs to be improved / extended and of course advertised to success against whatever the competitors will come up with.

(double post, please ignore)

I think he is saying Redstone won't bring much to mobile. Why bother updating Continuum for old phones that are going to be abandoned for CShell?

That looks a lot like a mobile phone UI. It is not a coincidence.

I was about to say the very same thing. It certain can fit in a phone. I just hope that it is not a app on the Windows Phone however a left swipe from home screen will get you there

These are not my words, Kevin Gallo said it. You can use the very same code for your phone app. I think that pc will have a marginal role in future with MR and phones taking even more its place. So they have to use it to promote their other platforms(hoping they want to reenter smarphone market)

Please explain us how to activate this. Thanks

Read again the last sentence ;-)

Read again the last sentence ;-)

I still don't get this concept and why it should be a function of the taskbar applet. This should have been a function of the people app. It is really the people heb functionality ripped from the old people app. This is really what many users wanted before the unveiling of MyPeople. Other advantages of making this a function of the app would be: -hub: one stop shop for all contact and messaging related activities - potentially more screen real estate to open multiple app functionalities' for a single contact. -better customizable windows sizes. Not as now bogged down to a fixed box stuck to the taskbar. -potentially more space to open multiple contacts as multiple instances with more room for multiple contacts open. The taskbar will likely have its limits with already crowded taskbar with other pinned apps. another advantage would be that it could become a function of a live tile. Advantages I could imagine is that these people contact tiles could be coded.to flash when new messages come in. Also the live tile could already show glanceable information of new messages on the tile without even having to open the applet, whilst you can't do that from a pinned tile on n the taskbar. And even more with the expansion to interactive live tiles developers could create interactive toast notifications on the new tiles for quick responses. It could also help with improving the layout with multiple contact people tiles stack on the full screen start menu more flexibly side by side or one above the other. Thus better personalization options to manage the contact huns, much like my people applets represent now. And would help expand further functionality expansion of the windows 10 features for other developers for creative uses with live tiles. -it would also help in that a more consistent experience across devices could be managed as possibly pinnable MyPeople contacts won't be supported on 10 mobile. And how could it be imolemented to Xbox or HoloLens? Apps and live tiles are supported as the basic blocks for all windows 10 devices, not the taskbar perse. Focussing theae functionalities to the app and/or live tiles,I think, is a wiser choice to implement and focus on. The way MyPeople has been demoed needs more careful thought of implementation. Microsoft has tried hard to improve a unified single core experience. I think adding this new functionality is only further fragmenting the experience. MyPeople would fit nicely in the people app and would improve its value, discoverability and completing the fit and finish experience. For me the past apps on windows hub apps for MyPeople was a powerful app and tool. Messaging and social media support was argued to be a problem with developer updates. Het here we are with this MyPeople really showing just that. And it can not be put in the People app. What? Its pulling features from app and pushing them into new applets. Its getting crowded. We already have a taskbar, a sidebar, an action center, a desktop, a start menu, live tiles, context menus and more.

WhatsApp never had people integration do why should this change things? Even the now abandoned Viber has people integration, WhatsApp never implemented it in four years of existence.

A kind of "People Hub". I wonder where that idea came from?

Even MS starts copying MS. ;-)

i hope it would look much better in the final release, i've seen people app concept and got disappointed from the final version of the app

Agreed, third party support will make or break this feature. If WhatsApp, Telegram, Twitter, Facebook (actual, Messenger, and Instagram), GroupMe etc. aren't all on board from the start it's not going to be a lot of use to most users. I mean, even my family mostly just uses WhatsApp now, I never thought I'd see them move beyond email but it's rare they need that now. I just hope Microsoft have people working on this and not expecting people to just come running to the feature like they usually do. If Apple did this then yes, most major apps would be available at launch, but Microsoft need to put the effort in to get them on board.

That's where Apple differs. They make partnerships before they launch things. If they launch AR they will no doubt launch it with pokemon Go and likely others. Heck, they partnered with microsoft to launch ipad pro with office apps.

Exactly what I said and got down voted for. Unless you use the mail or skype apps, then not much use to it.

I don't think third party apps will ever play along with this of their own choice. Microsoft needs to intervene and write the operating system to give us the choice of installing these selfish apps in the "people hub/bar".

How "hidden" is this? Is it possible to enable it with Registery edits in the latest Fast Ring build?

I'd love to try this, but I value my Panay Surface Book far to much to chance it.

Hope for more apps to interact with it like Viber and other messaging services

Is this in Win 10 10.0.16170? If so, how do I enable it? I don't see anything in the task bar or settings.

Living in the future. Most of us has not recived Reastone 2, and now you feed us stuff that we will not see before sometime late this year. Is Windows Central aming at only betatesters? Not regular users?

Why don't you read the articles bout Redstone 2 in WC instead of this article?

It comes out starting the 11th of April.

Wow, when Redstone 4 gets here, and we start getting this and other Redstone 2 & 3 features... Well, we'll have a killer OS on our hands.

Shesh, meant that as a joke, people. Oh, that was a cut Redstone 2 thing, huh? RIMSHOT!

Why not call it just People?

I prefer Phonebook, but I don't think the developers are old enough to know what a phonebook is. The app certainly doesn't have the basic functionality if one. Access from Phone is neither clear nor seemingly even related.

I dislike the name a lot. They are my contacts, not "my people", which is only a subset of my contacts.

Hoping for better Linkedin support for contacts and meetings

About this I have a word to say. Maybe this delay for the my people feature was about the need for changes on the backend. The people feature had many issues from the beginning with lots of repeated contacts on linking... Others not staying linked when configured. So I see lot of work to do.

So where is this "hidden" on a Dutch version? Been looking all around, only find a .dll referring to people-band, PeopleBand.dll

im looking for the same but i didnt find anything

I love the People HUB in Windows Phone 8.1 alongside awesome Facebook app integration. Now thats not cool anymore in Windows 10 Mobile with Me tile not available and broken integration with new official Facebook. It was wonderfully personal as said by Steve Ballmer.

Well it is great to have this experience, but it would fit better if integrated with Cortana, since several experiences are supposed to be in Cortana wil boost the quantity of the AI Assistant.

What if you don't have people to begin with?

Is it possible for MS to feature mobile early builds along side the PC ones as well? It doesn't have to be ground breaking stuff, just UI tweaks, animation here or there, a change of system font etc. change of default system tile icons. Something to allow users to see that they actually care and even if it's the last at least we know that they're going out with somewhat of a bang for the windows fans who've been here still this long.

Please bring back the Calender-Cortana integration that when setting meetings that Cortana automatically turned on Quiet Hrs until meeting time was concluded.

It sounds like a nice feature, but it will be totally useless for me if it doesn't propperly support any social media like Facebook(Messenger) or Twitter. These two apps are the ones I communicate with other people the most. Not Skype and especially not Mail.
The people hub on Windows 8.1 did support these two and I loved that app because of it. People hub on Windows 10? Nope. For me it's totally useless and I currently don't see that changing soon.

Yet another feature I'll never use. I don't keep anything on the task bar. If I can't access it via a live tile, voice or gesture, I don't care about it.

I'd love it if we can finally send a F-ing email to a Contact Group. That is all my customers want, the ones that were shoved off of Windows Live Mail.

Anyone else thinks this should be just merged with the People Hub?

If this has Twitter and Facebook Integration, I'm in.

It is unfortunate that this feature didn't make the Creators Update. Microsoft had highlighted this one of the big new features of the Creators Update in December. Another feature that didn't make the Creators Update is the redesigned Action Center. Of course, Microsoft needs to ensure the quality of the feature

The current fast ring update causes an exception during installation and keeps rolling back, so I will have to wait to take a look at this after the next one.

I doubt it will be integrated the way the People App in Windows Phone 8 was, Where I could actually import all my Facebook, Twitter and LinkedIn Contacts within the App. Microsoft wants to be heavy relient on the Apps to try and bring Devs, But They really don't want to build another Itteration of their app. Not even Microsoft owned Companies. LAST APP UPDATE for LinkedIn is 2013. Good Job Microsoft for not allowing them to pull the plug on the WindowsPhone 8 App.
We will See, but at this rate Nutella is more than likely going to KILL 50% more App DEVs for Windows Mobile before RS3 even hits a 950 for Insiders.

Microsoft should announce something on Surface Phone Surface Phone doesnt have to be backward compatible it has to be a futuristic device

sooo ... thats basically the standard contacts app from windows phone just on pc then, where you can add / link contacts from social networks to your outlook contacts. well it's about time they got a move on in that direction again, my phone has zero apps but a ton more features in terms of contact management than my pc with mail/contact or full on outlook ... its been ridiculous for the past few years that way.

Hopefully we also can locate our contact if they wish so, it would be most gratfull to see where our kids are located for example.

Just come out with the official windows 10. Windows 7 did not have o go through all of the hoops that 10 is going through.