eBay lists AT&T Windows Phone 8 devices with November 9th release, confirms low pricing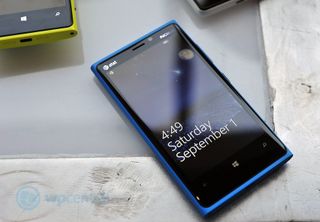 Good news for those on AT&T eagerly awaiting the Nokia Lumia 920 or HTC 8X as eBay/Best Buy have the devices listed with pricing and "expected availability" date. And yes, you can now order them too.
The new date is November 9th, which fits in the idea that AT&T is really scrambling to get these phones out the door. Originally we heard early November and then later November 4th. News came forward recently that it had been pushed back and seeing as AT&T did not reveal any information at Monday's event, it made sense that this was in "motion".
Of course since AT&T has still not officially announced pricing and availability, all of this is subject to change.
On the pricing front there are a few interesting tidbits. For one, the option of 8GB or 16GB versions of the HTC 8X is confirmed with the former fetching for $99 and the 16GB variant going for an extra $50 at $149.99. The bad news is there are only two colors: California Blue at 16GB and Limelight Yellow for the 8GB version, also confirming that Verizon has an "exclusive" on the Red HTC 8X.
Probably the best news is saved for the Nokia Lumia 920, which is available in five colors: Cyan, Yellow, Red, White and Black. For those of you like matte colors, you'll want to opt for Cyan and Black. The pricing though is now confirmed at a very reasonable $150 for the top-tier device on contract.
Un-activated/no contract pricing for the Lumia 920 is $599. The 16GB HTC 8x meanwhile is more, sitting at $649.99 and the 8GB matching the 920 at $599. Seeing as the Lumia 920 comes with a full 32GB of storage, larger screen and that PureView camera, the financial incentive is to go with that phone over the HTC 8X—even on contract. Still, the decision for many will depend on preference and both phones hold their own.
And yes, our review of the AT&T Lumia 920 is forthcoming. Sit tight.
Update/Pro-tip: Use promo code EBSAVE25 and save 25% or $150 off your pre-order!
Update 2: Ebay has put the site under maintenance. We're not sure if they put these up too early, didn't want people using a coupon or just normal fixes. We'll keep you posted.
Update 3: eBay/Best Buy is back up but alas, while the HTC 8X is still there for ordering, the Lumia 920 is not. We placed our order for one too, but no word if deliveries will still be honored for that "expected" date. Seeing as that wording is ambiguous, we're not betting on it.
Source: eBay; Thanks, Josue M., for the tip!
Daniel Rubino is the Executive Editor of Windows Central, head reviewer, podcast co-host, and analyst. He has been covering Microsoft here since 2007, back when this site was called WMExperts (and later Windows Phone Central). His interests include Windows, Microsoft Surface, laptops, next-gen computing, and arguing with people on the internet.
Wow, so 16GB HTC 8X is really priced the same as 32GB Lumia 920. That is a bit surprising.

That is not surprising, it is stupid.. How can a device that has half the storage of a Lumia 920 cost $50 more? Are they insane?? They have similar desings so HTC can't claim that its because of the design neither the camera, which still the 920 blows the 8X away.. I am dissapointed. Well.. Its best for Nokia because now I will get a Lumia 920 for myself :D


+1. Unless you really like the 8X form factor, the 920 is the way to go.

Or you had a couple of bad experiences with Nokia before

My HTC Titan is traumatizing... HTC Titan II released months later.. No support.. Random resets on my first AND my current replacement HTC Titan :( besides those glaring bad experiences, I like my Titan.. mainly, I like Windows Phone and my big screen (former iPhone 4 and Motorola Atrix owner).. I can not wait to replace it with a Lumia 920

I'm glad that Ron Paul is a WP user! ;)

Working at a place that sells WP7 phones, all HTC phones are significantly more expensive than Nokia phones.
The HTC Trophy is $50 more expensive (off-contract, $500) than the Lumia 900 ($450), and the HTC Titan II goes for $550.

Not that surprising, the increased carrier subsidy on the 920 is a direct result of the AT&T exclusivity deal.

yay so when will i get my phone!!!!!!!! >:) i preordered my black lumia 920 the day the page first went up.. its my lumia and i need it now!

According to the order confirmation email I got, they claim estimated arrival time is Nov 5 - Nov 6. I hope that's the case. can't wait to use that Yellow Lumia 920.

I hope you were referencing this commericial with the "It's my Lumia and I need it now":
https://www.youtube.com/watch?v=HX0fIi3H-es

LOL yeah i was :( i like that commercial it gets the point across. :D someone noticed it :p i feel special ;)

My body is ready. Come to me.

Wouldn't mind some info on the 820. Not sure why anyone, even HTC fans, would spend more money off contract for the 8X.

Definitely getting the 920. Bigger is better for me. Can't wait to get back on Windows Phone.

When is this Lumia 930 review coming?? And I keep debating, yellow or white? White is my favorite color but yellow is different and colorful, not dull.

Use code EBSAVE25 to save 25% right now.

Promo code during checkout is EBSAVE25 for 25% OFF your preorders ;)

That's easy. Bad luck with previous Nokia phones. I would highly recommend the 920 though since its the only phone ATT will support.

Well we already knew the 920 price from preordering it on BestBuy.com

Considering what a screw up that was, I don't think it was very conclusive. Either way, we did say it confirms that pricing... But let's be clear: AT&T has not officially revealed price and availability of any Windows Phone 8 device.

Well I agree. But I still have my order from Best Buy and Best Buy support reps confirmed to a few of us that the price/pre-order was indeed legit and would be honored. Though I suppose they could have changed it to $199 for future orders and be forced to foot the $50 difference to AT&T.

Yeah, the ATT and Best Buy (or other retailer) prices don't always match anyway.

I guess everybody else wants to do what ATT doesn't really want to do.



When does the embargo ends for Nokia Lumia 920 review? Anyone know?

there isnt one... anyone in several countries can review it since its on sale to the normal consumer in canada for example

http://reviews.cnet.co.uk/mobile-phones/nokia-lumia-920-review-50009101/ there you go cnet review came out yesterday

What a joke of a review. "Don't buy this phone if you like apps". Wow, can these idiots hyperbolize a little less? No low-light photo comparison -- the strength of the Lumia cam. iCnet indeed, as always.

CNET said that? How lame that they are still waving the app flag.

i hate this icommunity we live in.

CNET is a iCRAP tech site like "TheVerge", anything Apple makes is 9.0 out of 10. They're running out of reason to degrade other products that's why "APPS" is the only thing they can use. It's lame but I wonder if they can download all the apps in the Apple apps store in their phone or tablets. That I would like to see!

I don't understand why everyone is being so harsh on this review. It seems pretty positive to me, 4 stars out of 5.
They continuously mention the great features and call it a "superb" phone.
Yes, they mention the lack of apps twice I believe, but that's such a small portion of the review that I don't understand why you all seem to think that is all they mention.

yeah but to say its seriously lacking in apps is a dumb statement i have a l900 and it has all the apps i need and always getting better

That's the reason they always used, lack of "Apps". I have the apps I needed in my radar and the most important thing is my phone works doesn't freez, lags or crash. I tried them all ishit and crapdroid just wasted my money, and same thing happened to couple of my friends. Now they are Windows Phone owners and happy. Both are waiting for the WP8 like I am.

I sure as heck hope the date of 11/9 holds true for Lumia 920--can't wait to order and get my hands on it!!!!

So, would this be sound thinking...

Pre-orders go up tomorrow from AT&T (totally wishful thinking) on Friday November 2nd. Phones are shipped to stores and pre-order customers around Tuesday-Wednesday. People recieve and are able to purchase phones in store on the 9th.

Sound about right?

I just paid $112 or so after the 25% off for the Lumia 920.

What website did you order from?

The one mentioned in the article. There is a code EBSAVE25 that you enter at checkout.

that's awesome. i just can't think of what color to get? lol

Also Daniel, now that I think about it, wasn't the 8X that went up on Best Buy on the 21st an 8GB version for $99? I wonder what the deal was with that and if those people got their preorder cancelled.

id like to know where on ebay this magical listing is. i just went on there and searched and there is no nokia 920 on there for pre oder, wheres the link to this story? hmmm

It's in the source at the bottom...

https://ebay.bbymsolutions.com/category/devices

I would also like to know this!

It's right there at the end of the article:

https://ebay.bbymsolutions.com/category/devices

Seeing the pricing of the 8X on AT&T verus what T-Mobile is asking pissis me off.

well, the device only or off-contract price looks good to me. But it is still locked to AT&T, right? I need an unlocked lumia 920

Why do you need an unlocked phone if you're on ATT? They're not going to give you a better price fr the service.
So really, you're going to end up shelling out $450 MORE for the same service and phone. The only difference is that you'll have a phone you can move to another carrie. Here in the US that would be who exactly? TMobile?
If you're on ATT today, you'll probably be there in two years. If not you'll mos likely switch to Verizon, a carrier who uses incompatible technology so you'd need a new phone anyway.
I'm sure there may be another reason that I'm unaware of but I made the same mistake once. I spend $600 on a phone so I could continute to pay the EXACT same price for services I would have if I had just bought the thing on contract. The ony benefit I had was that my phone didn't say AT&T on it.

ill believe it when i see it

Pre-ordered off contract $449 after promotion!!! awesome!

got a red one

I did that too!!!! Went with Yellow!


got mine in black. :D i went loud with cyan on the 900 gonna go conservative this time around.

Me too thank you for the code.

Wow looks like HTC is DOA on atnt at least....maybe they've just given up on this carrier and focusing on verizon...but at 200$ on verizon, they've seem to have lost their minds completely

Are these devices unlocked?
I want to know if the Lumia range comes unlocked in this ebay page. Please, confirm.

They're for AT&T, by definition they are NOT unlocked.

I suppose I can't preorder if I want to use an early upgrade? Blah.

Early Upgrade is $400.
Do this and it's $450...


I'd pay the extra $50 so you can then upgrade at the appropriate time in 6 months or whenever you're due for an upgrade. This way you're not regretting anthing when it's time for the Lumia 1000 or Surface phone or whatever magical device is announced 2013

I understand this doesn't make sense cost wise, I'm just saying there isn't an option to preorder for early upgrade. :P

Best Buy also charges $699 for the Galaxy S III which is only $549 from Amazon and carriers, so it's not really a "deal". Best Buy just has ridiculous markups that no one honestly pays.

Is this site legit? Sry I've never bought anything through eBay so I'm a little nervous.

Right now I'm sitting at the checkout page. After applying the promo code I have a Yollow Lumia 920 UNLOCKED for $450 !!! I'll wait to read more comments on this process before submitting my info.

It looks like it's through Best Buy Mobile, so should be legit.

you sure it's unlocked? come on, somebody know that?

Of course it is NOT unlocked.... it is AT&T for crying out loud :-D Still no unlock codes for Lumia 900 so Lumia 920 is out of the question.

It's completely legit. It's still Best Buy, they just do some electronic sales through Ebay as well. It's not unlocked though. It's just off contract for AT&T.

I have been patient enough,I don't know if I can hold for so long

Since the 920 is similar to my 900,I decided to skip this and wait for the next design,we all know they are already designing it...damn..

Agreed. I'll sit on my StraightTalk 900 until people decide they don't like their shiny new 920s and posts them for sale on Craigslist! Then I'll grab 2, one for the wife, and VIOLA StraghtTalk 920s!!!

Lumia 900 are going for $150-200 on CL right now. The L800 is going for $100. I will get the 800 and LG Nexus 4 ($350 unlocked). Will be happy with these for 6-10 months until the new Lumia comes out. By then, I'll be able to upgrade.

I gave in. I cancelled my Best Buy order and preordered through here. The 25% off was too much to resist.

Welcome to the the DarkSide, Padawan! :)

Hey what colors are you guys getting!? lol i wanna know :)

But the question is...why?

Probably got hammered. This story got posted on every mobile phone site like ASAP lol.

Possibly wasn't supposed to be available to order now.

If that is the truth, then Best Buy is 0/2. I canceled my first Best Buy pre-order to use the promotion. This 2nd pre-order better be honroed. Lol

It got sold out online. I took snapshot of it saying sold out on iphone but cannot find a way to post the picture.

I'm gonna wait for AT&T prices from stores. Who knows, maybe AT&T's prices for device-only will be lower.

dammit site hanging on the process payment screen,

gonna get screwed out of this for sure now...

Page went down. Probably getting hammered.

I got the same thing and now the site is down... :(

Server crash or they took it down again. I can't get through. Anybody else having problems?

yup, hung on the payment process and went out...im screwed

Same here it's telling me that its server maintenance.

I pre-ordered mine on Best Buy..full price since I am not up for renewal until next summer...should get half that cost back from selling my old but still quite functional Skyrocket on EBAY.

Will they connect this to your existing ATT account?

I don't know. They weren't asking me for my current ATT account info while ordering to be able to connect it. Just services I wanted to add.

Oh yeah! bring it on! I was one of those who bought 900 on contract, so I was preparing myself to shell out 600$ for my Yellow Nokia Lumia 920! and that 25% discount is a god send! I mean, I sold my iPhone 4, iPad 2, First gen Galaxy to get rid of apple and android stuff I gathered over years. From now on, my bucks goes only to MS and Amazon ecosystems.
Thanks Daniel and the person who mentioned about the 25% code in the comment. You saved me some serious money!.

just clicked the link --
We're sorry, our site is currently undergoing maintenance and is temporary unavailable.
Fantastic!

Just ordered mine. Went with Cyan.

The screen resolution fiasco is really starting to piss me off to no end.
If it wasn't for that one little hiccup, I'd be purchasing the 920 tomorrow. But just look at the ebay Preorder page! That extra 80 pixels on the 8X allows you to have one more, full, visable row of small tiles on the Start Screen. Look at the Lumia. You can barely see the top of the next tiles.
Sooo annoying. And now after seeing the photos from the crazy, over-done noise reduction photos of the 920, I'm really starting to look at the 8X.
Grrr...

Huh? 920 has a resolution of 768 x 1280. The 8X has 720 x 1280. Both were out of their mind for not including a microsd slot. HTC is more out of their mind for charging more than the 920.

think about it this way....how much time are you going to spend on the start screen vs within an app? all wp7 apps will have black bars on hte 8X...and btw, HTC haven't confirmed they are going to license the nokia Drive from nokia and offer it to their customers for free...till they do that you're not going to have turn by turn directions....and frankly who would pay the same price for an 8X as the L920....then put in the fact that the 8X will have half the storage and its just ridiculous

I'm on the Start Screen a lot because there isn't a true notification system for WP. Your homescreen is your notification system. As much as I love WP, my biggest gripe was always that the OS was just too big. I wanted things to be a little smaller so I can fit more on the screen.
Half the storage does blow... but I've managed two years with 8GB, so 16GB is an upgrade... Plus I really wanted "the best Smartphone Camera out there"...
It looks like the 920's camera was super hyped up just like the 900's was. I love the image stabilization and low light stuff, but if it can't take a day light photo better than the iPhone 5... well...
I'd take sharper images over better color in my images any day of the week... We need a proper head 2 head comparison of these two devices... and the more I look at the 8X, the more I like the way it looks. Really wished the 920 yellow color was matte and not glossy. Hmm... we'll see what happens. WHY IS IT SO HARD TO CHOOSE?!? AAARRRGGHH!

What are you talking about?
Lumia 920 has 768 x 1280 scree, 8X got 720 x 1280.

http://wmpoweruser.com/in-windows-phone-8-1280x720-is-actually-better-th...

Read it and weep. :(

finally price and availability at last. Come on Nov 8th so I can get my 920!

Link is dead at the moment.

damn, now im gonna have to pay the ATT price.

Sites down, not supprised, Best Buy is a joke.

I had it within my grasp, only for it to slip away. A minute late... $150 savings gone. MERDA

What? The 8X with 16GB is more expensive than the Lumia 920 wich comes with 32gb?

Are they unlocked if you get them off-contract?

I'm still deciding on which one to get, but is this is any indicator, I think the 920 is a no brainer. The sire is down ATM but I wiull try to see if I can get it shipped to Mexico. If they can, I'm getting a 920 on Yellow. Later on I will buy a black case to use with accent color because I think the colorful options don't work with many accent colors, at least with my tastes.

i will answer for you since i am nice

read the comments it has been asked many times.

its not unlocked...off contract does not mean unlocked.

I read all the comments but no one confirmed it. Just one or two guys said that they were not unlocked but I couldn't feel they were sure enough.

Thanks for you answer, tough. I guess they are not unlocked after all.

Do you guys where can I get (or expect to) an unlocked 8X or 920 in the coming days? I think we will find out later on here.

You will for sure not get one unlocked in the near future as it is exclusive... you have to import the international version - but that will set you back 600$

Fuck fuck fuck. I decide to take a shit and this is what happens?! AHH BLOODY KUNG PAO CHICKEN.
In all serious note, called the customer service to see if I can buy a phone, system is down on there end :(

LMAO! Kung Pao chicken kicked your ass. :-P

i am definitely getting one of this too. Waiting for so long, but i wont give up and get those iPhone 5. Never use a Nokia in my life, but after seing all these spec, hands-on, and confirmations from my friends who have been using Nokia phones before, i trusted in this company every since. Hope they can survive through this financial crisis and be strong again

Im dying for ordering this phone from att, i dont how they being the exclusive one haven't yet put this to order.

I don't understand, where do we use that 25% off code? Ebay? If so, where? All I find are Lumia 920's for close to $900 USD.

On a side note, does anyone knows if the Lumia 900 were hard to unlock once you bought one like this off-contract to use with another company? I'm asking because I think this 25% or $150 deal is awesome and can make me order one and unlock it when it arrives or when something is available to do it.

No one was able to unlock the 900 till 6 months later when at&t themselves started to unlock them. Don't buy the 920 hoping for a 3rd party unlock is my advice.

If you want to unlock it, buy from Rogers. Right now they are selling 920 unlocked. When they sold 900, it was unlockable immediately too unlike AT&T's.

Do you have a link? I went to their site but couldn't find any phone with WP8

For now they are sold in stores only with limited availability.

I called in and they said they shut down to do an inventory count to make sure they don't oversell...
What's the likelihood they already have the phones and just cannot ship them until AT&T gives the ok? Were they just lying to pacify me? If so, I'll consider getting upset... I'm just not certain yet.
EDIT: Also, in another apparent attempt to pacify me, they told me the site would be down for several hours and to not expect it back up for a bit. I think read somewhere that the coupon code was supposed to only be for phones bought on contract, which would better explain why they shut the site down. Discount 25% on $149 is a lot more reasonable for a company than 25% on $600.