From the Editor's Desk: Welcome to Barcelona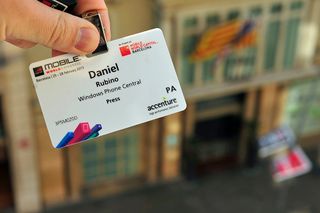 Yes folks, Windows Phone Central is here in Barcelona for the annual Mobile World Congress, considered to be the largest trade show on all things, well, mobile. With an expected attendance of nearly 60K visitors, this year will be the biggest ever (and at a new location).
Myself along with our app developer and podcast co-host Jay Bennett will be here throughout the week bringing the latest and greatest news that comes out of here. So what on deck?
Tomorrow, Monday the 25th at 8:30am (2:30am ET on Monday) Nokia will be taking the stage for their major press conference. The expectation is for them to announce numerous new phones, including the Lumia 520, Lumia 720 and one or more high-end/flagship phones e.g. EOS. That latter device is expected to sport a 41MP camera sensor akin to the PureView 808 (announced here exactly one year ago).
Of course, this being Nokia and information on the EOS being so thin, anything is possible.
Likewise on the tablet front. Rumors for a Nokia tablet have been waxing and waning over the last few weeks and we wouldn't rule out a tablet announcement for tomorrow either (either RT or Pro). We also wouldn't bet on it. In other words we're prepared for any surprises that Nokia may have and they usually have a few.
For those wondering about Microsoft, no they are not here, so there will no major Windows Phone 8 announcement. The Windows Phone Team is here, in an unofficial capacity and we'll be having some drinks and chats with them on Tuesday evening. Who knows, maybe we'll learn a thing or two along the way? (Translation: get the Windows Phone Team drunk).
Huawei is set to take the stage in just a few hours. Will they only show Android phones? We're not sure which is why we're headed down to see what all the hubbub. We'll report back ASAP if we see anything.
CoPilot will be on hand later to show us their new navigation app for Windows Phone 8, so expect some video of that in action later on in the day.
LG is here but the latest we're hearing is there won't be any Windows Phones displayed. Some sites (making very tenuous connections) speculated that the Korean company would make their expected return to the Windows Phone fold this week, but that does not appear to be the case. Still, we'll be around in case something does show.
Other than that, we have numerous meetings with some companies and developers and since the show has not kicked off yet, anything can possibly happen in the next few days. Sure there are "knowns" but there are also many more "unknowns" at this point, meaning you'll want to tune in to Windows Phone Central for frequent updates!
Cheers, we're off to figure out how Spanish showers work…
Windows Central Newsletter
Get the best of Windows Central in in your inbox, every day!
Daniel Rubino is the Editor-in-chief of Windows Central, head reviewer, podcast co-host, and analyst. He has been covering Microsoft since 2007 when this site was called WMExperts (and later Windows Phone Central). His interests include Windows, laptops, next-gen computing, and for some reason, watches. Before all this tech stuff, he worked on a Ph.D. in linguistics, watched people sleep (for medical purposes!), and ran the projectors at movie theaters because it was fun.
Have a rocking time! Any webcast?

Yeah, go to nokia.com/webcast

Excited to read all about it and hear the podcast!

Enjoy your time there guys

I'm glad if I'm wrong, but all the information available points to a result with no high end phones from Nokia @ MWC. No Catwalk, no Laser, no EOS, no tablet. But as I said, I'm glad if I'm wrong.

Where did you read this? Everything I read points to it.

This informations have been going through WPcentral comment sections for days. 2 Lumias (520 and 720) and 2 Ashas for Nokia only... But I do not believe it, not a bit.

MyNokiaBlog who has very legit sources...dont expect to hear anything on the high end. They knew last year beforehand that the 808 was going to get announced. Nothing of what leaked within the last few days points to them announcing anything highend.... Including the Laser that went through the FCC the other day. ...simply BC why would you announce a variant of the same product you released 4 months ago? But anyway, I hope im wrong too.
Maybe the leaks were held back....or maybe BC there just wasn't anything else to leak? It is also known that evleaks usually leaks EVERYTHING. With only the 520/720 renders being leaked...im not to optimistic there is anything else.

Awe a awesome time though I do admitt I am somewhat jealous. On the other hand I'm not that excited as I not thinking its not going to be that big for WP products..we already know most of it

Have fun WP crew bring us all the best goodies :P

Nokia RT tablet with Lumia 800/900 design and priced as the Nexus 7. That would be the greatest news of all!

Daniel,
I recreated the pressure on my thumbnail required to have that level of blood pressure showing under the nail, and boy are you gripping that badge tightly!
I don't blame you, hang on to that thing and have a good time!

Will there be a live video conference from Nokia event from 11:00 to 12:00?

I hope whatever product Nokia announce at the MWC 2013, it'd be clear release date, carrier - retail availability, comprehensive accessories, and most important of all; immediate availability to keep the WP8 ecosystem vibrant with lots of choices for everyone.

No shitty exclusivity contracts please...

Agreed - I'd rather hear nothing than hear about products that will be here in 'the coming months'

Can't wait for some good news.

Sad, no next major window phone 8 update.


No update for windows phone just kill me now :'(

;))
Seriously jealous right now ,,, but anyways, being BLOWN-Away by Nokia's Surprise has the same Impact whether i'm there or 4000 Miles away ;-)
..
just make sure You guys tell WP folks about the Xbox live / Games thing .... I mean Your whole Editorial was Great, and could turn things around if taken seriously with all it's info ...... so that Drinks & Chats thing on Tuesday evening would be Great ro throw the Bomb , don't you think ?! ...........

Congratulations guys for making to MWC. This should defintely be the best MWC for Windows Phone fans we've had to date. Some think Nokia will not announce Catwalk, EOS or a tablet this early but I'm with you guys on being more optimistic than that.

Anybody know if Nokia going to stream their event like always?

Im glad you decided to take Jay with you. I look forward to your reports!!!

Me too ;) in fact I'm on my way to the airport right now

Enjoy, no jealousy here :)

Looking for the Nokia Press Conference?
From the Nokia blog...
Nokia's press conference starts at 8:30 a.m. CET sharp on Monday. You will be able to view the live webcast here.

http://www.media-server.com/m/p/jxs79ucd
Just 1 day away! I'm excited since I'm only a month away from switching carriers and upgrading our 7.8 phones!

By the way, any comments on Jay and Daniel meeting in person for the first time?

Place your bets now, will we last the whole week? :D

2:30am ET Sunday? Isn't that already here?

you have a very good point sir!

Buena suerte!!! I'll be checking the website often for exiting news, but make sure you enjoy yourself a little to honor those of us around the globe who have to work. Cheers/Salud!,
Go Nokia!

Have fun in Spain,guys!!!

Have fun, wish I was there !!

Daniel, Jay,
after you got the MS boys nice and drunk, make sure to ask them what new SoC they are working on for WP9. Alternatively, work it from the other side and ask Intel why they recently hired a WP engineer. ;-) Asking them about organizational changes at MS might also be interesting. Are they merging WP and windows teams? Why? Enjoy!

Represent for the WPcentral crew...enjoy bro.

I am really looking forward to this. Hoping for a fantastic coverage. I am sure you guys will report news as it happens. I mean, wpcentral is my favorite windows phone site. Have a great time!

@Daniel, can you find out who at microsoft pissed in Thurrott's cheerios??? I used to go to his site for info and insight, but I just get angry and depressed when visit his site. And why does he bang on Nokia so much??? I don't get it.
Sorry for the rant, just have to unload somewhere.

To learn how the showers work, just invite a senorita to show you "how they do it in Spain"! A little hands on, that's all.

Aww man. They are in my favorite city ! What I wouldn't give to go back to Barcelona and be there!

Have a good time Daniel. Easy on the Sangria.

one day, I'll go to barcelona to see MWC .. and met with Nokia also wpcentral !!
Windows Central Newsletter
Thank you for signing up to Windows Central. You will receive a verification email shortly.
There was a problem. Please refresh the page and try again.