CoPilot navigation announced for Windows Phone 8 and Windows 8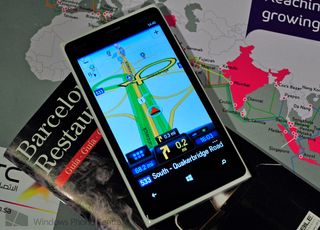 Today, ALK Technology, the company behind the popular CoPilot sat-nav apps for iOS and Android has announced support for Microsoft's Windows Phone 8 and Windows 8 (x86), bringing both paid and free apps to the platform in the coming weeks.
For those who don't remember, CoPilot goes way back with Microsoft having integrated the first GPS system in a Windows laptop and even selling Pocket CoPilot for PocketPC. In other words, this sat-nav owes a lot of its legacy to Microsoft's systems all the way up to Windows Mobile 6.5 (Flashback: Our CoPilot 8 review from 2009).
The company backed away from Windows Phone 7 though instead concentrating on iOS and Android. Part of the problem was also their complaint about managed code being difficult to work with for their system. Of course with such a complaint one would expect them to jump back in as soon as native code access was granted and sure enough, they have today.
Some screen caps of the Windows Phone 8 CoPilot
We recently spoke with David Quin, head of consumer applications for ALK Technologies, about the new Windows Phone 8 version and some other bits of information to pique your interest.
Most folks will wonder why anyone would opt for CoPilot over Nokia's Drive+ system, which is offered for free to all Windows Phone 8 users. It's a legitimate question, especially since price comes into effect. Quin emphasized that CoPilot is heavily focused on in-car navigation solutions and that is the primary target for this app.
By concentrating on being "clear and non-distracting" including a neat feature called Direction Screen (which only shows the maps/directions when a turn is approaching), CoPilot hope to bring a more polished and feature-complete driving experience. In short, CoPilot knows that they have to out-do and out-perform Nokia and even though they rely on the same mapping information (Navteq), CoPilot seems confident that they can bring their A-game to Windows Phone 8. Here are some of the main features of CoPilot for Windows Phone 8:
ActiveTraffic™ calculates the fastest routes and accurate arrival times based on live traffic flow information
Comprehensive local search with integrated access to Yelp, Wikipedia, and Google
Clear, non-distracting 3D map views with lane arrows and signpost display
Automatic route calculation and recalculation if a turn is missed
CoPilot ClearTurn™ makes navigating complex intersections easy
On-screen speed limit indicator and excess speed warnings
Advanced trip planning with a choice of 3 routes and drag-and-drop route editing
Global map regions available to purchase and store on the device as required
Surprisingly, the company has actually seen steady increase in sales on both iOS and Android, even after the latter introduced free Google Maps Navigation to all Android users. That should tell you that the company is doing something right. While free for casual users may be totally satisfactory, there is a benefit for a paid version.
Legacy: "It's good to be back in the Microsoft fold" - CoPilot's David Quin
Co-Pilot will of course offer complete offline mapping support, allowing people to download maps directly to their device without the need for a data connection. They're also looking to keep the app updated frequently by attempting anywhere from 6-10 patches a year (assuming the Store approval is smooth). That should keep consumers who are paying for the app content that bugs are being addressed, features are being added and maps and POIs are being updated.
Pricing for CoPilot on Windows Phone 8 will feature cost parity with both iOS and Android. For the US, CoPilot will be a modest $9.99 a year with European regions priced around $26.99 or all of Europe for $40-45 (we're told and heard before that mapping data in Europe costs more and that's reflected here).
The app itself is free and includes trip planning and mapping as a fully functional app (think of early Bing Maps) but users can then opt for an in-app purchase to download offline maps for the full experience.
Regarding Windows 8 RT for those of you with a Surface, the company is currently focused on Windows Phone 8 and Windows 8 (x86) but it is on their roadmap (like most companies, they are constrained by priorities and development costs).
CoPilot for Windows Phone 8 is expected to be submitted to the Store in early March and assuming the approval process is successful, users can expect to have the app within a short period.
Luckily for you the company is here at Mobile World Congress and we'll get a hands on demo of the new app later today. [Update: Our hands on demo is now live]
Windows Central Newsletter
Get the best of Windows Central in in your inbox, every day!
Daniel Rubino is the Editor-in-chief of Windows Central, head reviewer, podcast co-host, and analyst. He has been covering Microsoft since 2007 when this site was called WMExperts (and later Windows Phone Central). His interests include Windows, laptops, next-gen computing, and for some reason, watches. Before all this tech stuff, he worked on a Ph.D. in linguistics, watched people sleep (for medical purposes!), and ran the projectors at movie theaters because it was fun.
I'm loving how they're supporting wp8 alot more now.

I also noticed a buch of app updates just like after L900 launch.
Hopefully, this trend continues as it stopped after few months then.

Also, I hate MWC, companies develop stuff and never freaking release it because they wait 2 - 5 more weeks for MWC... copilot is an exception here but still, I am sure if we get pandora at mwc, it was finished weeks ago

The wait is over!!! Would the users who still have copilot for hd2 get some sort of deal?

I am excited with the big names coming on board!

Does it also work offline?

Yes! From the article:

Co-Pilot will of course offer complete offline mapping support, allowing people to download maps directly to their device without the need for a data connection

European map data is more expensive? Someone should tell them that every WP8 user can download Navtec maps for the entire world for free.

You are talking about the Nokia Maps. That is costing Nokia money but they give it to you for free cause you own a Nokia phone.
The main reasons its more expensive is all about licensing deals that have to be made with a lot more countries and the fact that the rules are often different between countries (which has to be implemented over and over again).

Those Navtec maps are natively integrated into the OS and as far as I now every app can access them. Correct me if I'm wrong.

I used Copilot on WM6, iOS and Android a lot. Before switching to WP in 2010. I must admit I did miss it. However, I'm a bit more of a casual user of GPS now (I have kids now, don't get to go out much anymore), and Nokia Drive has got me to where I wanted to go so far. I'll definitely check it out when it's released though, especially if it's free without offline maps. Good work ALK!

CoPilot was great. Now all we need is a accurate GPS in our phones. (mine L920 and its exact but horrible off)

Was a co-pilot and then co-pilot live user on android then iOS. I'm glad they are opting for far more sensible pricing than others (Navigon!!!)

Hay Daniel will Microsoft be attending Barcelona or will it be of campus but main question is will we see something from them :/

So glad that copilot is back, just hope like others there might be a deal for customers that were no longer supported since purchasing hd2 version... Also glad they have listened unlike devs at windows who are ignoring 27,000 comments on requesting custom sms tones :'( hope they wake up one day before losing client support

I read about this is a few days ago. Keep up guys :-)

Truth be told there was an embargo on that news until this morning. We held back as we brought some screen caps and actually spoke with the company about the product, hoping to add some more merit to the story as opposed to just copying/pasting a press release ;) Edited for clarity/tone

I see I missed a rude or abrupt response to my post. Just as well. Did you not see the smiley face??

İ was using it on my previous android phone, now using it on my ipad, and gonna use it on my lumia.yesss!...

I have no idea why Daniel Rubino gets so defensive in these comments. Seems very unprofessional.

Not really defensive so much as explaining our position ;) We take embargos seriously as well as bringing the latest and most detailed news to our audience. If I came across as defensive or my tone seemed harsh, my apologies as that was not my intention (I'll adjust my comment accordingly) If we're "late" it is often because we're getting more information/details/confirmation not because we missed it.

I appreciate you taking the time and making an effort in producing a story that is more professional than the competition, even if it's a day or two "late".

I much rather have a somewhat late review with accurate reporting than something that's half baked and full of inaccurate info......

I agree, I much rather have the late news that is accurate, than the rushed to be the first one out with it. Keep up the good work wpcentral.

Yeah but that's why they have a Rum-o-meter. Bring the story out fast with low Rum-o-meter score and once confirmed, bring the score up.

remembering wm days eh.....malatesta ?

Rather annoying! Been using copilot since windows mobile days and loved it. Bought navigon a week ago when price droped to £50 thinking no copilot and now read this. Good to hear more great apps are coming to wp though

Buying Navigon is not a mistake. It is a good app.

Not sure what this app offers better/more than Navigon. Anybody got a clue about that?
One thing i could think of is that it will be a proper WP8 app. Not a port like Navigon so that it uses the new GPS Api to keep it working in the background. Navigon currently doesn't do this.

You don't need a second mortgage to buy it perhaps?

Not if you bought it at half price $25.

Well, i already own Navigon so i'm guessing i can let this one pass. But nevertheless Navigon seems to have a bit more features than this one. Just curious on what makes both apps different. Perhaps WPCentral could do a comparison when its released?

Good to see ALK coming back to Windows but I do wish I-Go would do the same !! I found it to be ideal for my needs having a really excellent filing system for storing lots of favourites locations, plus the ability to update speed cameras weekly! Even though I have Nokia drive I am still using my old HP pda so I can run I-Go on Windows Mobile 6.5

Daniels, nice article there. Guess I will try it out.
Can you also edit the fact that Nokia Drive is available for all Windows Phones? As I still am unable to download it in the Netherlands on my 8x.

also not in Israel on my 8x

I don't think I'm going to pay for it. Nokia Drive is awesome and global! Even more awesome when Nokia Drive will include live traffic rerouting as it does on Symbian!

I bought Navigon back when I had my DVP and between that and free Nokia Drive I don't need any more nav systems. And its funny they play the old native code card when Navigon was able to port their solution to WP7 and include their signature features. Guess we'll see what makes copilot so special soon enough.

I hope I can transfer my license I bought on the android system. I love CoPilot Live

Why you might want to choose this app over drive+ you ask? If you use WP8 in Germany there is no drive+ available. That's why.

I can't wait to try it out. I like Nokia Drive, but the routing is terrible sometimes.

This looks promising. I wonder how battery usage will be? The Lumia 920 can't keep up charging and running Nokia Drive+ at the same time.
Anyone know if speed limit is available? That looks like one thing it may not have compared to Nokia Drive+.

My Lumia 920 has no trouble charging and running Drive+. I drove 2 hours starting with ~80% charge and had a full battery when I arrived at my destination. I did have the map downloaded to memory.

I think that if one does not have a WP8 Nokia device... This would be a very good Nav app to own. I had this app way back when it was always one of my favorite Nav apps. With Nokia Lumia's they offer Nokia Drive for free so no unless one doesn't like Nokia dive...
Windows Central Newsletter
Thank you for signing up to Windows Central. You will receive a verification email shortly.
There was a problem. Please refresh the page and try again.