Elite Dangerous: Odyssey on Xbox canceled, development PC-only moving forward
Elite Dangerous will still work on consoles, but no new content updates are planned moving forward.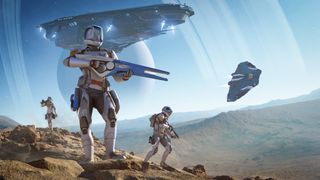 (Image credit: Frontier Developments)
What you need to know
Elite Dangerous: Odyssey released on PC last year as a massive expansion for one of the best sci-fi space flight simulators.
Unfortunately, the expansion never came to consoles, and it's been revealed that it never will.
Frontier has announced that console development for Elite Dangerous has been indefinitely shelved, with the studio focusing on PC.
Xbox and PlayStation versions of Elite Dangerous will continue to function and receive critical updates, but no future content is planned.
Elite Dangerous is one of the premier sci-fi space flight simulators you can currently play, and Frontier Developments has continued to build on it with regular updates and support. In May 2021, Elite Dangerous: Odyssey released on PC as the title's most ambitious and feature-packed expansion yet, but was delayed on consoles. Now, that delay is extending indefinitely.
Frontier Developments has revealed that Elite Dangerous development on consoles is canceled, with the studio focusing solely on improving Elite Dangerous: Odyssey on PC. David Braben, CEO of Frontier Developments, cited difficulties managing two codebases (pre-Odyssey on consoles and post-Odyssey on PC) being the driving factor behind the tough decision.
"Over the last several months, we have been wrestling with the best way to move forward, and it is with a heavy heart we have decided to cancel all console development," Braben lamented. This means Elite Dangerous: Odyssey, nor any future content updates, are planned to release on Xbox or PlayStation platforms, with the game effectively becoming PC-only into the future. "This was not an easy decision to make, but it was made with the long-term future of Elite Dangerous in mind," Braben concluded.
The console version of Elite Dangerous will continue to function as it currently does, with critical updates released when necessary. However, players enjoying the title on consoles, including current-gen systems like Xbox Series X and Xbox Series S, will be bereft of fresh content and new features. For all intents and purposes, Elite Dangerous is now frozen in time on consoles, while the PC version of the game will continue to improve further.
Elite Dangerous: Odyssey is one of the best PC games sci-fi fans can play, but it has suddenly become much more difficult to recommend on console platforms. Console players interested in transferring to PC are currently left without an avenue to keep their progress, but Frontier Developments is exploring options to enable this for players.
Zachary Boddy (They / Them) is a Staff Writer primarily focused on covering the latest news, the best Xbox and PC games, and the most interesting hardware. They have been gaming and writing for most of their life, and have been with Windows Central and its sister sites since 2019. While originally brought on to write about all things Minecraft, Zachary has since expanded to write about practically everything that Windows Central covers. You can find Zachary on Twitter @BoddyZachary.
Boo... Oh well, at least this is one game on my catch up list that I won't need to follow up. Shame really.

These guys suck the hardest anyone sucks in the game industry.

To be fair, Odyssey was a pretty huge mess on PC when it dropped, I honestly think that it is a little bit TOO ambitious even with the power of modern computers.

They didn't handle it well at all. I hope they tank. But mainly because they didn't respect their players. What they did with VR lost me, and I could have got hard into Odyssey if support was full. But no.

It was clear it was a scam from the start. During kickstart David Braben basically promised everything Star Citizen promised and 8 years later hadn't even delivered a walking character. Odyssey finally "fixed" that but it was so badly implemented and lacked even basics like ship interiors that it was clear he just took the money and wasted it in order to deliver basically a tech demo of space engine with ships. The cancellation of the console version is simply the scam finally imploding and leaving everybody who bought his kool aid on consoles burned. VR players had been told last year that it was the end of support for that too. The writing was in the wall all this time: this game is dead and nothing promised will ever be delivered.

I'm still new to this iteration of Elite and while it not a good thing it's cancelled for the console players I don't get the hate it receives overall. There's no other ge no, or announced that is gonna deliver a 1:1 galaxy to play around in. I'd happily start giving them a monthly subscription to keep that alive.

Agreed, people seem to ignore the sheer amount of content that exists in Elite Dangerous, it's staggering. And they took a risk which ultimately couldn't meet expectations but at least they gave it a try. They could have just left the game alone and not provided a wealth of content over the last however many years.

Some of us were VERY happy with what the game was before Odyssey. The ONLY thing that got my interest with Odyssey was the alleged improved graphics/planetary tech. But then we discovered they lied about it.

I got into Elite Dangerous 5 years ago. The three things that appealed to me was the extremely open world approach, the fact I could do all sorts of things to make a "career", and the fact that I would be a pilot. Only a pilot. In VR, the game was AMAZING to me. And remained that way until I saw what Odyssey turned it into. Which, for me, is just rubbish. In order to add the spacelegs and all that other garbage, the performance and graphics has suffered incredibly. So, while you may have no issues and may like the whole on-foot rubbish, some of us have simply watched the game get uglier and slower, all for nothing.

I was pretty certain this would happen. Once I saw what they were doing with Odyssey--bait & switch on the planetary tech plus spacelegs that I have absolutely no use for--and then experienced firsthand just how BAD the performance and gameplay is (especially for us VR-only players)--I told a number of my buddies when the first "delayed for consoles" messages came that I figured they'd backpedal. Odyssey in VR is just so horrible.
Windows Central Newsletter
Thank you for signing up to Windows Central. You will receive a verification email shortly.
There was a problem. Please refresh the page and try again.