EnGenius ECW230 review: One of the best cloud-backed access points
EnGenius has a smart new access point with Wi-Fi 6 and all the controls you could ask for, but is it worth the rather high asking price?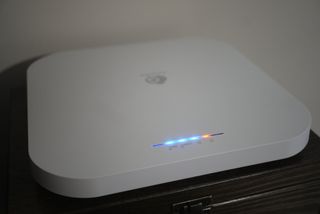 (Image credit: Rich Edmonds / Windows Central)
Buying an access point (AP) or router in 2020 and beyond needs to support Wi-Fi 6, which is the new 802.11ax standard set to replace Wi-Fi 5 (or 802.11ac). Wi-Fi 6 is a big deal, allowing the AP or router to handle even more devices simultaneously at higher data transfer speeds.
With more and more devices coming online at home and in the office, ensuring your network infrastructure can handle the traffic of today, tomorrow, and beyond is essential when looking at new network hardware. The EnGenius ECW230 is the company's flagship AP with full support for Wi-Fi 6 and plenty of additional features that command quite the price tag.
I've been using this AP for about two weeks now to really get a feel for how Wi-Fi 6 performs, as well as how good EnGenius' cloud platform is when partnered up with an additional AP and switch.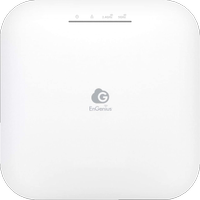 Bottom line: The EnGenius ECW230 is a brilliant addition to any home or office network, allowing one to set up a Wi-Fi 6 AP for wireless devices to connect to. The available EnGenius cloud platform is a major selling point, providing countless settings to configure, as well as real-time usage statistics.
EnGenius ECW230 tech specs
Swipe to scroll horizontally
Category
Spec
Performance
2,400 Mbps (5GHz)
1,148 Mbps (2.4GHz)
Frequency
2.4GHz, 5GHz
Wireless standard
802.11a/b/g/n/ac/ax
CPU
Qualcomm ARM Cortex A53s
Quad-core 2.0GHz
Antennas
Eight internal
Ports
2.5Gb LAN
DC power
Dimensions
205 x 205 x 33 mm
Warranty
2 years
EnGenius ECW230 design and features
The EnGenius ECW230 is quite the looker for an access point. It's difficult to make these network devices look good without going too far like most "gaming" routers where they look like alien spaceships. EnGenius did a stellar job with its catalog of APs, and the ECW230 is a great looking device.
It's not massive, coming in at just 205 x 205 mm and 33 mm tall. There are mounting brackets located underneath, allowing you to mount the AP to the ceiling or a wall (or even the underside of your desk if you so desire). Also located under the ECW230 are the single 2.5Gb LAN port, optional DC input, and reset switch.
I say the DC power input is optional since you don't receive a compatible charger with the AP. Luckily, you can power this AP with power-over-ethernet (PoE) alone, making for a cleaner finish since you won't need to tether the AP to an available power outlet. It's a downside for anyone who doesn't already have a PoE switch, however, since you'll need to buy an adapter.
There aren't any USB ports or anything else on the ECW230 to hook up wired hardware. This is a Wi-Fi AP in its purest form. The 2.5Gb port is ideal for hooking up the AP to a switch capable of handling 2.5Gb traffic. Since there's only a single ethernet port, you won't be able to enjoy any link aggregation here. To enjoy full speeds, you will need an adapter since most PoE switches are 1Gb.
The internals includes a quad-core Qualcomm ARM Cortex A53s CPU clocked at 2.0GHz, which is pretty fast, all things considered. Many expensive routers don't even come with as much processing power. This chip can handle quality of service (QoS), network controls, and more without seeming to struggle at all.
Wi-Fi 6 makes full use of 2.4GHz and 5GHz radios, and the ECW230 offers four separate streams for each. Unfortunately, there's no 160Hz channel, which hampers performance and signal availability a little. Still, for most users that don't require constant high speeds over Wi-Fi, you'll likely not notice the difference.
EnGenius ECW230 setup and management
Setting up a network AP, switch, or router isn't particularly exciting, and it can prove daunting to many since it's not a task done often enough. EnGenius knows this, which is why it made the setup process almost painless. It's a cloud-based AP, which means you'll want to have it connected to the internet at all times and use EnGenius' backend to manage it.
This may sound strange at first, but you simply cannot perform all the necessary actions using the local web admin panel. To truly configure the ECW230, you'll need to use EnGenius Cloud. The best way to set up the AP is to use the EnGenius mobile app, which is available on Android and iOS.
While this does mean you'll need an account to manage your AP and home network, it does allow you to access it from anywhere in the world, so long as you have an active net connection. If you're okay with a company hosting your network management platform, setting up the AP and getting online takes but a few minutes.
While the ECW230 can be used out-the-box with default settings, no problem at all, though you will want to ensure your network is protected from unauthorized access. There are also some advanced settings available, including QoS, which lets you set high-priority devices. If you'd like your PC to take priority over your daughter's iPad, this is entirely possible.
Guest access is really cool on the ECW230, allowing you to set up a dedicated webpage for them to accept terms and conditions, make a small donation towards the cost of the connection or sign up with an email address (ideal for businesses). Once devices are connected to the AP, it's possible to manage them from the EnGenius cloud suite.
EnGenius ECW230 wireless performance
To test the EnGenius ECW230, I used Ookla's Speedtest for net access and a NAS enclosure located on the local network for internal speeds. Wi-Fi 6 is backward compatible, so fear not if you don't have a smartphone or laptop to effectively take advantage of all the benefits that come with the newer wireless standard.
An because this AP is dual-band with 2.4GHz and 5GHz radios, you can choose between signal quality at range or sheer speed in proximity. Radios can be configured to work with specific standards and devices using the cloud management platform. To see what the ECW230 can really do, I hooked up two Amazon Alexa devices, two Windows laptops, three smartphones, a Raspberry Pi, Xbox One console, Ring doorbell, and two Nintendo Switches for good measure.
I encountered no issue using any of the aforementioned devices. With everything connected and a few of them running simultaneously, the AP didn't hit a bottleneck with the CPU, RAM, or bandwidth between it and the EnGenius ECS1008P managed switch with PoE. Another handy feature of the ECW230 is the available mesh mode, allowing you to have one single SSID across multiple APs like what you'd find with the best mesh Wi-Fi router kits.
For raw numbers, you can expect to see around 350 to 400 Mb/s using a Wi-Fi 6 client from somewhere else in the house (I'm talking about 30 feet away) on the 5Ghz radio. When located in the same room as the AP, you can see anywhere up to 500 Mb/s and a little beyond, which is rock solid for most applications. It's possible to even receive a signal just outside the front door, which is great for the Ring doorbell.
Should you buy the EnGenius ECW230?
Who it's for
If you need a premium access point
If you plan on managing every aspect of the AP
If you want to create a new secure access point
If you already have a PoE switch or router
If you want to create a mesh network
Who it isn't for
If you don't have a PoE switch or router
If you don't want to rely on a cloud platform
If you want the best speeds possible
The EnGenius ECW230 is a brilliant access point for the home or small office, but only if you truly require the advanced management features that come with it. If you don't already have a PoE switch or router at hand, you're going to struggle to get this to work. It's designed to be added to an existing network to extend wireless capabilities.
It can create a mesh network with other compatible access points, let you prioritize devices, manage traffic, and provide guest access. The EnGenius cloud platform is a highlight, allowing you to see real-time stats on network usage and how everything is performing. It's not quite as fast as some of the best routers out there, but this is a fantastic AP for most applications.
Premium Wi-Fi 6 Access Point
Wi-Fi 6 networking

Looking to upgrade your network to Wi-Fi 6 with an access point? EnGenius has an excellent ECW230 AP with a brilliant cloud-based management platform to let you control all aspects of the wireless network.
Get the Windows Central Newsletter
All the latest news, reviews, and guides for Windows and Xbox diehards.
Rich Edmonds was formerly a Senior Editor of PC hardware at Windows Central, covering everything related to PC components and NAS. He's been involved in technology for more than a decade and knows a thing or two about the magic inside a PC chassis. You can follow him on Twitter at @RichEdmonds.