Keep your passwords backed up and secure with Enpass for Windows Phone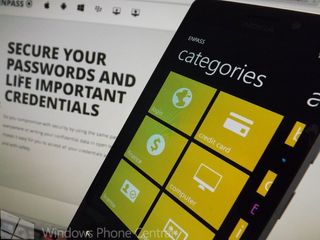 Enpass (enpass.sinew.in) is an application that is purely designed to store your passwords and important information. The reason I like this one over some of the others we have looked at is down to two reasons. The first being that it's a real beauty on the eye and super easy to use. And secondly, it allows for two cloud syncing options. Secure yourself for more details past the break.
I realize that for many people, cloud storage is somewhat frowned upon and this clearly comes down to trust. As well as Enpass having a backup and restore feature using the web, you can also sync your passwords with Dropbox which sounds pretty darn sweet if you ask me. Of course, you don't have to sync at all, but just bear in mind that if you were change to a new Windows Phone you would lose your saved information.
Once you launch the application you will need to create a password to enable you to access the app each time. Within the settings you can alter the auto-lock time - just in case you leave your phone unattended.
Creating a new entry is simple, just tap the "+" tab at the base of the display. You'll then be prompted to select from a category. These range from credit cards to travel. Within each are sub categories, so for example if you were going to enter a computer password you would then have the choice of choosing from a further eight options. Once you fill in the boxes and press save the entry will be created -- simples!
Scrolling through the main menu you'll have shortcuts to not only the different categories, but also your favorites, folders and all items. The user interface is typical Windows Phone, which means for easy and friendly navigation.
Enpass is cross-platform so if you do use another phone as well as your Windows Phone you'll be able to access all your saved passwords there too. There's a desktop version of the app for both PC and Mac and this will certainly make the whole Enpass experience much better.
Enpass is free to download for the trial but the features are limited. You can pick up the Pro edition for $4.99, which isn't cheap, but I'm loving using the service so for me it's actually pretty good value for money.
As I said, this won't be for everyone, but if you are happy to store your information in the cloud then Enpass is a great choice. You can download the app (opens in new tab) from the Windows Phone Store.
Get the Windows Central Newsletter
All the latest news, reviews, and guides for Windows and Xbox diehards.
No SkyDrive support yet. Sky Wallet is my choice, but lack of WinRT client keeps a bit inconvenient.

Mine too, is it just laziness not to have a RT version? Surely it should be relatively easy?

I'm using Sky Wallet too. So if I get a new phone, will I be able to reinstall it and keep all my info and passwords? Or do I have to re do it all over again??

The essence of sky wallet is synchronization with SkyDrive so if you keep it in sync think of it like of a permanent backup. Once you change your device, you just deploy your backup on it and ride on.

I do have it set to automatically sync with my SkyDrive's Documents folder. Problem is, when I try to open the folder with the SkyDrive app on my desktop, it just won't open! What gives??

Well err... Make up your mind, do you want to be sure that you get your notes on another phone or what? If you want to figure out how it works technically and how to open your notes on PC, go read official Q&A, there's everything more than clearly answered.

Tipp:
Keep ur pw offline on a paper

Another tip: Keep ur pw(s) in your head. period. ;-)

This, or the forgot password

Keep your passwords in an encrypted word document where the password is at least 20+ characters with capital letters, numbers, and special characters.

and where do you keep that 20+ password

Actually, using three random words in a combination which would be impossible for others to guess but are easy for you to remember is much better than the random letter, number, and symbol combination. And most people can't remember 10 character passwords, nevermind 20+. xkcd explaining the password thing. http://xkcd.com/936/

I use easy password and backed up via SkyDrive. Seems to work well for me.

thanks! i am going to sign off my wpc account and try to login into yours with 1234.

Using 925 for everything FTW!

7pass http://www.windowsphone.com/en-us/store/app/7pass/2f1d7d92-cef4-df11-926... $0.99 + dropbox etc + free desktop client + very known etc. Highly recommend.

Yes I like 7Pass lot better than anything else, it also supports KeyPass format.

Using both 7Pass and KeyPass2. Not perfect, but compared to well-known cloud services, a much smaller Target.

I use 7Pass as well. After trying a few others I came back to it. The only other one I like at this point is SkyWallet but 7Pass on the phone with the KeePass desktop client is better for my needs.

I love it for the design :)

Entryvault does have skydrive support and is cheaper

Same, sticking with LastPass. Cloud sync, excellent browser plugins, W8 & WP apps. No contest.

This. LastPass is still the best. Its on the most platforms, and I trust the security.

LastPass is great. I'm comfortable with its encryption.

Doesn't LastPass on WP require a paid subscription?

Lastpass required a one time 99 cent purchase to get full features on my WP8

Was it just that? I paid for a minimum of a single year premium subscription (but still worth it tho)

Sync with Dropbox?
You mean the cloud service without a Windows Phone app?
Over SkyDrive?
No thank you.

Password Padlock is working well for me. :)

This! It's FREE. Backs up to Skydrive. Has WP and Win8/RT apps. Consistent updates too.

Wow .. as if PasswordRabbit never existed https://dev.windowsphone.com/en-us/ApplicationDetails?productId=fe573c95-4b98-45e6-933e-784af76d3e24

Been using this for a while, really like the simple looks and functionality :)

WPCentral Team, any chance you guys might put together an article comparing the various password manager apps on WP8? I might give this app a try, $4.99 is a bit pricey for the full version but we'll see.

I use Roboform on desktop. Therefore, my choice is roboform on WP. It automatically sync'd and loaded all passwords. Now, when i change password anywhere, it automatically updates everywhere. I really like sky wallet too. But sky wallet is somewhat limited.

RoboForm was my choice too, but I got sick if waiting for the phone app so I switched to LastPass.

I waited for Roboform and glad that I did. Unfortunately, it is hard to read the web sites in their browser for my Lumia 521 without zooming, but I normally don't use my phone for web browsing anyway.

I have been using eWallet Go. It has a client for all devices and PC's. And it syncs to DropBox or Google Docs. It has a bunch of templates. The app is reasonablly good on Windows Phone. My wife and I share a sync so that we all have the same passwords.

Have been using enpass for about a week now, my only problem with it is that there is no SkyDrive support. I will request SkyDrive from the developer.

Storing my passwords and information on a "safe" remote server... No, can't find one single reason to trust a system like that, and why should I ??

Is there an option that is.secure but is stored locally only?

Anyone wonder how secure all these apps that have popped up lately really are? It's alright doing a version of well known apps, but do they know what they are doing when it comes to security? Ones like RoboForm, KeePass and LastPass have been around for a while and are tried and tested. And trusted by many.

Wasn't there a huge security breach of LastPass a couple years ago
http://m.cnet.com/news/lastpass-ceo-reveals-details-on-security-breach/2...!

I was using Enpass since a couple of months and really love this app. I am using it on my Lumia 925, iPad Mini and MacBook. I was searching for a cross platform app which could save my passwords and it ended with Enpass. Firstly I tried its trial version because I didn't wanna waste my money. But the app is so awesome that I purchased it within few minutes. Things I like most in Enpass: Free Mac OSX version. One of major reason for purchasing it. Dropbox sync (although missing Skydrive) as it allows me to access my keychain on both Windows Phone and Macbook. Recently added Built in Browser for mobile phone. Really great work as it makes browsing more secure. With this option all my login details will fill automatically in it's own browser. So there is no need to enter or copy-paste login details into an external browser. Great work by developers and keep it up by adding more features with new updates.
Highly recommend to all WP users if they really want a great password manager app.

This used to be 'Walletx' since Symbian OS. It's worth buying it

Anyone know of an app that syncs locally with your computer and can support database or spreadsheet imports of existing password lists? I'm not really interested in web based syncing of my passwords. I don't trust cloud security enough for that yet.

Cloud sync is just an option not necessity. You can use Enpass without any cloud or internet connection and keep backup of data via Backup & Restore service. We are concerned about our valuable customer's data as Enpass save their credentials. We have used globally accepted & tested AES 256 encryption to encrypt your data saved on device. The only way to decrypt it is your master password, that only yourself knows.
Alos we do not store your data on our servers and it always saved on your device. In case if you have synced it with Cloud then a copy of encrypted file is saved on respective cloud. So, even if cloud service security is compromised, your data is still not accessible because it's in encrypted form. Any kind of decryption is done locally on the device by Enpass.
For more details on security, please visit "Safety" section on our Website.

A modern Internet citizen logs on to dozens or even hundreds of secure sites from a variety of devices. "Intuitive Password" is an online password manager that helps you keep your passwords securely, so you can easily retrieve your passwords on any device at any time. You can find the Windows Phone version in the store.