Epic Games Store continues to chase Steam with exclusives like Detroit: Become Human and Heavy Rain
Epic Games is dominating the airwaves, with a slew of new game exclusives.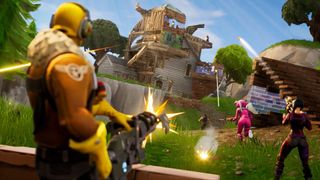 (Image credit: Epic Games)
Epic Games is absolutely on fire lately. Fortnite is showing no signs of slowing down, and today, the company revealed more than a dozen games from Deep Silver, Ubisoft, and Take-Two Interactive that will be coming to the Epic Games Store. Ubisoft announced that it is expanding its partnership with the company to begin additional titles from its back catalog to the free games program. This means that users will be able to play a number of acclaimed experiences for free through the Epic Games Store.
That's not all though, Take-Two will bring The Outer Worlds from Microsoft's Obsidian Entertainment and Ancestors: The Humankind Odyssey from Panache Digital Games to the Epic Games Store. The Outer Worlds will also launch on the Microsoft Store at the same time and is expected to hit Steam a year later. However, the biggest news of the day is still ahead. Quantic Dream recently expressed interest in going multi-platform, and the team is bringing Heavy Rain, Beyond: Two Souls, and Detroit: Become Human to PC for the first time, exclusively to the store.
Epic Games has even more partnerships in the pipeline. Some of the other highly-anticipated exclusives are listed below.
Afterparty
Control
The Cycle
Dauntless
Industries of Titan
Journey to the Savage Planet
Kine
Phoenix Point
The Sinking City
Spellbreak
Solar Ash
Epic Games also revealed that Deep Silver's Metro Exodus sold more than 2.5 times as many copies in its first few weeks on the Epic Games Store in comparison to the previous franchise release Metro: Last Light on Steam over the same period of time. In addition, both Subnautica from Unknown Worlds Entertainment and Slime Rancher from Monomi Park each exceeded 4.5 million downloads in their two-week runs as free offerings.
A gorgeous apocalypse
A defining shooter

Metro Exodus is one of the most visually impressive games out there, boasting incredible effects, vast detailed environments, and tight survival shooter gameplay.
Asher Madan handles gaming news for Windows Central. Before joining Windows Central in 2017, Asher worked for a number of different gaming outlets. He has a background in medical science and is passionate about all forms of entertainment, cooking, and antiquing.
Does this mean I can now stream these games from PC to my Xbox One X using the new enhancement to the Xbox Wireless Display app? I'd love to try Detroit but I don't have a PS4.

Yes, that does mean that. You can stream games from your PC to your Xbox through that.

Not a fan of PC Exclusivity at all. Kind of putting sour taste in my mouth for PC gaming in general lately. Hope this trend does not continue. I don't want numerous stores installed, and everything that goes with that. This is just silly. I have not installed the Epic store and I have no intention of doing so at this point. (To be clear, I don't care about Steam in any way, I just don't like what is happening)

I think competing stores can only benefit us, the consumer... Steam has had the lead for quite some time now, but it doesn't mean I'm not looking at other sites like GOG or the Epic Store for the same games at a better price. Sure, exclusivity of one game to one store means that I can't look for a better price elsewhere, but that is just how things have always been in the console world.

Same here. I am all for competition, but not this way. Not by forcing the consumer. I won't support these tactics. If they want to compete with Steam, then offer the better experience. I have to admit I am quite disappointed in them as they have been around for long enough to know better than this.

Buy games from Steam day 1, give Valve a good statistics, to prove devs that 88% means nothing.
Devs are not dumb, they know what consumers want.

I just wish you could buy the key on whatever platform you wanted to use, then add it to the library/client of your choice... I'm not a Steam loyal but when you have a decent library going you kind of want to keep it all there and organised. It's annoying having to have Steam, Origin, Uplay, Epic, Battlenet, GOG etc installed... (I'm sure I've forgotten some)

It's not like these games are exclusive to PC's from certain manufacturers. But that's got to be annoying having to go to different folders for your games. I'm sure someone is going to put out a third party organizer at some point, if one doesn't already exist.

I'm not going to give a single cent to EPIC games in the foreseeable future. Luckily to me this whole lineup seems really bland.

A quick google search about the epic store reveals that it's essentially a massive piece of spyware doing some absolutely shady things with registry keys, files, and encryption on your computer that a simple 'store and games portal' has NO BUSINESS doing. Remember people, when you're using 'free' programs from these big companies, YOUR DATA is the price. My guess is Epic saw the massive amount of hate EA gets for this kind of behavior and thought 'Hold my beer'

Seems that one search you speak relies on one story and grabbed by and of course focused on as is often the case on the inernet spread falsely by the never Epic Store crowd. Damn the actual facts, right? But, does that same thought you focus on Epic with not trusting free stuff work as well for Steam. Steams most popular games are free and a few, like CS: GO, are made by Valve itself (the parent company of Steam) who probably gathers a lot of data about you in doing so (not just their store which knows quite a bit about you as well)

LOL wow. The OP isn't wrong. Quit trying to THAT person. What Epic IS doing with user data has been all over the gaming news. Learn to read.

You are broken record. This Epic pile on is similar to how one news story gets reported incorrectly or out of context by a single source and everybody latches onto as factual, repeating the same story as original on 100 different sites without actually verifying anything. That is what you are doing. I know how to read and think on my own. Maybe you need to learn to not groupthink.

Steam was never going to have the market to itself. Moaning about it isn't going to change the fact that Steam will have competition going forward.

"Crushed Steam..." Hyperbole much? Using effusive (and triggering) language like this makes it sound like Windows Central is rooting for Epic's success--success built on the dubious business practice of paying for third-party "exclusives" for the PC platform. Does gaming really need more such business practices? Keep it neutral please.

Welcome to capitalism? Money talks.

Of course it does. But the point of my comment was not Epic's game store business practices, but the tone of Windows Central's coverage. News reporting should not really be "picking a side" in industry cat fights, unless it is as an editorial.

Choice and competition is good but now you have to register multiple accounts just to play your favorite games? That doesn't sound fun.
Windows Central Newsletter
Thank you for signing up to Windows Central. You will receive a verification email shortly.
There was a problem. Please refresh the page and try again.