Essential tech gear for travel
What is the best tech gear for travel?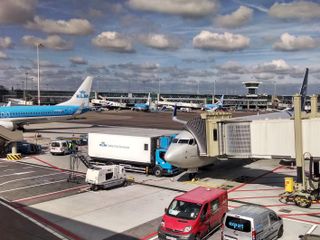 Heading out on the road demands gear that helps organize you, protect you, and connect you. Here's a roundup of the essentials when it comes to tech gear for travel.
Bose QuietComfort 35 headphones
These Bluetooth wireless headphones offer incredible noise cancellation that will make you forget you're sitting in a loud airplane or train. Soft padding and an over-ear design allow for extended, comfortable use, and with a 20-hour battery life, you won't be looking for an outlet before the trip is over.
If you want the best sound quality from wireless headphones, you have to go with Bose. These are available in black and silver and start at about $350 (opens in new tab).
See at Amazon (opens in new tab)
Dell power companion
Power outlets while traveling can be hard to come by, and you need to keep your laptop and phone charged. Dell's power companion has two USB ports that let you charge two mobile devices — like a smartphone and tablet — at once while simultaneously charging a Dell laptop.
The 12,000mAh battery has plenty of power to keep your devices alive but remains lightweight and slim. This power companion starts at about $120 (opens in new tab).
See at Dell (opens in new tab)
Ceptics all-in-one travel plug
International business travel raises all sorts of power connectivity problems, especially when the destination country can change at a moment's notice. You need to be able to concentrate on work rather than how you're going to power your laptop and smartphone. The Ceptics all-in-one travel plug is a small adapter that allows you to plug your devices into foreign sockets.
It also has two USB ports for charging your smartphone and tablet, and it starts at about $13 (opens in new tab).
See at Amazon (opens in new tab)
BUBM cable stable and organizer
This travel organizer has elastic loops to hold your cables, zippered pockets for headphones, power banks or external hard drives, and sleeves for travel documentation. There is plenty of room if you want to stuff some first-aid or hygiene products in there for easy access. The whole thing rolls up into a neat little package and clips shut to keep everything safe.
The kit is made from waterproof nylon, so you won't have to worry about spills or rain during your travels. It is available in 14 colors and starts at only about $13 (opens in new tab).
See at Amazon (opens in new tab)
JASTEK multi-cable charger
This little gadget can be a lifesaver. Lose your phone's charging cable? No problem — plug the USB 2.0 end into a power pack or wall adapter, and charge pretty much any mobile device. There are two Micro-USB cables, one Mini-USB cable, one Apple Lightning cable, and a USB-C cable.
When you're finished charging, pop the cables into your pocket or laptop bag for later use. Note that this is for charging only — data transfer is not supported. The JASTEK multi-cable charger starts at about $10 (opens in new tab).
See at Amazon (opens in new tab)
RFID blocking sleeves
Domestic and international travel exposes you to thieves who want to steal your credit card and passport information. Slipping your slim documents into these RFID blocking sleeves will keep thieves out of your pocket or bag.
This bundle comes with 12 card sleeves and three passport sleeves and starts at about $30 (opens in new tab).
See at Amazon (opens in new tab)
Keepgo mobile hotspot
Having an internet connection wherever you go is a huge boon while traveling, especially if your line of work demands it. Keepgo works in all the most traveled countries around the world by connecting to a local mobile network — your devices then connect with 802.11b/g/n Wi-Fi. The hotspot includes 1GB of free data off the bat, and you can easily add more data online. There is no speed throttling, and you can connect up to 10 different devices at once. Keepgo has a rechargeable battery, so you can carry it around with you wherever you go.
Data refill prices are a bit high, but you won't have to worry about going out and buying a new SIM card in every new country you visit. The device itself starts at about $120 (opens in new tab).
See at Amazon (opens in new tab)
Fancii portable humidifier
Dry hotel rooms and dry climates in faraway lands can wreak havoc on your humidity levels. This humidifier fits in the palm of your hand and runs off battery power or can be plugged in via USB.
Just pop a water bottle into the top of the humidifier and set the timer — the humidifier will quietly provide a cool mist that helps combat dryness no matter where you are. This handy little humidifier starts at about $20 (opens in new tab).
See at Amazon (opens in new tab)
Tylt Energi+ power backpack
Traveling often requires a bag with a lot of storage as well as a power pack to deal with inconsistent outlet availability — why not combine them? Tylt's Energi+ backpack has 1450 cubic inches of storage space and a removable 10,400mAh battery pack with cables running to multiple pockets.
There is lots of room for your other essential travel gear, and the comfortable padding on the straps means you can wear the bag for extended periods of time. This bag starts at about $140 (opens in new tab).
See at Windows Central Shop (opens in new tab)
Microsoft Lumia 950
Extended international travel usually means limited connectivity, but it doesn't have to. Picking up an unlocked phone means you can use a local SIM card, and, thanks to the Lumia 950's dual SIM function, you can also keep your usual SIM card installed.
The Lumia 950 isn't quite as big as the 950 XL but has the same 20MP camera that, for many people, will be the only camera needed for snapping travel photos. This is the full Windows 10 Mobile experience starting at about $400 (opens in new tab).
See at Microsoft (opens in new tab)
Windows Central Newsletter
Get the best of Windows Central in your inbox, every day!
Senior Editor, Laptop Reviews
Cale Hunt is formerly a Senior Editor at Windows Central. He focuses mainly on laptop reviews, news, and accessory coverage. He's been reviewing laptops and accessories full-time since 2016, with hundreds of reviews published for Windows Central. He is an avid PC gamer and multi-platform user, and spends most of his time either tinkering with or writing about tech.
good set . Thanks for this article.

I need that humidifier. I have the Dell Companion and used it recently in Vancouver, it was a godsend for the XPS 15 while recording Gears. I'll review it soon.

How far do you have to keep it away from electronic equipment?

Good question. I don't think it will soak the table or anything, but I still wouldn't set my phone next to it overnight.

it was the 'cool mist' part that made me ask, and yet it plugs into a USB ?

Daniel,any idea about battery of Lumia 1520, old of @ least 2 years struggling on latest build? Is it a hardware thing like the galaxy note 7?
Mine , switch off around 45% automatically.

Lovely picture. Schiphol?

$120 for 12,000 mah sounds like an awful deal. Aukey has a 30,000 mah pack for only $50.

I think that's schiphol isn't it?

is it all those KLM planes that give it away? :-)

I would add to the list a micro wireless router like the TP-LINK TL-WR802N Wireless N300 Travel Router. This is very useful when the hotel provides wired internet access for free. You can simply create your own wireless network with these guys....

I've been using my unlocked Lumia 950 for travel now for about 6 months. 8 Countries later, I can tell you it is a great way to travel. When I was in Europe for 3 weeks (Italy most of the time, but also hit 6 other countries), I picked up a Vodafone sim with 3gb data which worked great across the EU countries. Then a few weeks ago I was in Canada and picked up a Chatr sim with 4gb data to use there. It is definitely one of the best phones if you travel a lot!