Ethernet supports arrives for Surface RT and Surface 2 - requires some effort to get working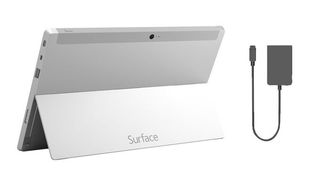 There used to be the days of woe when new buyers brought home their newly purchased Surface RT device, only to discover that they would never be able to hook it up to a wired network. Then, a few days ago, word had leaked on the internet that the Surface Ethernet Adapter would finally work, but users plugged in their devices and found disappointment when it continued to not work.
Don't fret though, someone has the steps to get you up and running.
So, let's set the record straight. Yes, you can now use the Surface Ethernet Adaptor on your Surface RT or Surface 2 device. No, Microsoft has not made it straight forward and super easy for the everyday user.
As of now, you won't be able to pull the new feature through Windows Update or have your machine auto search the web for the driver, but there is still a way to get everything working.
Head over to the blog of DigitalManBlog, where Paul Deane details the installation process of getting your adapter to work. Spoiler Alert: It is going to take a bit of work.
Have you been waiting to get Ethernet on your Surface device?
Source: DigitalManBlog; via WinBeta
Cool! Has anyone tried using the Wii network adapter?

What network does this device support?

Why the heck were they selling a Surface-branded adapter if it wasn't working until now?!

I think it was originally supported only by the Surface Pro.

To me, the real question is:
why the heck were they selling a Surface without a proper ethernet adapter available?

Because virtually no-one would want to connect a tablet to a network with a physical cable? I mean, I wonder what percentage of Surface owners will actually buy one of these.

Exactly I think its stupid its a tablet why do we need the wired connection

Some hotels I find myself at still don't have WiFi. That's one reason to buy it.

Use the wifi hub in your phone, that's what I do in hotels.

That's what I had to do, but those same hotels are usually in places where AT&T comes in at one bar and 2G.

Your average user wont and miracast has just started kick off however for those who are more technically proficient, it would come in handy troubleshooting as instead of pluging in your notebook into the router via ethernet for example - you could use your Surface RT / Surface 2 to do so via the adapter. Furthermore it is not recommended you change your router settings whilst connected to it wirelessly. To be honest MS could have easily fit a full size ethernet port if they wanted to then again that is where the dock comes into play.

For IT tech, it's great to be able to walk around troubleshooting switch panels and racks, configuring routers and switches that are mounted in inconvenient areas. This is true for both the RT and the Pro.

Because when I'm working at home its nice to be able to dock to an external monitor & wired Ethernet. I'm plugged in to other USB devices anyway, why not an Ethernet adapter? Also I can't afford a dual band WiFi router and my older WiFi printer brings the network down to wireless G which just doesn't cut it for large file transfers.

You can afford a Surface but can't afford a WiFi router? Seems odd.

He has a WiFi router, just not a dual-band one.

Sure, but the Asus RT-N66U is an excellent dual band, N900 (up to 450 Mbps, 20/40 MHz channel bandwidth) router, and it's available at Best Buy for only $150. Compare that to the cost of a tablet, and I can see where numetheus is coming from by asking that question. http://www.smallnetbuilder.com/wireless/wireless-reviews/31687-asus-rt-n...

Yeah. They are cheap. I wouldn't expect anyone who buys $500 tablets to say $150 is unaffordable. Not saying he is this way, but I knew someone who always borrowed money for groceries. Nothing wrong with that because people do fall on hard times. But if he didn't just purchase another handgun he would have money for groceries. My point is that of you are strapped that you can't afford $150, why are you dropping $500 on relatively useless things? Not my business I know ... I just find these things odd.

Spoken like a true consumer. Enterprise prefers Ethernet for many reasons you probably wouldn't appreciate...

Enterprise is totally where I'd expect to see tablets deployed with no WiFi infrastructure. They just look cool propped up on a VP's desk.

It's 2013. Is there an enterprise without Wi-Fi?

I think the answer is absolutely yes. Very large facilities sometimes don't have WiFi because they're cost prohibitive, for example. But beyond that, looking at consumers again, I ran into hotels with a lack of WiFi while I was travelling for work in the U.S. I had grabbed an AT&T prepaid SIM rather than pay exorbitant roaming fees from my Canadian carrier, but AT&T had helpfully (not) disabled the ability to create WiFi hotspots on the Lumia 520 I got at the same time. Had I known that, I probably would have just paid the roaming fees but had a full service experience, I hated going down to the lobby to get WiFi (especially because this was in Las Vegas, and the lobbies were ridiculously smoky and actually hurt my throat; damn, I hate that town). There was wired internet in the room, and I would have loved to have taken advantage of that with my Surface tablet.

Absolutely - typically at organizations that handle data requiring above-average security.

Because the thought of Ethernet equipped tablet computers is basically contradictory to the very purpose of a tablet. Now with a socking station or pass through only port Replicator maybe... No sense in building a gaping hole into a tablet. Look at laptops both PC and Apple... Wired Ethernet is already going the way of the laptop inbuilt CD/DVD drive, PS2 connector and floppy disk drives.

Thanks for the news! @WPCentral: Would like to know your opinion on this: What do you think which connections we are going to be able to use with a USB 3.0 docking staiton on our Surface 2 devices (not the Pro)? So I guess the USB 3.0 docking stations will at least work as usb hubs, but what about the DVI-out and ethernet connections? I guess the ethernet connection will work somehow (considering this article) but what about the rest? Do you know of any plans from Microsoft to enable full USB 3.0 docking station support? Thanks in advance! ps: (We are currently discussing this matter in this thread: http://forums.wpcentral.com/microsoft-surface-2/247664-surface-2-usb-3-0-dock-ing-solutions.html)

I hope it really works, especially for those who need a cabled connection at their work environment.

Wouldn't have to hack around if it was an Atom device.....:)

Who the hell still uses Ethernet especially with such a mobile device? MS should not have made any efforts building such a rudimental accessory, they'd better make a surface-styled pocket router for those who stay in old-fasioned hotels with no WiFi. And it still wouldn't be popular though, I believe.

I do a fair bit of IT consulting and it is often more useful to plug in than use wireless at a clients site. Generally it's easier to access critical resources via hardwire.

You may haven't noted, this is all about ARM-surfaces. I'm not sure you'll use non-x86 devices for that sort of job in near-term outlook. If this was Atom, for example, no one would 've had any problems with making the subject device work.

I use my RT/Surface 2 alot...I mainly need a command line and web browser. i agree that specialized tools require x86 but I don't need them very often, at least not enough where I can't get away with using my RT

Yeah, and quite often the WiFi is restricted with no access to the corporate network so you're forced to use ethernet.

I'm at one of the top Unis in the UK and we still don't have WiFi access in all rooms in my college - mine doesn't
So it would be useful there especially as routers aren't supported

Soldiers in combat zones can't use WiFi, but they allow Ethernet connections

I have a Surface Pro and jave successfully used a Plugable 3.0 usb Gigabit adapter to ethernet for a while now. No worries and good throughput.

Not smart dropping the ball here.

Ethernet... eeeeetherrrrnet... OH! 2004!

What about a aftermarket 3.0 version? I guess that the same process works.

Now if it had better VPN support (Surface 2/RT)...

L2TP works pretty good...but it would be nice for other options

+RT. A lot of companies use BigIP/F5, and for those that do RT-based tablet owners are screwed for remote access.

Yep it's old tech, but it's not that hard, just update the driver which is about 3-4 clicks and it works like a charm on my Surface 2. I used my Surface 2 via Ethernet at work when my laptop was being repaired. Wondering why our wireless internet wasn't working at work is a whole other issue, lol.

Yeah, after looking at the link, I'm not sure what is so hard about this...

Now we just need to Ethernet support for our windows phones lol joking!!

I bought the Apple ethernet adapter for $15 at Best Buy. I downloaded the generic driver, installed it, and had working ethernet to my Surface Pro.

That sounds like interracial porn.

+925. That's the best thing I've read all day!

That's not really a lot of work. Long-time Windows geeks will have done steps like this before. Seems like an easy fix for an upcoming update. But, ya, it will seem a bit shortsighted for quite a few users.

Surface rt, and all other rt tablets, used to be able to work with a very popular third party Ethernet adapter (forgot the name). The company provided a downloaded driver which made it work flawlessly. Microsoft asked them to remove the link and support for RT. There was never any official reason given for that. I love MS but there is something in their DNA which forces them to fuck things up at least a little bit.

I thought they did give a reason and it was because the network driver did not support connected standby.

I posted how to get this to work on day 1 of 8.1's release on http://answers.microsoft.com it's not hard.

I am with others when you ask the question why a surface branded ethernet connector would not work with a surface tablet regardless of the intent for the Pro which of course will work with any etherent adaptor. This should not require hoops it should just exist as another string to the bow. What I find and you can correct me if this has changed is why we still do not have a USB modem, now that would be handy for me. However I do tend to use my phone paired but would rather a modem.

You've just inspired me to unearth my crusty USRobotics and a USB serial adapter. Modem negotiation sounds would be an awesome ringtone. Edit: Or, I could be lazy... http://www.freesound.org/search/?q=modem

Wow. You just made me remember the sound of my Hayes Smartmodem 300. Now I'm going to have nightmares.

The driver for ethernet adapter never went official with Surface RT. Why is this thing happening again?

A friend of mine's been using an ethernet adaptor with her Yoga 11, running Windows RT, as the university halls don't have wi-fi.
Windows Central Newsletter
Thank you for signing up to Windows Central. You will receive a verification email shortly.
There was a problem. Please refresh the page and try again.