Eve V video unboxing – With Thunderbolt 3, could this be a Surface Pro killer?
The Eve V is getting ready to go on sale on December 4th. Today, we're unboxing this Surface Pro competitor that you help make. Initial impressions? Awesome.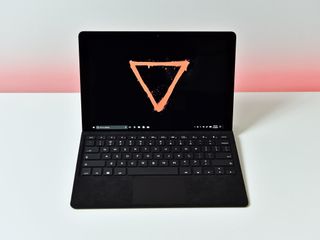 The Microsoft Surface Pro has set the bar for combination tablet PCs, but not everyone loves the feature set (lack of Thunderbolt 3, for example) or the very high price, or even worse, simply cannot order one.
The Eve V looks to change all of that, and you can get your hands on soon. I already have mine and color me impressed! Here is what you need to know.
You made this
We've been covering the development of the Eve V going back a year ago (it used to be known as the 'Pyramid Flipper').
The project is crowd-sourced, and through survey's and feedback, you told the Eve team what you wanted in a perfect laptop. Well, the Eve V is just that and it's real, they made it happen.
Eve V specifications
Made from jet black aluminum the Eve V has a solid build quality. It does pick up fingerprints easily – much like a Razer laptop – but a quick wipe of a cloth takes care of that.
Category
Specification
Display
12.3-inch IGZO LCD
2880 x 1920
1:1500 contrast, 450 nits, anti-reflection coating
CPU
Intel 7th Gen Core M3/i5/i7
RAM
8GB/16GB LPDDR3
Storage
128/256/512GB
Connectivity
802.11ac 2x2 MU-MIMO, Bluetooth 4.2
Ports
2x full USB 3.1, 1x USB 3.1 USB-C, 1x Thunderbolt 3 USB-C, 1x 3.5mm audio, 1x Micro SDXC reader
Battery
48 Wh (10-12 hours)
Sensors
Fingerprint, Hall, Gravity, Light, Gyroscope, GPS
Audio
Quad 1W speakers, dedicated TI headphone audio amplifier, two noise-canceling microphones
Cameras
2MP front, 5MP rear
Stylus
N-Trig, Surface compatible, 1024 pressure levels
Keyboard
Pogo-Pin and Wireless keyboard with backlight and latest glass trackpad by Synaptics (Microsoft Precision drivers), Bluetooth 4.2, connects to 3 devices, 15-hour continuous typing battery life
What's awesome about the Eve V is it comes with a full backlit keyboard and N-Trig pen in the box. Moreover, that keyboard has Bluetooth built in, so you can use it wirelessly.
Toss is two USB Type-C ports with one of them being full-fledged Thunderbolt 3 and this looks to be the pro Surface Pro.
Image 1 of 2
The best though is the price. Our version we're evaluating has a Core i7-7Y75, 16GB, and a 512GB SSD and will cost $1,599 versus the $2,459 for a similar configured Surface Pro (with Surface Pen and Surface Type Keyboard). That's $860 difference, which is not insignificant, and some would rightly argue you get some more impressive hardware with the Eve V.
Eve chose the Y-series processor due to the much better battery life over the U-series from Intel. Moreover, with Thunderbolt 3 and an eGPU you can really make the Eve V a performance desktop.
First impressions look very good
I'll be doing a full review of the Eve V over the holidays, but here are my first thoughts after spending the last few days with it.
It's well built and does not feel cheap at all.
The display is gorgeous.
The keyboard and trackpad are above average.
Speakers are a bit tinny but loud.
Performance seems good.
The 'oops!' instead of a Backspace key is hilarious.
It has personality.
It looks badass in all black.
I'll need more testing and time with the Eve V, but initially, it's one of those "way better than it should be" moments, where it seems like it shouldn't be this good.
So far, I'm impressed though.
Where and when to get one
The Eve V goes on a "flash sale" December 4 at the official Eve Tech website.
Image 1 of 2
Pricing starts at $799 for the Core m3 version (8GB, 128GB SSD), which includes keyboard and pen. There are configurations with a Core i5 and Core i7 with the latter going all the way up to 16GB of RAM and 1TB of SSD storage.
It's called a flash sale because (1) the Eve V is in high-demand with 65,000 people signed up an interested and (2) it's first come, first serve. The earlier you get your order in the faster you'll get one shipped to you.
And yes, shipping is worldwide.
You can read more about the Eve V sale and details in the Eve community forum.
We'll be doing more on the Eve V in the coming weeks so stay tuned! For now, let me know what you think of it in comments!