Eve V video unboxing – With Thunderbolt 3, could this be a Surface Pro killer?
The Eve V is getting ready to go on sale on December 4th. Today, we're unboxing this Surface Pro competitor that you help make. Initial impressions? Awesome.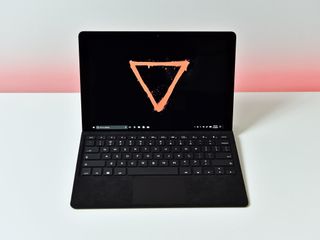 The Microsoft Surface Pro has set the bar for combination tablet PCs, but not everyone loves the feature set (lack of Thunderbolt 3, for example) or the very high price, or even worse, simply cannot order one.
The Eve V looks to change all of that, and you can get your hands on soon. I already have mine and color me impressed! Here is what you need to know.
You made this
We've been covering the development of the Eve V going back a year ago (it used to be known as the 'Pyramid Flipper').
The project is crowd-sourced, and through survey's and feedback, you told the Eve team what you wanted in a perfect laptop. Well, the Eve V is just that and it's real, they made it happen.
Eve V specifications
Made from jet black aluminum the Eve V has a solid build quality. It does pick up fingerprints easily – much like a Razer laptop – but a quick wipe of a cloth takes care of that.
Swipe to scroll horizontally
Category
Specification
Display
12.3-inch IGZO LCD
2880 x 1920
1:1500 contrast, 450 nits, anti-reflection coating
CPU
Intel 7th Gen Core M3/i5/i7
RAM
8GB/16GB LPDDR3
Storage
128/256/512GB
Connectivity
802.11ac 2x2 MU-MIMO, Bluetooth 4.2
Ports
2x full USB 3.1, 1x USB 3.1 USB-C, 1x Thunderbolt 3 USB-C, 1x 3.5mm audio, 1x Micro SDXC reader
Battery
48 Wh (10-12 hours)
Sensors
Fingerprint, Hall, Gravity, Light, Gyroscope, GPS
Audio
Quad 1W speakers, dedicated TI headphone audio amplifier, two noise-canceling microphones
Cameras
2MP front, 5MP rear
Stylus
N-Trig, Surface compatible, 1024 pressure levels
Keyboard
Pogo-Pin and Wireless keyboard with backlight and latest glass trackpad by Synaptics (Microsoft Precision drivers), Bluetooth 4.2, connects to 3 devices, 15-hour continuous typing battery life
What's awesome about the Eve V is it comes with a full backlit keyboard and N-Trig pen in the box. Moreover, that keyboard has Bluetooth built in, so you can use it wirelessly.
Toss is two USB Type-C ports with one of them being full-fledged Thunderbolt 3 and this looks to be the pro Surface Pro.
Image 1 of 2
The best though is the price. Our version we're evaluating has a Core i7-7Y75, 16GB, and a 512GB SSD and will cost $1,599 versus the $2,459 for a similar configured Surface Pro (with Surface Pen and Surface Type Keyboard). That's $860 difference, which is not insignificant, and some would rightly argue you get some more impressive hardware with the Eve V.
Eve chose the Y-series processor due to the much better battery life over the U-series from Intel. Moreover, with Thunderbolt 3 and an eGPU you can really make the Eve V a performance desktop.
First impressions look very good
I'll be doing a full review of the Eve V over the holidays, but here are my first thoughts after spending the last few days with it.
It's well built and does not feel cheap at all.
The display is gorgeous.
The keyboard and trackpad are above average.
Speakers are a bit tinny but loud.
Performance seems good.
The 'oops!' instead of a Backspace key is hilarious.
It has personality.
It looks badass in all black.
I'll need more testing and time with the Eve V, but initially, it's one of those "way better than it should be" moments, where it seems like it shouldn't be this good.
So far, I'm impressed though.
Where and when to get one
The Eve V goes on a "flash sale" December 4 at the official Eve Tech website.
Image 1 of 2
Pricing starts at $799 for the Core m3 version (8GB, 128GB SSD), which includes keyboard and pen. There are configurations with a Core i5 and Core i7 with the latter going all the way up to 16GB of RAM and 1TB of SSD storage.
It's called a flash sale because (1) the Eve V is in high-demand with 65,000 people signed up an interested and (2) it's first come, first serve. The earlier you get your order in the faster you'll get one shipped to you.
And yes, shipping is worldwide.
You can read more about the Eve V sale and details in the Eve community forum.
We'll be doing more on the Eve V in the coming weeks so stay tuned! For now, let me know what you think of it in comments!
Windows Central Newsletter
Get the best of Windows Central in in your inbox, every day!
Daniel Rubino is the Editor-in-chief of Windows Central, head reviewer, podcast co-host, and analyst. He has been covering Microsoft since 2007 when this site was called WMExperts (and later Windows Phone Central). His interests include Windows, laptops, next-gen computing, and for some reason, watches. Before all this tech stuff, he worked on a Ph.D. in linguistics, watched people sleep (for medical purposes!), and ran the projectors at movie theaters because it was fun.
ّHow is battery life ?? I need to know this before i purchase one !!

Really? A first hands-on and you're asking about battery life?!

Based on the first tests, it's around half an hour shorter than surface pro 2017

These are the same models that were released around this time last year right? I almost bought/backed one but couldn't justify the Y-processor as I'm more power-needy and there wasn't much performance improvement over my SP3i5.
All those ports are awesome, wish Microsoft had tossed in ONE MORE into my NSP. ExternalGPU support sounds good, ALSO wish my New Surface Pro could do that.
Why doesn't MS come out with a power cable to support that? The current one at $200 is just too expensive. Come on MS.
But I think this is a sweet tablet for people who want one.

Firstly, Like Apple. Microsoft's surface product line is designed to be an expensive, premium and luxury item. As a result it's not designed for the mass market. It's not a product that does everything, but instead it's a product that does several thing very well.
Secondly, Microsoft's core business is not hardware, it's providing software and services to it's OEMs. With several years of stagnated market, and OEMs that were simply not willing to invest into the consumer market with designs to combat apple's design esthetics, it was Microsoft's need, maybe a requirement, to produce the surface line of products just so OEMs have something to reference and aspire to when it comes to creating their own products... and to that end, Microsoft has done incredibly well. Not only are the surface products profitable for the company directly, they're desireable to the point OEMs are activly chosing to copy the design, and that's something Microsoft will be ok with, since they're going to be running Windows as a result.

The same goes for me. When I watched the video I was super excited. Not until Daniel said it had a Y-series processor! This is a huge let down. The thing that is bogging me, is how they fail to mention this at their website? At least on the specs page. It almost seems like it was left out on purpose, which is always a bad thing. Other than that, I think the design is modest, compared to the Surface Pro, and this video leaves a lot of questions in regards of:
- How much battery life does it offer?
- How much it weighs compared to the Surface?
- How thick is this thing with the keyboard attached to the device?
- How support is gonna be after a year or two?
- Will it come with an LTE version? Regardless of all of this, for me personally, knowing that this device has a Y-series processor kills it for me.

The Y CPU means it's not for me personally - I'm sure there are plenty of people who this will work well for though and at a much lower price than the Surface Pro

Battery life is around 7 hours.
Weight is almost 1.4KG (slightly over 3 pounds)
And it's thinker than the surface (personally I don't care about a few millimiters more...)
As for the other questions, nobody knows

"thinker" is that thinner or thicker?

WOW, that is one chubby device! The Surface Pro 4 weighs almost half of this! 1.4 KG vs 0.750 KG is a HUGE difference! This is even heavier than the original Surface Pro that comes at only 0.9 KG! Lol So to sum this device up:
Advantages of the Eve over the Surface:
- Cheaper.
- More ports - including a Thunderbolt.
- A bluetooth keyboard.
- More colorful backlight options for the keyboard. Advantages of the Surface Pro:
- A much better CPU.
- A better design and build overall.
- More accessories available.
- Much Lighter.
- Thinner.
- Longer battery life. (based on numbers alone)
- Strong technical support.

I want a 10" version T_T.

Sorry, excited when I read GPS, but checking the site revealed, no mention of GPS. Still looking for Win-tablet with onboard GPS to challenge IPad in the avation and boating market.

Looks great and thanks for initial impressions... but I think it's time authors quit with the titles "Is such and such a xxx killer".

Yes, I agree. Especially when what makes something a "xyz-killer" is vague and undefined. How is this a Surface Pro killer exactly? Based on price? Sure? Connectivity? Yes, I could see that. Raw processing power? Nope. These are Y-model CPUs which are much slower than the "proper" Core i5 and i7s found in most ultrabooks (which are in turn slower and have fewer cores than the i5s and i7s found in more premium laptops like the Dell XPS 15 and 15" MacBook Pros). But people read "Surface Pro Killer" and "Core i5/i7" and assuming they're getting an equivalent product for less. They aren't.

as long as it use windows 10, no problem...we are family... :)

What's the weight? I have read it's much heavier than the surface. Can you confirm the tablet and total weight?

My knee jerk reaction is that the screen is way too small to do me any good.

Although they have got almost everything right, they fall short in front of the Surface Pro with 2 things:
- The processor is a Y-series, which is definitely the biggest deal breaker with this device. What is bothering me the most is how they fail to mention this at their website, which is a shame. (I assume on purpose).
- The design: For me personally, it looks hideous when compared to the Surface. I haven't seen one in person so I cannot say for sure, but at least on the video it doesn't look good at all. Other important factors would be:
- How much battery life does it offer?
- How much it weighs compared to the Surface?
- How thick is this thing with the keyboard attached to the device?
- How support is gonna be after a year or two? Regardless of all of this, for me personally, knowing that this device has a Y-series processor kills it for me.

Daniel, I think it was you who teased an LTE-equipped Surface Pro earlier this summer, months before an official announcement or release date (which I believe is coming up soon?) So, is there anything on the horizon for this Eve V to have an LTE version?

Pretty funky, but yeah, not giving up my beautiful Surface Pro 4 for this. different colour backlighting is cool, not sure about those processors though (Y) also, it just looks like a lessor copy of the MS product, but as it's cheaper it's a great choice for some.

What type of watch are you wearing?

It looks like he is wearing the Fitbit Ionic.
Windows Central Newsletter
Thank you for signing up to Windows Central. You will receive a verification email shortly.
There was a problem. Please refresh the page and try again.