Every game from the PS5 reveal coming to Xbox Series X
The PlayStation 5 event featured 26 upcoming next-gen games, including some also headed to Xbox Series X.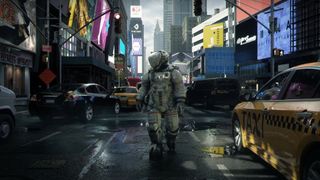 (Image credit: Capcom)
The PlayStation 5 recently received its full unveiling, featuring over two dozen titles headed to the next-generation. It provided the first deep dive into the games targeting Sony's upcoming console, wrapped with our early look at the box itself, ahead of its scheduled holiday launch.
Sony's showing featured both in-house PlayStation Studios titles, coupled with an extensive roster of third-party talent. And despite many locked to PlayStation 5 exclusivity, a handful of unveiled games also targets Microsoft's Xbox Series X console. We've wrapped up every game showcased at the PlayStation 5 unveiling and headed to the next-gen Xbox.
Understanding PS5 'exclusive' vs. 'timed exclusive'
While Sony's PlayStation 5 event flashed the exclusivity tagline across a majority of titles, many games could be headed to Xbox Series X. Projects like Hitman 3, Resident Evil: Village, and Pragmata launch on Xbox Series X simultaneously to PS5, with no disclosed ties to specific platforms.
The remaining titles launch as "timed exclusives," committed to PS5 (and sometimes, PC,) but with an opportunity for exclusivity to expire with time. While timed exclusivity doesn't translate to a definitive Xbox Series X launch, it provides an overview of titles with futures potentially beyond PS5.
Bugsnax (Timed exclusive)
Deathloop (Timed exclusive)
Ghostwire: Tokyo (Timed exclusive)
Godfall (Timed exclusive)
Goodbye Volcano High (Timed exclusive)
Grand Theft Auto V
Hitman 3
JETT: The Far Shore (Timed exclusive)
Kena: Bridge of Spirits (Timed exclusive)
Little Devil Inside (Timed exclusive)
NBA 2K21
Oddworld: Soulstorm (Timed exclusive)
Pragmata
Project Athia (Timed exclusive)
Resident Evil: Village
Solar Ash (Timed exclusive)
Stray (Timed exclusive)
Grand Theft Auto V
Rockstar Games' open-world hit once again translates to the next generation in 2021, promising title-wide visual upgrades to leverage the best of upcoming consoles. While specific upgrades remain unclear, the developer promises technical "improvements, visual upgrades, and performance enhancements" per each console's capabilities.
The announcement of Grand Theft Auto V's latest refresh stopped short of naming Xbox Series X, "coming to a new generation of consoles, including PlayStation 5." While keen to highlight its partnership with Sony headed into the PlayStation 5 debut, Xbox Series X also appears on the roadmap. Grand Theft Auto Online will see a free-to-play, standalone release exclusive to PS5 for three months — then assumedly Xbox Series X and PC bound, too.
Hitman 3
The third installment of modern Hitman series drops next January, steering international assassination across six new locales. Agent 47's latest adventures garnered a reputation for their expansive sandboxes brimming with opportunity, and Hitman 3 looks to be no exception. The latest surfaced with a towering new Dubai setting, running in-engine on PlayStation 5, and sprinkled with visual improvements.
For Xbox owners, Hitman 3 launches on Xbox One and Xbox Series X, in tandem with other platforms. Players can also "import" their previously purchased maps from the first two games, condensing the complete trilogy to the single title. While specific visual upgrades remain uncertain, expect its densely populated environments to shine on new hardware.
Pragmata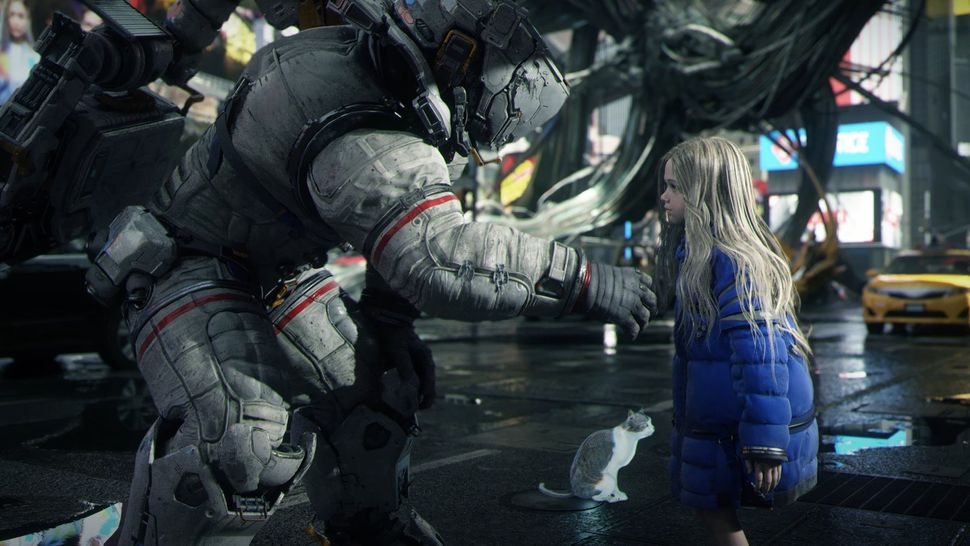 We're getting severe Hideo Kojima vibes from Pragmata, the surprise unveiling from Capcom at the PS5 event. While details are thin, its mysterious cinematic trailer sees our spacesuit-clad protagonist walking through a desolate city, and uncovering past events. There's also a young girl, cybernetic cat, and space station falling from the sky, making for one trippy opening.
The premise for Pragmata remains vague, with a release scheduled for 2022. But it's headed to Xbox Series X, as well as PlayStation 5 consoles.
Resident Evil 8: Village
The next Resident Evil installment made its debut at the PlayStation 5 showcase, adopting the title Resident Evil Village. The successor to Resident Evil 7: Biohazard continues the story with returning protagonists, Ethan and his wife Mia, and the same first-person perspective to keep encounters personal. Capcom promises the "most realistic and terrifying graphics to date," enabled by next-generation hardware.
Resident Evil Village hits PlayStation 5, Xbox Series X, and PC in 2021, but it seemingly won't be coming to existing consoles.
NBA 2K21
NBA 2K21 brings basketball into the next-generation, with a brief in-engine trailer headlined by New Orleans Pelicans' Zion Williamson. While only a small snippet of more to come, the trailer spotlighted improvements to graphical fidelity, through improved character models down to the individual droplets of sweat. 2K also promises drastic loading time gains on next-generation devices, with new features and shakeups to come.
While our NBA 2K21 debut trailer spotlighted PS5, the upcoming installment is, as usual, also expected to branch out to Xbox consoles.
Deathloop
Deathloop makes its "console debut" exclusively on PlayStation 5, suggesting timed exclusivity on Sony's next-generation console. From the studio behind Dishonored and Prey, Deathloop incorporates familiar traits of its predecessors, with shooting, stealth, and supernatural abilities to survive. But its unique twist comes from its time loop, where protagonist Colt looks to escape, and rival assassin Juliana hunts you down — both controllable by real players.
Deathloop isn't coming to Xbox Series X yet, but suggests limited-time exclusivity on PS5 and PC, likely opening up at a later date.
Ghostwire: Tokyo
Like Deathloop, Bethesda appears to have cooked up a limited-time exclusivity deal for its action-adventure thriller, Ghostwire: Tokyo. Following the strange disappearance of the city's population, you'll leverage a variety of supernatural abilities to face evil spirits on the streets. This next-generation exclusive pushes new levels of graphical fidelity and more immersive audio, on the PlayStation 5.
Once again, Ghostwire: Tokyo drops with its "console debut" on PS5, suggesting an Xbox Series X launch could occur at a later date.
Xbox Series X/S
Main
What is the Xbox Series X release date?
How much does Xbox Series X cost?
Why you can't preorder Xbox Series X yet
Windows Central Newsletter
Get the best of Windows Central in in your inbox, every day!
Matt Brown was formerly a Windows Central's Senior Editor, Xbox & PC, at Future. Following over seven years of professional consumer technology and gaming coverage, he's focused on the world of Microsoft's gaming efforts. You can follow him on Twitter @mattjbrown.
The timed exclusive thing is just so developers have enough time to get it right for Xbox ;-)

Damn right remember no mans sky as an example all the money sony put into the production help and how much better it is now on xbox

Such a dumb thing to say, sony only paid for timed exclusivity which barely improved anything in the game, it was all a scam to begin with so I hope you enjoyed that trash game. As of all these timed exclusives on the list, this is legit like he said, enough time to get it right on the xbox, the SSD on the ps5 allows for twice the amount of data to be streamed, which means much less optimization required on PS5 compared to xbox, the devs really do need more time to get it right on the xbox and you really should feel sad about that LOL

Glass Is The Future of Data Storage as ia APU/RAM/SSD designs once they figure out the cooling systems and TDP management for AI gaming console GD 16k tv combinations like on a all in one PC and smartphone/laptop soon as desktops seem to be the next arcade machine unless your for needing them for a business or for movie creators to convert 480i to native 480p then convert them to 70mm film/8k240hz with proper aspect ratio adjustments to boot using advanced AI apu chipsets for cable tv at 8k and for gaming all in a thin glass made smart gaming tivo like smart tv with wireless solid state batteries made of graphene. (and auto grammar spellcheck/writing structuring corrections including voiceover IP for this. for vloggers and bloggers before telling the console/pc/smartphone to translate it in text and voice.

This is a big reason why their conference was pretty lacklustre. Look at the first party games. We saw GT7 ( which didn't look that great in all honesty, as a jump over GT sport). We also had Spiderman ( no gameplay just in engine cutscene), Horizon 2 ( again no gameplay just in engine cutscene) and Ratchet and Clank ( gameplay, and the only one to release at launch) In all honesty MS will feel really good after that conference. I honestly expected a weak first party for PS5 first 2 years. As Naughty Dog, SSM both released games on PS4 in the last 24 months. You won't see a new ND game or SSM game before 2022. And Insomniac clearly have been making R&C since they released Spiderman. So don't expect Spiderman before 2022 either. The majority of the rest was timed exclusive. It bodes well that MS chose to have an event entirely for First Party. Which should mean lots of first party content. I'm expecting the July event to have alot more than Sony first party have ready.

"Ratchet and Clank ( gameplay, and the only one to release at launch)" That one had no date at all shown, we have 0 idea if it's coming at launch. Spiderman meanwhile did list "Holiday 2020" so we know that is launch or shortly after. Also you are missing "Astro's Playroom", "Returnal", and "Sackboy: A Big Adventure" as 1st party titles, the first one is a pack-in game with all consoles (just like how the first thing with Astro Bot, The Playroom VR, was a pack-in to show off PSVR before being expanded into the standalone Rescue Mission game)

Yeah my mistake. Spiderman is actually a small expansion to the PS4 Spiderman game. But only releasing for PS5. Wierd situation that. I was referring to first party titles that gamers will buy in their millions. Not a few hundred thousand. Astro Playground is a free little title that comes pre loaded on PS5 SSD. So all Sony has at launch is a small DLC type Spiderman expansion.

There's no 8 in Resident Evil's title.

I believe the "Vill" of Village was highlighted in the title to display "VIII" to refer it to 8.

Is it just me or does Sony have a like of lot of timed exclusives versus XBox? If I'm not mistaken, Phil Spencer has generally moved XBox away from timed exclusivity games. For example, Sony has timed exclusivity with Call of Duty. I'm curious if this hurts XBox by not following through with a similar timed exclusivity strategy on games like Sony? That said, I did like the conference (not so much the router looking console). I haven't heard much talk about the game, "Little Devil Inside." I found it quite charming and interesting.

So pleased that so many are coming to Xbox. Just watched the DF take on the show. Much nicer bit rate. Is it me, or does this level of investment in timed exclusives point to a massive push by Sony? Don't remember seeing this many titles hampered by timed exclusives, must have cost a fortune. Sincerely hope Xbox blows the roof off in July.

MS has been doing this timed exclusive deals for years. And now, looks like Sony is doing the same f***ing thing. So Sony can f*** off for this too.
It's so annoying that they would invest money to delay a 3rd party game to other gamers instead of using that money to make games for their own gamers.
All these are anti-gaming deals!
F*** any stupid PS fanboy defending this now and f*** all stupid MS fanboy who defended this when MS where doing it, or those who celebrated the ROTR MS deal like idiots.
At least they seem to be less more open while saying it's timed unlike MS who'll usually not mention it. Probably trying to mislead gamers even more... Still this whole thing sucks. Also on a side note. F*** Rockstar for publishing again GTA V on this "new gen". This is exactly why I say games as a service is bs.
2008: GTA IV
2009: GTA IV 2 new story DLC
2010: Red Dead Redemption
2011: L.A. Noire
2012: Max Payne 3
2013: GTA V
2014:
2015:
2016:
2017:
2018: Red Dead Redemption 2
2019:
2020: So yeah f*** games as a service. F*** company fanboys who defend companies spending most of their time working on microtranscations bs than on making new games.

Honestly, Games as a service in general aren't bad but that doesn't mean "Let's only update this game for 8 years straight instead of releasing a new version.", them continuing with GTA V instead of moving to 6 is so stupid. Games as a service is fine for a few years, not almost a full decade straight on 3 generations of devices.

I will give Guest his due here. I have always accused him of never attacking Sony in the same way he has MS. But I stand corrected. And I applaud you for being consistent on your message regarding deals and exclusitivity.

Glass Is The Future of Data Storage 512TB for game devs to play with and for ssd/cpu/gpu/ram makers too. Imagine 16k 300 hz gaming and watching cable tv with fall BC and FC AI auto conversions to current spec on both for older media and games?

I have been planning on getting Series X on launch day, but seeing the PS5 event gave me pause. The games look damn good, especially the first party games. I'm concerned that Microsoft is going to hamper the quality of the lineup by insisting that most Series X games also be playable on Xbox One, which is what they've been suggesting so far. I really hope they have a strong showing in July, because there's little question that PlayStation killed it.

Excellent article. This further cements my decision to just stick with the Series X for the eventual "definitive edition" of these games. Pragmata, in particular, caught my eye, and I'm glad I'll get to play it on my console of choice.
Windows Central Newsletter
Thank you for signing up to Windows Central. You will receive a verification email shortly.
There was a problem. Please refresh the page and try again.