Facebook Beta updated with contact sync improvements, bug fixes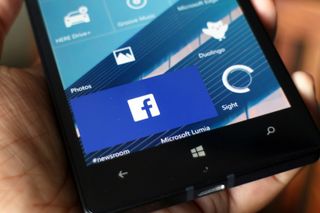 The Facebook Beta for Windows 10 Mobile has received yet another update, bringing along some very minor improvements. And we mean minor; don't expect any big feature additions in this update. Here's the breakdown:
Contact sync improvements
Bug fixes
Still, one can never complain about bug fixes and improvements. According to the changelog on the Windows Store, this update bumps things up to version 10.0.6.0 as well. If you happen to notice anything else new or notable that isn't documented, be sure to give us a shout in the comments. In the meantime, you can grab the latest Facebook Beta update from the Windows Store at the link below.
Thanks, Zee, for the tip!
Download Facebook Beta for Windows Phone (opens in new tab)
Dan Thorp-Lancaster is the former Editor-in-Chief of Windows Central. He began working with Windows Central, Android Central, and iMore as a news writer in 2014 and is obsessed with tech of all sorts. You can follow Dan on Twitter @DthorpL and Instagram @heyitsdtl.
Better video playback for devices with on screen buttons in full screen mode. Earlier it was a hassle.

IMO, the biggest issues are.....
1. Stability issues
2. Slow Responsiveness
3. No reply to comments (Still? Really)
4. Can't disable notifications (could be fixed now)
5. Can we post events?
6. Anything else❓❓❓
7. No sticker support
...........
In retrospect, these have always been the issues with many Windows apps... And, it's kinda understandable,, in a sense.. But, the best, most used, apps should be on par with iDroid by now...

Add that the fact that even after years we cant change our cover picture!

Lol.. Yeah, I forgot about that. It's not that important, but it is a testament to how behind our app is... I guess, after 4 reboots that's what you get.... I kinda miss the old panoramic app.. The first, or second version.. Second, I think.

We still don't have nested comments?! Breh!!

Nope.... Nobody wants to hear what WM fans think,,,, obviously. SMDH

I've kinda given up on it. Even though it's a web wrapper, #Friends for Facebook has been infinitely more satisfying.

I don't recognise items 1, 2, 6 and 7 of your list (at least on my Lumia 930).

You have sticker support??... Lol

Also keep in mind, Microsoft is a 3rd party developer of the Facebook app, Facebook locks some of its API's to first party, some of those things you listed may actually be impossible for Microsoft to add support for without another youtube debacle

That may be true.... Nevertheless, the point is that iDroid has it, so naturally fans of WP want the same functionality... We gotta eat too.. Lol.
....
We need to remember that when FB was just getting started MS was a big investor/Supporter... You'd think MS would get the fair treatment.... You'd think.

I wish we could have automatic video play in the time line like iDroid. Posted via the Windows Central App for Android

If they got we should as well... End of story.

Live tile isn't showing background image. Normal version won't update to w10 version on 950

Right!. No Gif support in 2015... SMDH

The Facebook App has gotten worse!! Noticed at the weekend I couldn't read all the birthday posts on my mates wall. It said 27 people wished them happy birthday but wont allow me to click anywhere on it to expand like on web. Also getting missing comments. So many 3rd party content posts don't even appear on my timeline either. When someone uploads a collection of pics, can only browse through a few then need to go to the persons profile > photos to view the rest. The Mobile web version or 3rd party wrappers are far more functional still. Oh well only a few more weeks til Christmas and bye-bye Lumia...

Still crashing more times than not when sharing a photo or video. Was hoping that was fixed.

It freezes up. That annoys the **** out of me..

** freezing bug, 2 builds already still has no fix...

I think if we had a understanding of why the app sucks so bad it might relieve some frustration..
....
Or, am I just being naive...

Does it fix the live tile so my cover photo is shown again or are we just stuck with the FB logo?

I hated seeing my cover photo

I love seeing my cover photo

me too, always makes me choose a cool pic for my cover photo so I can see it on my WP

Very annoying, live tile hasn't worked for months.

Same thing with this app....

I keep getting 6 messages and 1 poke notifications every now and again.

My facebook app version is 10.1! :/

This is Facebook Beta so u may be confused with the two (or just may not have realised :) )

Thats the update for the main app, that disappear from the store a day after release...I'm with that version...no Live tile..

I don't even want to get started lol that's the only updates we get for facebook "bug fixes" and it still don't work properly lol

Frustrating WP users since 2010™

My live tile is the FB logo on one side and then flips to show the most recent notification on the other.

My app version still says 10.0 in the app and the app says 10.5 in the store it did update tho

When are we getting a new version for Windows 10 desktop?

Use a browser, everybody else does.

to be able to Reply would be fantastic... such basic feature

I installed fb beta(yeah yeah beta software I know), then uninstalled it, the icon is stuck on the app list

Reinstall, restart, then uninstall. Happened to me with another app

Had a friend request the other day and I could accept or decline from the action centre. Very cool.

Accepting/declining invitations and replying a comment also available.
But if you reply to a comment via action centre, it registers as a new comment instead of a specific reply to that one comment. Hopefully they fix that one...

I think that's down to the fact you can't even reply to a specific comment from within he app even - Maybe an API issue, I.e MS don't have the ability to do that right now

Oh, yeah.. They did add that.. Still needs work.

That's old changelog, it was present for me when I reinstalled it few days ago

Semi off topic: Any word on what happened with the main Facebook app? Last week there was an article saying version 10 was back in the store, but I still get the listing and download for 8.3.7

Same here on my wife's 950

Yeah I got the update on my 1520 and its really fast but I didn't get it on my 640 and so I'm stuck with the slower beta app

It was the new one then it got pulled again for some reason last Friday. I tipped WCentral to let them know on Friday but it hasn't been relayed to WCentral readers unfortunately.

Same here, just decided to delete main app and just go with beta

It got pulled again for the 2nd or 3rd time again

I've just got 22 updates,anyone else? Win 10 1520 lumia

You changed your display text size, right?

Ahhhhh did not know that, thanks

Actually the weather is really nice outside.

Every time open it I get a message saying it can't sync.

Reinstall doesn't fix that

I thought I saw continuum support on the change log too

Still a **** live tile. Come on its a live tile so show me live FB stuff how hard can it be

Live tiles not work still problem :/

Can't rudy huyn work with facebook to make 6book in about just a WEEK with full features and even better than iDroids official FB app?

Klicking on stuff in this app always sends you to a ugly web version of the post. The new beta app may handle the new resolutions good, it looks nice on a 950 XL, but that's all it does.

Two years ago when they removed the People Hub integration they assured us it was to bring us a better FB and Twitter experience right???? TWO YEARS AGO!!! But I figured I'd try it anyway and clicked on "open in browser" to get then link on Edge. Oh wait... Faithful WM user since 2007, but not sure how much longer I can hang.

Poor man! Since 2007!! Another word for Windows mobile = Coming soon..

Oh man I love when it was integrated. I can make one post and it show up on Twitter and FB! Posted via the Windows Central App for Android

For me that I live on Greece on my friends list it doesn't show me my friends that have registered to Facebook with Greek language. Any workaround? Has anyone else the same issue?

Same in Bulgaria with the cyrillic characters.

How come I am not offered this update. My FB is v.8.3.7.0

I'm running 10586.29. Does that qualify?

It's better than before but still needs work. Just keep the updates coming MS.

I love the new version it looks great! Stop ******** complainers!

Seriously?! I'm a huge MS fan boy myself, but FB on Lumia is a train wreck.

Leave everything first add support to change profile pic and cover !!

My version shows 10.1. And it still sucks.Half of the content is missing from my PC version. I've been using the mobile browser version instead.

Does it actually sync update to the people app now? The Beta app hasn't been doing that for me since I updated to Windows 10 Mobile. I installed the non-beta version just to get the people app sync.

I used a tiles app, found a square logo, and pinned the mobile website to my 950 start screen. I also reinstalled the original version for notifications and calendar integration. Beta looks beautiful, but is still too buggy.
Windows Central Newsletter
Thank you for signing up to Windows Central. You will receive a verification email shortly.
There was a problem. Please refresh the page and try again.