Facebook Connect features shut down for Windows 8.1 and Windows Phone apps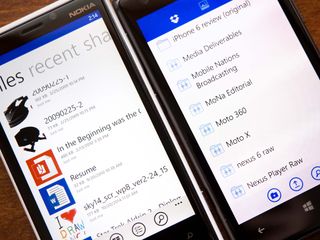 If you enjoy using some Facebook features in apps like OneDrive, People and others in Windows 8.1 and Windows Phone, it looks like they won't be available anymore. A new support page shows that, because of a change in the Graph API, Facebook Connect features are no longer available for those apps, along with other services from Microsoft.
Here's what Microsoft has to say:
The support page goes into more detail on what specific apps and services will be affected by this change. Here's the list of apps that will no longer support Facebook Connects features:
Outlook.com Contacts
Outlook.com, Windows, Windows Phone and Office 365 Calendar sync
Windows 8.1 People app
Windows 8 People app
Windows 8 and Windows 8.1 Calendar app
Windows 8 Photo Gallery and Movie Maker
Windows 8 Photos App
Windows Phone 7 and 8 People app
Windows Phone 7 and 8 OneDrive
Windows Phone 7 and 8 Photos
Windows Live Essentials Calendar and Contacts
OneDrive Online
Outlook Social Connector in Outlook 2013
Office 365 Outlook Web App
You can check out the support page to see what specific features will no longer be available for each app and service.
Source: Microsoft (opens in new tab); Thanks to Pete for the tip!
Another reason to dump facebook account.

If you loathe facebook so much, this shouldn't bother you at all.

What does your comment even mean? It does not make sense.

I don't have time to explain the English language to you.

But you have time for comments defending facebook? Weird priorities! I would think explanation of the English language to be more important than defending Facebook.

Defending Facebook? What? All that dude did was point out that if you don't enjoy Facebook in the first place then 1 less Facebook integration feature shouldn't affect you.

So what is there not to understand about the comment. Its in english, I'm Vietnamese and can understand it.

Or another reason to dump windows phone!

Another reason you're a moron, Facebook changed so I'm sure IOS and Android will be affected too.

Sounds like someone had some poop in their corn flakes this morning.

This affects all platforms, not just Windows. It's a change on Facebook's end.

well has someone how is studing computer science my project for one of the class just went caput when i try to use it today, because this facebook graf api, know you need to get a key and it is only active for a few hours...


While it may adversely affect other OSes as well, it means one less good thing about Windows Phone to outweigh the lack of apps, hardware, ecosystem support, etc. This pretty much finishes the hub concept from Windows Phone after the steady erosion of Music+Video, Photos, and People.

Exactly this. Someone who gets it. When you lose the few good things nothing is left while on other platforms a lot is left.

The API changed. Microsoft let that happen. The expiration date for those using the old API was April 30. That has long passed. I assume there was an extension, and instead of fixing the old apps, Microsot decided to let that die. The new Apps that will also run on W10 will support the new fb API. I hope that MS teams who make these apps thought in advance. https://developers.facebook.com/docs/apps/api-v1-deprecation


I get what you are saying. The people tiles and groups with social media updates were/are a big part of the draw for using Windows Phone. Between changes like this and Cortana being available to iOS and Android, the competitive differentiators are dwindling, meanwhile, so is the app store.

And Siri in iOS 9 is gonna blow away Cortana. It seems a lot more intelligent/proactive and joins the rank of Google Now.

If you're going to feed to troll, at least own up to it.

phone is not affected, as long as you've got 8.1, which is surely most people by now(?)

Agreed! And this isn't isolated to MS, these API changes affect every platform and app that used graph.

IDK what Facebook is doing, but their recent changes are making a mess of post order too. The other day, repeated refreshes would show a different post order, none of them being whatever is considered "Top Stories" or "Most Recent." Groups using Facebook to get their news out might want to consider jumping ship or duplicating their announcements via another service. A couple of groups I'm on have started getting complaints that people aren't seeing announcements until after whatever event has passed. Email might be old school, and not social-networky enough, but it seems to work a lot better for that use.

If u have windows phone 8.1 u are safe.. Don't worry

Im not sure if the API Graph or whatever, impacts Apple or Google. Else they would've announced the same thing. But this sure does suck big time. All my organized contacts which i directly just linked will be pretty much f***ed

Do you think they are bringing them back with WM10❓

Probably not in the same way. Facebook is trying to regroup users by developing apps and buying companies. We may see support in a different form, provided that Facebook can datamine our info. Don your tinfoil hats.

Well, I have a titanium cup....
.........
Actually, I think FB is in the process of turning into it's own platform, and personally I think it's a great idea.... They already have the user base, and several utilities... I do believe that there actually is a chance that a real FB phone could become more popular than WP, especially if the devices are premium quality... What developer would ignore that size user base❓ And, it's really all about marketing..

I think it has potential, but unlikely. I called the FB phone failing from a mile away...then the Fire phone...then the FireFox phone. Who's next? ;)

No, no, no.. That wasn't a real FB phone. That was Android...
......
I'm talking FB is developing a true standalone platform of their own.... They have the resources, talent, and cash.. It really is something to be of concern to MS...

FB has had phones before ...they failed miserably. Their user base is online....that doesn't mean if they made a phone they immediately have a billion users of the phone.

Nobody said that they would immediately have a billion users, and their has never been a FB OS, like the Platform that they are building up to.. Like I said before, that was just an android device.... The point is that if FB is making a platform up of their own then it's nothing to be taken for granite because right now Facebook is well known, popular, liked, and everywhere.. It's a part of a lot of peoples daily lives....
......
So, a real FB phone could potentially be a threat to MS... MS just can't afford to ignore the world as it changes, and has to do everything possible to maintain, and even elevate, it's position in mobile... Apple, Google, and Samsung will not always be on top, but when that time come there's no guarantee that the top spot will default to MS... That's not the way it works.

Way to work together on that one. Is Facebook looking for some new investment money or something?

Killing again another unique feature? Referring to people app.

This only affects people on windows phone 7 or 8 and windows 8 or 8.1 NOT windows phone 8.1 as the intergration with facebook and twitter are different on WP 8.1 as you need the app for information to be displayed in the people app instead of it being a built in feature like in 7 and 8

thanks for clearing my doubts

Oh thank god please let this be true. The only thing I really care is for birthdays and pretty profile pictures to sync to my phone (8.1)

That is exceptionally annoying!

Change in the graph API? Does this affect other platforms too, is facebook discriminating, or is MS lazy?

It doesn't affect other platforms because Facebook has official apps for them.

There are official apps for WP too

Facebook on windows phone isnt an official app. Its made by microsoft.

It's still an "offical" app, regardless of who made it.

More importantly, the functions you use FB integration for--calendars, contacts, posts--are all supplied by that app, and they will continue to work.

its official to the developer who built it, in this case microsoft. When we say official facebook app we mean a app officially made by facebook which in this case it isnt. The only official facebook app that we have is the windows app, no the windows phone app.

We = you. You don't speak for everyone, and that's not a definition of "official". Lots of apps aren't made by the company that is putting it out. Obsessing about who made it, doesn't really accomplish much.

Wrong. This affects all platforms, not just Windows. Most apps who connect to Facebook use their Graph API. This affects everyone.

Facebook have exclusives APIs to iOS and Android. WP need graph API.

I think so too. My contacts have not been syncing with fb for over a couple of weeks now. I was wondering what is wrong. This explains it. Using Lumia 920 on wp8.1 dev preview

it will effect ios and android as well because its a FB change just like when they wanted to seperate hub messaging so we would have to download the messanger app. its facebook being facebook anything that will allow them make money or do it themselves so as not to rely on other parties.

Yes it does affect everyone else and the announcement was made by FB some time ago.

It affects users across all platforms.

Dont worry, Windows 10 will......... /s

Yep. Why bother to fix it for older OSes :)

That is what I was wondering. I guess Windows 10 and Windows Mobile is coming Sooner than we expect.

Damn, that's pretty major.

So this should nuke contact pics, albums, posts, basically anything from FB outside of their own apps/webpages, correct?

Sounds like it... Not sure why they would do that

Pretty much. This absolutely sucks. Not sure why Facebook would do that, it defeats the purpose of having a Graph API.

Facebook is increasing their level of suck...

Wait, let me get my d*** out...

Excellent young man, excellent...

Why Microsoft? Its too much...

It's all platforms, not just Microsoft.

Microsoft has to figure this out. You can't just say, "Oh, the #1 social network in the world that works on exactly every other OS in the world, we no longer support it."

"Facebook has made an update to their Graph API that will impact Microsoft apps and services. "

Have you read the article?

Seriously, read it. This is a change made by Facebook which affects users across all platforms.

no reason to panic. Use facebook app, it'll sync contacts for you just like it did until this very moment.

So why don't they update to reflect the changes in the new Facebook API? So much for being partners...

I think updating people's hub and calendar requires a OS update .. So no way MS can release an OS update considering nearing of Win10!!

FB wont do that, its something their doing so they can do their own thing without 3rd party support. if they change it like they did with the messager hub that forced us to download the messanger app or go to the web. we will most likely in the future see something from FB itself that will allow us to connect it again just through their app or offer it in another way if they see that customers want such a thing. their basically like scroogle but in a nicer way that allows it to work on the windows OS. MS also wont consider it because their leaving behind the peoples hub in windows 10 for something different as well.

That last name...Love, that legit? It tis mine too, I don't see it often...im sure it was mine first....

So sad to hear this.. Even Facebook is behaving like Scroogle!!

My conspiricy theory is that since Google didn't have deep facebook integration in its contacts, it bribed facebook to change their API so Microsoft wouldnt have it either.

BAD news. Really bad!! The facebook integration was really amazing in People Hub. :-/

Yep, that was one feature I could show off to non-WP users. Now the People hub is turning into an external contact list and becoming less unique.

Yes, it was a defining feature of WP. Shame.

Well now Outlook.com contacts have no chances or pictures at all :P Funny how the uniqueness of Windows is getting ripped out every single week

So true, and disheartening. And here we are supporting the company on a daily basis. I get ridiculed by Apple and Google users all the time for using WP.

Funny, the fuckers I work with think my 1520 is a super phone....of course, it is...even two years old...

Well, fuck.. Its a 1520 ... The best pamphlet out there.

So, this affects only Microsoft's services? How interesting...

Not just Microsoft. All platforms are affected. Windows is affected the most because its services were deeply integrated with Facebook.

My Facebook account is being almost completely ignored by me in the first place, I won't be missing on much I suppose.

WTF omfg windows phone going to SHITTTTT. I always loved getting profile pictures automatically. This alone makes me fucking sad. Omfg. Fuck this shit. Welcome grey circles!!!;!! How will we get profile pictures????????????

Complain to Facebook then! This affects all platforms.

Aren't most people on the Facebook app anyway? My guess is this doesn't affect synching via that app?

This is what I'm thinking about. The People Hub and Calendar app in Windows Phone 8.1 use data from the Facebook app.

I'm not leaving specifically because of this, but it's the final straw I suppose. I'm done. Crappy third party apps. No flagships in sight. Etc etc etc. Enough is enough.

Agreed. Im on the edge of leaving.

You do realize this has nothing to do with MS, right? Facebook changed their API, so it should affect iOS and android in the same way...plus, how can you say there are no flagships in sight? We all know MS has 2 flagships in the works

Don't confuse them with logic and facts.

Does it really matter who is to blame? This integration was one of the hallmarks of Windows Phone. The end result is the same for some of us.

Some of these people including me have seen this before from first WM -WP 7-8.1 all talk. Unless MS with Windows 10 changes anything really in the mobile space.

From what I've gathered this affected other platforms as well

If you are on wp8.1 it won't really effect you. All integration is done via the app now. Maybe that is why Microsoft went away from this integration.

Well, this is a bad sign. Maybe they are preparing for Windows 10. If not, we are ALL screwed.

Boy have i heard that one before

And boy, have we been screwed before.

To be fair, they (Facebook) announced this API change a year ago and Microsoft have failed to act.

Move to the version 2 Graph API of course.

I didnt get it: The FB Hub integration that is present when you install the FB beta in the WP8.1 is gone too??

Yup pretty much and its odd because that was one of the features that made WP stand out but on the bright side, it's all platforms, not just WP

What a shame, i hope they iron out any issues and get things up and running. Side note... I wish FB was exciting and current as Twitter

oh come one, this was the only reason i really used facebook. It autopopulated a ton of contact info, and if it changed, i didn't have to know or worry about it.

Doesn't Windows Phone 8.1 use the Facebook app to connect to the People app and other apps? I don't see any indication that this has stopped working and the Microsoft link doesn't say anything about WP 8.1, just WP 7 & 8.

Well the implication is that your information available in the cloud would be 0. unless they release an "office app" for facebook

True but I think many people are assuming that it has also broken the integration between the Facebook app and WP 8.1. This does not appear to be the case.

Yes... Windows Central really needs to clarify this post to summarize the impact to users.

What the fuck? Seriously? Guess I better save my contacts now. This is so lame.

Everyone, please read the full list. Windows Phone 8.1 is not included. I'd assume for the moment that this will still work as it currently does.

There's a lot of devices that didn't get 8.1 yet

Samsung Ativ Odyssey on Verizon didn't get 8.1.

If WP8.1 is available for 95% of devices, that's good enough

I think this is key...if WP 8.1 is NOT affected then the overall impact is not as widespread as I thought, but it hurts those on older hardware or who haven't updated yet. I think we need some clarity on the impact to Windows 8/8.1 and Windows Phone 8/8.1...

Less than 1.5% of total mobile market share - that is the impact.

Am on Lumia denim and everything about Facebook is no longer available on people app

How odd. I'm on WP8.1 Update 2, on a Lumia 830, facebook integration still works in the people hub.

You have to install the Facebook app and enable contacts integration there.

Ha! One of the most favorite feature of choosing Microsoft ecosystem is gone. Soon Microsoft, soon...

So you are from england(by your profile picture) and you can't read english.it clearly says "Facebook has made an update to their Graph API that will impact Microsoft apps and services" and they will update windows 10 people app to adjust to the new API cause they should

Are you f*cking serious...

But will it return somehow or is it broken forever?

We hope that Microsoft will adjust Windows 10 to the new API.

Well this really sucks. Does that mean that I'll actually have to manually update my contacts' info? Also, one less thing keeping me tied to Facebook. I was really close to deleting my account before I got a Widnows Phone, then I actually got some stuff out of it Now we've looped backto me wanting to delete it.

Same here... I keep Facebook just because of Facebook Connect on my Windows Phone.

so does it affect the app

The death of a thousand cuts continues.

I mean come on, why even have a windows phone anymore? They are making it much like Android, except without all the features.

Because this affects all platforms!?

Wow. If this reads the way I think it does, that means the primary social network integration of Windows is broken.

Does this mean I'll loose all my contacts from Facebook in the people app?
That's... inconvenient.

If you are using the Facebook app then no. This is only for the older wp8.0 style of integration. Wp8.1 uses the app now.

Except in my case, it IS. I am using the app, and it is still not syncing. (I am on WP 8.1)

This! Seriously Microsoft, if the API is changed, you update the app, not deprecate the service. You are doing it wrong.

just a question , you seems to be from England, is it so difficult to read an article in English? If so, well tell to WC to write theirs articles in chinese then you can make a little effort to read. I mean even with my crappy English I can undertand it is facebok's graph change

But you can't understand noerset's post? Yes FB changed the API. This post is about MS's failure to update the app (on W8.1) to reflect the change. Please read TWICE then ask a friend to double check for you.

Dude, as it is explained, the change makes impossible to replicate the exact same functionality. Someone explained it very well a couple of post below

Damn. This changes everything. I feel like I'm being left out.

Most personal OS? Bye bye. Even the live tile for people will be blank now without contact pictures. Unless you're willing to sacrifice all your free time and add those manually. Omg this is such bad news for windows phone.

WP should just die already what a shame. The new WM is just so the hardcore fan boys won't be forgotten.

That's a pretty massive blow to Windows and Windows Phone.

Microsoft should shut down windows os now as every good features are cutting off from the os :/

Okay, hang on. Let's see if these dots connect. Facebook's latest Graph API change went into place end of April, and seems to close off the connection paths (i.e. interacting with your friends on Facebook via an app) used by MS Facebook Connect. See https://developers.facebook.com/docs/apps/changelog#v2_0_login for the changelog, but the two bullets that stood out to me are: Friend list is no longer part of the default permission set and has its own permission: Asking for access to a person's friend list is now a separate permission that your app must request. The new permission is called user_friends. Friend list now only returns friends who also use your app: The list of friends returned via the /me/friends endpoint is now limited to the list of friends that have authorized your app. Searching for news about this Graph API 2.0 change turns up a number of articles all around the end of April citing these changes, including impacts on MS services. In a way, it looks like Facebook was more lenient by letting MS Facebook Connect carry on this long, and it doesn't appear at all possible to integrate with Facebook in the way we used to. This also means that neither iOS nor Android should be able to do this anymore either - it's a change on FB side.

Thank you, your analysis is the best I have seen here.

You have been great. But we that cought, It sucks for That is the one. So they are droping a lot more intigreaion. That is the only windows reason I have had two. I got burned a few times. They are pushing me aways for the OS. Sad to see, My close friends are pins and will no longer being updated on my screen. Just the same as Andoid, Apple. They sold them or gave the most of the inportant apps. It's like selling the cow and giving the milk away for free. Sorry James Martn P.S I hope they find the corect API

They changed something but it's not a valid reason for shutting down any kind of integration with Facebook. For example, there is no reason for not showing notifications of the user in the People app. That's something you can still do with the Graph API.