Facebook Login for apps will now offer users selective permissions and anonymity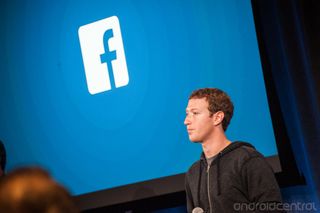 Facebook made some impressive strides in privacy at their annual conference today, announcing a new feature that would let users log into connected apps without giving any personal data. There will also be the option for users to tick off which Facebook permissions to allow an app on the initial set-up.
On the web, Facebook's App Control Panel is getting a major update so it will be easy to see which apps are connected to Facebook and what permissions they currently have. Facebook also said that they will no longer allow apps to pull in data from friends of friends; everybody has to individually offer their data to apps. All of these features will be rolling out over the next couple of months.
Considering the biggest stigma against Facebook right now is that it snoops through all of your personal stuff without you knowing about it, these features are extremely welcome. For those that have already sworn off the ubiquitous social network, it may be too little too late, but as an active user, I'm really happy to see these additions. What about you guys? How much attention do you pay to permissions requested through Facebook-connected apps? Is requiring a Facebook account a dealbreaker for whether or not you use an app?
Source: Facebook
First they should give us official fb app

We dont have his fb app on windowsphone yet so useless news

Anyone when we can have official fb app from facebook inc??

I agree with you. I'm curious when we have the official app. :)

9/20. The app is arriving on Sep 20th. Didn't you hear the news?

Really?can you give me the source?

No, I don't drink; It's against my religious belief!

Official app in developmemt? Where'd you get the news from? Send the link here, QUICK!

First gives the official fuc**** fb app...

Every WP users will hate the news about Facebook until they make the true facebook app for windows phone.

So now they wanna give us back the clothes they stripped us off??

How about we just get a good facebook app.

The developers already have anyone who logged in with Facebook's data.

LMAO. Anymore questions????

I don't use any app that links with my fb acct. I don't want to share my info with everybody. Looking forward to better privacy policies. Of course I will believe it when I see it.

We have an official app! It's just made by Microsoft. And you really, really do not want Facebook making the app themselves. The iOS and Android apps are effing awful!

Well then you have not used them. I used the iOS version, And it is much better than the WP version.

Sorry, but I run FB app on Moto G pretty smooth and responsive.

Just shut up..Stop your nonsense..Facebook app on iOS and android is far far better than this shitty app

Do we even know if Facebook is developing a WP app or are you all talking out of your asses?

Selective permissions. My biggest problem with Facebook integration and login was that most apps would enable the permission to post on my behalf. Hate that permission.

Where is the official app, eh?!

Speaking to the article itself, yes, I am glad they are enabling better privacy controls. While I don't exactly love FB, it is a very useful social tool/ directory and having to live with it just got a little less uncomfortable. I can't wait to go in and tidy down permissions! Let's just hope they don't reinvent the crap a few months later or remove it altogether once in place.

Must give fb credit for this move !, but is it really going to make any difference ?!. I doubt it !, developers will just make their apps nonfunctional if you revoke any of the apps' permissions!.
Windows Central Newsletter
Get the best of Windows Central in in your inbox, every day!
Thank you for signing up to Windows Central. You will receive a verification email shortly.
There was a problem. Please refresh the page and try again.