Factory unlocked Nokia Lumia 520 in Red or Black pops up on eBay in the US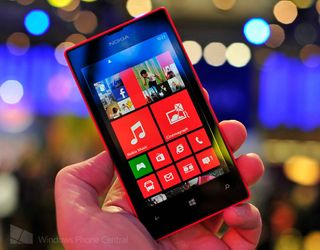 Nokia's newest economically-friendly offering, the Lumia 520 has showed up for sale on eBay. This black or red, factory unlocked version looks to be the first 520 to be offered in the US and can be purchased outright for $239.99 using the Buy It Now option. Shipping is free.
Seeing the Lumia 520 for sale in the US is a bit of a novelty, but it may not be the wisest purchase to make. Being factory unlocked, the phone will only work on AT&T's and T-Mobile's EDGE speeds with limited 3G and no 4G LTE. For much less money, one could get any number of higher-end Windows Phone 8 handsets running full 4G on either AT&T or HSDPA+ on T-Mobile.
Having said that, as a second, backup phone and for something to kick around on the weekends, it's one viable option.
Featuring a 1GHz, dual-core Snapdragon CPU, Windows Phone 8, 512MB of RAM and a 4" Super Sensitive display, the Lumia 520 is one sharp phone. For $239.99, it's a steal if you ask us.
But if you are still hellbent on owning a Lumia 520, you can follow the source link to purchase it directly on eBay.
Source: eBay-Black (opens in new tab); eBay Red (opens in new tab); Thanks for the tip, Juan!
Windows Central Newsletter
Get the best of Windows Central in in your inbox, every day!
A subtle way of carrier subsidy subversion, slower speeds.

Any idea of a CDMA version? I want one for VZW and I don't mind slower data speeds for the person who will use it.

Doubtful. Definitely not on Sprint. But if it becomes popular, anything is possible.

I agree with you being myself a 620 owner, but remember that for the occasional user that wants something that works for less than $250 this will work.. Also, this one has a slimmer design and a bit bigger display. I'll buy one for my friend who is in need of a phone and also get another convert for WP8!!

@Jnbs How is the the camera in the 620 "real world"? I've read the glowing reviews:) on the phone itself, just want your opinion. Wonder if I can ever switch from 920's amazing camera.

Well it depends on what you are comparing it, if you compare the camera to the 920 its totally underwhelming, I mean the difference will be huge. However, if you compare it to same price androids, like the Xperia line (U, Sola, Tipo and others) or some mid tiers of the Galaxy line (Reverb, Exhibit, Young, and others) it is very good.. You get decent, sometimes alot, amount of details.. And some pretty good shots on night mode for a midrange phone.. Comparing to my old HTC desire and Xperia Sola, I love the 620 camera.. Any other questions I'll be glad to answer..

Best 5 MB shooter in a cellphone. Daylight is nice. Low light is not even close to 920. Its a nice backup phone that'll make people turn heads.

Yes it is!! And the colour helps a lot!!

Damn not even 3g? Well I guess I really didn't need a second phone after all.

You can get a cyan Lumia 620 on ebay unlocked and new for about 50 bucks more and its compatible with the gsm networks here. You will atleast get 3g not edge.

Does the 620 work on sprint?

No because sprint is not using the international standard GSM standard for connectivity. They lock you down to using their phones.

is this ever cheaper then lumia 620?

Only works with att and t mobile and only on edge....not really useful in my case. I'd rather wait for it to hit t mobile or compatible carrier. Thanks for the heads up though! :-)

Are you sure of that information? I know that a TM locked 520 will definately work at 4G but not LTE. So why would an unlocked one not work at 4G on either network?

Man I was really looking forward to this even though I already have a 920. Guess I'll get a 620 instead. The price difference isn't that big anyway.

People have enough money for backup/weekend phones?

Haha my thoughts exactly.

In Vietnam, it is just 190 USD.

T-Mobile will have the Nokia Lumia 521 real soon. Just wait until it arrives in stores. You will have the option to buy it outright or 24 month payments.

The Lumia 810 is 360$, I'm assuming the 521 will be around 240$ (that works out nicely to 10$/month over two years)

If that's the price, the only difference will be support for the frequency T-Mobile is phasing out anyway (and the option for payments instead of paying it all upfront)

A few 720's are popping up too.

That's where I got my Lumia 810 for about 290. Works great, 1GB ram, SD card, 8MP camera, wireless charging (will need the wireless shell) and it will eventually be updated to support T-Mobile's LTE in the future. Overall I think it was worth the money...

I bought my 820 on eBay (new) for about $330 and that's 1g of ram and 1.5 ghz processor so I think that's a better deal than a 520 imho.

Isn't the 620 the same situation? Won't work well in the us only edge? That's my phone there. Mid range, cheap and stylish.

For much less money? are you fooled by the subsidized phone prices? you realize you pay a lot more than 240$ for any other WP8 device.

Also, this edge only statement is false. This phone will work on 3G on any GSM provider, especially now that T-Mobile is reconfiguring their network to support the iPhone

In vietnam, it is about $180. But T-mb will have the Lumia 521 soon.

When is the 928 Nokia coming
Windows Central Newsletter
Thank you for signing up to Windows Central. You will receive a verification email shortly.
There was a problem. Please refresh the page and try again.