Fall Creators Update now on 90 percent of Windows 10 PCs, AdDuplex says
The Fall Creators Update has reached 90 percent coverage of Windows 10 PCs just ahead of the next big Windows 10 feature update.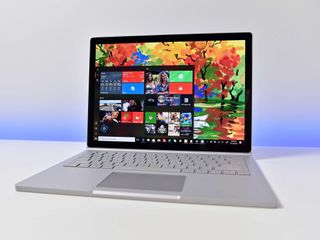 (Image credit: Windows Central)
The Windows 10 Fall Creators Update is now installed on more than 90 percent of Windows 10 PCs, according to AdDuplex's latest monthly report on the Windows ecosystem. This comes just weeks ahead of when Microsoft is expected to ship its next big feature update in April. For comparison, the Creators Update only managed to reach 72 percent coverage during a similar period before the Fall Creators Update's launch.
The Fall Creators Update has seen a pretty rapid release compared to its predecessors. "Fall Creators Update is undeniably the fastest spreading update in a long time," the AdDuplex reports. The update reached full availability in early January, helping it to jump 20 percentage points between December and January, hitting 75 percent coverage. Growth slowed a bit after, but still maintained a 10 percent boost to 85 percent coverage in February.
As for past releases, March saw their share shrink by quite a bit as well. The Windows 10 Creators Update is now a 4.3 percent, while the Anniversary Update comes in at 3.6 percent. Below that are Windows 10 versions 1511 and 1507, each at 0.8 percent and 0.5 percent, respectively.
AdDuplex also offers an interesting look at PC OEM share. HP remains in the lead, keeping hold of a share of 26.1 percent of active Windows 10 PCs. Dell follows up with 17.3 percent, and Lenovo comes in at a 12.6 percent share. Asus and Acer round out the top five with 8.7 percent and 8.6 percent each. Toshiba (4.4 percent), Microsoft (2.5 percent), Samsung (1.8 percent), and MSI (1.6 percent) all come in below five percent.
AdDuplex's numbers are based on a sampling of data collected from around 5,000 Microsoft Store apps that make use of the firm's SDK. Actual figures likely differ, but these reports are a solid way to track trends. The numbers for March were collected on March 26.
Dan Thorp-Lancaster is the former Editor-in-Chief of Windows Central. He began working with Windows Central, Android Central, and iMore as a news writer in 2014 and is obsessed with tech of all sorts. You can follow Dan on Twitter @DthorpL and Instagram @heyitsdtl.
Thanks to my company, my work laptop is stuck at 1607. I really would love to be upgraded to FCU as it is significantly better than the Anniversary Update.

Medion is a Lenovo brand, isn't it?

So surface is around 25000000 devices deployed......Is it right??

If we use a report that 600,000,000 devices "https://www.onmsft.com/news/windows-10-now-has-more-than-600-million-mon... are on windows 10 (That counts for XBOX, Phones, PC's Tablets, IoT etc) So, knowing that this Pie-chart is alluding to PC and its likes only, we can start making assumptions of the unknown.
1) Say all 600,000,000 are PC - Surface with its 2.5% = 15,000,000 Deployed
2) Say only 500,000,000 are PC - Surface = 12,500,000
3) Say only 400,000,000 are PC - Surface = 10,000,000
4) Say only 350,000,000 are PC - Surface = 8,750,000 What I find interesting is that Surface or MSFT devices is a what I will call a solid 2.5% market share. I said solid market share because Surface line is to show its partners the way. at 2.5% is a good market share to show the way, not loose money and not compete with your partners. The top 5 gobbled up a total of 73.3% Even the great Samsung is at 1.8% and still in PC bussiness

Well of course its at 90% when MS jams the feature update down to force-update your machine with no way to stop it, unless its an ENTerprise edition where its blocked by GPO.... Its not like the majority of people are choosing to go out and do the update, hell more than half the people I know don't care what version of win10 they are on.....they don't even know about FCU.

Am just use Windows 10 Pro and i can stop the update for 365 days + active hours so ofc you can block it frome update before the next update becouse that is only every 6 months. i can easy jump over a whole Windows 10 version.

Yeah, except I tried that and I still got a huge, blocking, notification that I needed to update. It wasn't like any of the notifications I've received in the past and I had feature update deferred for 365 days. The stupid thing is that I've tried no less than 40-50 times to update and it fails every time despite jumping through various hoops to get it. Of course it doesn't use the same install files and re-downloads them every time, which is rather convenient /s. My only option seems to be a clean install, but I use my PC for work and business so I've got better things to do with my time.
Windows Central Newsletter
Thank you for signing up to Windows Central. You will receive a verification email shortly.
There was a problem. Please refresh the page and try again.