Windows 10 Redstone 4 reaches RTM milestone
The upcoming Windows 10 Spring Creators Update is almost ready for launch, with the OS now being "done" development wise.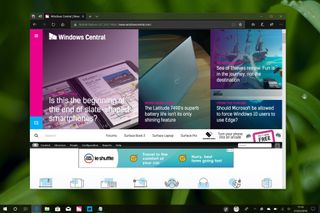 Development on the next feature update for Windows 10, codenamed Redstone 4 and often referred to as the Spring Creators Update, is now complete. According to our sources, on Friday Microsoft internally signed-off on the final build of Redstone 4 at build 17133, making said build the one that will be released to manufacturers (RTM) for pre-loading onto new devices.
Assuming there are no catastrophic issues that arise when testing build 17133, this is the production build that Microsoft will service with security and cumulative updates throughout the lifespan of the Spring Creators Update, just like it has with previous releases of Windows 10. Build 17133 is expected to hit Fast ring this week, followed by Slow ring not long after. Of course, since this is the RTM build, it will also make its way to the Release Preview ring too. So, for Insiders in the Release Preview ring, prepare for a big update within the next week or so.
Which Windows 10 Insider ring is best?
Now that Redstone 4 has been signed off, Microsoft will now turn its efforts to squashing any last minute bugs or issues via patches that will be flighted to Insiders in the days up until release. These patches will then be released as one big day-zero cumulative update, which will likely rollout to the public alongside the official release of the Spring Creators Update. On that subject, we're hearing Microsoft will begin rolling out the Spring Creators Update sometime in April, likely April 10, to an initial subset of devices before rolling out more broadly, just like in the past.
Microsoft will want as many Insiders as possible testing the RTM build of the Spring Creators Update, before moving on to Redstone 5. Insiders in the Skip Ahead are already testing early Redstone 5 builds with Sets enabled, while the rest of the Insider Program is testing Redstone 4. In the next couple of weeks, Microsoft will begin flighting Redstone 5 to Insiders in the Fast ring as well, so be sure to drop to a slower ring once 17133 is released to avoid being upgraded to pre-release Redstone 5 builds.
Will you be upgrading to the Spring Creators Update once it becomes available? Let us know in the comments!
Zac Bowden is a Senior Editor at Windows Central. Bringing you exclusive coverage into the world of Windows 10 on PCs, tablets, phones, and more. Also an avid collector of rare Microsoft prototype devices! Keep in touch on Twitter: @zacbowden.
Definitely i will upgrade to spring creators update...

Will get it as soon as the ISO files are available

Yess....iso updates are the ones I prefer as well...just download it & copy & install to ad many devices as u want

Considering how much of a fan of Windows I am I will certainly be upgrading.

Dito ... already thinking about switching to insider, i got a lot of use-cases for the timeline-feature.

As long as they fix touch keyboard hold shift+arrows; Edge address bar suggestions tapping or clicking not working; Edge not scrolling up and touch keyboard obscuring the selected input field; Groove artist art (the many artists that don't have it and the behavior and the quality of the present art); not copying text from UWP apps by touch invoked context menu and so many more seemingly small,but very annoying bugs.

A. They need to have swiftkey typing (?) enabled for all keyboards. B. I always have a problem when selecting a word from the suggested terms and it does a double word.

I'd love to see not a "feature complete" update, but a "complete feature" update once.

IDK why I keep thinking this is getting me closer to an Andromeda device. There's gotta be some logic there.

Andromda is the os. And I'm calling the folded device tablet- phone. There 2 other devices a smartphone and a smartwatch.

<a href="https://keralaresultsnicin.org/">https://keralaresultsnicin.org/</a>

Nope, not for a while anyway, if i wait for a few months I can see what problems people have or don't what ever the case may be.
I have just had a day of fun with Windows as it is, ended up reinstalling the thing, so now it is stable and working I am going to leave updates well alone for a while.

When is available for Release Preview Ring?

from paragraph 3: "So, for Insiders in the Release Preview ring, prepare for a big update within the next week or so."

Release Preview is third in line after Fast and Slow Rings and is usually a few days before roll-out (April 10). However, Release Preview has not been working right for over a year. It is no longer receiving updates to preview before public release but instead has been receiving updates the same day as the public. In March it has not been getting any automatic downloads, requiring use of the Microsoft Update Catalog to keep devices up to date. All this means take care of the update yourself when the ISO is posted on April 10 if your Release Preview device doesn't get the Spring Creators Update automatically by then.

Yes x86/32bit some build were slowly rolled
Due to extra tweaks concerning 32bit and spectre/ Meltdown fixing. 64 bit was not affected in roll out, both should be rolling out at the same time.

Why does MS INSIST on having desktop shortcut ARROWS? They are so "yesterday" & totally useless bloatware!

Your definition of "bloatware" is rather hilarious.

He only has so many pixels!

The arrows tell you an icon is a shortcut. No arrow means it is the program or file itself.

I think he's talking about the small arrow on the icon of every shortcut file, used to distinguish whether the file is genuine or a shortcut. But to be fair, it could be anything, that comment lacks sense anyway...

Bloatware? i doubt they take any more space than without the arrows. There is a little bnit of software called Winaero tweaker,. there is a option to get rid of the arrows if they annoys you. I do not really have shortcuts on my desktop, but if I did I would want the arrows.

I like the arrows, but don't like the "Shortcut to" text that's added. Fortunately there's a registry tweak to stop that from being added.

Giving you all needed nformation on one screen.
The thing windows does way better than crapdroid.

Long time ago I started as an windows insider but an accident forced me to stop now with new versions of Windows on the way I just want to help again and I'm not afraid that my computer will crash because if there's a problem I just reinstall Windows and start all over again. No problem. Also now I have the time to start testing and experimenting again and the spring creators upgrade wiľ be a challenge I hope and I will certainly download it

17133.1 available and downloaded already. Just awaiting restart.

I'll upgrade as I always run the latest version, but there's nothing 'must-have' in this new build. Nothing at all.

I have to buy a new hard drive for the computer I put windows insider builds on so i have not been a windows insider for a while now but in a few weeks that will change and I will install it. hmm maybe i will put windows insider builds on my finicky old hard drive and install Windows creators update on
my new drive which will be a fast SSD. I am looking forward to using the new Windows Operating system

I have been using Webroot for sometime now and license is about to expire. I am not sure if I am going to renew it or not. With all the security breaches and different viruses out there I have been really Leary on using Defender. What is everyone's take?

I have been using Webroot for sometime now and license is about to expire. I am not sure if I am going to renew it or not. With all the security breaches and different viruses out there I have been really Leary on using Defender. What is everyone's take?

I'd like t see Microsoft fix the bug when you lose the position of all your desktop icons if there is a power loss or the system hangs up.
Thousands of people have reported this bug for many years, yet they seem to ignore it.

build 15xxx; 2015: builds 16xxx; builds 2016: builds 17xxx; 2017: by the way Microsoft, builds 18xxx NOT LOADED YET THIS YEAR!!!!!!!!!!!!!!!; 15 months of builds 17xxx; 2017!!!!!!!!!!!

As I mention elsewhere my Fast Insider test machine, an old Thinkpad, worked so well I decided to join fast insider on two non-critical household Surface 3 machines last night.
Perfect on both.
Plus, as soon as the install is complete, the option to permanently Leave Insider is available.

I can't wait. I too will update

Yes. I will be upgrading to the Spring Creators Update once it becomes available.
Windows Central Newsletter
Thank you for signing up to Windows Central. You will receive a verification email shortly.
There was a problem. Please refresh the page and try again.