Fallensouls: Fire War is questing on Windows Phone and Windows 10 Mobile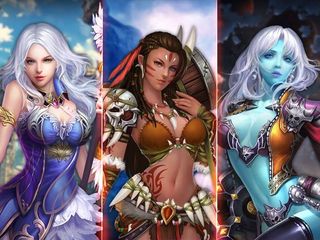 A popular Asian-developed fantasy massively multiplayer game, Fallensouls: Fire War, has made the transition from iOS and Android to Windows Phone. Fallensouls: Fire War is a free-to-play game that was published by a newly revealed company called Miracle Games.
The official press release announcing Fallensouls: Fire War from Miracle Games, quite frankly, looks like it went through a bad online translation to English. However, it does offer a quote from "Michael Leader", an untitled member of the company:
And what is Fallensouls: Fire War all about? Here's the breakdown:
Join Fallen Souls and fight for one of the Three Factions of Isolace, incarnate a Mighty Human, a Dark Undead or a beasty Orc to fight against evil forces amassing their armies
Participate in the Auction house and find the right equipment for your character. You can sell and buy everything you find in the game allowing players to trade between them!
Unite with thousands of players in a great massively multiplayer RPG game by creating your own Guild, competing against others, building your own castles and destroy others.
Take part in huge world boss battles. What will be your destiny? Choose between a Brutal Warrior, an agile bowman or an epic Wizard, customize your hero with legendary equipment, enchant those and hire mercenaries to help you during your quest.
Play it your way by defeating scary monsters using Action Strategy Combat. Explore diverse world maps to find secret and legendary loots.
At the moment, it looks like Fallensouls: Fire War is just for smartphones and not for Windows PCs. Please note that while the game is free to download and play, it does offer optional in-game purchases. Let us know what you think of this new fantasy MMO in the comments!
Download Fallensouls: Fire War for Windows Phone/Windows 10 Mobile (opens in new tab)
Source: Miracle Games (Gamasutra)
I don't know about this game, but try Warspear Online. It's like of the best MMORPG ever. Been playing it since 4 years now.

I got the Warspear one too. They can battle it out for my p2p funds

Looks like an okay game for the platform, but more games and apps the better.

Great to see that video games are no longer full of sexist stereotypes. Oh wait ...

Yeah I was hoping to see a fat walmart shopper lady in my video game as a warrior hero! Lol.

Dude. Have you seen the combos the fat walmart shopper lady can chain together? That half-eaten pack of cold hot dogs from the food section may not look like much, but in the right hands it cranks out some epic DPS. Her only real weakness is that she can't close ground very quickly in that electric scooter.

650 5-star reviews in two days, no ratings below 5-stars, most with English named reviewers, none of which make a lick of sense. Still downloading because one reviewer states "Fortunately, this is a serious fever".

Thank god, I thought for a moment that it may only be a mild fever.

Im confused, looking at the game right now in the store and it has no ratings/reviews. Where did you see the 685 5* reviews?

Took a screenshot for ya
http://1drv.ms/1OUZj1f

So the webstore has different information to the app store? I thought they converged?

Windows 10 mobile store, 920 with latest build.

So now we are dealing with not only fake apps in Windows store, but also fake reviews. Hmm..

This has been going on for plenty of time. New and Rising games are notorious. Garbage.

Holy ****, look at all those fake robot or paid reviews in the store! 658 5-star reviews, all riddled with terrible grammatical and spelling errors, and no reviews in other stars. No actual in-game screen shots in the game preview. Download at high caution. The developer is clearly bullshitting their way through this. Windows Central, why are you even giving drivvel like this an article? Were you paid by this sketchy "Michael Leader" character?

If Windows Phone is being targeted by this kind of groups then it means that there is a future for the platform :D

I always assumed Windows Central did so many app spotlights because of the serious lack of apps in the windows store, so new apps are kinda a big deal...


Haha a human version of Tristana

This thing is so slow to update. 10KB/sec

LOL, you got to be ******** me. Didn't download the game, but had a read through the "all 5 star" ratings. Totally hilarious. Not a single one makes any sense, but they are worth reading. MSFT needs to do something to the store if stuff like this can happen.

Hey can i get coc on windows phone?

May god bless people like you!

Not likely we will see Contest of Champions anytime soon but you can try Gods of Rome.

I think he meant Clash of Clans..

These games try to attract potential players by putting up pics of sexy animation girls.
Windows Central Newsletter
Thank you for signing up to Windows Central. You will receive a verification email shortly.
There was a problem. Please refresh the page and try again.