Fallout 4's Chryslus Rocket '69 makes its debut in Forza Motorsport 6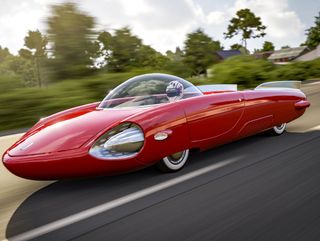 Fans of Bethesda Softworks' post-apocalypse RPG Fallout 4 and Microsoft's Xbox One racing sin Forza Motorsport 6 have a nice addition to check out. Beginning today, codes are being sent to players of one or both games so they can download and drive the free Chryslus Rocket '69 car in Forza Motorsport 6.
Xbox Wire states (opens in new tab):
Anyone who has played either Forza Motorsport 6 or Fallout 4 on the Xbox One with their Xbox Live account will be sent their codes to get the Chryslus Rocket '69 via an Xbox Live message within the next seven days. People who buy either game between now and April 30 will receive their free car codes in May.
Tis bad ass Posted from PornHub

Wasn't I supposed to get a Fallout themed 1956 Ford F100, too? Never got that.

Everyone got the '56 Ford. It came as a gift car in-game. Do you get the Forza tier rewards? It should have been in the same type of message under the gifts tab as the weekly reward credits. Check your garage, maybe you downloaded it without realizing it. I think this article is wrong about who gets the Chryslus though. It shoud only be players of both games, not just one.

I never got them either.. I was bummed about it

It would be awesome if it blew up in a mushroom cloud when you crashed it. I'm sure that won't happen though.

What the hell is a Chryslus? Is that like a Chrysler built by the people? Chrysl-Us?

Their best known model is the Chryslus Corvega.

It would be nice get it in Forza Horizon 2. Just sayin.

I've always wanted drive this!

Nice to see something free seeing as passes are looking like they don't matter much anymore

This would of been really funny of it was on April's Fools day and then turn out to be true. Lol

What the hell, well, that was a mile away from my expectations, who would of thought something fictional from another game such as the chryslus rocket 69 would debut in Forza, I have a feeling anything can happen now, get you checklists out boys, batmobile's gotta be on the game :D

Holy ****, that looks absolutely insane. Wow.
Windows Central Newsletter
Get the best of Windows Central in in your inbox, every day!
Thank you for signing up to Windows Central. You will receive a verification email shortly.
There was a problem. Please refresh the page and try again.