Fallout 76 flirts with 'pay-to-win' by offering repairs for real money
Fallout 76 marches on with its updates, although this latest one has some fans up in arms.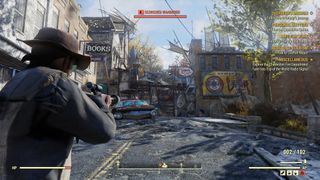 Fallout 76 was one of the biggest misses of 2018, plagued by server issues, a truly maddening array of bugs, and a litany of quality-of-life problems stemming from poor implementation. Despite the controversy, developer Bethesda marched forward, patching out hundreds of bugs while addressing some of the game's biggest concerns.
On top of a fairly robust-looking roadmap, Bethesda has been issuing smaller updates containing occasional features and bug fixes. This latest update, however, has some fans in a bit of an uproar.
In a post on Bethesda's website, the company unveiled its new Repair Kits mechanic, allowing you to circumvent one of the game's most time-consuming aspects by spending real-life money. Repair Kits will allow you to spend real money in order to repair your armor and weapons in the field without having to visit a repair bench. While they can be earned in-game, they also grant paying players a clear advantage over those without the will, or cash, to participate.
Basic Repair Kits
Basic Repair Kits are single-use consumables that immediately restore one of the items in your inventory to 100% condition. So long as you have a Repair Kit in your inventory, you can use it to fix up a piece of gear anytime, anywhere, and without spending any of your own crafting materials. Once you've got a Repair Kit, open your Pip-boy to find an item you want to repair, hit "Inspect", select the new "Repair Kit" option, and then leap right back into the action. You can also use Repair Kits at any workbench in your C.A.M.P., at Workshops, or those you find in the world.
Basic Repair Kits will be unlockable in the Atomic Shop using Atoms you've purchased or those you've earned for free by completing in-game challenges.
Improved Repair Kits
You can use Improved Repair Kits in all the same ways as Basic Repair Kits and they are also single-use consumables. However, Improved Kits buff the selected item's condition up to 150%, giving it an even longer lifespan against the trials of Wasteland combat.
Improved Repair Kits are rare items that we plan to award to you for free as you take on various types of in-game content. As an example, you will receive them as loot when you take down the Scorchbeast Queen.
Bethesda also notes that other fan-made requests such as refrigerators for storing food and ammo conversion mechanics are under consideration, adding that player-made vendors have been delayed to add additional polish. They included the updated roadmap below.
In a conversation with Gamespot, Bethesda's Pete Hines said that Fallout 76 wouldn't be a case of "playing better against other players because I spent money," but with this update, arguably, that is no longer the case.
It's a shame to see Bethesda jump on the slippery slope towards full-blown pay-to-win, but it's also not entirely unexpected. Fallout 76 was undoubtedly a massive investment, and continues to be, owing to its free content updates. Perhaps cosmetic DLC simply wasn't cutting the mustard. Either way, it remains to be seen whether or not Bethesda will tumble further down the pay-to-win rabbit hole, but they certainly haven't made any promises either way in its patch notes.
Repair kits will drop "in the weeks" after Patch 8, aiming for April 9, 2019.
Apocalypse simulator
(opens in new tab)
$60 $30 (opens in new tab)Despite the problems, Fallout 76 is a fun loot shooter with some great environmental narrative. Just beware the bugs, many, many bugs.
Xbox accessories you'll love
Every one of these quality accessories is guaranteed to enhance your Xbox experience.
PowerA Enhanced Wired Controller for Xbox One (opens in new tab) ($20 at Amazon)
PowerA's take on the Xbox One controller is an attractive pickup for budget-conscious gamers that nails all the basics.
Talon PDP Xbox media remote (opens in new tab) ($20 at Amazon)
The Talon PDP Xbox media remote is great for watching shows on your console.
Xbox One S vertical stand (opens in new tab) ($10 at Amazon)
Stand your console upright with this accessory.
Jez Corden is a Senior Editor for Windows Central, focusing primarily on all things Xbox and gaming. Jez is known for breaking exclusive news and analysis as relates to the Microsoft ecosystem while being powered by caffeine. Follow on Twitter @JezCorden and listen to his Xbox Two podcast, all about, you guessed it, Xbox!
This is what games as a service is. Release a half finished buggy game at full price.
Adding more content (that should have been in the game at launch) and making it sound as though they just keep adding content with their roadmap. And then add microtransactions and pay2win to justify all the "additional content". What it is, is that this is just a game in early access that they launch as a full game and are completing the game as they go along. This is ridiculous and pathetic. Very disappointed by Bethesda. They make good single player games, why go into this games as a service greed? I still remember this video they made during the whole Star Wars Battlefront 2 lootbox debate:
https://www.youtube.com/watch?v=DPl-YMq2WTM This is a crazy mess, I just hope they lose massive of money on this and they never try GaaS again.

I agree. I do understand the revenue stream of thses games, but pay to win should never be acceptable.

Finally, what these games have been missing is some actual class warfare... 😅
Windows Central Newsletter
Get the best of Windows Central in in your inbox, every day!
Thank you for signing up to Windows Central. You will receive a verification email shortly.
There was a problem. Please refresh the page and try again.