Family Guy: The Quest for Stuff brings Quahog to Windows Phone 8.1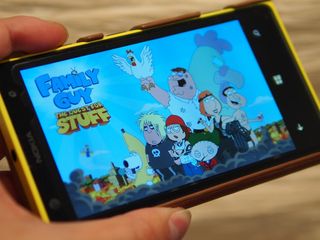 After launching on Windows 8.1, Family Guy: The Quest for Stuff is now landing on Windows Phone 8.1 devices. The game asks you to be guardian of Quahog as you help rebuild it from the destruction created by Peter Griffin. You're also tasked with keeping Quahog safe.
Here are some of the things you can expect with Family Guy: The Quest for Stuff:
It's Free! Freakin' free? Freakin' sweet!
Create a living Quahog that fits enjoyably in your pants
Unlock hilarious outfits for your characters like Mermaid Peter, Bikini-Clad Quagmire, and Rambo Lois
Send your characters on ridiculous quests
Keep Quahog safe from pirates, evil chickens, and other invasions
Peterfy your town with decorations such as The Petercopter, The Peterdactyl, and The Hindenpeter
Unlock hundreds of brand new and classic animations
Thanks to Dwane M. for the tip!
Get the Windows Central Newsletter
All the latest news, reviews, and guides for Windows and Xbox diehards.
Chuong's passion for gadgets began with the humble PDA. Since then, he has covered a range of consumer and enterprise devices, raning from smartphones to tablets, laptops to desktops and everything in between for publications like Pocketnow, Digital Trends, Wareable, Paste Magazine, and TechRadar in the past before joining the awesome team at Windows Central. Based in the San Francisco Bay Area, when not working, he likes exploring the diverse and eclectic food scene, taking short jaunts to wine country, soaking in the sun along California's coast, consuming news, and finding new hiking trails.
Hang on... Wasn't this already an article?

It was for Windows not Windows phone

+1 As we mention in the opening sentence ;)

Not only do I not have a compatible phone, the link goes to "not available."

Isn't this the app that everyone on the comments yesterday agreed was a fake? Different company name and everything.

Check it on iOS and android, the same company makes this.

Does it require an internet connection?

Who cares? Its 21st Century...

Who cares? The one that doesn't carry a WiFi router with him!

Why do mobile phones require a WiFi router to always be near?

Ever heard of cellular data? :P

No 4G. Cellular data? Yeah, I have some Mb each month but if I start spending them every time I want to play a game, they won't last a sec , I believe you understand

I would appreciate it if you just answer the question ;)

Yes it does :-) Windows Central App for Android- Lenovo IdeaTab A3000

Brilliant. It has to be install on the phone tho. Won't let me install on sd card because the developer wont allow it

That's silly... I wonder why.

BECAUSE THE DEVELOPER WON'T ALLOW IT (I'm kidding!)

Lame, I won't download this game then, sad as I was looking forward to this game

You wont download it cos it wont go on an SD card? Wow.

Some people don't have any space to spare (or even to start with) on their phone.

This week has been an Appapalooza!!!!....Great for WP!!!

WC should do a round up at the end of the month, as it's been one of the best months for WP.

In case you missed it, they kinda do, its called ICYMI which stands for in case you missed it I tell you this in case you missed it the first time :P

:D Nice wordplay! I'm actually familiar with ICYMI, but as it's been such a good month for WP, I was suggesting that they could do a round up of all the amazing news.

I agree we need an ICYMI month version as this has been an Appalooza this month.

Yeah that would be nice. ICYMI is cool but its often almost a full list of all the articles from that week. Highlights of the month would be helpful, focusing more on the higher profile updates.

I'm glad this landed. I'll be downloading it. I still hope The Simpsons Tapped Out comes at some point. I enjoyed that on my old iPod Touch.


I watched my nephew play Simpsons Tapped Out yesterday and it looks pretty fun...I'm feeling pretty good about our chances seeing as how we've been on a hot streak for apps lately....It's making me feel better about staying with WP....Loving the #Appapalooza the past few weeks!

I always wanted to play that Simpsons game. This game from Family Guy is pretty much the same right as Simpsons Tapped Out? Just with Famil guy characters.

Sounds so much like that terrance and phillip freemium game.

I was thinking the exact same thing!

This is Beelzaboot's doing!

Please tell me it syncs with facebook. I don't want to start a new game when I'm so far on my android phone.

Sure doesn't, kind of a bummer.

Doesn't even sync between WP and W8.1.

That sucks. I wont be playing either if I cant sync my game.

Not yet but that has to be coming. There's no way I'm restarting!

it syncs somehow because i've been playing the same Quahog between an android phone and my iPad for weeks now without issue. Haven't tried the WP version, but it would be nice

Zolakk it syncs between ios and android but the option is missing on both windows and windows phone versions

Saw that in the store and it has great reviews gonna try it.

I would love this game but it I only have 512 ram on a Lumia 520 :(

I also feel the pain
+635

Nice to see all these apps launching.

The game does not start. Anyone with the same problem?

Yes, I have. It starts but crash during the intro. LUMIA 1520

Tried twice. Crashed so hard during intro that it restarted my 925. Will wait a few days to see if it gets updated then I'll uninstall if not.

This game Works fine on my Lumia 1020.

Restarts my 1020 on developer preview right after Chris says he doesn't need his wig any more. Every time

Same on my 1020. Gets to Chris talking and my phone restarts.

Exactly the same for me, it crashes during the opening intro movie and I have to reboot my phone to get it back. Lumia 820. Uninstalled. Shame. :-(

It crashes and brings down the whole phone, which then reboots

damn, windows phone getting a lot of love, bring on denim and I might switch back... OK I will switch back. I will Posted via the Windows Central App for Android

Comments like this make me believe in extreme growth of windows phone market share in the near future

How is this show still relevant? Lowest common denominator rules I guess.
See: iOS

Easy, it provides quick comic relief. I know plenty of engineers with IQ's to match the 150+ range that love family guy and south park. Equating a show to low IQ is rather broad. If it is not for you then not for you that simple. Idiocracy (movie) however shows your belief to be true.

This is great!!! So many new games and apps keep coming to the Windows Phone Store. Great job Microsoft!

Installed on a Lumia 925. Makes phone crash during the intro cute scene, just as Chris days about his leg.

It is a cute scene tho ain't it?

Doesn't crash my l925... But then I skipped the intro as im longterm player on iOS

Not available here in Brazil.

I guess it's not the first time for me to see the exact same comment on this site. Many apps aren't available here in my country too, but I know I can always change my region under the phone setting. And that's why I don't have to complain like you do.

Ugh won't be downloading till they include 512 Mb devices Lumia 635

@trekgraham:
Thank you for stating something obviously factual.
You definitely won't be downloading it, unless you miraculously convince the store your phone has 1 GB of RAM.
Expert tip: Get the Lumia 535. It's an awesome device for this price.

I got the Lumia 635 now, just upgraded recently

@trekgraham:
That's sad. The Lumia 535 is in many respects the better device.
I simply can't understand how Microkia could outfit the Lumia 635 with 512 MB RAM only.

Not working on 1020 for me. Every time Chris takes off his wig, the phone restarts.

Exactly the phone and behaviour for me :-(

Hmm... Crashes on my 1520 during opening cut scene. Now not showing in store so pulled???

Tell the Android developers of the game that

Yes, i would love the Simpsons game.

Pretty much a slow game. But sweet! I have it on my Android :-) Windows Central App for Android- Lenovo IdeaTab A3000

Yay the first game/app ever on WP that crashes my phone repeatedly! 735. Quite an achievement, that is.
Phone dies when the fat kid says "Yay finally I don't have to cover my tattoos anymore!", that's like ten seconds from the beginning.
Oh well the game would've probably sucked donkey balls anyway.

Yay the first game/app ever on WP that crashes my phone repeatedly! 735. Quite an achievement, that is.
Phone dies when the fat kid says "Yay finally I don't have to cover my tattoos anymore!", that's like ten seconds from the beginning.
Oh well the game would've probably sucked donkey balls anyway. Edit: Skip the intro to avoid crashing. Also uninstall this sad excuse for game.

Awesome, getting it now. Better than the Simpsons.

I can see they put a lot of work into the Live Tile.. http://i.imgur.com/5lpyegb.png But awesome that they brought this game to Windows Phone, i'm watching Family Guy every single day..

Looks like they use a screenshot from when you exit the game or something.. Not very usefull when you use the smallest tile size http://i.imgur.com/MyojKG3.png

Doesn't look like I can transfer my progress from Android...

Phone memory only, no sd card support??

For some reason the game won't download for me. It just keeps saying Pending. I've tried cancelling and restarting the download, and a soft reset on my 920. Anyone have any suggestions?

Mine says downloading with nothing happening. On a 1020.
Edit: I did a reset (vol down plus power) and its downloading.

Maybe you should try do the soft reset. Volume down and power button

Sane here. I have up with it

I'll settle for this now, but in ultimately waiting for Simpsons tapped out!!!!

Omg, we share the same thought too. How i wish to get the simpson on my 1020.

I want to get this but I don't have 1 GB of ram

Is Family guy still a thing?

Keeps crashing in the intro... Lumia 830

Please fix this game! It has no way properly to quit this game. Press back and the game suddenly quit. Wtf! One more thing what da hell with the live tiles? The live tiles shows the game where u stops. Why it didn't show the family guy wallpaper or something instead of showing part of the game where u stop. Please fix this immediately

It plays for 4sec then my device restarts, Lumia 930.

Its pretty fun. Just need to add profile syncing

Nope, no syncing to Facebook.

I can't download the app, I don't know why but when I tap on install, it always says "pending"

seems to be happening to a few people.... myself included....sometimes it'll start downloading then stop. i'm tryinmg 1 last time, but shut off cellular data... i don't get "pending" with cell data off, but a "can't connect to the store, try again later" the interesting part? i tried 3 other games with no issue!

Would love to get family guy working on Lumia 630.

Lumia 635. Where is the Account Settings TAB. HELLO. ANYONE There. This does not allow us to transfer our progress as advertised. You're as useless at ebay and paypal customer service. I think all windows phone users should file a class action against the makers of Family Guy and get a refund plus punative damages for the clams or coins we purchased to build the family guy we can not access on a phone that it is advertised we should be able to access it on. NO DAMN ACCOUNT SETTINGS TAB. Anybody listening in family guy land????????????????????????????????????? HELLO

You are the only OTHER freggin person I know on the entire internet with the same problem I have. No Account setting? How can I look up my ID number without settings? When I click the menu, there's not even a help bar, just (SETTINGS) and (NOTIFICATIONS) and I'm getting pissed. Works fine on my IOS, but on windows it totally blows.

Oh, and the (SETTINGS) tab only has Language and sound options. *rolls eyes*