Farming Simulator 15 arrives on Xbox One next week with ALL the licensed farming equipment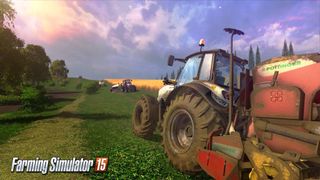 Next week, the highly anticipated fantasy action-RPG The Witcher 3 comes out on Xbox One, PlayStation 4, and Windows PC. Few games will release alongside it, with most publishers having the good sense to get out of Witcher 3's way. But one game dares to stand up to the Witcher 3's tyranny. One game has the following, the clout, and the unique selling proposition to take it on: Farming Simulator 15.
With Farming Simulator 15 looming over the gaming landscape like the moon about to blot out the sun, publisher Focus Home Interactive has released a new trailer and details about the game's killer arsenal of licensed farming machinery. In all honesty, I'm quite pumped for Farming Simulator 15. Read on for the trailer and our in-depth preview with exclusive multiplayer details!
Multiplayer farming
Swiss developer Giants Software's Farming Simulator series has long held a cult following on PCs. Last year's game made it to Xbox 360, PlayStation 3, and even Windows Phone and Windows 8 (YES!). The console and mobile versions certainly have their fans, but until now they have lacked one essential feature of the PC games: online multiplayer.
Thankfully the Xbox One and PlayStation 4 versions of Farming Simulator 15 will finally include cooperative online farming. Players can team up and drive tractors, harvesters, and other agricultural machines to their hearts' content. Seeing as how Faming Simulator is a slow-paced game, the ability to socialize with a friend while working on tasks together should make for a fun and relaxing experience. Sort of like Minecraft but without the survival aspects.
How will multiplayer work? Many of the game's activities can be performed more quickly in a team setting. For example, a player driving a tractor with trailer-container can follower another player who drives a combine harvester and pick up the freshly harvested crops straight away, saving both players time. That's teamwork, baby!
We're proud to have first word that the Xbox One version of Farming Simulator 15 will support up to six players simultaneously. Who wants to join my farming team?
Real farming equipment
Don't think Farmville when you think Farming Simulator – this game offers a much more comprehensive and interactive farming experience. The game's primary activity is crop production, and that means driving tractors. If you grew up fascinated by tractors and other huge agricultural vehicles, you'd be impressed by how realistically they've been recreated in Farming Simulator 15. They even acquire dirt and mud as you're driving around.
The game features over 100 vehicles to work in and get dirty. These come from the 40 largest manufacturers of said equipment, including New Holland, Ponsse, Case IH, Deutz-Fahr, Lamborghini, Same, Horsch, Grimme, Amazone and many more. Hey, I recognized one of those brands!
Virtual farmers will put some of those vehicles to use in this year's new activity: woodcutting. If the nearby forest encroaches too much on your farming real estate, just chop it down. Tree harvesters, chainsaws, chippers, and trailers will help you acquire wood that can then be sold at market. Other farming activities include raising livestock (cows, sheep, and chickens), economy management, and sales – the same stuff that real life farmers do.
Get ready to farm
Farming Simulator 15 includes several ways to play. You can farm within a new open world, building the biggest and best farm you can imagine. Or visit specific maps such as America and the Nordic map to see how farming conditions differ across the world. Missions will pop up as you play, challenging you to complete specific goals within a set time to earn rewards. You know, relaxing farm game-y stuff.
Historically, the Farming Simulator games have been fairly low budget compared to AAA titles. After all, the market for farming games isn't quite as large as shooting and military games. We can expect the Xbox One game to look and run a little better than last year's Xbox 360 entry, but don't think it will amaze anyone on a technical level. This series is all about the farming experience, the relaxing setting, and especially the tractors and machinery. I don't know about you guys, but I'm eager to hop online with a friend and drive some tractors.
Farming Simulator 15 will dig up onto Xbox One and 360 and PlayStation 3 and 4 on Tuesday, May 19. The Windows version is already available.
Farming Simulator 15 – Xbox One – $49.99 – Amazon Link

(opens in new tab)

Farming Simulator 15 – Xbox 360 – $39.99 – Amazon Link

(opens in new tab)

Farming Simulator 15 – Windows and Mac – $29.99 – Steam Link – Amazon Link

(opens in new tab)
Windows Central Newsletter
Get the best of Windows Central in in your inbox, every day!
Paul Acevedo is the Games Editor at Windows Central. A lifelong gamer, he has written about videogames for over 15 years and reviewed over 350 games for our site. Follow him on Twitter @PaulRAcevedo. Don't hate. Appreciate!
This is really the 15th iteration of this game? So there are seriously people who play crap like that? oO

The 15 denotes the year, 2015. And don't knock it until you've tried it. :P

But it's definitely not the first game in this series. And hey, I don't need to try crap to know I don't like its taste, Paul. ;)

I'm sure a lot of people on the internet would describe your game/music/movie/book preferences as crap too. What's the point of attacking something you have no experience with. There are tons of people who like simulation games of all kinds. I prefer Sci-fi and fantasy stuff myself, but it doesn't bother or threaten me that other people have different tastes.

I think our friend dKP was using 'crap' as a euphemism for faeces, rather than directly stating that the game was crap. Hence the comment about taste.

The previous versions have been quite good time wasters... Much like Euro Truck Simulator. They are perfect for us who thinks the feeling of a game is more important than graphics.

Eurotruck simulator 2 it's a great game. And the multiplayer mod made the game even better.

"We need more games!"
Farming Simulator
"I mean games I approve!" A game is a game. If you don't like it, don't play it. It's the reason I only played one hour of Destiny beta and never bought the real title. Not every game is for everyone.

Honestly I love it, but idk why everyone generally loves farming games, absolutely no idea. They're just fun

I guess its the just the nature of seeing all your hardwork blossom into edible crops / products without actually going through the laborious process in reality :P.

Hahaha.... that's so true. Never thought about that.

This game is actually not bad. Great little time waster.

There's also train simulator and truck simulator. You can actually learn to operate these vehicles in real life, it's not just a game.

Farming Simulator is more of a macro-level simulation than a micro-level simulation like those games. I don't think it will teach people to actually drive a tractor, etc.

Crap as opposed to anything you don't like ? I mean, is CoD crap if you don't like to shoot virtual meatheads in the face ? Is Justin Bieber the best thing ever, since he sells lots of records ? #werenotthecenteroftheworld

I love playing simulation games, that's why I keep playing SimCity 4 until now. Great games.

This is really the 15th iteration of this game?

It's the 5th.

Not crap, I enjoy it tremendously. I bet you play stuff I don't enjoy yet I don't call it crap.

Online multiplayer hmm... So I can go steal other players crops and return to my farm

Or lure birds to rival farms to gobble up the freshly planted seeds :P. Lol, there is a lot of scope for mayhem such as deliberately letting your cattle loose on rivals farms and have them trample and munch all their crops muahahhahaha.

Notifications will ruin it. "you've got intruders"

That is a good idea... Like CoD with zombies... Something just off the mark always makes for fun..

I'd try to see how easy it is to combine a cow.

You steel my crops and i will add a machinegun to the game and then I come hunt you down with my tractor. LOL

No John Deere, no purchase for me.

+1 to that. My wife works at the John Deere corporate office. If she saw me playing this game and I wasn't using Deere, there would be hell to pay.

If they're not in the game (which we don't know), it would be because they asked for more money than everybody else or had a license locked up with someone else. But seeing as how there are exaxtly zero other serious farming simulators, brands don't matter much at all IMO.

I have no doubt they wouldnt even consider letting their image be in any game. I would bet even if you made a tractor and colored it green the would come after you (notice no green tractors in any of the screenshots). John Deere is the Zeppelin of tractors, they wont liscence their stuff out for anyone. Except Lowes :P

ahh it must be both. And neither of them offer real deere's they are just regular lawn mowers with the Deere logo on them. To get one that is actually built at a Deere facility, you have to buy from a Deere dealer.

I only see them at home depot. I been to both recently, like today. However, that is some shit if they are different...

Paul, they are not in there and it could be because of money, or because they are pretty hardcore about licensing their brand.. Very hardcore... They've also had their own farming game once... which was bad.... This game looks pretty cool and would be fun to relax and play, but since I'm from Iowa and my dad works at Deere and all my family and friends who farm primarly use Deere I would just feel wrong. :) But for somebody without those ties, you're totally right, if it's fun, brands don't matter. I think modders have added Deere vehicles to the PC version so maybe I could go that route, but I prefer council gaming on the big screen.

From Iowa are ye...I lived in West Des Moines for a bit... Beautiful sky, even near enough to Orlando, my favorite and my home...

Yep, it's a great state. No so much the winter. I'd rather be in Orlando during that time. :)

Winter wasn't that bad...now, living in Aberdeen SD, holy crap that sucked

Sweet, can we get Euro Truck Simulator next?

Agreed... With a MMOT-setting. :)

Cities: Skyline would be another welcome addition to the x1 line up :P. This would be a good game for the little ones.

cant wait to drive factors.

Lamborghini makes farming equipment? Wow hehe

FYI, Lamborghini was originally a company that made tractors and such...

How much government subsidies the players will get?

Only if you're Big Farma...

I almost forgot that Lamborghini makes tractors....

Lamborghini = tractors ==> mind-blown. Why no Caterpillar? Anything else would roll (tumble) down the hills around here in the Palouse. And I wonder if they have hillside combines?

If people are really interested in which vehicles the game includes, I might do a story on that when we get our review copy. I couldn't find a good list online.

While CAT does make farming equipment they mainly deal with the construction and custom built equipment. I would assume the 2 largest manufactures (John Deere and CAT) are not in the game becuase they want to much money for their image to be in it, or they just flat out wont allow it.

There is CAT for logging work (this version have beside farming, have lumber jobs as well).

Forget Witcher 3. I'll be playing co-op in this

I can't believe they're releasing them both on the same day! It's gonna drive me nuts.

Im the son of a 3rd generation farmerrrrrr
Ive been married 10 years to the farmers daughterrrrrrr
Im a God fearin, hard workin combine driver
Hoggin up the road on my p-p-plower
Chug-a lug-a-luggin 5 miles an hourrrrrrr...
On my International Harvesterrrr!

The price on Gen 8 is wrong. XONE is $49.99

Very, very excited for this! Come on Tuesday!

Man it's been a long darn heck' of a day! I milked em' cows and I fed the chicken..time for me to take a break!
*turn on Xbox and plays farming simulator
SERIOUSLY!? WHO PLAYS THIS!?

Quite a few of us, obviously.

Wow,I judged quickly...i myself own the game in a set of simulator games I bought..flight simulator surly got me and I learned alot from it,other than the massive fun I had,train and farming simulators seemed boring to me, guess ill give it another shot!

Game is addictive and can be quite challenging. You really have to think...I hope there is the Unimog in it...for those who don't know, it's made by Daimler-Benz and is the most versatile and best truck on the planet bar none...

Coming soon... Tax Accounting Simulator, Assembly Line Worker Simulator, Security Guard Simulator, Walmart Cashier Simulator, and dozens of other exciting titles!

I'd buy the Wal-Mart greeter simulator but not the cashier.

You guys play games like this? Damn.. I was raised on farm, doing this since i know for myself..that's how, we peple in 3rd world contry make for a living...and there is a game about it.
How ironical from me not download it.

Funny how everyone lives on a democracy but thinks like a socialist.

I would hate this game. I hate the farm that's why I left rural life and now living in the city. Money plus city is a nice combo.
Windows Central Newsletter
Thank you for signing up to Windows Central. You will receive a verification email shortly.
There was a problem. Please refresh the page and try again.