Farmville 2: Country Escape - life in the boondocks for Windows Phone and Windows 8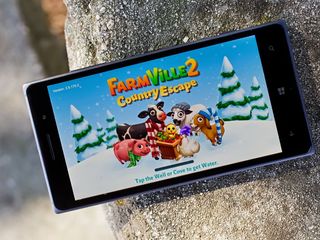 Farmville is a popular online game developed by Zynga and has many Facebook users addicted to farm life. Farmville 2: Country Escape brings the Farmville concept to our Windows Phones and Windows 8 devices with a slight twist from the original game.
While the original Farmville was more free-play in nature, Country Escape is more task or quest oriented. You still have a farm to build and manage with crops to grow and livestock to raise, but the game seemed to have more structure.The Farmville gaming genre is a fun way to pass the time and Farmville 2: Country Escape came across as a nice installment.
When you first launch Farmville 2: Country Escape you will meet Marie, an old family friend. Marie will walk you through several aspects of game play and will always be around to show you new features as they become available.
Game play with Farmville 2 will have you first tasked with fixing up your farmhouse and barn. From there you will be shown how to grow crops, feed the cows and go to market to sell your goods. You will also have the option to connect with your Facebook account. Connecting with Facebook is not required. However, if you do connect with Facebook you will be able to synchronize game play between the Windows Phone and Windows 8 versions of the game.
The main gaming screen for Farmville 2: Country Escape centers around your farm with a few gaming controls/menus scattered about the edges of the screen. They include:
Cash, Keys and Seed counts in the upper left corner
Your Experience Level is displayed in the top center screen
Facebook tools and game settings are in the upper right
The game's current task/mission and country store is in the bottom left
Your messaging center is in the bottom right corner
Cash, keys and seeds are earned through game play. These items will open up opportunities to buy more land, more crops, more livestock and speed up timed events (that would be the keys). Farmville 2: Country Escape does have the option to join a farm Co-Op with your Facebook friends. If that does not sound appealing and all you want to do is build a farm, grow crops and raise pigs you can play on your own in Anonymous Mode.
The country store is where you can buy everything from fence posts to cows. Here is where you find your buildings to buy (pastry ovens, windmills, tool sheds, etc.) that will be instrumental in tackling the gaming tasks. For example, the windmill converts wheat into flower, which in turn can be used for baking or sold at market. You can use the wheat to feed you cows that in turn produces milk, which can be used for baking or sold at the market.
If you are looking for an action packed game for your Windows Phone, Farmville 2: Country Escape probably is not for you. Game play is somewhat slow where you take on various missions and keep the local market stocked with goods.
There are three key landmarks on the Farmville map. There is the farmhouse that will give you access to a help section, achievements and any farm hands and prized animals you have.
Then there is the barn where you store all your harvested crops, fish, milk and other goods your farm generates. The third key landmark is the farm order board, as you might guess, will display any needs the market has for goods. Goods that can be sold to build up your cash flow.
The game also has several areas to visit such as a fishing dock, farm stands, an airport (complete with dirt runways) and a country fair. These areas will slowly become unlocked as you move up the ranks in experience.
Again, game play is very task oriented where you often find yourself working towards goals of harvesting a certain amount of crops, building or acquiring items or simply keeping up with the farm orders.
Overall Impression
Farmville 2: Country Escape is a nice gaming option if you like city builders and time management games. Graphics are nicely drawn up and the gaming mechanics are easy to pick up on. However, there are a lot of timed events (i.e. it takes time for your crops to grow) which doesn't appeal to everyone.
The missions/tasks help give the game a little structure and the social aspects through Facebook gives you an opportunity to connect with your friends. I also liked how the game would reflect the current season (e.g. snow in the winter, sunny days in the spring, etc.).
In looking at some of the user reviews in the Windows Phone Store, some note glitches in the game's performance. I did notice a periodic lag time when the game first loads. It seemed to take a little longer to draw up your farm but once things got up and running, I did not experience any crashes, glitches or bugs. You do have a Windows 8 version of the game that is identical to the Windows Phone version, you just have a little more elbowroom on the game screen.
Farmville 2: Country Escape does pull down a 4 star rating in both the Windows Phone Store and the Windows Store, which is about right for this gaming title. Are you a Farmville fan? If you've given Farmville 2: Country Escape a try, let us know what you think about the game in the comments below.
George is the Reviews Editor at Windows Central, concentrating on Windows 10 PC and Mobile apps. He's been a supporter of the platform since the days of Windows CE and uses his current Windows 10 Mobile phone daily to keep up with life and enjoy a game during down time.
This has been out for a while now

Its been featured so many times already!!

I'm currently on level 37 and I'm slowly stopping playing this game. Starting to get a bit sick of it... but I have figured out a cheat to get ingredients faster and in larger quantities!

By changing your device time huh. Pretty old trick

No not even. Without going through the headache of this, you can double the amount of stuff you buy from the markets

Sure. Just have the local or global market opened, buy whatever it is you want. DO NOT close the market, but close the app. So have the market opened, hold the back button and swipe down on the app to close. Re-open the app and whatever you bought will double in your barn/silo

This trick really works!! thanks bud

I'm an on-again/off-again player. I really do like this game but I only play it when I'm bored

Is that Lumia 830 used in that Picture....... Grey colour looks quite appealing for me to get hands on

lol I uninstalled this few months now

I actually enjoyed the game in the beginning but as I proceeded the game became quite boring...especially the waiting of hours to get the animals and plants.

And what about Plague?? The beta was out in December,right?

Well I don't play this game but it seems awesome. I tried to play first version but was not entertain with it though my friends play this a lot..

Ahh. Can't login facebook on my L520! Crashing whenever i try to login! Therefore i could never login to facebook.. So playing without facebook linked

Just turn off all background tasks

cannot connect to Facebook

This game is awesome buy sucks at stability and optimization cuz when I play this game in my Lumia 720 it always crashes after 20 minutes and hangs a lot.

Amazing game! But crashes after 4-5 minutes of play everytime on my Lumia 520. Need update. Currently I am not playing.

Dirty app as there no syncing between phone and desktop and consuming lot of battery and not able to reconnect to Facebook once it's disconnected to Facebook. Main draw back is unable to sync game progress and I have experienced this situation. I have completed 28 levels. And one fine day it's not able to connect to Facebook and I tried to reconnect by clearing the cache of the phone. Finally it ended up with uninstall of the game.
But one thing I need to say game is really enjoyably, because of these bug's it's not able to meet 5 started rated game. That's all I can say now.

Download link not working

I believe you guys already wrote an article about this game a while ago... Edit: Ah here it is: http://www.windowscentral.com/zyngas-farmville-2-windows-phone-available (December 2014)

I'm not saying people shouldn't be free to post what they want, but telling people you just uninstalled this or rarely play and that's it is as useful as the idiots that answer questions on Amazon by essentially saying "I don't know" or "I returned it because it was too complicated so I can't answer your technical question". I have stopped playing much for the same reason I stopped playing the first one. Once the allure of shiny new game fades away, it is the same overly repetitive game as the original. I feel it's more fun than the first because your crops don't die if you don't come back at just the right time.

I had to uninstall it, was taking up too much of my time to come up with 200,000 for this and 225,000 for that. and not being able to keep enough stuff on hand in barn and silo. plus you had to wait 8 hours for this to grow, etc., etc., etc

why is my farmville 2 lagging and freezing so much everytime i do something like watering a plant... using lumia 1520 on denim

Everytime I play Farmville 2, I enjoy a lot.
Help of gameskip is always good for me.
Windows Central Newsletter
Get the best of Windows Central in in your inbox, every day!
Thank you for signing up to Windows Central. You will receive a verification email shortly.
There was a problem. Please refresh the page and try again.