Fast ring configuration update pushing out with latest Windows 10 preview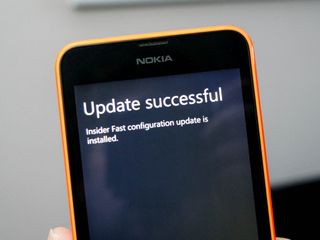 After the main Windows 10 preview update installs on your phone there's a second one to keep an eye out for. We've just received a "fast ring configuration" update that while we're not absolutely sure of what it does, it's obviously an important update for everyone in the fast ring.
If you didn't see it yet, go ahead and check in Settings on your phone, if not, no need to panic, sit tight and it'll show up if and when it needs to on your phone.
Richard Devine is an Editor at Windows Central. A former Project Manager and long-term tech addict, he joined Mobile Nations in 2011 and has been found on Android Central and iMore as well as Windows Central. Currently you'll find him covering all manner of PC hardware and gaming, and you can follow him on Twitter and Instagram.
Build number didn't change?

downloading fast ring on 1520 :)

My 1520.3 needed it before outlook worked and project Spartan even appeared Posted via the Windows Central App for Android

I got the fast ring update by I dint got the main update ......

Hey no changes after update all windows 10 features are same as that of the previous build anybody can help..??

Sam here, I have some changes but don't have project Spartan, the new settings menu and cannot change lock screen and home screen images. Keyboard changed and I have the new mail, calendar and people apps, camera is not working. I'm on a lumia 920, any help out there? Anybody else having the same problems?

I have updated but there ia no project Spartan and other changes made to it...

Same with my Lumia 720, I can't even find the messaging app and the photo hub (or whatever you call it) on my apps list. I got no idea what went wrong.

initially I had the same problem on my lumia 720 but after a hard rest I have the project spartan and all the listed changes in windows10.Infact the phone is running smoothly and that surprised me.

Same here. Seems like everyone except the two of us has been able to get signed in by now......

Im just gna download this next week their servers are cramped up

I was getting server error for quite a while too. Then what I did was choose "sign in with a different" account on Windows Insider. I of course signed in with the same account, but this time it allowed me to switch to the Fast ring and download the latest update.

Go to settings, time and date, disable auto update and set time zone to pacific US

My download is stuck at 7% :(

how did you fix it my is also atuck at 5%

Mine is still stuck at 7%. Oh well I give up, will just download later again when everyone's finished.

Make your time and region Pacific US. That will make you enroll for TP program, will let you install GRD2 first, restart your phone and check for updates again to download. Hope this helps. Thanks

Yep, it's downloading now in UK on 920

Tell me after u finish installing it. Love it or loathe it?

My 920 sim card dropped working and all of the tiles on my start screen disappeared, when I try to pin them back it thinks they're already pinned :/

I got the same issue on my 925. I cant unlock my sim card to do phone calls. Anyway to fix it? Or just downgrade to 8.1

Done yo! 1520 south Africa

Am I the only one who got GDR2 instead of Windows 10? :/

How'd you get 8.1 update2?

I signed up with the Insider app, after the update finished, I got GDR2 but no Windows 10 and it saying my phone is up to date.

You should keep trying Corey! Everyone is in the queue you will never know when you get lucky (to get the download started)! (:

Sign into insider app again then try phone update. Should download W10.

I also got GDR2, people say its required for some devices to be able to update to W10 but no W10 here.

enroll to insider again and check for updates. it worked for me.

I've tried that multiple times but still nothing :(

My AT&T 920 went from 8.1 to updating to W10TP. No update to GDR2, very odd.

I also got gdr 2 update for Lumia 1520 ... No windows 10 .... And later it showing phone is up to date ...slight change in the settings only

You really not jokin..? Can you upload a screenshot of your About Section..?

Of course not. BTW Rich has just posted an article about it

It's true I'm facing the same issue... You can check gabe Aul's twitter.

ha no look like you need gdr2 two

Could u tell me the installed version of windows 10 in settings as in about it is showing update 2 not windows 10

it is an option which lets you get the builds faster but with higher chance of meatballs bugs compared to the slow ring.

For people with unlimited internet, who would be in a position to update very frequently. I am in no ring this time around!

Downloading update in my lumia 720...

Hi bro hows it's working on 720 done??

OH.... thanks for the information. I thought it will be better than my present status of the phone. after the technical preview of gdr1 my phone is not as it was before. Very slow. Just waiting for some update to solve this issue. Were you facing the same problem after installing gdr1 being a preview for developer?

quelqu'un a pu mettre à jour en France ? j'attends toujours avec mon 925 :(

Anyone do it on their 1320 yet? I have had no luck, Server error all day long.

It's on my main phone....wow it was worth it and there only gonna make it look better. Way to go Microsoft. There about to release fast updates in short order so these things will soon be fixed.

I tried updating on my 720 thought I'd get GDR 2. Now I have to use NRS to go to 8.1

Still can't even get the update lol.

My downloading updates is stuck at 5%.anyone out there with same issue??

I get the gears but it gets stuck at about five percent and has yet to move. Very frustrating process today overall.

I slept and woke up an hour later it was at migrating data....

Mine is stuck at 7%! Haha

Is Nokia Lumia Icon a supported device for this build of technical preview.

nope but who known when next bulid coming out finger corssed

I'm enrolled in the fast ring and after two updates an multiple restarts my 920 shows up to date with Windows Phone 8.1 Update. Today has not been a very fluid day for Windows Phone.

son of a bitch my phone is BRICKED!!!

thank god I have my phone back!!!!

Damn!! I got the 'bricked' scare too! The phone just went blank, no lights, nothing. After a long wait 'NOKIA' showed up... Relieved

That's not bricked, it's called re-booting. Jeez is this the first time you've updated a phone?

True .. scared me shitless... on 920 Malaysia without a SIM. Everytime it ask for my PIN nos but doesnt allow me to input the code like before. Sometimes it freezes up. Other times hitting the window button will allow me back to main screen... Notice reduce response/sensitivity on the capacity button.

Lumia 930 owners get excited check for updates now! Im downloading

My L930 updated as well, apparently it was just the Insider Fast Ring configuration update. No obvious version number or changes to the OS though. The article indicates this update comes after upgrading to Windows 10 first, obviously not necessarily the case though

Yeah I have it showing up on my HTC 8X but I'm not on W10.

Zanzibar and I'm rolling w10 on my 520 right now

The 'Fast Ring' update brought a "NOT FOR RESALE" in red text on my Lumia 1020's bootup screen!! >.<

On my 520 too. As if I'm gonna sell their buggy thing

It's downloading now I didn't download had to make ma PC a wifi hotspot

How did you do that? I use connectify, you?

Downloaded the 10 Preview update. But my phone freezes after inputting my PIN. :-(

at least your phone works fucking update screwed up my phone. I'm trying to use the recovery tool so far no luck

same problem! Lumia 920! :(

I've found it works fine if you skip putting in your SIM PIN, then you can use as normal. But if you try to put in your PIN it just freezes.

Same issue on french lumia 625

Kind of stupid to be stuck with one ringtone for all ON A SMART PHONE? We had custom ringtones on 8.1...

This is one of the things I didn't like about the first preview. Its always nice to know who's calling by just listening to the ringtone. And its nice to know whether I should answer the phone or not. Lol

You're the one who signed up to an alpha, dude.

Yep. Expect things to not be the same and sluggish. Send feedback to MS.

You can still access the legacy people app.

Mine won't recognize my SIM

#ask, I get "insider slow" & "insider fast", witch one i choose?

If you want today's update choose insider fast.

So many bugs on the Lumia 535

Man I want GDR2 on my Ascend W1

Installed it on my Lumia 520. Doesn't worth your main phone. I get loading screen almost every where.

Use 525 as my main phone, and just brought a 920 for installing the preview. Installing now

I completed update on 810 and all I see is the sim, message and battery icon at the top and nothing else (black screen). What happned? Can it be fixed?

My wife has a 810 will you let me know how win 10 runs on yours?

I have it on an 810 also I have notice that when the the phone times out and goes to the lock screen it freezes .I have to take the battery out and reboot.

Anyone know how to add Facebook to contacts?

India... Sushil ... I've updated my L720 to Fast ring WT10P .. And I've got following problems ..... - Hardware Buttons Are Not Working - Volume +,,- not working
-Lock button not working
-Camera button not working
-Touch screen is not Supporting to high touch option...(win8.1)
........
Not a thing is working.... So I restored it using Windows phone recovery tool... I wish anyone couldn't got these problems....

My L720 was dead, when it is in migrating process. Im stuck, dono what to do.

Should I be scared to download this "Insider Fast configuration update" on my HTC 8X?

Yeah if it's your only phone, you should be. It's probably better off to wait.

I have a 928 as well but it's power key doesn't work. Unfortunately it automatically downloaded so it will automatically install at some point. Not too sure it'll actually change anything but who knows.

You get to cancel the install after downloading.

I'm stuck on 60% while preparing for install !

Can't find project spartan

You're still on the old build.

Hey no changes after update all windows 10 features are same as that of the previous build......

Then you don't have the new build.

I had that issue, but it seems that the restoration of my backup settings after the update prevented the new apps appearing. I did a factory refresh. Then, you're offered three options: use you most recent Restore point, use the 2nd oldest Restore, or start completely fresh. I went for the last option this time, and now I have Project Spartan and the new Outlook Mail, which weren't appearing before. Calendar is now Outlook Calendar. Cortana is just called Search. It's a bit annoying because I've had to spend a lot of time reinstalling apps and media, but that's on me! We know the risks going in, after all :)

initially I had the same problem on my lumia 720 but after a hard rest I have the project spartan and all the listed changes in windows10.Infact the phone is running smoothly and that surprised me.

Such a horrible experience for me. The update basically trashed my entire phone. Very disappointed with the next Windows 10 build. Love the features but fix my Internet, my action center and other things. The apps I make are no where near as buggy as this. Love you Microsoft but this needs to be fixed. Using my Lumia 635. Scared to update my HTC 8X or Lumia 521. NR

Well, I guess that is what you signed up for. This is a technical preview, of course there is a great chance it will trash your phone :D Leave your feedback

My Lumia 920 didn't find any new update. First, I got the small update, but not the Windows 10. Then I tried to check the update again, it said my device is up to date. I tried to enroll again both slow and fast ring, still no update found. I also tried a few solutions in the comment, still the same.
​Anyone know the solution to this issue?

The 'small update' you are referring to is wp8.1 update2. Now again login to windows insider and select fast option, then check for phone updates. You should get it +920

No, still no update found.
​I forgot to mention, I used to update this phone to the first release of Windows 10 using a method. Is this related to the issue I have?
​Any idea?

Gabe said the only way to upgrade a phone with a hacked version of the first build is to restore back to 8.1 and follow the official process from there.

Precisely. L920 to W10 is a piece of cake. So far so good.

Any particular reason why?

I'd like to na able to turn on my cellular data.. It's off and don't lemme change :/

Folks.. Here has been my experience on Lumia 635 running previous Preview Build. Download and update appears to run fine, but Cortana didn't install, and Mail, People, Calendar Apps removed from Start. Some other funkiness as well with settings, etc... OS alone takes up over 4GB of space. Did a Phone reset - so removing all apps/data from previous build and install completed okay - Cortana installed okay - much of the funkyness went away - but did not restore - configured as a new phone - so had to update all the Bing Apps, and then re-add Windows Insider, Preview for Developers, etc, etc. Underwhelmed with new Outlook Mail, People and Calendar.. actually harder to navigate and control. Spartan is definitely an improvement over the miserable IE.. Not a huge fan of new Task Switcher - leaves to many and multiple pages of the same app if you've opened more then once. Mish mash of Nokia Apps but new Maps, which seems okay... To me not a huge improvement over previous build... especially after 55 days of build work...

Much of the work they do is not actually in the UI.

I have Lumia 1020..
I got update of win 8.1 but wen i go for win 10 technical support I got 1 more update 2 bt its stuck at 5%. I did many thing like restart n toggle the wifi but no effect on that..
Nw what should I do???

Ok. Lost my email accounts.

+1 Accounts are there, but no tiles and email settings only appears if passwords need to be fixed.

Spoke too soon. Email app is there in the app list as Outlook Mail. It combines all email accounts. Orherwise, most everything (other rhan Office, of couese) seems to be working. SIM is recognized and I can toggle the cellular Data on/off - it's definitely not stuck on!

Let me know if u got os size for L620 fast ring..

At Step 7 of 21 gotta wait and check if all is well Lumia 1020 India

Won't let me turn on data? How am I suppose to use the phone? Also gets stuck on glance screen and it keeps saying my SD card is damaged. using a 1320. I do not recomend installing it; best to wait for a more stabe build. I was actually trying to down load 8.1 upgrade 2 and ended up installing Windows 10. SMH, runing the recovery tool now.

And it's beautiful. Go for it.

Ran into a problem with the latest update on my 1520... After the update the start screen was missing and none of the apps opened. Had to reset the phone to get it to work.....did any of uall experience this problem??

Please help I want office hub in windows 10, how can I get?

tomehul..It was already mentioned that office hub won't work in this TP because they are building new office Universal apps. So you have to live without it as of now.

Wait for the office touch apps. I believe MS will release them soon for phones. No excuses, they are universal apps, and we already have for Pcs. Why did they not offer them for Phones?

They said they will be out 'in the coming weeks'.

That's def during/ after Build.

When I enrolled in insider program, I'm just getting the fast ring option not the slow ring. Can anyone help?

Same here.
Now downloading win10, any advice?

Probably the wrong thing to do at this point. But I'm very much tempted to try it so I'm gonna download it too ;)

There is no slow ring for the devices that weren't in the initial wave, because this is the first build for them.

Ohkk thanks for the help :)

Why am I still unable to get the builds...

Go to Windows Insider -> Choose Fast ring -> Keep checking for updates.

Received the GDR2 update for my Lumia 1020 (India) and now receiving the WP10 update, which seems to be stuck at 5%

I have the same issue bro

Please help me out too if you find any remedy

How I off my data connection

You cant, is one of the known isses in this build. The reason im not installing this build

Hello guyz, did any of you tried installing W10 TP on Lumia 520? If yes, How is it performing?

Well yeah i did... And its working fine but the problem is bugs i can't disable 3g connection and more over every app i open it didn't close it works on background.. Performance is slow because of these bugs.... Otherwise its fine...

I have. Everything was there but I couldn't open settings or change the start screen.

No problems here, update 2 installing now. 630

realy, i only needs update 2 so i'lldo that asap

Performance has gotten worse. Everything is very very slow. Installing update two, maybe this will fix performance.

I have installed III in L920 below are the problems i am facing, pls help me in getting things done:-
1) No album in photos. All pics are in hub. Can't remove/change pics from favourite option. If I don't want picture to float in tiles in start screen, I can't.
2) Though my data connection is working but in mobile + sim is showing 'Off'. And can not switch on data connection in roaming mode.
3) while incomming calls name of caller is not displaying though I have that number saved in my phone book.
4) how to customize notification /action center toggles as I have many option which is of no use so wanted to customize but in setting> notification its showing only 4 options though in my scroll down action centre I have 11 toggles.
5) i wanted to copy above leanthy text and paste to other forums, i cant because after selection and copy it i can not paste that content anywhere.though paste option is comming but don't know why its not pasting.
Pls help me out in this problem.

As a technical preview member, you are expected to post these issues as feedback in the Windows Feedback app.

Thanks for the suggestion. i did that. Reason behind mine posting problems here was, i thought i will get help from intelligent people like you.

I observed same problem in lumia 720..

My lumia 520 just keeps "checking for updates" :|

Try it again. I installed it on 521. It got stuck in gears about 15 min but then began to install. Don't like some features, but happy. I'll use it only this weekend and switch back to 8.1 for regular use. Don't have a backup phone.

Is there any way to download the update via cellular data? I'm out of town..

Unfortunately,microsoft doesn't give that liberty to its customers. You must have WiFi connection.

Installing update on Lumia720

Is it working on your device ??

M very disappointed from Microsoft! W10 is not coming for my Lumia 820! Its just update Lumia denim

I updated my Lumia 520 and found out there are no Project Spartan, Task switcher and Settings still the old one like in 8.1, and a lot of "Loading". Checked for update but not thing new :| OS version: 10051.12534

I updated 525 to WP 10.but I have 2 settings.old & new.i cant access new one.any solution?

This same happens to me..... In 520

When I try to put my PIN code it freezes ?? What should I do

Restoring resolved this bug.

i had to run the Windows Insider app and select get preview builds. after that it showed up almost instantly by prompting for the update

I got both the Configuration and the main build update together. :D

My Lumia1020 update stuck in 51% what to do?

My lumia 625H can't update

I don't understand where there design guidelines are heading !

Someone please notify microsoft for L720 hardware button problem .... After going to windows 10 phone new build i've got a new problem that if i am using its settings ... I can't able to go back to the start screen ... Can anyone tell me the touch options for w10p prview ... Very disappointed ....

I cant even open my settings after i updated to win 10

Hi just updated my lumia 535 to WP10 after that navigation menu id not found, while using volume & on switches Power Off To Shut Down not found & can't sellect mobile data from off to on did WP10 users any ideas

Got WP 10 TP on NL920 at last! But can't sync Gmail accounts. And after a further update have not fount an option to add Gmail accounts. Also having issues with WhatsApp push data. If anyone else has a similar issue or a work around do post the same.

Well i am using wp 10 tp on 520 and i never faced that much bugs .. Well please fix this MS ...

My phone 520 not support window 10

Installed on 1020. Doesn't recognize sim card so i cant call or text lol gonna rollback and wait.

After update, my lumia 1320 cant recognize my SIM. What can i do?

I got the main update. yet to get the second update. I have updated from Lumia cyan on DP with Lumia 920. Can't get most of the talk about features like Spartan, can't open the new map, can't change my start screen well wall paper...

Do not install it! Sim blocked, it freezes after pin is entered. Pretty pissed to say the least. Need to roll back now.

If you can put your sim in another phone you can use the settings on that phone to turn sim pin off. That's what I did and it worked.

I see no Spartan in my phone after updating it to last build. Lumia 630

I downloaded it on my 1520 and there's a lot of bugs still. I can't even unlock the phone once its locked, so I have to end up force resetting the phone by holding the power button down and rebooting it. Anybody else have this issue or a potential fix to it?

I'd set unlimited cellular data and a very strong wifi connection and wait for a couple of hours just to download this program.. And i see what's the result.. Hehe such a..

for those of you with "frozen sim" problems, maybe you had the same problem as i did... after the update, when i got the screen that lets me enter my pin code, the keys were dimmed out and when i pressed on them nothing appeared to be happening. However, as i found out after some experimentation (during which i locked my phone out and had to look for the puk code) pressing the keys actually WORKS.... even though you get no response. Just press your pin number and then press enter, it worked for me. Something else i did, not sure if it helped, was i went to settings-system-phone, and swithch sim security to "on".

I have the following problems.... First, when i try to use the camera i can't see a picture on the screen, there is only three very small reactangular windows on the side of the screen that shows what i am aiming at... camera works, though. Second, i try to download the greek keyboard, but my phone is stuck forever on "preparing download"... Anyone has those issues???? thanks!

Did any one use it on Lumia 525.Tell mme how is it working.

Any way to pin individual Outlook accounts? I've only been able to pin the Outlook app.

I will try to rollback because my lumia 735 is working slower, and I can't disable or enable some features like mobile data, personalisation settings are crashing all the time and some of the apps and hubs aren't working at all and if I take the screen shot there are just blank (black) photos. p.s. what was interesting to me, when I updated the phone it said welcome to lumia cyan.

I am facing a problem after getting in Windows 10.... My ONE NOTE and OFFICE 365 is no where in my phone.... Any idea where are they gone???

Mine are gone too, i think there could be some compatibility issues or something like that.

Not included in this release.

I can't even open settings

Fair warning. I installed the latest fast ring software on my 928 from win 8.1. It TOTALLY screwed everything over. Phone sim doesnt work, half the settings crash, you cannot turn on the cellular network, messaging app wont open, IE and spartan both freeze ever 5 seconds for a good 20 seconds. It is just horrible and even though my phone isnt bricked, thats essentially what it does because nothing on the phone is usable. Cant get to any webpages, and cannot call or msg anyone since no cellular. Restoring to 8.1 right now! Yikes!

Hello WC editors .... Your place I'd correct one to share w10p problems which we've got tomorrow .... My Lumia 720 is down now ..... I've rolled back to wp8.1. ... I'm sure MSFT does wrong by releasing this preview with a lots of bug ... This is not a preview ... Is there any solution for installing w10p preview to my Lumia without having hardware button problems ...

I got the 8.1 update 2, but no signs of windows 10, yet.

Will I lose music in update process, first update to 10 that is.

After updating to fast ring configuration I'm getting no service in my Lumia 625

I too got gdr2 instead of 10 on my Lumia 1320

What is the build number? For my 1020, it's 10.0.12534.56.

Anxious for DP or CP. This one is terrible! But its gonna help bring DP/CP faster and MS knows that. So keep it up!
Windows Central Newsletter
Get the best of Windows Central in in your inbox, every day!
Thank you for signing up to Windows Central. You will receive a verification email shortly.
There was a problem. Please refresh the page and try again.