Surface Wireless Display Adapter revealed in FCC filings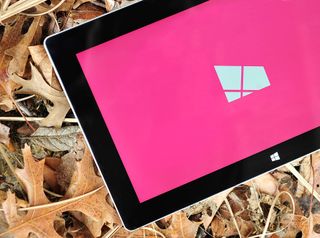 We're big fans of the Surface 2. Everything about the hardware is gorgeous. And the internals of the Surface 2 can actually run Windows decently, unlike the first-generation Surface. Which is why we're stoked to learn that Microsoft is bringing a new accessory for the Surface family. Recent FCC filings reveal a wireless display dongle that will be coming soon.
It's called the Surface Wireless Display Adapter and does precisely what you'd expect. Your Surface 2, Surface Pro and Surface Pro 2 can broadcast their display wirelessly using Miracast. Unfortunately not everyone has a receiver built into their TV yet nor do they have a dedicated receiver. That's going to change with the Surface Wireless Display Adapter.
The accessory is a dongle that plugs into the HDMI input of your display and mirrors your Surface 2. It does so over Wi-Fi, which is why the filings indicate support for dual-band Wi-Fi 802.11 a/b/g/n.
The Surface Wireless Display Adapter looks like it'll come out sometime in August. Which is half a year away. The Xbox One is expected to become a Miracast receiver with a future update. However, the timeline for that update is still currently unknown.
Dedicated Surface accessory or Xbox One as Miracast receiver, which do you prefer?
This is great news, no more cables to connect all wireless for the Surface!

Except for the power cable.

I will now refer to you as Master Obvious! Hail Master Obvious! Nexus 5...enough said

It wouldn't be necessary (while still nice) if the dang surface 2 HDMI out worked properly with vizio tvs!

If anyone is wondering, the Netgear PTV3000 works pretty flawlessly for me on my TV.

+1 Also have a PTV3000 which is exactly the same thing as shown above. You can get it for $50 from amazon these days. I doubt this surface pro adapter will be any cheaper given the unfortunately absurd cost of surface accessories :(

Nice. I've been eyeing that model. Are you using a Surface 2 or SP2?

I have a PTV3000 also. Works fine on a Surface 2.

Surface 2. I have seen more people use the SP2 with the PTV3000 with success though.

I have ptv300 too and using it with dell venue pro but my surface pro doesn't show add wireless display option. How did you get it working with surface pro?

Swipe from left, click devices, play, then it should detect the ptv3000 on the network and it pairs using a code.

I mean swipe left, from the right hand side.

You have to go to devices and add it as a new device. Then when you connect it to it you go to Project. I used the Surface 2 and I thought both the original and SP2 supported Miracast.

I'll be getting one of those in a week or two.

My PTV3000 and Dell Venue 8 Pro is a pretty good combo.

Hows the Lag on yours - mine is almost unusable it lags so bad. You can play audio, or video, but i find the "play to" my samsung smart tv to work better. For mirrored display, its so slow, not really practical use as a 2nd monitor for me

I'm also considering buying the exact same device. How does it work with movies? Any quality loss or anything?

Curious about Miracast device. Dumb question: is audio also sent to device\tv?

Yep (yes, I'm another Surface 2+PTV3000 owner) And as important: the audio is also in (lip)synch. I like it very much. Just be sure the PVT3000 has the latest firmware.

Awesome...still waiting for price cuts on surface pro 2 however

I'd snap up the surface receiver in a heartbeat

So all except the original Surface RT? :( Might have to finally bite the bullet and upgrade....

Even upon release, the Surface RT was running old hardware. It was doomed from the start, unfortunately. Hopefully Microsoft learned their lesson from the original, but it does mean anyone who bought a Surface RT basically acted as Microsoft's guinea pig. :/

Kinda like Windows Phone 7....

I am fine with being a guinea pig. There was no reason I couldn't wait a few months and get the pro rather than RT when it first launched. I just had a need for a tablet and RT seemed like a good thing to try. Worst case scenario is I like it and hand it down to family and buy shiny new more expensive counter part :) best case, it does everything I anticipated and don't replace it. I do love the family of devices. I'd like a surface'esque phone, too. But I'm happy.

I'm still loving my Surface RT too. It does so much more than standard Android/Apple products, from SD card to USB for example. Nothing lags, all my music and films/tv shows on it or Pen for USB. Will update one day, but simply no need at present.

A Tegra 3 SoC can not be considered "old hardware" at the time of release. The best Android devices of that time were not running anything better than quad core Cortex A9. And still the Surface has less lag than comparable devices with Android.

Tegra3 in Galaxy Tab is also slow compared to Surface 2 with Tegra4.

What is it exactly about the Surface RT that is missing that it can't do things like this (heck, it can't even use a Touch Cover 2--I don't understand that)? I understand it has a Tegra 3 processor and that's outdated, but shouldn't it still be able to do these things? or is it missing something else?

I have two Surface RT's that can use the Type Cover 2 without any problem. I don't have a Touch Cover 2 to test.

Interesting. I see now on the Microsoft Store website that it says the Type Cover 2 and Touch Cover 2 are compatible with Surface RT. I wonder if this was done with a firmware update because I swear upon launch that they weren't.

I (still) really like my Surface RT. I don't use it for anything hardcore, but its a great living room PC for web browsing, e-mail/messaging, shopping, casual gaming, etc. I bought when the price was slashed after the release of the Surface 2. I'm sure I'd like the 2 better, but I'm very pleased with my "doomed" device :-).

So it seems that some of us that we got a wp7 and the original surface rt we acted twice like guinea pigs :)

Loving surface rt, its a kick ass device for $220AU. Best communal house tablet, everyone uses it. So handy.

Did you gave Zune too? What about the Sharp Kin?

"Did you gave"... is that Dutch ?

I'm Dutch....isn't that vierd?

No, not really. The only thing they have in common is that they enable you to wirelessly share your display. Nokia beamer steams screenshots over the internet. So you can use it to share photos to a tv. But nothing including video/audio playback. The upside to sharing over the internet is that you could share it with people out of your wifi range. Just send them a link through the nokia beamer app. Miracast is the standard for video playback over wifi. It allows you to stream hd video and sound to an external device, as if it was connected through an hdmi cable. It does however have a latency of about a second rendering it useless for gaming, and tedious for any sort of interaction. But if you just want so send streaming video or music, miracast is the best option right now.

Re: Simon Kamp,
Thank you.

I am going to love this for meetings and presentations. Surface 2 is going from strength to strength, people don't realize how good it is

Yer I don't get it. My Surface and my missus Surface 2 are waaaayyy better than my iPad. Don't get how they haven't had more success! Haters maybe, or poor marketing.

Because they are very hard to get. The stores are always emty.

I still think its stigma. Slap an Apple logo on the thing and you'd see how well they'd do just based on the power of the flock (not an attempt to denigrate). They were brilliant innovators but I dont understand their staying power.

I just bought my wife the iPad mini. Why? I told her to wait for Surface mini, but in their quest to be Apple in secrecy, my wife could no longer wait. Microsoft moves too slowly and tries to be secret. This combination equals potential sales loss.

LOL
MS catches flack for announcing & then releasing months later... Now catching flack for not announcing soon enough. Priceless.

Isn't the Venue 8 Pro kinda like a surface mini?

Yes, except it has full Windows on it - I run AutoCAD, Photoshop, Lightroom, etc. on it. Its pretty awesome device. Id wait till 2nd gen though, they will surely include hdmi out on the next one.

I much rather they add support for DP 1.2 which currently does have in hardware but can't do multiple monitors without a driver update ....that they haven't shipped....

Are you sure? I am running multiple monitors via daisy chained displayport from my Pro 2. It works through the dock and directly. I had to do a driver update for the monitors (Dell) to correct a problem when waking from sleep, but otherwise it was simple and flawless.

Theoretically shouldn't this work with any miracast enabled device (ie. PC, WP8.1 etc.)?

If it's truly a Miracast receiver, then yes, any miracast device should be able to transmit to it, from any OS, including android.


That & any WiDi reciver or sibeam possibly or mre likely

That's just what I was thinking. Sounds like yet another must-have accessory...oi vey!

Now where's that power cover that's supposed to be launched in q1 of 2014?

"unlike the first-generation Surface." This absolutely not true I have 2 Surface Pro's and they run excelently.
I run Visual Studio for Windows 2013 without issue.I run a lot of things off of my Surface Pro wihtout issue
I also have ObjectDesktop with WindowBlinds, WinFX, Fences, Decore8, Start8 and other stuff running
without a hitch. That is not to say that the Surface 2 has many improvements.
But let's be honest, the first Gen runs just fine. You make it sound as if the First Gen was a peice of garbage. Correct your statement, it's false.


They were referring to the Surface RT, not the Surface Pro.

And I would 100% disagree there too, my Surface RT is fantastic.

"unlike the first-generation Surface" There is no first gen Surface. It was Surface RT or Surface Pro. I have owned both (sold my RT to get a Pro). Battery life is the only thing I have seen that needs to be improved hardware wise (I am still not sold on Windows Phone on a computer - aka Windows 8.x). I skipped the Surface Pro 2 and will get a Surface Pro 3 on day one.

You can blame NVIDIA for that shortcoming. As for the pro the fact that it originally shipped with a gimped sandybridge chip & yet they charged the price of what an ivybridge(with pantherpoint) laptop would cost.

I was going to comment about my surface pro performance being amazing but then i released they must be referring to the RT.

I love my Surface Pro. I'm talking about the first gen Surface RT.

Don't know what you're talking about, Sam, my Surface RT runs perfectly fine even under heavy use, it actually replaced my laptop.

This is a lie. If your surface RT doesn't lag or become unresponsive doing things like video, multitasking, you must have the greatest RT tablet because mine lags.

My rt is my go to carry around device. I don't hardly notice any lag either. Shame they've just pushed the rt under the rug. Makes me mad to an extent.

No problem at all. It can easily decode and display 2 full HD videos at the same time while still not getting laggy or dropping frames.

Mine's not too bad since 8.1 tbh. If your inbuilt storage is nearly full it will really slow down very badly, but now that I've got my music and videos folders on the SD card it's actually pretty smooth.

my surface rt never lags, and the weird thing is that some review told me that it wasnt powerful enough for asphalt 8 so i never downloaded it. then i downloaded it a few months later by chance and lo and behold it worked fine!

I guess Sam hasn't used Surface RT since long.

Yep, my RT runs nearly perfect, too. (since 8.1)

I want both onr for work, and one for play

one for bedroom one for living room

The Xbox stuff would be great and turn the 360 into a wireless display hub for the x1 would be better

Re: Seattlebob,
Please explain further. The Xbox "stuff" (system software upgrade) to the Xbox One, will allow mircast broadcast to the Xbox 360 to show movies on their connected HD televisions at the same time? I don't understand that use case.?

How much are they going to over price this like the rest of the surface accessories?

I'd love it if it went the other way. If the tv is required for something else stream battlefield 4 onto a surface would be amazing!! Would that be possible?? (please say yes)

Theoretically yes, but Microsoft would need to release a surface miracast receiver dongle + software, then you'd need to have a dongle for the xbox to send the signal too. Sadly unlikely to happen. You can always plug your xbox into a computer monitor (may require an adapter depending on what inputs your screen has).

If a device supports WiDi for transmitting Miracast streams, then it can support receiving them as well. It would just require a software update. There's no extra HW required to support peer-to-peer miracast connections.

Wait, so will this work for ANY Windows 8.1 device then, if it's just the TV adapter?

Pretty much yeah! And so will any Miracast adapter (like the PTV3000) or miracast TV.. Windows 8.1 dos that nativly! :)

Where do you see August availability? I don't know, that is late and there are already some inexpensive dongles on the market today. I know Microsoft can give such a device better retail distribution than those other dongles but what I think is really needed is some unique functionality.

This is FANTASTIC. Will get a lot of use at my company, for sure.

Love to have the receiver on the Xbox One, I'm sure the adapter is going to be expensive as all get out. Microsoft doesn't make anything cheap :)

It says built in miracast support is coming in an update to Xbox One at some point, so you won't need the adapter.

Really hope xbox one gets miracast receiver capabilities, the 'play to' function is very nice, but sometimes you really need to project your screen.

I hear that! Would love to use my DV8 Pro through my Xbox One ;)

I'm still waiting for a workable Xbox Music client / cloud locker. Then I will consider Surface 2.

I'm using a Netgear PTV3000 too, pretty sick when i plug my usb 360 pad and play games without trailing leads between surface and tv

If I can mirror what's on my surface better than now to my Xbox one, I prefer that. But as not everyone owns an Xbox one, this is a great accessory. :)

Wow, first time this web site has admitted the first surface was garbage. Nice.

"Surface RT" or "Surface Pro"? "Garbage"? "Nice"?

No love for surface pro 1

-929. We bought a first gen product. You can say you are part of the reason there is a Surface Pro 2.

Phones are getting miracast so will this support casting from my phone as well?

In answer to dedicated Surface accessory or use with Xbox One, I say dedicated Surface accessory. IDK of any workplace conference rooms with an Xbox in them. Of course, IDK of any conference rooms with Miracast at all, but an Xbox-free option has a chance of success.

This is nice for all but original Surface RT owners. I have an XB1 and I have no known options for HBO GO. I can watch on my TV upstairs on my 360, but in my man cave I don't know what other options I have. Any suggestions?

For WiDi use with W8.1 see https://passport.mobilenations.com/?u=eNpVjUsOwyAMBe_CAZLyFXUPExEwLRIJCI...

I guess this adapter may support WiDi Pro, adding encryption to secure WiDi in the enterprise: http://www.intel.fr/content/www/fr/fr/architecture-and-technology/intel-...

Gimme Both Options ( Dedicated Surface accessory & XbOne Miracast Reciever) Plus thow in a couple more for good measure. I shall take it!!

Can we please stop calling it "screen mirroring"? That implies you cant run in Extended or External Only display modes, which you can.

Has anyone tried the Surface RT with the Netgear PTV3000 yet. I guess from all of the comments here it won't work but has anyone actually tried and tested the two together?

I'm curious to hear about that as well.

We are purchasing one in work so i will update once ive found out

I totally disagree with your comment about the original Surface. I have the 128 and it runs Windows 8 fantastically. I can run pretty serious programs like Photoshop and CAD programs really well.

I want both! And I hope it is compatible with all windows 8/RT devices. I have an Xbox One, but I would like to set up a monitor at work for my 8" ASUS w8.1 tablet.

I glad that this is coming out, but what happen to the music creation touch cover that was previewed before Surface and Pro 2 both came out.
Windows Central Newsletter
Get the best of Windows Central in in your inbox, every day!
Thank you for signing up to Windows Central. You will receive a verification email shortly.
There was a problem. Please refresh the page and try again.