Fedora Reader is a fast and Modern RSS reader for Windows and Windows Phone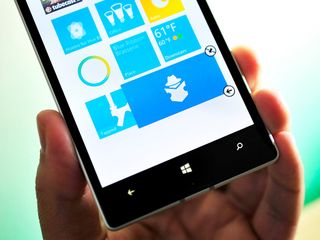 Have you heard? Universal Windows apps are the big thing for Windows and Windows Phone users. Today, we have another addition to our bucket of apps. Fedora Reader is a super quick, clean and Modern RSS feed reader from Joshua Grzybowski, the developer of Pouch, a well-received Pocket app for Windows Phone.
Fedora Reader is unlike many other RSS apps in that it looks very Windows 10 with thin fonts and new-style buttons. The app is very lightweight at less than 1 MB on the phone, launches quickly, and is easy to use.
If you do not have any RSS feeds ready, the app has a curated listed in various categories including Business, News, Entertainment, and Technology. Within each category is a predefined RSS feed that you can add. Of course, you can also add your own RSS feeds.
Fedora Reader has an interesting side-bar that swipes in from the left, giving you access to Add new feed, Refresh, Mark all read, Curated Feeds, Settings, and About.
Speaking of settings, you have three different themes to choose from, including Light, Dark, and Time of Day, with the latter dynamically switching between Light and Dark for easier reading.
Within each article, the sidebar changes function, offering access to font size, Share, Favorite, Mark as Read, Open in Browser, and Settings, About. The Share option uses the official Picker in Windows Phone 8.1.
Since Fedora Reader is universal, users can get the same experience on Windows 8.1. Feeds are supposed to sync between the two versions, although so far ours has only synced one way (perhaps we need to give it more time).
Regardless, Fedora Reader is a very nice looking app that should make fans of the Modern design jubilant. More features are planned for the app, so this is just the beginning.
Oh, and both apps are free.
Download Fedora Reader on Windows 8.1 (opens in new tab) (Free)
Download Fedora Reader on Windows Phone 8.1 (Free)
Windows Central Newsletter
Get the best of Windows Central in in your inbox, every day!
Daniel Rubino is the Editor-in-chief of Windows Central, head reviewer, podcast co-host, and analyst. He has been covering Microsoft since 2007 when this site was called WMExperts (and later Windows Phone Central). His interests include Windows, laptops, next-gen computing, and for some reason, watches. Before all this tech stuff, he worked on a Ph.D. in linguistics, watched people sleep (for medical purposes!), and ran the projectors at movie theaters because it was fun.
Looks promising. But I'll hold on to Nextgen for the meantime.

Good but #NEWSREPUBLIC too

Fedora? Nice name, it's a pretty good start...and the logo looks fantastic too. Ok, this app definitely deserves a try ;]

Fedora... I thought it was made by the same team behind Fedora Linux distribution. Anyway, it's good to have options. Keep it coming!

And I was thinking about Mad Men, Detectives, Humphrey Bogart and...Michael Jackson ;P And yeah, I like to have options too.

Man, this'll be like moth to a flame for any MRA using a windows phone. :P

I'm looking to replace weave gonna try this 1 out.

Why looking to replace weave?

For me Weave crashes often and only works when you have a data connection. So I can see why someone would be looking for alternatives. I use Fuse in addition and bit more stable and you can download for offline reading (but there's a limit I noticed on # of feeds per group before it starts to become unstable).

Yes, my Weave crashes too. I also was having trouble bringing up my favorites and lots of times the article picture doesn't match what the article is about. That being said, I do like that Weave gives you a preview pic of an article as opposed to just seeing words.

yes, definitely as I'm not going make a list again

Nice name, does it come with 2 turntables & a microphone? ;)
Looks promising, will give it a shot

The universal icon indicator is missing from the store listing. Is that a bug?

There is a good chance that it is not a universal app, but rather an app that is very similar across multiple platforms. Either way, it looks pretty slick. as someone continuing to try and distance themselves from Google, it is nice to see something that might be able to get me out of Feedly.

It is a universal app I installed it in my windows10 pc and windows 8.1 phone and synced my feeds from my pc to phone and vice versa (it took some time though) Pretty slick and very promising

Yeah, that must be a bug. The icon shows up in the Windows store. I'm not sure why it doesn't show up in the Windows Phone store. :\ It is indeed a universal app though. :)

Are there any good epub readers? That is the only thing I am jealous of when I see Androids or iPads...

Bookviser. I got the premium version for free through myAppfree few days ago. Check it out.

Use ebook readers not rss reader

Bookviser is solid, agree with the others. And after having the free version for a while, I had no idea how much I was missing until I snatched the premium one for free the other day too. Now I'm wondering how I ever got a long in life. I might be mildly exaggerating, but with a Windows tablet, WP and Windows 8.1 laptop, it means I can sync across all those devices easily now with stuff that is DRM free.

Does it come with woe and a backwards idealism involving gender equality?

Slide out menu with the options are the bottom.... MS are you looking?

Does it do any offline caching?

Yes it does . . . to a point. It caches the list of articles. Though now that you mention it, I realize that the way I have it set up, you'd never be able see them without an internet connection. Caching the content of every article would be costly to me, so I might offer it as an in-app purchase in the future. That way only those who would use it would have to pay for it. Thanks, Joshua

The way we add feeds, can you put the search option coz I can't put the whole URL there.

hi... 8 months later, is there a way to setup offline viewing ot the RSS feeds without internet enabled? i tried everything and no luck! what is the caching option for then ?

Hey there. I now have a full time job, but I'm working on the Windows 10 version in my spare time. I'll definitely add this to my to-do list. Thanks,
Joshua

Its has that windows 10 feel

Is that a good thing or bad thing? :O

Really it's so fast, Bravo developers

Thank you! I'm glad you like it!

Nicely done app simple fast, not sure if live tile shows unread counts or articles but that would be nice addition.

Live tile is coming soon! Just as soon as I can figure out the best way to implement them. As a dev, I'm not all that happy with what we can do with live tiles. :(

We do need live tiles, we're not supposed DO anything with live tiles, only get a glimpse of the current news...
Anyway, the app is pretty solid.
Thank you and good luck

Thanks. :) I meant how developers are allowed create live tiles, and the restrictions that the templates have. One of my biggest grievances is that they don't let us set a count higher than 99. So, for example, if you had a feed that had 150 unread items (god forbid ;) ) it would show up on the tile as "99+" or something like that. It's either that or we make our own tile design, which is complicated and very buggy and inconsistent. :\ Thanks again, Joshua

Somehow the Nextgen Reader app can go to 999. They are using the big numbers beside the app icon and not the little bubble in the top right corner.

I subscribed some RSS, but app doesn't provide full article, only headlines. :/

That seems to be an error with the article extractor service I'm using. I'm looking into it. Thanks, Joshua

Can you check rus.err.ee/rss please? It doesn't load full article.

Checking this one out. Thanks Daniel.

Good choice for adding MMA Junkie to the feed.

I still prefer Rudy Huyn's FUSE reader. I like having some pictures to go with my headlines. But hey, more RSS readers = a good problem to have.

I tried Fuse but found it too cluttered for smaller screens

Didnt save chosen feeds & noticed one of those feeds is for a defunct site

Oh God, not another rss reader...

Hahaha.Windows Phone for the win

Well since sites feel its not necessary to build good apps or website for windows we must result to their RSS feeds foe at least a good, standard experience.

I like Nextgen, but I'll give it a shot. Cool icon.

I had switched away from Weave to Veen Reader which I love! But this one looks so promising, I might give this one a try as well!

Scrolling is a bit on the stuttering side (but I see that in most WP apps) and if you add a bunch of feeds it doesn't seem to load them all. Love the way it looks though. I saw the developer on surface geeks a few nights ago and he seemed pretty committed. It will be interesting to see where it goes.

I'm running this on a WP8.1.1 DP NL1020 and not seeing any stuttering.

It's definitely not bad but I use Tweetium and Weave so much that any dropped frames or graphical anomalies stand out to me.

Is that an app on top of tapped? If so what is called? And what does it do?

Absolute white background and a round blue yellow and green circle.

Very clean and quick app. I love it.

Excellent start, the UI/UX alone is top notch (very intuitive). I wish it had a feeds list import function and sync between desktop/mobile. There isn't enough there yet to pull me away from Weave Reader, but definitely a strong start.

No log into Google reader or Feedly? Do I need to add RSS feeds one by one again? And the Windows version crashed when I click on the Share button....

Read up, Feedly is coming.

Unless it sync with feedly, I won't use it. Maybe try it for self reviewing purpose. But won't use it. I often read my feeds on the web because I have to switch often between Windows and OSX.

I'll give it a shot since they took the time to develop it and it takes up a small amount of space.

It's a promising app with a nice and responsive Modern design, much simpler than other apps. I think that syncing and offline caching are must-have features for a RSS reader. I don't know if the developer will read this, but he can try to add these features as in-app purchases. If he does so I would beg him to add Feedbin support because, AFAIK, there isn't no app in the store with this, and since Feedbin it's not a free service, it might be here to stay longer than other services. Anyways, I like that it's an universal app and it's presence in the store will promote better competition with Nextgen, Fuse, etc.

Figured I'd try it out but it won't install for me. Lumia 920 8.1.1 DP. Install hangs for a second then fails.

Looks nice. I was using Nextgen reader till now. I love the flat UI. It's clean and simple I'll give you that. Might just make it M'reader. ;)

Awesome app with great potential. Simple, clean and easy to navigate modern UI. I've downloaded to both my Lumia 1020 8.1.1 DP and my tablet. Syncing and offline an issue but I'm sure future updates will make it spectacular.

I like it. It's pretty good.

Liking the Windows 10 appearance

Love the modern UI and app definitely has potential despite some initial bugs. Adding search function, Feedly support, and live tile could make this my go to RSS reader over my current favorite, Feedsea.

Microsoft, come have a look at how you stash away settings you don't need on the left WITHOUT ugly hamburger menu. Kudos to Fedora. Lovely design.

Does it feature inoreader support?

Lol, I am having trouble with the store and no one is paying attention nor the Microsoft nor the Nokia care here in India, from last one month I can't even update my app forget about the downloading of new one everything I try to download from the store it stuck in between and I have nothing to resolve about (plz don't say to format bcz it will erase all my data which I dnt want) so somebody plz take my words to Microsoft for my problem

Can't you do Nokia backup, erase phone, Nokia restore?

Finely designed app! Thank you. My only qualm is that landscape mode doesn't happen on my 1520.

I like fedora so far. Bye rsscentral

Looks promising, hope it heads in the right direction, no search, need to manually add the reads feeds, need an option to at least backup to cloud.
it's Nextgen for me. Nextgen is simply the best out there, across all platforms
Windows Central Newsletter
Thank you for signing up to Windows Central. You will receive a verification email shortly.
There was a problem. Please refresh the page and try again.