Fifth Visual Studio '15' preview has lots of performance improvements for developers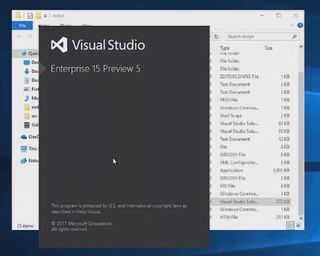 Microsoft has released the fifth preview version of Visual Studio "15," the code name for the next edition of the company's development tools. This new build offers, among other things, a bunch of performance improvements.
The Visual Studio blog (opens in new tab) has the details on what exactly is included with the Visual Studio '15' preview, in terms of upgrading performance:
Shorter solution load time with lightweight project load: Working on solutions that contain upwards of 100 projects doesn't mean you need to work with all the files or projects at a given time. VS "15" provides editing and debugging functionality without waiting for Visual Studio to load every project. You can try out this capability with managed projects in Preview 5 by turning on "Lightweight Solution Load" from Tools -> Options -> Projects and Solutions.
Faster startup with on-demand loading of extensions: The idea is simple: load extensions when they're needed, rather than when VS starts. In Preview 5 we started this effort by moving our Python and Xamarin extensions to load on demand and are working on moving all extensions we ship with Visual Studio and extensions shipped by third party extension vendors to this model. Curious about which extensions impact startup, solution load, and typing performance? You can see this information in Help -> Manage Visual Studio Performance. Do you develop an extension? We will be publishing guidance to help extension developers move to on-demand loading.
Moving subsystems from the main VS process to separatel processes: We moved some memory-intensive tasks such as Git Source Control, and our JavaScript and TypeScript language services to separate processes. This makes it less likely for you to experience delays caused by code running in the main Visual Studio process, or Visual Studio becoming sluggish and even crashing as the main process approaches the 4GB memory limit of 32-bit processes. We will continue to move components out-of-process in coming releases.
Faster project load, coding, and debugging for C++: We have made loading C++ projects faster. Check out this video showing the improvement. You can enable this by setting "Enable Faster Project Load" to True from Tools -> Options -> Text Editor -> C/C++ -> Experimental. We have also made improvements to our linker and PDB loading libraries to make incremental builds and launching the debugger much faster while significantly reducing memory consumption while debugging.
Improved speed of Git source control operations by using git.exe: We have improved debugging performance by optimizing initialization and other costs related to IntelliTrace and the Diagnostic Tools window, and removed several delays that occur when editing and switching between XAML files.
There's plenty more that's new and improved in this release, and you can check out the full release notes for all the info. Since this is still unsupported software, Microsoft recommends that developers do not install this preview version on critical dev machines. Also, any previous preview versions of Visual Studio "15" should be uninstalled before grabbing Preview 5.
Download Visual Studio "15" Preview (opens in new tab)
Moving subsystems from the main VS process to separatel processes: We moved some memory-intensive tasks such as Git Source Control, and our JavaScript and TypeScript language services to separate processes. This makes it less likely for you to experience delays caused by code running in the main Visual Studio process, or Visual Studio becoming sluggish and even crashing as the main process approaches the 4GB memory limit of 32-bit processes. We will continue to move components out-of-process in coming releases.

THIS! ABOUT FREAKING TIME! This is the sole reason of why I hate developing in JavaScript in VS 2015. Downloading now to see if it is really fixed. 5 second lag on typing is enough to destroy any developers motivation to write any app.

The whole thing is much more performant. The cleaner installer, clearly sub dividied into the main types of dev. Huge improvements. One has to wonder if this is a product of Microsoft giving control back to the technology guys like Myerson, as opposed to politicians like Sinofsky?

Neither. It's Scott Guthrie's division. And a big part of it are people like Scott Hanselman, with a real ear on the community (and not such a Dona Whatever thing, where the poor soul is only left to sell the fiasco).

I was painting a metaphor not specifically the individuals responsable for the VS product. Scott Guthrie covers a pretty wide remit with cloud and enterprise. Scott Hanselman is also on ASP.Net Core? Anyway, point being they seem to have moved back to technology guys who can develop and know the technology inside out, as opposed to "management". Sinofsky was Director or Programme Management within 5 years which sound very management and not very development to me.

Myerson been total disaster. Sinofsky should come back and clean the W10 mess. Just like he fixed Vista.

Well...after installing it I tried opening up some projects and it is indeed faster! However, none of my web projects open up and their dialog to "Install Missing Features" doesn't work. So...everything is out of the box and I can't run any web projects. No documentation on it either. Guess it is back to ****** VS2015 land for me.

I think you missed the word "preview."

this is an unsupported preview. You should fill bug report for this.

In a whole sentence what does this means, is the performance boost for both pc and mobile about to be optimized?

Care to share what mobile device you think you're running VS on...?

Wish they would fix deployment to a Windows phone over wifi.

Hello, I am curious. I want to move to Windows development from Apple and I was wondering, what systems do you develop on? Laptops, Surface Pro, desktop and what brands?

I develop on my laptop, because it's pretty powerful and my desktop is a piece of crap. Visual Studio is really a very good IDE, I love it. My laptop is an Avell Titanium G1513 Fire V3X. It's made by a local gaming laptops manufacturer here from Brazil, but they have an English website too.

Any windows laptop with medium hardware will run visual studio. Higher end laptops are overkill, but you will love their performance though. You will find the transition very easy, Windows (imo) is a more powerful yet user friendlier OS.

Can't wait to upgrade my Visual Studio.
Windows Central Newsletter
Get the best of Windows Central in in your inbox, every day!
Thank you for signing up to Windows Central. You will receive a verification email shortly.
There was a problem. Please refresh the page and try again.