Files&Folders is a gorgeous file explorer after its recent Fluent Design update
By Sean Endicott last updated
The old File Explorer is due for an update, but in the meantime, Files&Folders is here to be easy on the eyes.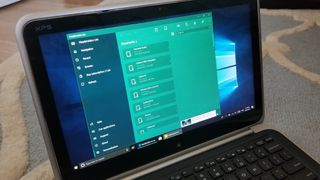 The File Explorer is one of the least attractive aspects of Windows 10, lacking modern design features and not scaling well to encourage touch. Files&Folders aims to deliver a touch-friendly and attractive file explorer.
Files&Folders already made its way onto my list of best file explorer apps on Windows 10, and with its recent update has further secured its spot as one of the best alternatives to the default File Explorer. The update brouhgt in Fluent Design throughout the app and introduced a number of features that make it easier to use Files&Folders as your main file explorer. The full changelog can be found on Finebits' website.
I'll be going over some of the basic features of the app, but this review is based primarily on what the update brings and how it affects the quality of Files&Folders.
The app is available for Windows 10, Xbox One, Windows 10 Mobile, and HoloLens. There are two versions of Files&Folders. The lite version is free, and the pro version is on sale at the time of this article's publication for $1.99. Its non-sale price is $9.99. The pro version removes ads, adds the ability to extract files from archives, and more.
Filling in features
Files&Folders was a good app before the update, but since it isn't the built-in Windows 10 File Explorer, it had limited functionality. While it's still behind the native File Explorer, it's gained some notable features thanks to the April 2018 Update of Windows 10. It allows you to easily view your files, move items around, and go to different storage locations on your system or various cloud services.
The April 2018 Update made it possible for apps like Files&Folders to run multiple instances simultaneously. This is a huge boost to the app's functionality as you can now drag and drop content between folders and areas of your PC much more easily.
One of my favorite features of any app is a good compact overlay mode, and Files&Folders's allows you to play videos directly within the app using its built-in picture-in-picture mode. This new mode can be used in conjunction with the ability to have multiple instances of the app open at once so you can view a movie and move files around at the same time.
Files&Folders has also gained support for Google Drive and a couple of other cloud storage services. Previously you could only use OneDrive or Dropbox. You can now also extract files directly inside of the app.
Bringing Fluent Design
While the features added in the most recent update increase functionality, the change that's most obvious is the update to using Fluent Design. Files&Folders has a smooth acrylic effect that makes the app fit right in on the latest public build of Windows 10. The app has always been aimed at delivering a more attractive version of the built-in File Explorer on Windows 10 and with the addition of acrylic effects and the depth that they bring, there's now an even wider gap regarding appearances.
Over the next few weeks, I'll be focusing on apps that use Fluent Design and Files&Folders is an excellent example..
A step forward
Files&Folders was more attractive than the default File Explorer before any updates, at least in my opinion. Bringing it in line with the Fluent Design language makes it a gorgeous app that will fit into the Windows 10 ecosystem even more as other apps and more parts of the operating system incorporate acrylic features.
One issue I ran into was that the pro version had a hard time starting and running on my PC. The free version worked perfectly so it's hard to know what the issue with the pro version was on my PC.
Where the app fell short before was in terms of functionality. It looked nice, but you needed to jump in and out of it to the default File Explorer to be productive. That persists to some extent but being able to open multiple instances of the app and other additions have lessened that fault and show that the app is trending in the right direction. Depending on how you use a file explorer, you could primarily use Files&Folders and enjoy its design without having to go back to the system default that often.
Pros
Gorgeous design
Can run multiple instances at once.
Has built-in media player.
Works with many cloud storage providers.
Cons
Can't fully replace default File Explorer.
Can be difficult to navigate.
Pro version can have issues booting up.
Sean Endicott is the news writer for Windows Central. If it runs Windows, is made by Microsoft, or has anything to do with either, he's on it. Sean's been with Windows Central since 2017 and is also our resident app expert. If you have a news tip or an app to review, hit him up at sean.endicott@futurenet.com.
All representations of what the already beautiful WP could've been if MS made bold moves instead of arrogant guesses that the market would go for thier product simply by applying minimal shock factor, relying on word of mouth from fans, and putting insufficient effort into marketing.

So I got the Pro version. Crashes immediately on launch - every time!

Same here. I want my money back.

pacifiers isle 3 there Rodney fanbaby. You bought a hardly ableson, You are the biggest sucker out there. MURICA!...

Let's see. I own a two story house in a nice neighborhood, a C class, and an E class, Mercedes, one Chevy truck, a bad ass 2015 Harley Davidson Softail Breakout, and I pay all my bills by myself. I have one degree, and multiple certifications in electronics technology, networking, AV technology, and I still study. I'm a technician, and I run my own business. I work out at least 4 times a week, play various musical instruments, have very many friends, and family, that support me, and who are very successful themselves. If I want to ride a HDBO I will, and I can afford to so.
…….
You are just an uneducated, lazy, broke, out of shape, uncoordinated, child who has ZERO net worth, no responsibilities, or drive to accomplish anything in life, other than trolling on the internet, calling people fanboys, not paying his mom rent, which is the reason nobody you know likes, or respects, you.... When you can afford even a $250 1985 150cc moped, and grow the balls to even ride that POS, then we can talk.... But, I'm sure you're crazy enough to still open your childish mouth even after I just called you out accurately 100%. SMDH. Please. Nobody here likes you, and you're not even in the same league as the worst trolls. Get a life.

HA HA HA...you stoopid moron. I build custom bikes for a living. I know how "bad ass" a peice of **** Harley is. So much so that I toss them away for clients. So possessing items is your idea of being cool or some how superior? if so, I have you beat there too. I own a 6000 sq ft house, have wife and 2 kids.Of which I pay for one's university education, right now, there is an Merc GLK, Audi A4 cabrio, F150, suburban Jeep wrangler and half a dozen bikes including rare sport bikes that would make your POS Harley look stupid on the Steet, track oh, and best of all the Kelly blue book on values. I earned everything the HARD WAY. built it up from NOTHING. So please, again Rodney CRYBABY...please go upstairs, your mommy is calling with a bottle and your blanky for nap time. OH. BTW I don't give a **** if no one likes me here. Thats the best part. You on the other hand NEED approval with your constant post about the same topic you think is SO SMART and CORRECT! IDIOT!

Have you reached out to the developer
may not be aware of the issue yet

Please update your Files&Folders and the problem will be fixed.

Thank you for telling us about the problem!
We fixed the problem.
Please update your Files&Folders (or reinstall again) and the problem will disappear.

Hi, My files and folders app starts again, however, when I go to open a file it shuts down.

Nothing will ever be better than Total Commander. (Hyperbole but true!)

Just wish it was easier on the eyes. I know functionality & stability are priority #1 but that doesn't have to come at the cost of something that doesn't hurt the eyes to look at. I understand that to an extent it's all subjective but TC (along with many other file explorers) seem to be all about cramming all information possible in the smallest amount of space possible making it harder to focus on any one thing.

1) How much is the Pro version?
2) Does the developer know the Pro version is crashing?

2) Yes, I reported the crashing. They replied saying they're looking into it, hopefully fixed soon.

1) https://www.windowscentral.com/e?link=https%3A%2F%2Fclick.linksynergy.co...
2) The problem has already been fixed.

Please update your Files&Folders and the problem will fixed.

Glad to see someone make a file explorer alternative that isn't completely anti-UI. All the others seem so power-user focused that they're obsessed with overwhelming the user with all info imaginable. Some people prefer a cleaner, simplistic approach that doesn't assault the eyes. Hopefully the stability & functionality of this is improved and we can finally have an explorer alternative that isn't hell to look at.

The review would have been more useful if you'd explained what you need to regularly go to file explorer to do.

I use(d) this on W10M, but I hate file managers that require you to copy and paste for file transfers. X-plore on Android shows how beautiful a two-panel file explorer on mobile can be.

That's when Sets come in handy I guess...☺

Maybe. But using its tabs on File Explorer, you can't transfer files across tabs. Of course, Explorer already has two panes for easy transfers.

yeah I am also using X-plore since Symbian os days.

File Explorer has tons of functions.

Messaged the dev's and the Pro version crashing has been fixed, will be going live soon. Have tested the beta and it's working.

"Where the app fell short before was in terms of functionality. It looked nice, but you needed to jump in and out of it to the default File Explorer to be productive. That persists to some extent but being able to open multiple instances of the app and other additions have lessened that fault and show that the app is trending in the right direction." So you're effectively recommending an app that's less functional than the Windows default just because it "looks good"?
Windows Central Newsletter
Get the best of Windows Central in in your inbox, every day!
Thank you for signing up to Windows Central. You will receive a verification email shortly.
There was a problem. Please refresh the page and try again.