Final Fantasy 14 (FFXIV) Endwalker's Patch 6.05 update brings Pandaemonium's Savage-tier Raids
Final Fantasy XIV's new update brings new dungeons, Savage-tier Raids, Job changes, and more!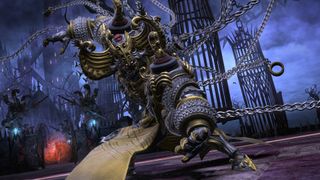 (Image credit: Windows Central)
What you need to know
Final Fantasy XIV: Endwalker is the latest expansion to Square Enix's popular MMORPG, Final Fantasy XIV.
The game has been updated with Patch 6.05 and it brings a whole host of new content such as the Savage-tier versions of the Pandaemonium raid, the Excitatron 6000 dungeon, changes to player Jobs, and more.
Final Fantasy XIV: Endwalker, the latest expansion to Square Enix's critically acclaimed and beloved MMORPG, Final Fantasy XIV, has received a new update today called Patch 6.05. This is a huge update which, according to the FFXIV website, contains a ton of new content and various bug fixes to the game.
The biggest addition of this update is that the Savage mode for the first part of the Pandaemonium raid series is now available. For those unaware, Savage raids are harder versions of Final Fantasy XIV raids where enemies hit harder, their attacks have their indicators removed, and feature brand new mechanics that you must avoid to save the party from being killed in one hit. These fights require strict communication, teamwork, and memorization to achieve victory and obtain the new gear they hold.
Another big highlight is the introduction of the Excitatron 6000 treasure map dungeon. Treasure map dungeons are special dungeons that can only be accessed after acquiring a treasure coffer from treasure maps. In these dungeons, you fight through a gauntlet of enemies (some of which are unique to these dungeons) and receive special prizes depending on how lucky you are.
To help players conquer these new challenges, some player Jobs have received major changes including potency upgrades and quality of life improvements. The Jobs that have received these changes are Pugilist/Monk, Dragoon, Ninja, Samurai, Reaper, Dancer, Summoner, and Scholar. In addition, players can arm themselves with powerful gear that can only be bought with the new Tomestones of Astronomy currency
There are also new items to collect such as house furnishings, prizes at the Manderville Gold Saucer, mounts, minions, orchestration rolls, achievements, and titles. Plus, there are new Elite Mark monsters to hunt in the Guildship Mark sidequests.
As you can see, there is a lot of goodies for players to get their hands on in this patch. Substantial, post-launch updates like this is one of the many reasons why Final Fantasy XIV is considered one of the best multiplayer games on PC. Stay tuned for future news updates on Final Fantasy XIV as we head into 2022.
Save the world one more time
Final Fantasy XIV: Endwalker
The time has come close this chapter.

Final Fantasy XIV: Endwalker is the latest and biggest expansion to the popular MMORPG, Final Fantasy XIV. Bring to an end a war that has been waged for eons, explore new lands, and learn new Jobs to gain the strength needed to The Final Days.
Get the Windows Central Newsletter
All the latest news, reviews, and guides for Windows and Xbox diehards.
Alexander Cope is a gaming veteran of 30-plus years, primarily covering PC and Xbox games here on Windows Central. Gaming since the 8-bit era, Alexander's expertise revolves around gaming guides and news, with a particular focus on Japanese titles from the likes of Elden Ring to Final Fantasy. Alexander is always on deck to help our readers conquer the industry's most difficult games — when he can pry himself away from Monster Hunter that is!