Final Fantasy 14 (FFXIV) sales suspended due to Endwalker server issues
Final Fantasy XIV's free trial, including the critically-acclaimed expansion Heavensward, is not available right now.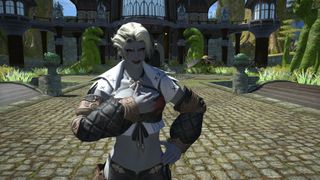 (Image credit: Square Enix)
What you need to know
Final Fantasy XIV's newest expansion, Endwalker, recently launched on PlayStation and PC.
The game has been suffering from server issues due to limited server hardware and an influx of new players.
Square Enix is suspending new sales of the game in response to these server issues.
Additionally, Square Enix is extending the free game time of existing players by an additional 14 days.
Final Fantasy XIV sales are being suspended, due to ongoing server and queue issues following the launch of the Endwalker expansion, Square Enix announced on Thursday. While existing players are not affected, no newcomers can buy Final Fantasy XIV Starter Edition or Complete Edition for the time being. Upgrade packs such as the expansion packs and collector's edition upgrade are not being removed from sale, so existing players can purchase new content.
Square Enix is pulling new advertisements for the game and copies from retail stores, though Square Enix notes this will be a "gradual" process. For players encountering Error 2002, Square Enix investigated and found the cause to be a login bug dating all the way back to Final Fantasy XIV version 1.0. It'll be fixed in an upcoming patch for the game client that's scheduled to launch on Dec. 21, 2021.
Square Enix is also extending the free time being offered to existing players by an additional 14 days, for a total of 21 free days for anyone that owns the full game and has an active subscription as of Dec. 21, 2021. Final Fantasy XIV grew massively to over 24 million players in the months leading up to the launch of Endwalker. As such, it's become one of the most popular multiplayer games in the world.
Square Enix has been working to set up additional servers to increase capacity for the new players however, ongoing challenges caused the pandemic have limited the available hardware. Square Enix notes the team is hoping to provide a roadmap at some point in Jan. 2022. Patch 6.05 is currently scheduled to launch on Jan. 4, 2022 as originally planned. This patch is adding a new dungeon, recipes and more to the game.
Windows Central Newsletter
Get the best of Windows Central in in your inbox, every day!
Samuel Tolbert is a freelance writer covering gaming news, previews, reviews, interviews and different aspects of the gaming industry, specifically focusing on Xbox and PC gaming on Windows Central. You can find him on Twitter @SamuelTolbert.
This is all a travesty. I don't play the game but still feel embarassed for anyone involved.

As a faithful player of FFXIV, this write-up has been bothering me a bit. It comes across as overtly negative, but the reality is that it's not as big of a mess as one might believe. The "server issues" are really just congestion caused by the game's popularity, the influx of players, and the hype generated by the release of the new expansion. SE acknowledges this and refers to the problem accurately in their post on the 15th. Yeah, there are some long queue times to get into the game. I've personally waited 2 hours to get in, but I've learned to plan ahead and start the login before I'm able to actually sit down and play. And if it's not ready yet, I've got other things I can be doing in the meantime. Sure, it's gonna cut into my playing time a bit, but that's fine. It's just a game. There will be other opportunities. I know others who have waited longer to get in, and I sympathize with them. It's frustrating - I'm not saying it isn't and that we should ignore what's happening.
As for the 2002 error since v1, I've only seen that a handful of times and it's already gotten better in the past week. It's also caused by the congestion. I'd never seen it before a week ago. And when it does surface and I was kicked out of the login, I was able to just hop back on and my place in the queue was retained.
To imply that the game is plagued with server issues is very misrepresentative of the situation. It's still a great game and has become even more popular. And that's caused for some long wait times when trying to login, but once you're in, it's stable. I can play for hours without any issues. Square Enix is victim of their own success here, as well as the environmental conditions caused by the pandemic. The 6.0 patch has been planned for a long time, so maybe if not for a pandemic and supply chain disruption, they could've been more prepared. While it's a shame that new players who want to join us in Eorzea may be unable to at this time, the game will be even better by the time they can. The steps that SE is taking sucks. But given the constraints, I'm not sure what other choice they have to try and mitigate the damage to the current player base.
Windows Central Newsletter
Thank you for signing up to Windows Central. You will receive a verification email shortly.
There was a problem. Please refresh the page and try again.