Find buried treasure with Geocaching Live for Windows Phone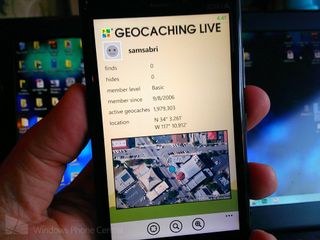 Growing up, 'X' always marked the spot, problem was my lack of treasure maps. Fast forward to 2013 and anyone with a GPS device can find buried treasure. Ladies and gentlemen, geocaching can make anyone of you a pirate for a day and we now have a great app for Windows Phone to live out those swashbuckling fantasies. But before you get your Captain Jack cosplay on, how about you read into Geocaching Live for Windows Phone.
Let me explain for the three percent of you who have no clue what geocaching is (and yes it's as nerdy AND awesome as it sounds). Geocaching is a global, outdoor recreational activity centered on hunting treasure called "geocaches/caches". Those caches can be made and created by anyone, there is no requirement, and you just need to save the coordinates to a geocaching community. The simplest treasure hunt involves following the coordinates of a cache to its location.
Most caches are housed in weather proof containers and will have a various assortment of odd, small trinkets that you can take out if you swap in one yourself. You'll also find a log book where you can record the date and time you accessed the cache. Hit up the Wikipedia article on geocaching to learn all about it. This sounds so nerdy, but if you've never done it I promise a good time. You just need to take some friends and try it out sometime.
Geocaching has various websites and databases where you can look for hunts, one of the largest is Geocaching.com and they've just made an official app for Windows Phone. This particular network claims over 1,600,000 caches worldwide! Odds are you can find a hunt near you. The app is well designed and works great on my Lumia 920, but should work on most Windows Phone as it's not exclusive to either 7.X or 8. Check out some features of the app:
Direct access to over 1,600,000 geocaches around the world including description, hint, attributes, gallery photos, trackable items, and recent logs
Free three full cache downloads per day (unlimited "lite" cache data) for Basic Members of Geocaching.com
Unlimited caching for Premium Members of Geocaching.com (visit geocaching.com/membership for more information)
Navigate using Bing or OpenStreetMap maps and compass view, and create custom waypoints for solving Mystery and Multi-Caches
Log geocache finds directly from the device, including picture upload from the camera or camera roll
Full support for moving Trackables in and out of caches
Save lists of geocaches for use when travelling outside network coverage
Fairly impressive in terms of what it can do for a geocaching app. When I first went geocaching years ago, you had to download the file to your handheld GPS device. Now you can browse the site, grab the relevant caches you want to hunt for, and then you the GPS on your phone to find that treasure.
If you feel like killing a few hours friends on a weekend afternoon check out Geocaching Live. It doesn't matter if you live in the heart of city or out in the boonies, you're sure to find a geocache somewhere nearby. We will have to wait as far as when we can expect an update for the app to take advantage of features unique to Windows Phone 8. I reached out to their support team and am still waiting on a reply. I'll update if we learn anything useful. Check out the pic below of a local cache at a park near my house. This was a super easy one just to demonstrate what a cache might look like. This one in particular can be labelled as a "micro" cache since the container is so small. Inside were a few trinkets and the log.
The app is available to all Windows Phone versions, it's free and you can download it here in the Windows Phone Store, use the QR code below, or swipe to the right in our Windows Phone Central app. You are limited to saving three caches per day from the site as a basic member. Premium membership costs $10 for three months or $30 for the year. With that you get unlimited caches per day and a slew of other perks, read about them here.
Any of you been geocaching before? Interested in trying it sometime?
I love this app. But on WP7 back in the day, all caches were free and unlimited. Those were the days. When 'Live' rolled out you had to pay monthly. I found that hard to swallow so I just rock three a day and it's not a big deal.

I had heard about this previously. Now I want to try it. Sounds fun.

I love to geocache! Ever since losing GPS signal on my phone, and wandering around in a swamp for a few hours, I still download a file to my handheld GPS, just in case.

Too expensive ~ should be free.

It is free - 3 caches a day.

Geocaching live is ok, but have a look on maaloo geocaching. There you have osm offline maps and great developer support!
Btw: currently 1'979'972 caches.

http://www.windowsphone.com/en-us/store/app/maaloo-geocaching/980a5df9-3327-4860-8c5e-47b8cdd80628
forgot the link

its so funny you posted this article. this weekend we were up in the mountains and my friend was starting to obsess about it and had a homebrew app on his pre 3. i had done al ittle geocaching back in my pre - days so i found this app and geocaching plus and we tore up the mountains a bit. tons of fun!

I go geocaching all the time with my two children. Great activity alot of fun. Sucks that you only get 3 saved with the basic.

So get maaloo geocaching. There you won't find "member caches" and so on, too, but you'll find more. Geocaching plus uses the same "illegal" ways to retrieve data from groundspeak as c:geo on Android

I do the same with my kids. On the price...They just updated the app recently. So, at least they haven't abandoned it. I was happy to spend the $10 considering the amount of enjoyment I got/still get out of the app.

EDIT: Scratch what I just said. I didn't see the last paragraph. Agreed it is too expensive.

I agree with the others. Geocaching is a great family activity.

Maybe there's some hope for this platform

Geocaching is a lot of fun. I've been doing it for years.
It sucks a little bit that I bought the $10 app for WP just a month before they discontinued it for Geocaching Live. It's still listed, so I installed it on my WP8 device, but they won't be updating the app.

I also bought it, then they discontinued it. I didn't know you could still install it on a wp8. I'll be doing that when I upgrade.

I used to go with a small Garmin yellow GPS.... but, after having 2 little kids, we dont go any more...

Great fun!

http://forums.wpcentral.com/nokia-lumia-822/212633-geocaching-your-822-a.html

Windows Central Newsletter
Thank you for signing up to Windows Central. You will receive a verification email shortly.
There was a problem. Please refresh the page and try again.