Our first look at Star Wars Battlefront II is coming on April 15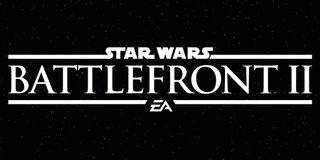 Star Wars fans, it's time to rejoice: our first look at Star Wars Battlefront II is nearly here. EA announced today that the sequel to the popular online shooter will make its debut on April 15.
Why April 15? That just so happens to coincide with the tail end of Star Wars Celebration, an annual conference for diehard Star Wars fans. The reveal itself is set to take place at 11:30 a.m. PT / 2:30 p.m. ET at a dedicated panel. Along with a full panel with the game's developers, the reveal will show off the game's first trailer.
It's not clear what portions of the Star Wars story and universe the sequel will focus on, but there's plenty of tantalizing material that still has yet to be covered. And while the first game drew its fair share of criticism, it's likely we'll see DICE carry feedback from the first game over to the sequel.
Windows Central Newsletter
Get the best of Windows Central in your inbox, every day!
Dan Thorp-Lancaster is the former Editor-in-Chief of Windows Central. He began working with Windows Central, Android Central, and iMore as a news writer in 2014 and is obsessed with tech of all sorts. You can follow Dan on Twitter @DthorpL and Instagram @heyitsdtl.
Is it actually a complete game or a bf4 mod

Not quite sure what you're getting at, Star Wars Battlefront is a game in its own right 😐

It bloody is .... wait what are we disagreeing about?

Your right. Battlefront was a star wars game with a battlefield soon. God please don't do that again. Battlefront was terrible compared the the older games.

This game was nothing like BF4, If anything, BF1 is a mod of this!

Let's hope it can live up to the original Battlefront II.

Damn, I bearly played the first one.

Damn, I bearly played the first one.

Damn, I bearly played the first one.

Damn, I bearly played the first one.

Damn, I bearly played the first one.

Damn, I bearly played the first one.

Damn, I bearly played the first one.

You must have been too busy septuple-posting here 😉

Sorry about that... Wtf ever that was, wouldn't even allow me to post an apology after.

Missed the opportunity to reveal it on May the 4th ...

Still no single player campaign?

Apparently there will be both single player and coop campaigns.

It will still be a horrible experience for single players like me. But hey! You'll have the unique opportunity of paying 70€ for half the game and another 70€ for the DLC that contains the rest of it! Hurray!

Hells yes ... my boys and I still play Battlefront almost daily, we've been hanging out for a look at Battlefront 2! Rumour has it, there will be a single player campaign, the lack of which being one of the things people complained about most with the first (me included). At least, I complained right up until the point I was neck deep in an online 40 player Walker Assault round as a rebel, nearing the end of the third phase ... that was my "holy sh*t, this is great!" moment.

This has been my favorite game for awhile.

By your 'boys' i presume you have under 18's playing it. My daugther (14) and cousins can't play battles as EA/DICE enforces the age of the player when the xbox live account was created. EA/Respawn let her play Titanfall (16) no problem, but won't let her play SW BF (16) Am I missing something?

Correct ... 2 x 9 year olds. Their Microsoft accounts were created years ago, right before the public release of Outlook.com (wanted to get them decent email addresses), year of birth 2007. When I created their EA accounts and linked them to the Microsoft account, you're correct: they couldn't get on. I changed their year of birth on the Microsoft account to 1997, did the same on their EA account, unlinked and relinked, and it lets them play. We're using an XBox Family Account ... when the game is first loaded, I have to connect to the online servers as the primary account holder, after that I disconnect and they connect using their own XBox accounts. Took a LOT of mucking about to get all that working as expected. Far harder than it should have been. This is the ONLY 1st/3rd person shooter they play, and I only let them play it because there's no blood/dismemberment etc., and it's "STAR WARS". Low level violence ... no worse then letting them hack pigs in Minecraft, as far as I'm concerned.

I don't have enough time to play games..I have to choose wisely.

Yeah, alright EA. Fool me once, shame on me; fool me twice .....

They need to just an infinite warfare and relase a remastered version of the original battlefeont 2 with this game

Feels like Battlefront 1 only just came out.

WIll it have clone wars in it, or just the OT AGAIN to appease all the prequel haters?