Fitbit app for Windows 10 adds support for Microsoft HoloLens (and Xbox One)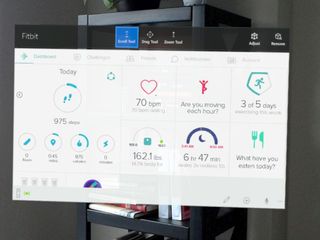 The official Fitbit app for Windows 10 has received a new update that adds support for the Microsoft HoloLens headset. Now, users of the company's fitness wearable can check out their goals and more directly from the headset.
We are not exactly sure who might use the Fitbit app on their HoloLens, but the support is there for those few folks that own one. The app update (via Windowsblogitalia) also adds the ability to set a landmark image, when unlocked in an Adventures challenge, as a background or wallpaper. There are also some improvements to the performance of Dashboard celebrations and graph pagination for touch and mouse control, along with some unnamed bug fixes.
Update: We can also confirm Fitbit is now available on the Xbox One as well. However, we're told this is not supposed to be the case as they have more work to do on the Xbox version. Stay tuned!
Download Fitbit from the Windows Store (opens in new tab)
Windows Central Newsletter
Get the best of Windows Central in your inbox, every day!
Fitbit app is also showing up on Xbox as a UWP Posted via the Windows Central App for Android

Healthvault integration gets axed but Fitbit has time and resources for this????

They literally ticked a box to enable it. There was no dev work. Welcome to UWP.

Ha ha ha... That's the beauty of this platform.

I won't go into details on this issue, except to say that these areas belong to different development teams. The Windows platform team has been really busy this year. We recently launched the Adventures feature, support for our new trackers Charge 2 and Flex 2, Dashboard Sharing, Accessibility improvements, Sleep Consistency and many other features. :)

What is the Dashboard Sharing feature that you mentioned?

Healthvault integration failed most of the time for some reason. In the support forums, Fitbit blamed MS, MS blamed Fitbit. I guess they just gave up on making it work. Making an existing app work on Hololens is probably just a matter of flipping a switch.

Hellz Yeah! Cause they can!!!

So, given the technology to create holograms.....and they've created a 2d report/graph interface? Hmmm.... Training fitness apps would be neat couple with the Hololens. One of the issues I had with workout/yoga videos is trying to watch what they are doing and do it. With Hololens strapped to your head, you won't have to keep looking back at the instructor or screen.

In fairness, they didn't create a 2D interface for HoloLens, they built their desktop app using the universal windows platform so that it is available on HoloLens, in essence for free. I have used "Perfect Workout" a few times on the HoloLens, stayed in place pretty well in spite of jumping around, etc. You still had the experience of needing to look up at a screen, but the nice thing was being able to grab the screen and move it to whichever part of the room was more convenient to be facing at the time.

In an early HoloLens demo, they showed the ability to make a window follow you around. Is that possible? Or is that up to the app developer to implement?

@jessicator That's not currently possible for the 2D apps in the holographic shell. The closest at the moment is "Hey Cortana, Move <app name> here (gaze at the spot you want the app to move to)". After saying that, the window will fly from where ever it previously was into your current field of view.

Wish they supported the band.

Awesome, adding a feature that the average person won't utilize instead of investing time and resources into activating GATT Servers so FitBit models can receieve Text/Email and other notifications from Windows 10 Phone. makes sense to me...

That's on Microsoft not Fitbit. I expect GATT support for Insiders next few months.

I don't know. It's just another 2D app for Hololens. I thought the point was to re-imagine apps in a 3-D space.

Where it makes sense, yes.

I just wish they'd better use the built-in Bluetooth in Windows laptops and Mobile. I have to use their dongle on every laptop I have in order to sync. I don't think there's a "use Bluetooth" button...

Our Windows 10 app (UWP) does work with native Bluetooth (as does our Windows Phone 8.1 app). Just remove the dongle and force a sync in the app. If Bluetooth is enabled the app should prompt you asking permission to pair with the device. Once done it can sync. Make sure you don't have another phone (iOS or Android for example) already paired for syncing with the device. This can "hog" the connection to the tracker and prevent other Fitbit apps from communicating with the tracker.

Microsoft should just buy Fitbit.

Thanks Daniel, here all this time I was under the impression that the GATT servers were already available and FitBit was dragging their feet. Thanks for the clarification and the possible due date for Microsoft's activating the servers. I was so close to getting a Vector watch just for the notifications and WP10 integration, I'll hold off for a few months...

It was GATT for client, not server updates. The common statement is "the server update is expected by the end of the year."

How does Fitbit afford continuing Windows development but Snapchat, Google and Chase bank cant be bothered?

Because Microsoft is paying them.