Fitbit releases universal Windows 10 Store app for PC with Xbox and Phone coming this year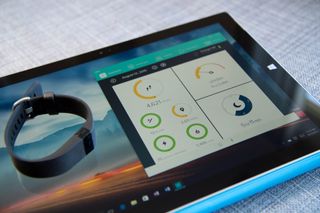 Fitbit today has released their brand new universal app for Windows 10. The app is now available for PCs, tablets, and laptops running the new Windows 10 operating system. Moreover, later this year, Fitbit is releasing the same app for the Xbox One and Windows 10 Mobile, letting users have the same experience across all devices.
We have been running the Fitbit app for Windows 10 for a few days now and are coming away very impressed. The important takeaway is that this app demonstrates the power of the universal Windows 10 app model. Additionally, the app is very well designed and simply looks fantastic. Here are the main features and our hands-on video.
From the press release:
Fitbit Announces New Windows 10 App, Designed to Motivate with Enhanced Features
Redesigned live tiles let Fitbit users access data faster to help them reach their health and fitness goals; enhanced universal design provides intuitive, engaging experience across all Windows platforms
SAN FRANCISCO – August 13, 2015 – Fitbit, Inc., the leader in the connected health and fitness market, today announced the Fitbit for Windows 10 app, delivering a more engaging and fluid app design that lets users personalize the way they interact with key pieces of their health and fitness journey across all their Windows devices. Through new Windows 10 app features, people at all fitness levels can now more easily access and log their most important personalized data in real-time. Fitbit helps users track their steps, activity, exercise, food, weight and sleep, providing the information they need to more successfully reach their goals. Fitbit users can download the Windows 10 app from the Windows Store to their desktop and tablet. Fitbit for Windows 10 will be available for Windows 10 mobile and Xbox One later this year.
"For a Fitbit user, health and fitness progress helps them make timely decisions throughout the day – from what to order for lunch, to take the stairs instead of the elevator, or what time to go to bed," said James Park, CEO and Chairman, Fitbit. "As we do across all platforms, we continue to design features that empower people with information and motivation to set and reach goals with engaging experiences through our mobile apps. With the new Windows 10 app, we worked closely with Microsoft to give Windows users an even easier way to access, utilize and interact with the information that matters most to them, across all their Windows devices, to further support them in their fitness journey."
"These key features illustrate the continued innovation of the Fitbit platform, which combines connected health and fitness devices with software and services, including an online dashboard and mobile apps, data analytics, motivational and social tools, personalized insights and virtual coaching through customized fitness plans and interactive workouts. As a pioneer in the category and the first in the industry to bring direct mobile syncing to the Windows Phone platform, Fitbit products have broad mobile compatibility with computers and more than 200 Windows Phone, iOS and Android devices, plus integration with third‐party apps further extending its reach.
"The new Fitbit for Windows 10 app is available for free and is compatible with Fitbit's family of products, including the Fitbit Surge™, Fitbit Charge HR™, Fitbit Charge™, Fitbit Flex®, Fitbit One® and Fitbit Zip® activity trackers, as well as the Aria® Wi-Fi Smart Scale. To download the free Fitbit for Windows 10 app, please visit the Windows Store."
Fitbit for Windows 10
Updated live tiles that have been redesigned with more information and new notification types to let users quickly access their most critical data to better enable them to reach their personalized health and fitness goals.
Quick actions to help users log and track their health and fitness activities, such as food, water intake and exercise, as well as set alarms more efficiently with the simple click of a button, encouraging more frequent logging.
Cortana support allows users to speak commands on Windows 10 tablets, PCs, and mobile phones – such as "Fitbit, I ate chicken for dinner" or "Fitbit, I went for a three-mile run" – for automatic and easier food and activity logging.
Notification center now consolidates all users' important notifications and messages in a dedicated tab making it effortless to review progress, or stay motivated with cheers, taunts and encouragements from friends and family.
Enhanced syncing with Bluetooth on all Windows 10 devices with supported hardware provides users with quicker access to their health and fitness stats, so they can make timely decisions to reach their objectives.
Universal design and continuum support allows users to customize and effortlessly view their most important personalized data in real-time with an enhanced visual experience adjusted for whatever Windows 10 device they are using.
The Fitbit app can run at full screen or windowed including custom sizing. As demonstrated in our video hands-on, when you shrink the window small enough it turns basically into the phone app (the Twitter app does this too). This where the strength of Windows 10 app model comes into play as you can first-hand see how a Universal Windows App behaves and auto scales according to the display. This design also means that you can leave the app floating on your desktop akin to a chat or messaging app or let it reside in the Task Bar.
Native Bluetooth syncing means you do not need the Fitbit dongle plugged into your USB port. Instead, the app pairs and syncs automatically with Windows 10, allowing all-day syncing to your PC.
The app also gets notifications, letting you know when you are approaching your step goal and various achievements. It behaves much like the phone app and ties nicely into the Action and Notification Center in Windows 10.
Other bonuses include the new Live Tile, which I recommend you run on Large to reveal your full details. The Tile also flips for incoming messages or Challenges.
Wrap up and Download!
Overall, Fitbit has done an excellent job of utilizing Windows 10 to its fullest. From Cortana support to Live Tiles to universal scaling the app is a must-have for those with a Fitbit accessory. Watch our hands-on video or just go ahead and download the app yourself.
Download Fitbit for Windows 10 (opens in new tab)
Note: If the update is not yet live for you, give it some time to populate the store and keep checking back!
Let us know in comments what you think!
Windows Central Newsletter
Get the best of Windows Central in in your inbox, every day!
Daniel Rubino is the Editor-in-chief of Windows Central, head reviewer, podcast co-host, and analyst. He has been covering Microsoft since 2007 when this site was called WMExperts (and later Windows Phone Central). His interests include Windows, laptops, next-gen computing, and for some reason, watches. Before all this tech stuff, he worked on a Ph.D. in linguistics, watched people sleep (for medical purposes!), and ran the projectors at movie theaters because it was fun.
itshappening.gif Universal apps, here we go!

Umm, Fitbit has had a universal app for ages, working on tablet, phone and PC via W8. Said app has also been available on W10. This is an app update, but it is not news that this is a universal app.

Universal ​for PC/PC tablet only, so what is universal right now?

You still have to adjust UI, you usually cannot use split-screen for phones, but everything else is the same, well almost. But it's much better now than the universal apps for 8.1.

Last I checked, Windows 10 Mobile is not out yet. Insider Preview (beta) does not count. Name me one third-party Windows 10 Mobile app available now in the Store. I'll wait. Hint: Devs don't release apps for beta OSs due to the ever-changing nature of the target. They wait until the tools and OS is finalized before publicly releasing.

Without sounding like 'that guy', but isn't the Audible app universal? I mean, sure, Windows 10 mobile is in beta but they have a full release version available to download for anyone testing the software. Or are you talking about Windows Phone 8.1 specifically?

This is unrelated to the prior post. But I just wanted to say except for a couple of them so far, the comments section on this article is a welcome change for the better. Such positivity. :) I've been missing that around here lately.

If Android apps ported through Project Astoria were Universal Apps then that would have been a good thing.

Such a gorgeous, well-done app. If this is the future of Windows 10 apps, I'm very excited.

Yee, count of me with this. :)

Not available in Brazil lololol :D where were you all this time? :D

hahahaha at least on Desktop is available here. Downloaded, even I cant find one band to buy here.

Let's hope so. So the question now is FitBit or Band?

I use both, so depends. Obviously Band 2, due in November, will likely be a big deal.

Both!? You must be really fit. Sounds like it's time to go shirtless in that avatar pic. #HelpFightObesityByBringingSexyBack

Not for nothin' but for my age I am kind of ripped. 12% BF and 150 pounds lean :P

Is this about to get weird? Lol On a serious note, I am looking forward to what Band 2 will offer and design. One thing for sure, I would like to see an improved fastening mechanism. I started out liking it, but as a daily device it can sometimes be a pain in the butt. I'm glad to see Fitbit continue to support Windows, though.

Even if it arrives... This beautiful app is influencing my decision

This app looks great. Makes the wait for the band 2 a little bit harder, although I hope the accompanying app for it will be just as nice.

And look! No hamburger menu! It is possible :)

Yes, a fitness app is no place for a hamburger!

That's the nature of Universal Windows apps. The adaptive controls available for developers and the Universal Windows Platform (UWP) make all this posible. This is huge compared to other platforms in which you have to code the same app multiple times in order to have it run on multiple device platforms. Most people confuse UWP with code sharing, a practice commonly done in programming. This isn't even remotely the thing.

Let the Universal app revolution begin!

This has been a universal app for a rather long time. Not really news or the first...

Universal 8.1 apps != Universal 10 Apps

Not even close to be the same thing.

Window 8 "universal apps" were just the PC and phone app bundled togeither. So no, that was not really the case.

Awesome. Hopefully the first of many!

TubeCast pro also done very good for our OS ,for me world's best Youtube App on earth yet as compared to any OS

Not universal but the new Hyper for youtube are one step better for Pc i think,,only my five cent

I don't think Hyper can cast though, and their rubbish PC app put me off ages ago.

The updated hyper is looking pretty awesome... I'm thinking it's universal, but I'm not sure

Love this App , really happy to see Fitbit has taken a advantage of the beauty of OS . They are up-and-coming . Great Windows 10


This looks great. I have the 8.1 version of the app. Do I need to install a new app or will that get updated to this version?

update the app https://www.microsoft.com/en-us/store/apps/fitbit/9wzdncrfj1xx

Thanks, I just always have an error when I try to update... I good to try later :)

Thank you for the info Aakash and Daniel.

Love that apps are starting to use colored headers! WP needs more color and that is one of the things I like most in Material Design.

Yup, it's up to devs to make that happen. Otherwise, defaults to white.

Hope to see more apps doing this. OneDrive would be gorgeous if so... Instagram too.

With XAML you can theme your app anyway you want. It is what makes developing for UWP a joy.

Desktop isn't dead if we get more good looking apps like this!

Just bought my wife a FitBit for her birthday yesterday! She is going to love this. She's asking me if I still want the Microsoft Band still.... Do I? Should I? My gut says if I want an exercise wristband, FitBit is the way to go (more established). But my Lumia 920 (future Talkman-owner) makes me want a MS Band for the additional integration. Worth it?

Band 2 this fall, so you may want to wait on that to see what it's like. I still think Fitbit has the better social stuff, Challenges, and community. In fact, I wish the Band 2 would tie into Fitbit.

Oh good call out! Thanks Daniel! Man... this fall... #Excited I finally feel like a next gen upgrade is coming for my L920. Been contract free for a long time now, just waiting for the right time.. SOON! (I hope!)

Band 2 with Fitbit integration would catapult it to the next level. I guess the question, Daniel, is would this even be on the table for the 2 companies? Does allowing Microsoft Band integration hurt Fitbit device sales - especially the higher end devices like the Surge and Charge HR?

Depends if the co-brand, co-sell it and each gets a cut. I have not heard of such a thing happening, though.

They should really push for more Xbox Fitness integration with the Microsoft Band and Fitbit. That would be killer.

And fitbit continues to show support while jawbone continues to flounder in empty promises. Fitbit FTW... Pending Mixrosoft band 2.0 release.

Can't open it for some reason - SP3. It seems to crash immediately (within a 1-2 seconds). Anyone else having this issue?

Had to uninstall, then reinstall. Update seemed to occur on its on, but was not operational. Great app! Very well done!

Now I'd they can just get syncing with Healthvault to work consistently...

Why would spit bit I mean fitbit release a app for Xbox and Windows 1O Mobile . When the universal app they just released is for all the Windows devices in the Windows ecosystem. What ever some think they know about the old Microsoft is obsolete today is the New Microsoft and I'm up in it to the fullest. A UNIVERSAL APP is for PC , TABLET, SURFACE HUB , I O T , XBOX , & MOBILE

Xbox - dunno, but still cool
Mobile - should be the most obvious

(1) Windows 10 Mobile apps are not yet ready for third-parties; the OS is not yet officially released (2) Xbox One doesn't even have Windows 10 yet, and it won't start getting it until Sept (test) and in the fall for official. (3) Apps still need to be re-worked a bit for Xbox One and Mobile.

Fitbit, always in the front line and showing support. What a great company ! So glad I bought the Surge months ago, such a cool little device.

I purchased the Charge HR and still do not get notifications from my 920. Not so much of a great company imo.

My flex is always disconnecting from my L920, I think the Bluetooth stack on wp8.1 is unreliable for Bluetooth 4. Background syncing is not reliable, without that notifications are pointless. Not sure whose fault it is..

It's Universally happening!

Is the Bluetooth connection any more reliable under Windows 10?

Sorry Fitbit, you've lost a customer. I purchased the Charge HR in Jan. and I still don't get notifications on it like android/ios users do. I spent the same amount and get a lackluster experience

@Daniel Rubino was this Fitbit's fault or an OS limitation?

This has been explained before. A lot of the blame goes to Microsoft and the poor BT APIs for developers, making the task of enabling this feature rather difficult. They also have been focusing, rightly IMO, on making the Windows 10 app ready for the OS release. There is a reason why native BT syncing works so well in the new Windows 10 app.

But I wonder if, when Fitbit releases the W10 mobile app, if it will support call/text notifications

All my stats on the big screen without the dongle with the great universal Windows platform, yes!

Fitbit has always been a good supporter of Windows and Windows Phone.

you support my platform and i support you. Got my new fitbit One today. Old fitbit stopped working. could have gone with someother trackers, but stayed with them as they support my platform. Haven't tried the new app but great job fitbit team.

Yeah I got a Misfit and all they have done is make excuses since December of why their app doesn't work. I gave up and threw it in the drawer.

I've had a Fitbit Flex stop working on me twice and they replaced both free of charge. I think I'll stick with the company that does that for their customers. Btw I got the Fitbit in Dec of 2013... And just had a replacement sent out a few weeks ago...

I had replacement flex in January, mine broke one year to the day of buying it. The replacement flex, the battery only lasts a few days, so maybe I'll see if they'll replace it again. I must say their support is good, but would prefer a device that just didn't break. Are they good reliable devices, will the more expensive ones last more than a year without breaking?

is it using objective-c code? that will explain why wp is not upported for now, or are they just waiting for all wp8.1 to be upgraded to 10?

No, it is probably using C#...

And for Xbox ain't that something

Now Fitbit & Microsoft just need to partner up so that fitbit & microsoft band/health can share data between the 2 services!!!

Woo, I haven't dropped a comment on here in ages, but I had to when I saw what came in this update. The app design is absoultely gorgeous and should help usher in a new design era for Windows 10 apps, I hope. This is everything a Windows 10 app should be and I know the Xbox and Mobile apps will compliment it nicely.

Is Microsoft Health even a universal app? Don't think it even has a tablet client.

Microsoft dropped the health app

No, they haven't. They dropped the Health & Fitness app.

Can be syncing with Runtastic?

Seeing as the Xbox isn't getting UWP app support officially thus year I find the headline hard to believe...

Yes it is in November. Windows 10 hits xbox one in November. So all windows 10 apps can come then.

Technically you're correct. It's not happening though. If I were a betting man I'd put money on the appstore opening up mid-spring '16 ;)

We went to Gamescom last week where Microsoft said Windows 10 hits Xbox One in November. So why isn't it happening?

Why? Well. I dunno. Ask Microsoft. You're likely to get a non-answer as a reply which is what we were given. I'm not allowed to discuss the specifics, but this is happening in stages. Win 10 first, then UWP app support in preview for developers unto launch next spring, at which point no new Durango apps will be allowed in the Xbox store.

It is true the Xbox One app store may not launch this year, I have heard the same. Still, we will have to wait and see what happens. Bigger point is it is happening, just the timetable may be a bit behind.

That also gives devs time to get used to the tools and time to test on XBOs (which is important as these apps are getting special service from MS for now).

Here we go! Good job Fitbit..

I was never interested in those products... But only for this news I want to buy one just to show them support for their support.

Its happening. Universal app. Xbox included. No extra coding across all w10 devices.

That's not entirely true. It requires limited coding so a developer can choose go ignore a platform while still making a Windows 10 app

Actually, it doesn't _require_ coding, however most apps will definitely improve by having some extra time spent on the UI portion making sure it makes sense for that specific display type/size.

This link takes me to the Wndows8.1 version. Is it avalable on the store for anybody else?

Looks great but seems to crash on launch for me (I open the app, see the window frame and it immediately closes). Any ideas on how to fix it or is it a developer issue?

Commenter above said uninstall and install solved the issue.

Somehow missed that. Thanks! :)

First Audible, now Fitbit! These appa are really showcasaing the possibilities of Universal Apps!

I think I may actually buy a fit bit. I didn't realize it did sleep tracking. Windows 10 support is just gravy now.

The future is coming. That Xbox One with Kinect for Cortana integration is gonna be awesome. One thing that I like...MS will have Cortana on all their platforms to make NUIs a thing. Only a matter of time.

I just bought a Nokia 1520 this week. First time using Windows phone in about 2 years. I have to say that the design language lf universal apps has me excited to make a Windows phone my primary driver by the time the 950 XL releases.

Looks like it's not giving a live heart rate, same limitation on the WP8.1 App.

I can't wait to use it with my Charge!

Fitbit companys like all companies should company

Not sure how this is new. FitBit has had a universal app for quite some time already. The interface looked exactly the same too. Additionally, I also got the updated app in WP8.1 today with the same changelog.

This app is absolutely gorgeous! I love where this is headed!

That is great. now, please convince Garmin to support Windows 10 + Mobile as well...
Windows Central Newsletter
Thank you for signing up to Windows Central. You will receive a verification email shortly.
There was a problem. Please refresh the page and try again.