Fitbit ships more than 1 million each of its Blaze and Alta trackers in first month of availability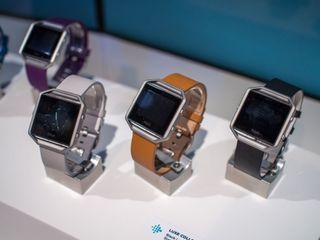 Fitbit has announced that it shipped 1 million of its Blaze fitness-focused smartwatches in its first month of availability. The company also shipped 1 million of its Alta fitness trackers since its debut on March 9.
The Fitbit Blaze is a smartwatch that focuses first on motivating you to be more healthy. It features PurePulse, which continually monitors your heart rate through your wrist, along with SmartTrack, which automatically recognizes when you're exercising. As for the Alta, the slim wristband, also features SmartTrack, along with reminders to get moving after periods of inactivity.
You can find both devices on Amazon. The Alta is available for $129.95 (opens in new tab), while the Blaze can be had for $199.95 (opens in new tab).
Press release:
Fitbit Ships More Than 1 Million Fitbit Blaze and 1 Million Fitbit Alta Devices in First Month of Availability
Fitbit's Newest Devices Debut as Top Sellers on Amazon
March 31, 2016 09:00 AM Eastern Daylight Time SAN FRANCISCO--(BUSINESS WIRE)--Following 18 awards at CES, Fitbit (NYSE:FIT) announced it has shipped more than one million Fitbit Blaze™ devices in its first month of availability, exceeding internal Fitbit sales forecasts. During this time, Fitbit Blaze has captured the ranking of #1 bestselling device in both the smart watch and heart monitor categories on Amazon.
Fitbit also announced that more than one million Fitbit Alta™ devices have shipped since U.S. retail availability began on March 9. Fitbit Alta is also currently one of the top selling devices in the fitness tracker and pedometer categories on Amazon.
Highlights of the consumer response to Fitbit Blaze:
More than one million units of Fitbit Blaze have shipped in the first month of retail availability.
Fitbit Blaze has earned more than 1,200 customer reviews on Amazon in the last month, with 83% giving Fitbit Blaze a 4- or 5-star rating.
Highlights of the consumer response to Fitbit Alta include:
More than one million units of Fitbit Alta have shipped in the first three weeks of retail availability.
Fitbit Alta is one of the top selling devices in the fitness tracker and pedometer categories on Amazon.com. Nearly 78% of customer reviews on Amazon give Alta a 4- or 5-star rating.
"At Fitbit, we continue to focus on developing innovative and motivating fitness-first products that our customers love and that help them achieve their health and fitness goals," said Woody Scal, Chief Business Officer of Fitbit. "The positive response we've received to Blaze and Alta demonstrates our continued ability to innovate and drive strong demand for Fitbit® products, which is what has made and kept us the leader in the global wearables category."
Windows Central Newsletter
Get the best of Windows Central in in your inbox, every day!
You got one? Sweet. It is the one I've been looking at.

Why are we getting sales updates and number for FitBit products on a Windows forum?
We looked into Blaze and its lacking too many features for the price. Although now that I've had my Band 2 and experienced the strap tearing (got it replaced free) and knowing its a known issue I'd probably choose something else. Even if the Band 2 offers more features than its competitors. Its really a shame that in every division Microsoft seems to fail at something so simple.

Windows is dying. I was thinking new name would be Microsoft Central but seems it will be Amazon Central.

Not saying the B2's band is not a design flaw but I've worn my band "loose" and haven't had the tearing problem. Loose = it can move a bit up and down my wrist a bit w/o losing data, is not annoying and I see half or more of the locking slot after it is on my wrist.

I've had no issues with my band 2 and purchased it on day one. I wear it every day including now and in also on build 14295 Posted via Windows Central app for Windows 10!
Proudly rocking my Lumia 1520!

FitBit has great support for Windows on desktop and mobile and so are important partners to Microsoft and a great choice for Windows users.

I was getting mine replaced gratis, but the one I was sending in got Shanghaied

It's too bad neither work with WP 8.1.

These are nice looking but I don't need all that fitness shít, I just want a watch with smart functions.

First get fitbit devices smartwatch funkcions, like notifications or its worthless...

I bought my wife the Alta, however it's plagued by Bluetooth connection issues on all phones including windows phone, iPhone, and android. Check fitbits forums. We're giving it two weeks before it get returned. Fitbit says their working on an update. The only way we can sync is in the computer via the dongle they include. The funny part is, is that the regular flex works fine. Posted via Windows Central app for Windows 10!
Proudly rocking my Lumia 1520!

Fitbit really dropped the ball on Alta not working with Windows phones. I'll return mine by the 45 day return date if no app working by then...

I have bought the Blaze, but it's not fully compatible with my 950 XL. :( You can't use the "connected GPS". Posted from Windows Central for Windows 10

"connected GPS" is complete crap right now, it's accuracy is way off for me using Nexus 5X. The built in tracking in the App works flawlassly but you don't get any info on the Blaze when doing it that way.

Switched from fitbit to ms band2...and found it to be way more accurate and have tons more features...not tons but a considerable amount... So far wondered why they didn't put a temperature sensor as well or a barometer.... About the tearing...not sure if its due to bad use...because I do crossfit as well as other stuff and at max I have gotten quite a few scratches but no tears... Are you people doing survival training or something alike???

My Band 2 is tearing as well. I am all day long in an office and for sports I go running. I think that's more than normal use. It's just a design fault because I really can feel the plastic in the band giving a sharp edge. Maybe depending how big the wrist is, it will differ from person to person. I am getting now device #4 and I have to say this product sucks. HR working like crap and every time something else is breaking down. Microsoft did a very poor job.

I didn't have the Band 2 but I've owned 2 Band 1's and within 6 months for each of them, they began to fall apart. I won't own a band 2. The materials look to be about the same and based on reports, these fall apart quickly too. I hope this Blaze makes the grade.

I've got a Blaze and it SUCKS!!! My health insurance gives us a break and bonus money if we are active. They will track Fitbit data so I decided to get the Blaze since it's to closest thing they have to a Band. I like the Band way better. The people giving these 4-5 star reviews are idiots. The "connected GPS" function does not work at all, the distance is always completely off. The weird thing is that if use the Fitbit App to track your run, it's right on, but using "connected GPS" it's way off even though it uses the same GPS in the phone. Also, the Blaze pulse tracker is limited compared to the Band. I get odd results when running with the Blaze, there are large peaks and valleys and it will never record a pulse over 160. I don't have a chest monitor to compare results but I feel that the Band does a better job of pulse monitoring. Sleep monitoring is way better with the Band, it doesn't seem like the Blaze monitors your pulse the same way as the Band does during sleep. To me the Blaze is complete style over function, it looks nice and lays flat on you wrist. Battery life is great, but I'd rather have reliable working GPS tracking, whethet it be a built-in one or better working "connected GPS", and have to charge it more often.

And they have also a frequently updated application. Lumia 640 XL

The alta is actually $179

Where is it 179? I'm seeing it on Amazon for 199. From Fitbit?

Would love someone to make an article comparing the use and results between the Blaze and Band 2. Yeah, I'm a brand new member of the strap-tearing victims. And I'm in Brazil, won't be easy to replace it :-/

Shipped or SOLD? Sounds like a MS Xbox one line...

My alta is great but it will NOT sync with my windows phone. I have contacted Fitbit support and they don't have any info as to when this will be fixed
Windows Central Newsletter
Thank you for signing up to Windows Central. You will receive a verification email shortly.
There was a problem. Please refresh the page and try again.