Fitbit Tracker beta app gets updated with more functionality and options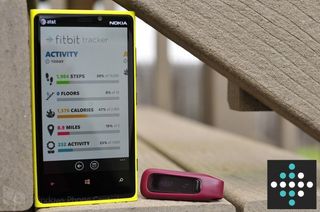 Fitbit Tracker, which was released earlier this month in beta status, has been updated to version 0.9.5.0. Along with the usual general bug fixes, the latest version also resolves a known issue where imported activity times display with way too many digits. It also adds some great new functionality and options.
The most significant addition is the ability to manually enter sleep times, as well as view your sleep logs and patterns. While many Fitbit users may not use their devices primarily for the sleep capabilities, any time you can do something from your phone, rather than from a website, it's progress.
And speaking of not using certain functions, v0.9.5.0 now offers up the option to hide/show whichever Dashboards you choose. Now you only have to cycle through the ones you use or find relevant. And if you use Fitbit Tracker to pin your Goals to the start screen as tiles, you now have the option to make those tiles follow your phone's theme.
Fitbit Tracker developer, Shane Chism, has done a fantastic job with his app. It's easily become my favorite Fitbit app. If you use Fitbit, I highly recommend you get it here for free.
Windows Central Newsletter
Get the best of Windows Central in in your inbox, every day!
Great! That's what I say..

I'll update my wife's phone tonight. Thanks for the sleep addtion as requested (I'm sure it wasn't done just for me but nonetheless).
Did you add the ability to show the # of flights when the tile is at its smallest vs the percentage?

I got a question,

does the Fitbit App only works with a Fitbit flex ?

Nope, should work with any of them. I have a Fitbit One and use the app.

I don´t have a flex and a One neither. So this App isn´t using the smartphone sensors ?

No, pulls the data from fitbit.com that pulls the data from your fitbit device thru the fitbit sync app thru the fitbit usb dongle.
For this app to be useful, you'll need a fitbit device.

The Fitbit Flex is being sold via Amazon in the UK from the 3rd June. Got mine on pre-order. Will be getting this app to with for sure. Keep the updates coming developer.

Why are you buying Flex? It looks inferior to Fitbit One.

This app is fantastic, and the continuous, substantial updates are just great. Very impressive for a "beta" app.

If it doesn't sync, than it's as worthless as tits on a frog.

It's impossible for FitBit to sync with Windows Phone. Windows Phone 8 devices so far have the capability but Microsoft hasn't integrated the proper stack to make use of the BLE (Bluetooth Low Beam, aka 4.0). No clue when that is coming.

Perfect, im actually waiting for my fitbit flex to arrive in the mail in the next couple of weeks. Nice to have someone create this app!

Contrary, I am thinking of getting the Fitbit Flex - precisely for the sleep part
(i'm already super buff so don't need the fitness part ;) )

Nice app! Would like to be able to input food and water consumption. Syncing through the app would rock to.

So now BT4.0 is in Amber any news on connecting to the fitbit directly?
Windows Central Newsletter
Thank you for signing up to Windows Central. You will receive a verification email shortly.
There was a problem. Please refresh the page and try again.