Fitbit updates their Windows and mobile apps with new Exercise Sharing feature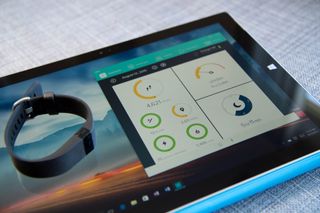 Our favorite exercise and fitness tracker Fitbit is continuing their strong support of Windows 10 and Windows Phone 8.1 with a new update today for their respective sync apps. Not only are there some usual bug fixes but new additions as well keeping parity with other platforms. The update comes just two weeks after Fitbit's release for Windows 10, which is an exceptional app.
Version 2.1.289.0 (Windows 10) and 2.1.288.18800 (Windows Phone 8.1) should be live in the Store in the next few hours. Need the full changelog? We have you covered.
Fitbit update for Windows 10 & Windows Phone 8.1
Exercise Sharing
Capture epic moments and inspire friends with Exercise Photo Sharing
Take a photo or choose one from your library and share it with your favorite social network
Each photo is overlaid with your stats from that workout
Scale and crop your photo to make it look just right
Friend Finder
Find friends more easily with the updated friend finder tab view
Activity Graph Updates
See your goal line on the activity graphs
Bug Fixes and Improvements
Fixed a variety of issues reported in the previous version.
Exercise sharing is the new social. It is a rather neat way to not only humblebrag about your achievements but do with a photo to add some personalization. Static numbers are one thing but adding a picture is unique. Interestingly, the Microsoft Health app is getting this feature too so expect to see these types of sharing abilities on your Facebook and Twitter timelines soon.
Friend finder is pretty obvious, but it is one of those things that makes Fitbit so popular: the ability to compete with and track your friends and their exercise habits.
Head to the Store now to check for updates or grab the links below. Oh and if you are wondering about Windows 10 Mobile and Fitbit the company has that in the late stages of development so expect it in time for the official Windows 10 Mobile release.
The Windows 10 app is now live and the Windows Phone 8.1 version should be going livein the next few hours.
Daniel Rubino is the Editor-in-chief of Windows Central, head reviewer, podcast co-host, and analyst. He has been here covering Microsoft since 2007 when this site was called WMExperts (and later Windows Phone Central). His interests include Windows, Microsoft Surface, laptops, next-gen computing, and for some reason, watches. Before all this tech stuff, he worked on a Ph.D. in linguistics and ran the projectors at movie theaters, which has done absolutely nothing for his career.
When will this be available? It's not showing up for me yet.

It's mentioned at the end of the article.

I know, I'm just really impatient. I do use this app regularly and appreciate their continued support for Windows.

Mobile app is now live in the US. Running on Win 10 Mobile preview.

Still nothing for Windows Phone 8.1 :-(

Good to see them support Windows still! It's one app that I use every day and having it be supported is at this point one of the make or break things for me when it comes to which phone to use.
I don't know if Microsoft is doing something to make sure Fitbit is staying active with development, but whatever the reason is I'm glad they are.

We stay active in development because of users such as yourself. So thank you!

No no... Thank you! I love my surge and the awesome services fitbit provides. It helps me stay on top of my MMA training, and make sure I get all the calories I need to stay fit and strong. Again, thank you!

It's not available to me L920 UK

Do me a favor, see the last thing I write in the article.

No update of the Windows 8.1 app for my Windows RT tablet? Oh, well. Guess I should get used to being an app orphan. The WP app is most welcome.

If you click on the link in the article and check the app deatils you can see ARM is still being supported. Give it little bit of time to show up.

Now if only they'd get the txt/call notifications working like they said they're working on. 8 months now since I've had my fitbit hr and listening to "it's in the works"

Agreed. There must be some sort of platform limitation, but if the MS band can do it, then they should be able to as well.

If only it were so simple. :) I'm hoping to have an update on this to share soon, in the meantime we're still in a "this feature is coming as soon as possible" position.

Tristan, can you confirm that the hold up is in fact a Bluetooth issue in the Windows Phone 8.1 platform/API ?

If has a nickel for evey time Tristan said "soon" I could by myself a new surge to replace mine that has a battery that now only lasts 1 day The band 2 cant come soon enough.

You should contact our customer support about the Surge. The battery life should certainly still be lasting more than a day. I'm not happy with having to keep saying "soon" either. :(

Any possibility of a future update that allows us to open the app using the built in NFC in the fitbit bands

Knowing that it's in the works doesn't do is any good. IOS users have Android Wear, Apple Watch, Pebble and more. Android users have Android Wear, Pebble and more. Windows Phone users have NOTHING :(

"Humblebrag" love it! Lol :) Charge hr is working great with my 1520

I literally just returned my Fitbit charge b/c it does not support my 640XL. Won't sync...

Damn, not sure what happened here. The 640XL should absolutely be supported. Were support unable to help get it working for you?

I agree but the model hasn't been tested. They had no timeline of when it would be added to their list of supported WP devices.

To clarify, the model has been tested, because I have one here which I tested myself. It should definitely be working. Our marketing team has fallen behind on updating the publically available information on which devices are supported, but this should/will be among them. There are a few possible causes for this not working on your 640XL. It's a pity that our support team was unable to work through them with you to get this working as expected. Even if they hadn't found a solution, we could have tried getting you onto our developer build and capturing logs to investigate. My apologies that we were unable to get this working for you.

I guess you work for FitBit?? I don't read too many comments so I may have missed a comment about that. Yeah it was surprising that there's a list supported devices. You just assume it'll work if there's an official app released...regardless of device. I reached out via Twitter (you can see on my timeline...same handle as here).

I really hope it does work with the 640XL because I just bought a Fitbit Flex off eBay... :-/

I am using both my Surge and Charge HR Fitbits syncing with my 640 XL running 8.1 Denim, so I can confirm it does in fact work "in the wild". I had to pair it first in Bluetooth pairing prior to getting it to sync.

The fitbit app works just fine on my Lumia 640 XL, pretty happy with it

Any word on incoming call notifications?

If they had notifications I would be all over this. I've really enjoyed my MS Band but the Fitbit apps are so much richer than MS Health, and MS has not delivered on their vision of smart/cloud analytics to deliver meaningful insights.

Or maybe if MS would just release a straight up smart notification watch without any fitness pretense, I would buy that AND a Fitbit.

I'm hoping that this release fixes some of the sync issues I've had with my Fitbit Surge! (I'll be sure to file an update!)

Happy to report the sync issues have been resolved with this update! Thanks Fitbit!

And I'm still waiting on Jawbone to release their app... :-(

The Windows 10 app may just be what gets me to try 10 again. It was pretty fantastic.

Does the caller ID display work on this? The last time I checked, there was no caller ID support.

No it doesn't. Apparently that feature has been in work for some time. Who knows when we'll get that feature

Ill wait for the update to hit me. Hopefully fitbit continues these great updates to windows phone. I use this app every day

Lets hope they finally fix the synching issues that are all over the fitbit forums..... (and finally give us notifications!!)

I've had a trawl along he forums but I'm guessig it's an isolated issue, but does anyone else have issues tracking the exersise with the fitbit app on WP8.1? I have a L1020 and it finds the GPS, but when I press start I just get the scrolling dots and nothing happens. I've been forced to track my runnin using my works iPhone but find the WP has more accurate tracking!

It does and would even more if they get call notification going on Windows 10. I would sponsor a bottle of champagne or German beer, whatever they want
Windows Central Newsletter
Thank you for signing up to Windows Central. You will receive a verification email shortly.
There was a problem. Please refresh the page and try again.