Fitbit for Windows 8.1 updated with new UI and syncing capability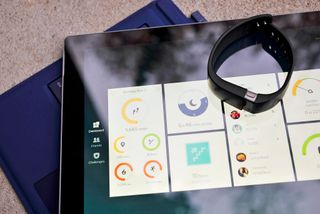 Fitbit is on a roll lately with Microsoft. Tomorrow, the Lumia 830 goes on sale through AT&T with a free Fitbit Flex in tow ($99 value). Additionally, the Windows Phone app has been receiving a lot of attention lately with new background syncing and Cortana integration.
Today, Fitbit has finally overhauled their Windows 8.1 Modern app for tablet and PC users. The new app has an entirely new and more fluid UI and adds their new Challenges feature. What's more, the Modern app can now sync directly to your FitBit, so long as you have the USB sync dongle attached to the PC.
The previous release of the Modern Fitbit app was more of a 'see only' app as it could not itself sync to your Fitbit for direct updates. Instead, it merely pulled data from the server but this presumes that the data was synchronized in the first place. This limitation was especially annoying for those using RT devices like the Surface RT, as they were unable to install the full desktop application to enable Fitbit synchronization.
Unfortunately, direct Bluetooth syncing is not yet possible due to limitations with Microsoft's APIs (so do not blame Fitbit). Instead, you still need the tiny USB dongle plugged in for device syncing to work.
The new UI is also more Tile based with subsections like today's stats, sleep information, floors climbed, and calories all on the new Dashboard. You can also choose Friends to see where you stand amongst your colleagues or Challenges to add a little competition to your step counting. Overall, a nice aesthetic change that looks great on our Surface.
The new update is now live in the Store and you can download or update the app. Users can expect the new UI to work eventually onto the corresponding Windows Phone app as well.
Daniel Rubino is the Executive Editor of Windows Central, head reviewer, podcast co-host, and analyst. He has been covering Microsoft here since 2007, back when this site was called WMExperts (and later Windows Phone Central). His interests include Windows, Microsoft Surface, laptops, next-gen computing, and arguing with people on the internet.
I'm excited for my 830 and fitbit tomorrow. This will be my first wearable!

Same here. I'm oh tomorrow so I'm going in the morning

First wearable? That's what she said...holy crap

It's pretty disappointing that Microsoft's API can't handle something like this.

Hoping for an UP by JAWBONE app to hit the store next! Great news btw

Universal app or get out.

I can confirm that this is a universal app. There are a number of visual updates that we will bring to the phone soon.

Just FYI - I have been able to sync using the USB dongle with my surface RT for some time now. That isnt a new feature of this release.

I think you are mistaken. For one, I'm in direct contact with Fitbit and know what is/what isn't in this update ;) Second, go read the Store reviews and see if anyone had their app synced using this app. It was like the #1 complaint about it.

On the old version of the app, open the charms and go to settings. There was an option to sync so long as you had the USB dongle plugged in.

He actually isn't mistaken. I know there was syncing in the app prior to today as well. I only used it a handful of times since I didn't find it was super reliable and on my Surface Pro the desktop version of the sync worked well. But it was definitely there prior to today. I was hoping today's headline meant it didn't require the dongle anymore in the modern app.. but alas no. I sync exclusively now through my phone because I hate dongles.

Yeah, I've been doing this for months. There is however a problem, it always crashes my USB controller just after the sync is complete. Is there any reason why Fitbit can't use the onboard bluetooth chip rather than a Janky workaround?

Ive been syncing with the fitbit app on my Surface RT for a while now, the syncing isnt new. Background sync is, however, but not direct syncing via the dongle.

I can also 100% confirm that you could already do this in Charms/Settings/Devices with the USB dongle attached. I've done this both on Win 8.1 x64 and on a Surface2.

My fault. I didn't properly clarify this, but you are correct. There is now a new setup flow for the dongle amongst many other improvements. Let me know what you think of the new app!

I would imagine an API update that allows this has to be on the way, soon.

Things get better with Windows 10 I hear.

Things will always get better with Microsoft before the world stops turning.
The problem is, their timeframe is way too long for consumers to grasp (not to forget about the information gap).
They loose way to many people on the track to their awesome goals.
And when they finally reach their goals, these people have already settled for something else.

Does background syncing works for anybody on the Windows Phone app? I have created a new post in the forums asking too because it doesn't seem to work on my 920 with Cyan and latest dev preview build.

No. Mine either. Fiitbit is awre of it and will be fixing in next release.

Thanks Matthew. Good to know they are aware.

Yeah, we're working to improve this. There are some known issues with the current implementation. It works well for some and not for others, which is why we disabled it by default. We're hoping to improve this in a coming release. :) I hope your enjoying your Fitbit either way!

Awesome.. thanks Tristan for the update! I found both the background syncing doesn't work.. nor updating of the live tile when not in the app (occasionally friends dongles actually sync my fitbit when I'm in close proximity to their computers.. and I check and the tile doesn't update at all until I go into the app) The Fitbit App for Windows Phone is beautiful.. and it looks like the Windows 8.1 one is a big improvement now too.

Yeah, I constantly get a warning saying that background syncing has stopped. FWIW, Lumia 930 running latest dev preview software.

Hey Tristan, sorry to go a little bit off-topic.
Are you allowed to disclose if Fitbit is interested into looking into Microsoft's Health platform?

A reaction to the Microsoft Band?

I don't think so. FitBit has been working on an update to their Windows 8.1 app long before the band or it's apps were announced.

The previous app COULD sync. Until the phone app I used the app on my surface to sync daily.

Tomorrow is D day for my new
Lumia 830 with fitbit flex!! Can't wait!! A morning visit to AT&T is my goal as well!! :-)

Hmm...so is the Band a better option right now? It would seem that the Band does more than even the (not yet released) Surge will and at $50 less? (I own the band...but don't love the fit.)

I'm the guy who lost his fitbit in the last fitbit article, sent an email to customer support about it, they sent me a new one free of charge. It's on its way. Amazing support. Keep it up fitbit team.

Awesome! Glad to hear that we were able to help you out!

I absolutely want to get the Charge HR for my wife for Christmas...too bad it won't be available until after!!! :(

I was already using the dongle to sync with my Surface 2. The phone app is better (sadly).

Not true. I used to sync my Fitbit One with my Surface RT all the time. You still have to use the dongle, but this is not a new feature with this release.

That's gorgeous! I meqn serious mind blowingly awesome looking!

Hmmm doesnt work the lumia denim update? wtf
Windows Central Newsletter
Get the best of Windows Central in in your inbox, every day!
Thank you for signing up to Windows Central. You will receive a verification email shortly.
There was a problem. Please refresh the page and try again.