AT&T Lumia 830 to get special Fitbit Flex promo through Microsoft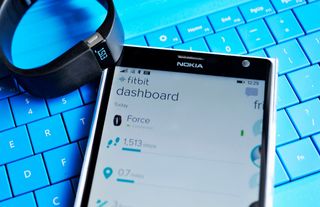 The Nokia Lumia 830 is seeding out globally to retailers and carriers with the phone expected to launch in the US on AT&T Friday, November 7. The 5-inch Windows Phone nicknamed the 'affordable flagship' won our initial praise last week in our first-impressions article.
Windows Central has now learned some marketing plans for the Lumia 830 when it arrives early next month for AT&T, and it includes a Fitbit Flex promotion. Evidently, Microsoft has a separate SKU for the phone that includes a free Fitbit Flex with every purchase. The deal will be a limited-time-offer or until the bundle runs out of stock. It will be available both at Microsoft Stores as well as AT&T ones as well.
This Fitbit promotion is not the first time Microsoft has offered such a deal to customers. Back in July, Microsoft presented a similar package with the new Lumia 635 for AT&T and T-Mobile. At the time, customers could buy the T-Mobile Lumia 635 for $149 with no contract with a Fitbit Flex discounted by around $50.
Microsoft and Fitbit have recently been working more closely together, including selling the fitness trackers in their Stores and promotion of their new Windows Phone app. This news comes on the heels of rumors that Apple and Fitbit may be cooling off relations. Fitbit does not plan to support Apple's HealthKit platform and Apple now may pull the devices from their stores, perhaps as retaliation. However, Microsoft is expected to unveil its own fitness tracker in the coming weeks, and it is not clear what, if any, role Fitbit plays in that scenario.
Earlier, Windows Central reported that the AT&T Lumia 830 supports both the Qi and PMA wireless charging standard and the phone comes with two back covers in the box (one green, one black).
Pricing for the AT&T Lumia 830 is still not known, but it should be aggressively priced and marketed for the looming holiday season. Considering Microsoft does not have any new Lumias in the pipeline for the rest of 2014, the Lumia 830 could be their last hurrah until the Windows 10 story becomes stronger next April.
Daniel Rubino is the Editor-in-chief of Windows Central, head reviewer, podcast co-host, and analyst. He has been here covering Microsoft since 2007 when this site was called WMExperts (and later Windows Phone Central). His interests include Windows, Microsoft Surface, laptops, next-gen computing, and for some reason, watches. Before all this tech stuff, he worked on a Ph.D. in linguistics and ran the projectors at movie theaters, which has done absolutely nothing for his career.
Nice at&t treats WP users well. Verizon treats WP users like dirt.

Any promotion would do for Lumias

Lumia 830 available since a few weeks in Belgium ! ;)

Would be nice to use a fit bit with my Icon. Oh that's right Verizon hasn't updated yet. I wish I had more pull at work, Verizon would lose our account.

Hahahaha
That's the big takeaway these days.
Somewhat of a joke that not ONE news outlet can discern what is going on with that and the mystery shrouding the persistence of substandard screens on 6" and up Windows devices.
The writer who can crack those will win a flipping Pulitzer.

I hate Verizon for work, but the good news is that I have a green 1520 and the fitbit flex worked great with it

Yep. Would be nice if my Treasure Tag worked too... would be nice if BT 4.0 LE work at all.

Does the 1520 have fit it?
Off topic, I am shocked there is no HTC one reference in this article lol

Cool I'm looking forward to this

Cool, my wife has kinda said she wants some kind of a fittness band - could give this one to her for Xmas! :P Still don't like the black aluminum. :( But not sure I can hold off waiting for a true flagship way into 2015.. (and still am bummed by the fact that MS/Nokia had no plan B for McLaren.. ).

My question is.... Whens the 735 coming to a us carrier, seems a better phone than the 830. same processor, same resolution (as long as its not pentile), smaller form factor and screen for better one handed use (though still a huge phone). And lower price. Only thing that's worse on the 735 is the camera, but the lower price helps.

Verizon already said that it's not coming till early next year.

Being smaller isn't exactly a selling point for everyone. I, for example, want the 830 because it's bigger.

Search the site. Verizon is scheduled to get it in early 2015.

Daniel will this bundle be available through at&t or only at Microsoft stores?

Not clear, but likely through Microsoft Stores is my guess.

Thanks Daniel. Looks like I'm buying the 830 at the Microsoft store.

Bundle will be available at ATT & MSFT Stores along with others.

Hopefully it will be available on the website as well.

Man! , this is really tempting and I already got an unlocked 930 for $500+ a couple months ago. But this.... Damn it, good deal

If Microsoft's upcoming wearable is made with the help of Fitbit, WP might finally get priority from at least one company.

Already have a Fitbit Flex, I just want the phone on AT&T so I can put Verizon behind me!

I've got a 520 GoPhone that I just activated and forwarded my calls to... if I get good signal with AT&T (it sucked years ago when I had it), I'm gone.

Maybe I've never held an actual 830, but I really prefer the look and feel of the matte 8/9/920/735 style phones over the square-sided ones. Any chance the 735 will actually come to AT&T soon? Or at least we'll be able to get an unlocked one that'll work with AT&T's LTE? Didn't we see one go through the FCC (?).

It would be awesome if it came to AT&T but I just don't see them carrying both. Maybe T-Mobile?

Currently, there are no plans for an AT&T Lumia 735.

So all those reports on an "RM-1039" FCC filing were false?... "Recently, Lumia 735 variant RM-1039 and Lumia 830 variants RM-983 and RM-985 have passed certification with generic AT&T and T-Mobile GSM, WCDMA and LTE bands...."

I wish that the 830 had the icons specs

Exactly! I have the 830 and its freaking sweet! Perfect size. Feels better then the 930 in the hands. Just a lil slower of course but great.

I love the look of that black and green, Xbox colors. But the source kill it for me, I'll wait for Build to see what Microsoft announces

The source? Wht do you mean by source?

Any ETA on the 735/830 official reviews?.. I say official as the unboxings were pretty indepth but would like to hear the final word after a few days/weeks real world usage.

What did they say this phone would be priced at?

You know I was just scanning, looking for numbers...
.....................
Sick of hearing me bitch about marketing?

Nice, but I'd rather have a DT-903 Wireless Charging Plate and Nokia MD-12 Wireless Speaker bundle.

And this is what a premier WP carrier looks like. Not perfect but a darn sight better than the sabotage Verizon is implementing.

This is really pushing me on wanting to get the Lumia 830 more so then the 1520.

Not me, I recently got the green 1520 and loving it!

I'm most likely getting 1520 its just the size and the sensitive screen that has me worried.

At&T now considers the 830 as the new WP flagship. As they have taken the 1520 off the display shelves and are currently displaying the 635 only.

That actually is really bad, but it is a year old. That could be the case, or maybe there is a new one on its way soon? ;)

The 1520 has been gone from AT&T shelves for some time now. I was in a corporate store about a month or so ago, and the only Windows device on display was a single Lumia 635, on one side of the room.

I just looked at it a month ago in the store, they told me they had the green one available.

Can I use this phone on TMO?

Will it have faster network speeds is the real question.
You can use it on T-Mobile.

Yes if you manage to get it unlocked from ATT

So what's the guess on price on contract? If this Fitbit promo is also through AT&T, I would guess $149 initially with a 2 year contract (if not higher). If Fitbit is not part of the initial promos, perhaps as low as $99/2 year contract? Possibly throught 3rd parties with a $50 rebate.

The 920 launched at $99 two year contract, the same thing is probably going to happen as the 920 included the free wireless charging plate

Meh. Do this for off contact/T-Mobile. I will never use AT&T.

Great idea for shooting yourself in the foot when your weeks away from revealing your own fitness band...go Microsoft!

Unless MS and FitBit have teamed up to make a new version of the FitBit Flex. Maybe that's MS's fitness band they'll be announcing?

@danielrubino
Daniel...do you know if that is the Force2 pictured with the 830?

My wife uses one with her 920/Cyan/DP. We had to wait for AT&T to get Cyan out to make it work, but it does now. Kind of. The sync is quite flaky though and she uses her laptop to do it most of the time still. The app doesn't background Sync, and if she ever uses the phone to sync she generally goes into Settings/Bluetooth and checks it shows connected there before going into the app and doing a sync that will work. Process needs to be much more smooth and seamless.

Damn, this is REALLY going to complicate my decision on 830 vs One. I was 95% sure I was going to get a One, but it's really hard to turn down a free FitBit. Decisions, decisions...

Choice is easy.
Nokia is European. Fitbit is American. HTC is Taiwanese, a bootleg of Chinese. Do the patriotic thing

Ok, for 'murica, I'll buy a fitbit and an iphone. Am I doing it right?

Tis somewhat rude but surely a step shy of ornery. Don't let me deter you from purchasing Taiwanese. Better yet, you could buy a Ukrainian device. They could use the support.

ugh... been waiting to upgrade since June, but wan a flagship that isn't a 1520.... actually hoping for a 1020 update within the next 4-6 months, but this sounds like a good deal.

A 1020 update in 6 months is not in the cards. There hasn't been a hint of any new device in the pipeline. Probably in about a year from now, with the release of W10 for ARM devices and phones.

This will probably be the last Nokia Lumia on AT&T. I'll still have to wait and see what Microsoft Lumia has to offer.

att should b focusing on promoting the new succesor of the 920/925, instead of wasting time on this 830!!

Well first they would need a device to promote.....

This actually might be enough for me to upgrade from my 920 to the 830.

Will the 830 come to tmobile??

I bought the Lumia 635/Fitbit Flex promotion package, and I'm VERY happy with it. It has gotten me walking like never before! Of course, with the phone having a built in steptracker, it almost doesn't feel necessary to have the Flex... :)

What's up with the screens? My friends icon had screen issues twice. It's annoying

Not the new fitbit charge? The old fitbit flex instead? Ok.

That's pretty good. You get the phone the tracker,plus two backplates... Side note. Perhaps will hear that Fitbit and Microsoft working together on Microsoft's upcoming watch/band.

Welp, now my mind is made up. I'm getting the 830 over the One, and here I was telling everyone to support other OEMs. This offer is just too tempting.

Support OEMs who cut-and-paste Android phones with Windows Phone, leaving out things like off-screen navigation buttons and the camera button, hten never giving quality device support, like the Lumia Color firmware? Why support laziness?

Because while I hate to admit it, one of the major things that could help WP is getting more OEMs on board. One of the main things that helps Android (and Windows PCs) is that the devices are everywhere. You go into a store and Android devices cover the walls. It would be a big plus to have a big line up when you go into stores. Not just for sales, but for mindshare.

Explain Apple's success if multiple OEMs are vital.

What does this Fitbit Flex do that SensorCore can't? besides tracking my sleeping time?

I was thinking the same thing...

Does it have a heart rate monitor?

Nice, planning to upgrade the wife to the 830 from her 520

Doesn't a fitness tracker like the Flex runs somewhat against SensorCore? I thought that was meant to do fitness tracking on the phone itself. Also, this phone still sucks. The as-expected result of having the 920 beat the 830 in the overall and graphics benchmarks sucked. Knowing that we might not get another Windows Phone device until mid-2015 is just poor showing from Microsoft.

While I don't think 830 sucks, I do agree it was poor planning from MS/Nokia to not have plan B for the eventuality that McLaren 3D-thingy would turn out to be a dud/not ready.

I think this is the perfect time for WP users to try an Apple or Android device. I think it will help them decide if they really want to commit to WP for another two years. I would suggest they try the competition for the 14 day trial period. It won't hurt to do an honest evaluation, maybe come back to WP in another two years.

Not a bad suggestion, since W10, looks to basically be another 'restart' for Microsoft in phones. The whole key will be: are current devices all getting upgrades to Win10, and will all Windows Phone apps work on W10 without having to be re-written by the developers? If it's both no, and no, it's going to be a rough ride.


Well, most of the "educated speculation" seems to be that the answers are yes and yes (for the latter presumably "yes, WP8 apps will work on phones running Windows 10". I.e. not sure if they would also automatically run on a desktop PC, for example).

Another crucial point would be, will W10 apps work on W8 devices (meaning devices with older chipsets from the 920/820/1020 range)? If developers update apps for W10, but it breaks backwards compatability, again could leave older devices, but not that old, in the dust.

I guess not. But if all W8 devices are upgradeable to W10, not much of a problem, assuming W10 is free/cheap of course (i.e. allowing users to easily/with no barriers & regrets update to W10).

If the 830 has an accelorometer built-in like the 635, why does one need Fitbit? With Health and Fitness I can keep track of Steps, Distance, Calories Burned, Active Time and Steps/Min. and other items. What does Fitbit add to this equation?

Wow. That black trim is such a fail.

Lumia 830 available since a few weeks in Belgium !

My wife has a Fitbit Flex but it doesn't have a digital display like that first picture, or is that not a Flex?

So with today's announcement of the new Fitbit wearables, is this an effort to clear out the Flex inventory maybe? Any word if AT&T will have the Charge and if that could be had for a discounted price in place of the Flex? Or would that be a deal for a higher end Lumia in early 2015?

"clear out the Flex inventory" yes - that is a given.
Windows Central Newsletter
Thank you for signing up to Windows Central. You will receive a verification email shortly.
There was a problem. Please refresh the page and try again.