Flightradar24 Free now available for Windows Phone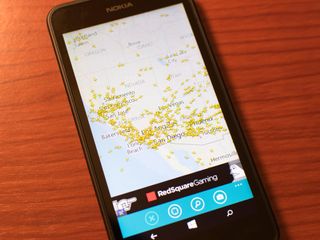 Flightradar24, an app that lets you watch flight traffic from around the world, has a new free version. The ad-supported app carries over many of the features of the paid app, and radar coverage around the world.
Flightradar24 lets you watch planes move in mostly real time. You can also get some information about individual flights, such as flight number and callsign of an aircraft. Flightradar24 has an augmented reality view on some devices which allows you to see what flights are above you by pointing your device's camera at the sky. You can also search for flights to see where they are, and browse images of most aircraft.
The app has access to data from all over the world. It has complete coverage of the U.S. and Canada using FAA data, including real-time data over large swaths of both countries. Most of Europe is covered as well. Flightradar24 also has data from several other countries, including Russia, Australia, and Brazil.
You can download Flightradar24 Free from the Windows Phone Store right now.
Thanks to Bart W for the tip!
Should add Cortana integration, so a user can open Cortana up and say something like, "Flighttrader, what flights are above me right now?" That'd be pretty sweet!

Yes, for aviation nerds like myself.

Siri does that natively. Just saying.

I'm aware, hence why this app adding such integration would be lovely.

Siri also sounds stupid natively, so I don't see your point. lol jk

LOL Posted via Windows Phone Central App

Didn't know that, that's pretty cool actually

Live sky view is the best :) I luv this app

Now we should just fly and there you go!

I find the free version of the FlightAware to be better. I haven't tried the paid version of the FR24. http://www.windowsphone.com/en-us/store/app/flightaware/5e5abf95-3c91-e011-986b-78e7d1fa76f8 An other very good app for aviators&others is Metar Weather Map. It has also Arr/Dep flight infos. http://www.windowsphone.com/en-us/store/app/metar-weather-map/f901b638-2d6d-49f0-8daa-32cacbe41a8c

Poor compared to that found on IOS and Android.

Ok...so what are the additional features which other platforms have for the free version???

Faster, more add ons, better experience. Plain and simple. Just like starving dogs at a BBQ picnic, you jump at the word free and forego the app experience. This is clearly why many apps either have a poor UI from the start or hasn't been updated for a long time.

Now come on...don't generalize...my comment was specifically for Flightradar 24...i don't see it faster or with more add ons on Android at least

I live in the Caribbean and I work at an airport and in my office there are IOS and Android users and the pilots I interact with also use that on their Android and IOS phones and compared to my L920 it always came over as begin the IOS and android version and btw I owned the full version months before this and it was poor then and making this app free with a few features from the paid version doesn't improve its UI.

What EXACT feature is missing on free version vs iOS and Android Free versions?

The feature to open up and show me exactly at the same time someone using an iPhone sees when they open theirs. And not 5 mins later waiting to populate the screen with flight info. Ever watched the tv ad with faster Wi-Fi and everyone in the car bar one laughs and then that one laughs later. That's the features in talking about.

Just opened it up on my 1520, using wifi and my slow 1Mb internet (no mobile signal and no gps as indoors) took 22 secs to locate me and load flights, so I call bullshit on your post.

Took me ca 8 seconds on my 1520 :) On 4G. And that is the time it takes to start the app and show the flights.

Boom. Posted via Windows Phone Central App

Don't present your opinion as fact :-). I have an iPhone 5s and Lumia 930 in front of me, next to each other. The are set up to display the same area of Stockholm, with two airports in view. Launching both at the same time, the Lumia is at worst one second slower in displaying the traffic. Big freaking deal ;-).

@pedmar007 If you must lie, you need to practice lying better than that because you're easily caught as a liar using my old Lumia 925!

I purchased the full featured app months ago and love it. Works great in New Zealand. Worth buying the little add-ons too. :-)

Another freebie not available outside USA.

I'm in Canada and was able to download it. But this version of the app doesn't show you the important flight details. Only flight number. I was a bit disappointed.

At the bottom of the page are more details. Tap on the flight number to get all the details.

When I tap the flight number I'm redirected to the store to purchase the full app.

Big deal! Given all the features and the technology exploited, it's well worth its 2$. Do you work for free or do you expect to be paid? Greed isn't a virtue.

Your absolutely right - it is worth $2. But do you believe in discrimination? How would you feel if the person in front of you got a $2 discount on a product you bought - but you didn't get the discount. The price is irrelevant, it's the principle.

Of course, I would feel discriminated, deeply. Last week I made a donation of $100 to the Red Cross; I didn't get anything in return except a warm feeling.

At first I thought this was a Media24 app I didn't know about.

Never heard of something like this. Seems sketchy.

Its a bit creepy actually.

It's actually quite fun. Point it at a plane in the sky and it can tell you all the flight information.

Once you pay that is ;-) (flight info is free on iOS frustratingly)

Wow, you can afford a smart phone but can't afford an app at $2?

I paid the $2.99 Mr smarty pants ........... My point is you get the basic info for free on iOS ;-)

Ma point is: I don't really need this app, but it's fun. I don't have IOS and I'm glad. To me the app is worth it's $3. It's like a cup of coffee: at home I don't have to pay anything, but I'm willing to pay $3 for one at a restaurant.

I have the full version. Absolute musthave. No waiting at the airport when a plane lands. You can watch the plane land yourself. Touchdown .... one two three, YES, it's has landed.

I've had this for a long time on my laptop and desktop, so having it on mobile is great, odd that the features on laptop are free but have to pay on phone. I've not had it on phone long enough to check but laptop vesion has a 5 min delay on US flights presumably as a security feature.

Yellow planes have no delay. Orange planes show delayed information. The yellow planes are showing info direct from ADB in real time. The orange are for when that info is not available so they get the delayed info from the FAA.

Thanks for that explanation! I've had this app forever and always forget to look up the difference in color.

Never presented my opinion as fact, I presented my opinion based on experience based on UI experience with this app. Since none of you to my knowledge so far works at any airport the time lapse between opening and populating the screen with flight info can never be as long as 22secs especially when others are on IOS and android and it takes 1\4 or 1\2 the time on theirs makes no sense opening mine. Here comes the quad core L1520 guy who obviously wouldn't expect that any app on that device would function faster than any dual core device. Here in reply to this post you're comparing a 64bit chipset - iPhone 5s and a quad core - L930. FYI not all WP users own the latest and greatest ok, so it's only obvious for some that any app should work better/faster on any newer Gen hardware. Here waiting for any L520-L920 users to respond. This is like having a argument about acceleration between a Lexus and two exotic cars and the drivers of the exotic cars saying don't you get from 0 to 60 in ......secs, while expecting the experience to be the same.

Working at an airport makes no difference. Your "expertise" and proximity to the runway, simply doesn't matter. Someone using two devices side-by-side with the same Internet connection, is a much better test. How do we know if your phone is on some janky service with poor Internet speeds. Also, I'm not sure you're using UI properly. Your complaint is about speed, not the interface design.

You complain about the unfair comparison between the iPhone 5s and the L930, how is that unfair? The 930 design has been out in the form of the Icon for almost a year now, and as far as I can tell, that's pretty darn close to the iPhone 5s. Apples to Apples, my friend. Just because Apple chooses to put crappy processors in their devices doesn't mean it's unfair.

That's the problem right there, babies handling guns. I never said anything about unfair comparisons between the iPhone 5 and the L930. I was saying that any app should work better on newer hardware than on 2 yr old hardware. If you'd read any of my earlier posts you'd know I'm using a L920.

I wish they wouldn't put FREE in the app title, it just cheapens the whole experience.

Working at the airport is the best way as I will have reason to use it more than someone taking a one off vacation trip. Your reference to internet speed does have merit but I'm comparing two phones using the same internet connection iPhone 4s and the L920, and my findings still remain the same. For any of you who has reason to use the app about 1 or twice every couple months depending on travel needs. So since I'm talking from comparing IOS and WP using the same connection and had to wait ....... after the iPhone showed its info what are you really saying. FYI in the airline industry speed is everything and how beneficial is it to have an AP that's slow. Yell me why would the iphone 4s show its results with every single aeroplane in the near vicinity and my L920 was only showing me 2 compared to at minimum 30 on the 4s. So internet speed got thrown out the window.

Like I said babies handling guns. Just put them down before you hurt yourself.

If people working at an airport rely on this app then that would be a reason fur me to use another airport

Does these kind of apps brings security threads??

I've had this app since WP7 and love it. My house is right under a flight "lane" as I like to call it and my son and I have a lot of fun seeing what's above us. Well worth the money.

I bought this app less than a month ago...

How is this app okay in
security perspective? Being an Indian,we need to be constantly wary of very friendly people from certain country..I hope this app does not increse the threat we already face..

Do you think that those people who potentially threaten security will have to rely on this app? The flight information is available for those want to abuse it, even without the app.


Still missing the flight insignia, where it shows you the flight name without having to touch the screen.

What!! Can't find Flightradar24 (that I have paid for!) in the MS Store anymore for Win10M!
Windows Central Newsletter
Get the best of Windows Central in in your inbox, every day!
Thank you for signing up to Windows Central. You will receive a verification email shortly.
There was a problem. Please refresh the page and try again.