Fling coming to Xbox Live on Windows Phone this Wednesday on the cheap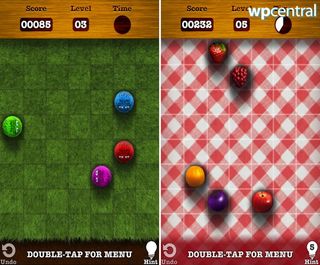 Actual Windows Phone screenshots free of marketting text!
It's getting down to the wire, but we do at last have details of this week's Xbox Live release. This Wednesday, prolific Swiss developer Miniclip's latest game Fling makes its debut. Fling's Achievements were first discovered back in early May, along with Battleship and Mirror's Edge. This will make two down and one to go, won't it?
Fling is a puzzle game that plays much differently from Miniclip's previous Xbox live releases. In each level, players must flick furballs into each other with the goal of leaving only one monster on the board. Furballs can only travel horizontally or vertically and they only stop when they hit another furball, so you'll need to experiment and/or think a few moves in advance to win.
Fling packs metric tonnes of puzzles spread across four game modes. Free-play lets you play at a relaxed pace without time constraints; Arcade challenges players to solve as many puzzles as possible before time runs out; Challenge breaks groups of levels up into timed sets; and Frenzy is a never-ending survival mode. Arcade and Frenzy each have several specific Achievements, while the other modes do not.
With many mobile Xbox Live gamers suffering from puzzle game fatigue, Miniclip's newest needs something special to catch gamers' eyes. Good news! Fling launches Wednesday, June 20 at a price of only 99 cents. If you can't wait a day to play it, head over to Miniclip.com right now to check out the Flash version.
Paul Acevedo is the Games Editor at Windows Central. A lifelong gamer, he has written about videogames for over 15 years and reviewed over 350 games for our site. Follow him on Twitter @PaulRAcevedo. Don't hate. Appreciate!
Sigh, at least Windows Phone Summit should be more interesting.

More puzzle games. What a surprise. The Xbox Live titles should be more "real" games in my opinion. Like Assassins Creed, Splinter Cell, Harvest etc... The Live brand is being taken too lightly. It should be one of our selling points. It's not like that at all.

At least we got FF now so I won't have to buy another game for a long time. By then something else of interest just might have appeared. We need "games".

Unfortunately, action shooters don't lend themselves very well well to touch screen controls. Also, most people aren't hard core gamers. Not that I wouldn't mind some real Halo action on my phone, mind you. I'd also love it if Portal made its way to Windows a phone.

If you like Portals. Have your tried Portals 2D?

I do agree.

But if they make some effort into the controls so they work good it actually works surprisingly well with touch. Some games have bad controls and some works absolutely OK. Usually you also get used to the controls in a particular game after a while. So they can be played without getting too frustrating. I think the controls work in Assassins Creed and Splinter for example. They are not bad to the point that it makes me mad in any way. Albeit they take some time getting used to.

Though I agree with what you are saying that more hardcore games like that is not really for touch.

To each their own I guess. I really don't have much interest in those longer games on my phone, if I want to play Assassin's Creed or Splinter Cell I'll do it on my 46" HDTV, not my 4" phone.

I really enjoy different types of puzzle games and really enjoy that Xbox Live is supporting them. Pick up and play games are the ones I want on my phone.

I agree that needs more variety other than puzzle games. I think something like halo wars would translate well, and if you go through Xbox arcade there are many games that would work extremely well on a phone. FPS however do not transfer well to touch screen. I hate the fps on my pad and dream of games like the maw, feeding frenzy, viva pinata, raskulls, costume quest, etc

Isn't this game the same as Bump Out? A non-xbox live game that is totally free. I'm guessing that developer will have a hard time.

It is also the same as a game called Droplitz that came out 4yrs ago on WinMo 6.

what ever happened to pinball FX 2?

It's still in development, and the developers have promised us a scoop soon. Games take time!

If X-Box live games keep coming out at .99 cents then there's a 99% chance that I will buy it. I also can't wait to read details on Pinball FX2.

The screenshots made me think this is a (bad) free indie game...
The pathetic gaming situation of WP7 is the reason why I am getting the next iPod Touch.

Fling is also available on iOS...

@ Martinspire
It is indeed the same game as Bump Out, but 79p/99c gets you 200GS!

I got to give to Miniclip, they're being quite WP prolific. I have yet to buy one of their games, probably this is the one.

Because they know no one else is making games for WP7 and think they can dump their crap on us.

I don't think they do "crap", nor the average reviews say that. While I usually complain about too many puzzle games, people should realize console games do not work on touch screens.

There is always a way. Time for someone to get innovative. Even with that said....the best puzzle games have barely even shown up on this OS.

We need more real games!!

Really looking forward to this for a buck!

@cyruss- are you familiar with games on all touchscreen os's, this is on ios. Also, if you look at titles other than Live games you will find many great games.

Why buy this game solely to add to your gamer score? Where's the fun in that?

hmm... sad to see that the new game is again not out. not even over the windowsphone.com website 8(

I just got the trial. Its up on marketplace.
Windows Central Newsletter
Thank you for signing up to Windows Central. You will receive a verification email shortly.
There was a problem. Please refresh the page and try again.