The Forecast, a uniquely simple Windows Phone weather app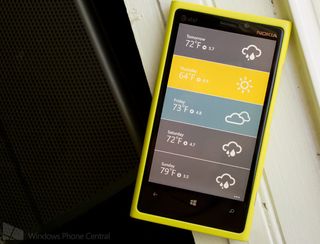 The Forecast is a bare bones weather app for your Windows Phone 8 and 7.x devices. Not much flash with The Forecast but it does provide you with the basic weather information to help you plan you day or week.
The Forecast lays out the weather forecasts across three screen and has Live Tile and Lockscreen support. The app does support multiple locations or you can just let it present the weather based on your current location.
If you're looking for a simple weather app, The Forecast is worth considering.
The Forecast's three main screens cover a 24 hour forecast (broken down by the hour), a five day forecast, and the current forecast for all your locations.
Forecast information includes time, temperature, wind speed and a weather icon for the current conditions (rainy, cloudy, sunny, etc.). Weather data is refreshed when the app is launched.
Up under the three-dot menu are links to add a city, add the weather information to the lock screen, pin the app to the Start Screen and access the settings. Each location can be pinned to the Start Screen to display the current conditions. Lockscreen support displays the forecast for the next three hours for your current location.It would have been nice to see more forecast information on the Live Tile and hopefully we'll see more added with future updates to The Forecast.
The Forecast's settings let you choose between Celsius/Fahrernheit, 12/24 times, and miles per hour/kilometers per hour. You can also turn on/off your Windows Phone location services.
The Forecast is a nice looking weather app and the condensed weather information will appeal to those who just want the basics. However, there are two issues holding this Windows Phone weather app back.
First, there isn't a trial version to let you try things out. While The Forecast is only running $.99, it still would be nice to have a trial version to see if you like things. Maybe a trial limited to one city?
Second, the transition between the three screens isn't the smoothest. You have to tap/hold the right edge of the screen and then swipe to the left. Repeat the steps in reverse to return to the previous pages. I would have rather seen a more smoother swipe gesture and it takes a little time to get used to it. At first I thought there was a bug in the app preventing page changes.
I will say that once you get used to the screen transition, The Forecast did begin to grow on me. It's a nice, simple weather app that has a lot of potential. Smooth out the user interface, beef up the Live Tile and The Forecast would be a hard to resist basic weather app.
You can find The Forecast here in the (opens in new tab) Windows Phone Store. Again, there is no trial with the full version running $.99.
George is the Reviews Editor at Windows Central, concentrating on Windows 10 PC and Mobile apps. He's been a supporter of the platform since the days of Windows CE and uses his current Windows 10 Mobile phone daily to keep up with life and enjoy a game during down time.
That live tile shown in the screenshot is almost too minimal. They could've added a bit more info and still kept it simple. But that being said, I really like the UI within the app.

Totally agree with you and the article. Live tile can add at lease the weather condition icon, swipe btw screens can be simpler. I would like to add Precip info too which is helpful in determining the chance for rain. If the above happens, with this beautiful minimal design, I will sure to switch!

This is one Beautiful app!

Doesn't Microsoft's official Weather app have the minimal thing covered?

Yes, and minimal is overrated

Modern UI/Metro is minimal. So whats that about being overated? (Minimal is good you know. dont offer the user information and pretty pictures that are useless and uninformative)

I am talking specifically about third-party Windows Phone 8 apps.

i understand. My point is Minimal is good (or can be), imo. Fits with the os, and is easy to use and understand. Granted, its possible to overminimalize, but if you do it right its great. Also, i mentioned the OS UI since apps built for it [windows phone] (should) confine to its UI for the best experience, and the UI is minimalistic, so in some sense the apps should have a minimal approach too.


Microsoft's weather app needs a serious update. Its been out since we called this OS Windows Phone 7 Series.

I dont use it, so I cant tell if it needs an update or not. But an app SHOULDNT need an update just because its been out for long. An app needs an update if it has bugs or needs to be enhanced. There is a difference.
Everything CAN be infinitely updated, but that NEEDNT be the case.

I liked what I saw about this app here. The interface is just great, swiping "thing" aside. I hope the dev uses the standar swipe transition or fix it if this is a bug.

Also, it doesn't show the time of the last update on the lockscree, which is nice. Amazing Weather HD and Weather Flow both display it and I didn't like it when I tried them.

The only thing I didn't see here or the WP Store was the live tile. I don't know which info it shows but I guess I will have to buy it.

Works with Windows Phone 7.5. Nice!

Also the lockscreen support?

nope. Only Windows Phone 8 allows lockscreen apps. Even WP7.8 does not include lock screen app integration support.

So sorry for being off topic but... Where the hell is Indigo? Today was release day right?

I see what you did there, nice! LOL
920 rulz

A bit too simple of my taste. Looks good tho.

Doesn't work for me, bought it but it is getting an error on start up. Any ideas?

I had the same problem on startup. Hope it'll get an update or else I just wasted money.

No trial? I try before I buy,...

Yeah that would be ideal, I've already bought two weather apps...there are simply too many weather apps! -_-

So yeah, I just deleted Amazing Weather EDIT: annnnd just reinstalled because that live tile is ridiculous.

Too bad its not free and without trial. Would love to try this out

I love the look, except for that terrible live tile.

What source do they use for weather data? I really want somebody to take advantage of forecast.io's api

Ugh. Until this gets updated it will sit unused. Live tile blows and you can't search by Zipcode here in the states.

on my Lumia 920 and czech republic not work! Still get error problem with location :(

yup, same with BackInTheDay until recently and MyTube still crashes. btw good to see a fellow Czech around here (finally) :)

Hi Martine Trojánku, you should find in Store app Forecast by Alexander Wilkens. Way better than this....IMHO.

Thanks vojta666, i try it :)

Not much use for it after purschase as it keeps on crashing on me evertine,, so don't even bother to purschase. Very dissapointed and dissapointing indeed.

I would rather recommend app Forecast by Alexander Wilkens. Find it in store.

Thank you, awesome recommendation. +1 this

You´re welcome Catlasers, I am glad you like it.

I am trying out the trial. It is the fastest weather app I've tried so far.

Can someone put the xpa file of this app in here please

It has been updated but still not working. Gives server error :/

I wanted this to display on my locked screen and have the ability to use my own wallpaper, which I can, however, I don't like that it darkens my photo.
Windows Central Newsletter
Get the best of Windows Central in in your inbox, every day!
Thank you for signing up to Windows Central. You will receive a verification email shortly.
There was a problem. Please refresh the page and try again.