Forza Horizon 3 preview: Big and beautiful and Windows 10
Forza Horizon 3 is about finished, and it's looking special.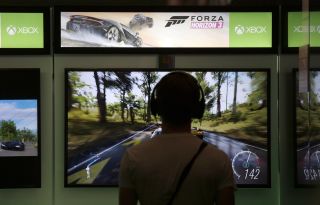 Gamescom represented the first time Average Joe Public could get actual play time with Forza Horizon 3 (opens in new tab), set to launch on September 27 for Xbox One and Windows 10. The public demo provided a snapshot of some of the new that Horizon fans can expect when the full game releases.
Of course, for press, there was an opportunity to spend a little more quality time with it, in a near-finished state. So what we saw is pretty darn close to what you'll see, so trust us when we say you're going to like it.
You're going to like it a lot.
The Forza franchise is one of Microsoft's true console sellers, and with Horizon it gets a chance to break free of the organization of circuit racing. Playground Games works with Turn 10 on the shared ForzaTech engine which powers both Horizon and Motorsport, and delivers incredible results across both.
For Horizon 3, Forza goes Down Under and boosts the map to double the size of that found across Horizon 2's Southern Europe setting. This is the best looking Horizon game to date, and part of that is down to the incredible setting. Playground spent many months in Australia mapping scenery and skies, and what you see in the game is a 100% genuine Australian sky.
In the same way, the environment in-game is mapped on real Australian locations. It also includes the first high-rise city location included in the series, as you head to Surfers Paradise. The lighting has been given an overhaul, too, with the sky now becoming a giant HDR light source that touches everything beneath it. If you're interested, Playground mapped it using a 12K HDR camera to make it look this tasty.
As such you get shimmering cars, glistening water effects, and a whole different atmosphere as things get darker. All surfaces in the game react in a realistic manner to being touched by natural light.
It's easy to get swept up in the beauty of it, but it's more than just skin deep. Suffice to say Forza Horizon 3 is one of the best looking games of the current generation.
Core gameplay is familiar to anyone who's ever picked up a Forza game before. ForzaTech continues to do what it does best, though there are limitations on console vs Windows 10. Xbox One players will get full 1080p resolution, but locked to 30FPS. Compared to Forza Motorsport, the environments in Horizon are much less predictable and much more demanding on the processor. So it gets locked at 30FPS on the Xbox.
PC players will be able to enjoy an unlocked frame rate and up to 4K resolution (assuming you have the hardware to support it). Whichever you play on though, you'll be able to enjoy a smooth, consistent experience. The Gamescom builds of both platforms weren't exhibiting any real signs of frame rate drops.
As ever you'll have a massive array of vehicles to choose from, and new this time around are off-road buggies, something suited so well to many of the settings in Horizon 3. And those vehicles will react differently to the terrain around them, such as water, where drag and handling issues will take effect as you plunge into the larger pools.
Likewise you're going to be choosing carefully based on the type of terrain you're racing on. The Lamborghini Centenario cover car will be less than useless on the beach and rugged trails, while the buggies and off-road trucks won't fare nearly as well on the sweeping stretches of open tarmac. Playground has worked incredibly hard on matching real-world components like tires and suspension against the in-game terrain.
And wait until you see the visual details on the buggy suspension as you're barreling along. It's a work of art. You'll be able to photograph your vehicles in a new way, too, as Horizon 3 adds Drone Mode, where you get out and pilot a drone around your immediate area. Having seen it in action, it's definitely going to up the Forza photography game this year.
Once again the namesake Horizon Festival is the center of the single player experience, only in the third installment you're the boss. You make the decisions, when to expand, the races to do, and early on you'll decide which setting to base the festival at. Choosing Surfers Paradise or the Outback will impact the early hours of the game and the races taking place.
There are 100 hours of content pre-created by developers, but blueprints allow you to tailor the experience to your own tastes. Choose car themes by type, decade, specials and so on and publish these games for your friends to see and play. Your friends can also join you in co-op career mode with 4 players supported for Horizon 3.
And finally, getting round to the business of online play. If you want to play online but crave structure and order, the Online Adventure mode is your friend. It's offered as a guided tour that you can play with other real people in pre-arranged challenges.
If you're a bit more free spirited, then jump into Online Free Roam which is pretty much what it says it is. You plus 11 others with the whole world at your disposal.
As a Gamescom bonus, we learned about a new mode called #Forzathon that will debut some time after the game's launch. These will be weekly, themed challenges with prizes of XP, cars and credits, and some of those will be rare cars. There's also one to be given away towards the end of October that we're told is "unbelievable," but also hasn't been announced for the game yet.
It's easy to say Forza Horizon 3 is the best yet, which is true, but we'd also expect it to be. It's the first not being co-developed for the legacy Xbox 360 and benefits from that. The world is huge, diverse and detailed, the cars, trucks and buggies are glorious to look at and drive and there's a crazy amount of content stuffed within.
It's also the first time a full Forza release will hit the PC with the Windows 10 version launching simultaneously and supporting Xbox Play Anywhere. Forza games almost sell themselves, but Horizon 3 is shaping up to be something pretty spectacular. Now we have to sit and wait.
Forza Horizon 3 launches for Xbox One and Windows 10 on September 27.
See at Microsoft (opens in new tab)
Windows Central Newsletter
Get the best of Windows Central in in your inbox, every day!
Managing Editor - Tech, Reviews
Richard Devine is a Managing Editor at Windows Central with over a decade of experience. A former Project Manager and long-term tech addict, he joined Mobile Nations in 2011 and has been found on Android Central and iMore as well as Windows Central. Currently, you'll find him steering the site's coverage of all manner of PC hardware and reviews. Find him on Mastodon at mstdn.social/@richdevine
Should be. But we haven't actually seen it yet though.

Insta-buy! I can't wait to play this on my PC and Xbox One! Horizon 2 was my first Horizon game and took so much of my time on the Xbox One and really got me back into loving, not just enjoying, racing games.

So if I buy any version of Forza Horizon 3, it will work on Windows10. I dont have a Xbox.

It'll be through the store but it should work. I know the games on the store had a rough launch but I know MS has been working pretty hard to iron out the bugs and they've done a decent job of laying out the system requirements in the store listings since the Anniversary Update dropped.

Yeah, quantum break is miles better than it was at launch. I no longer have qualms about buying AAA titles on the store because of how well it and Forza run.

You have to buy it digitally. Physical copies won't enable Play Anywhere. If you don't have an Xbox just buy the Windows 10 version.

Try out the forza apex beta now on windows 10. See how well it runs first....

I have been waiting for forza to come to pc for 11 years, have apex and this will replace all my open world racing games. I AM SO AMPED!!!!

Well written Richard, thanks I'm totally amped for horizon 3!

I hope it's at least half as good as described here. One question though - is it possible to do co-op career or at least have split screen races on an Xbox One?

Nothing mentioned about split screen.

Don't get hyped about racing games like I used to. This is changing that though. Looks spectacular.

Not sure which wheels will be supported.

Well if I can save for it I might get it then or wait until later. Glad it is September

I wish I should play on all 3 screens, but I'll still get it.

Will there be an early demo version in the Store? Like with FIFA2017.
Windows Central Newsletter
Thank you for signing up to Windows Central. You will receive a verification email shortly.
There was a problem. Please refresh the page and try again.